Our exterior is what made me fall in love with our home. 100%. I fell in love with the stone and brick, the courtyard and the backyard. I absolutely love the charm and uniqueness, but I also want to make a few changes so it feels a little more updated and our style. I've been slowly working on furnishing all of our outdoor spaces and making change to the exterior, 10 months in I think I can finally say that I have a clear vision for the overall look at feel of our modern European exterior design plans!
I want to share this post as an example of how you can have a cohesive and specific style, while also decorating each space in a different and unique way that fits the style and usage of the space. I'm walking you through my exterior design boards including the overall exterior changes I'll be making along with design plans for each of our outdoor spaces. All different designs, but they also all work well together.
Current Exterior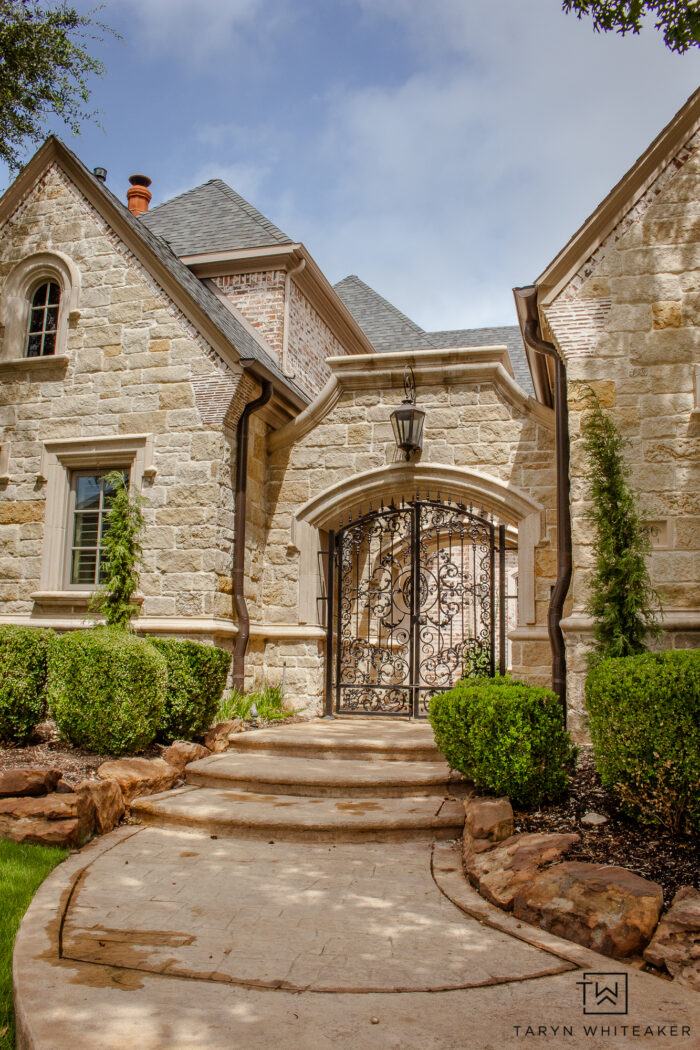 I absolutely love our stone so that won't be changing! We need to replace our gas lanterns since they are both broken, so we will be doing that soon and eventually I'd love to get copper gutters and change out the gate to something a little less ornate.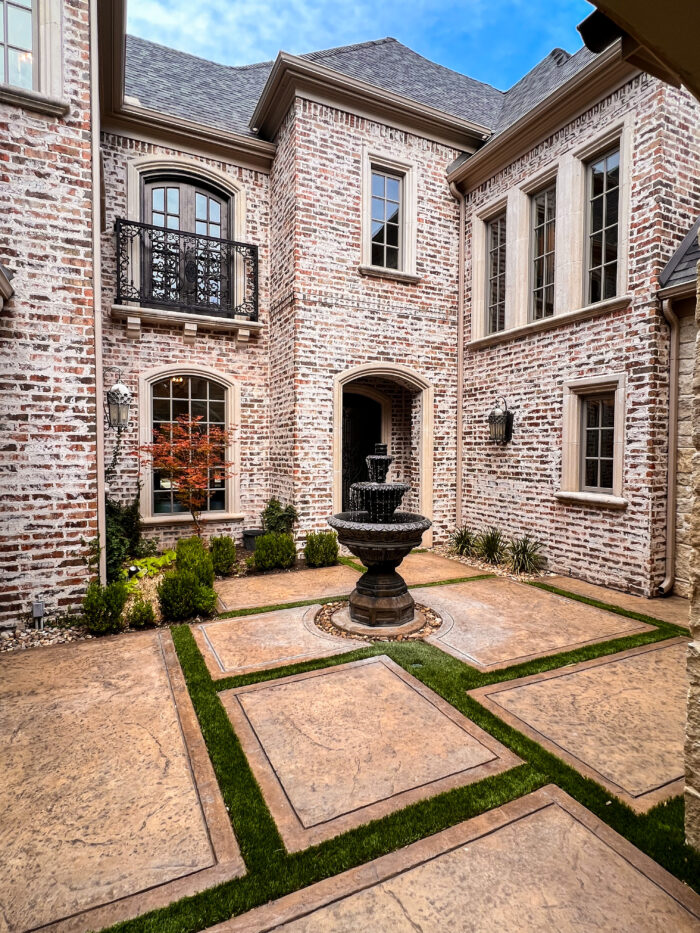 the courtyard is a mixture of both german schmear brick and stone and the colors tones are slightly different so I need to find trim and decor that can blend with both elements. Primary changes in here include painting the trim to something darker with more contrast, changing out the dated exterior sconces, updating the doors, just a little more decor and styling.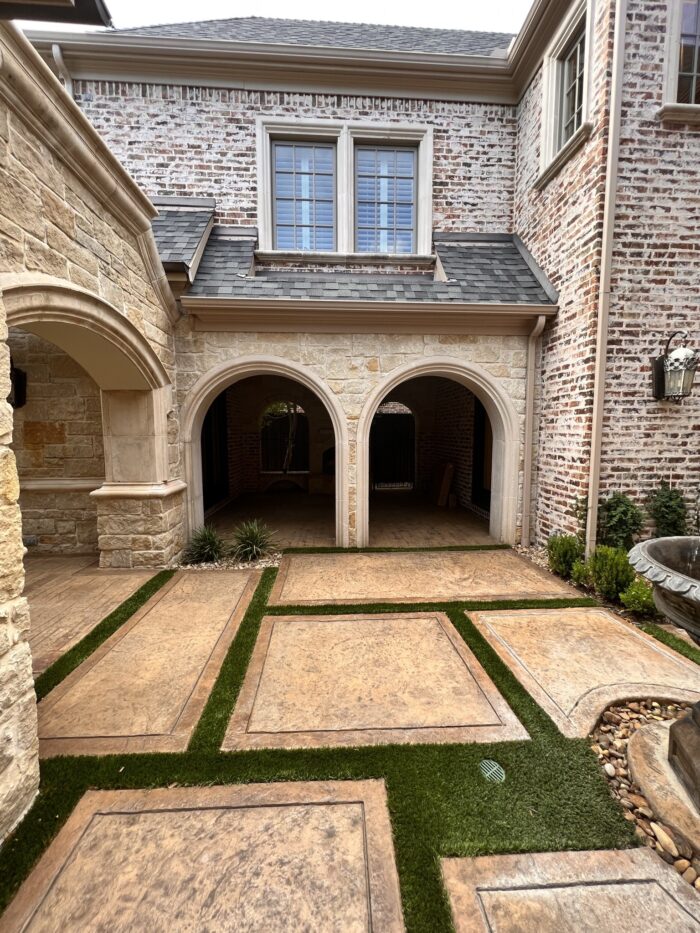 This photo was taken right when we moved in and it's actually all done! You can tour our covered outdoor fireplace area and see how that looks now.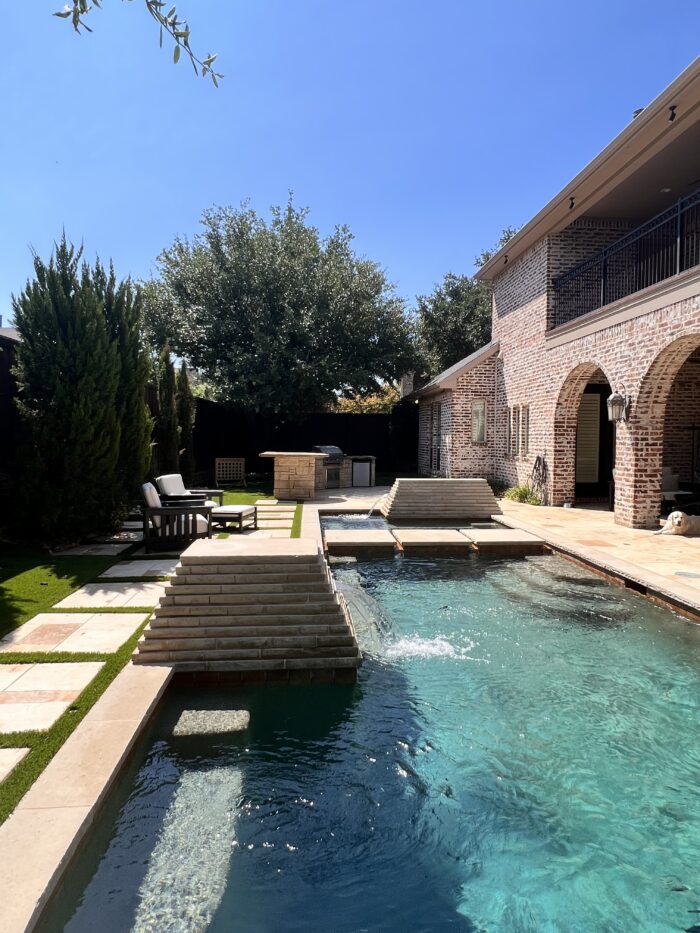 Moving onto the backyard! I love the design of our backyard and pool, but the back of the house falls flat. So much beige not a lot of dimension and craving some contrast!
Modern European Exterior Design Plans
Plan for the exterior is to make some subtle updates that are focused on changing out light fixtures to something updated yet still in line with the style of the home. Updating the front door and courtyard balcony, painting the trim Urbane Bronze and exterior doors Black Magic.
Georgian 3 Light Sconce | Georgian 2 Light Sconce | Richmand Outdoor Ceiling Light |
POLYWOOD Braxton Loveseat in Vintage Sahara Finish | POLYWOOD 36 Square Coffee Table| 4 ft Forged Black Chandelier | Black and White Outdoor Rug | Modern Framed Canvas Artwork | Large Outdoor Artisan Bowl | Faux Moss For Bowl | Faux Cedar Trees | Concrete Planter | Concrete Wood Stools | Ceramic Fire Balls | Chunky Loop Blanket | Large Linen Window Pane Throw Pillow | White Textured Throw Pillow | Woven Basket
Scalloped Umbrellas | Umbrella Side Tables | POLYWOOD Signature Chaise | Faux Cedar Trees | Concrete Planter | Large Black Fluted Planters | Faux Stems | Braxton Outdoor BarStools | Rectangular Outdoor Planters | Faux Boxwood Plants | Modern Trellis | Braxton Swivel Chairs | Outdoor Swing | Taupe Ottomans | Black Striped Cabana Pillows
Modern Ceiling Fans | Woven Outdoor Rug | POLYWOOD Vineyard 9 Piece Dining Set | Large Dough Bowl | Faux Cedar Trees | Concrete Planter | Large Black Fluted Planters | Faux Stems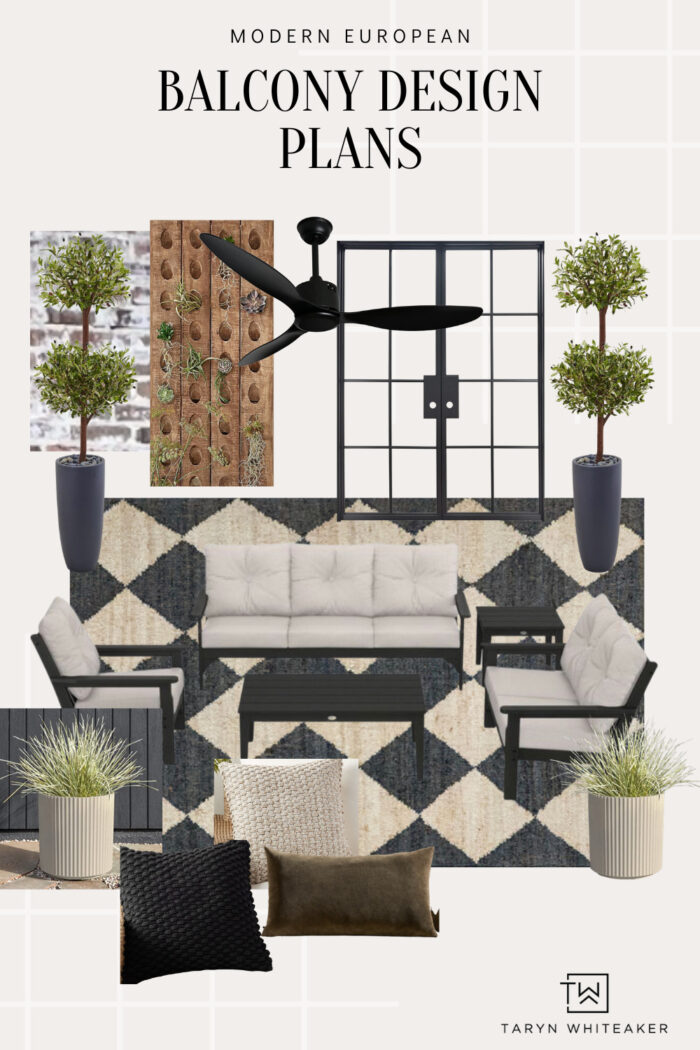 Modern Ceiling Fans | Vintage Wine Holder/Garden | Faux Olive Tree Topiaries | Checkered Rug | POLYWOOD Conversation Set | Almond Fluted Planters | Cream Woven Outdoor Pillow | Black Woven Outdoor Pillow | Olive Green Lumbar Pillow