Are you ready for the biggest update yet on the master bedroom renovation?! I have wanted hardwood floors in our bedroom since the day we moved in and I honestly didn't think it would ever happen. But after spending the past (almost) three years working on every other room of the house, I thought it was time that we get the master bedroom suite we have always dreamed of.
I worked Lumber Liquidators on this projects and I am really happy with how the floors turned out. They are the dark, rich and luxurious floors I dreamt of! I honestly can't believe how amazing they look against the light walls and white trim. I'm so happy we went with dark!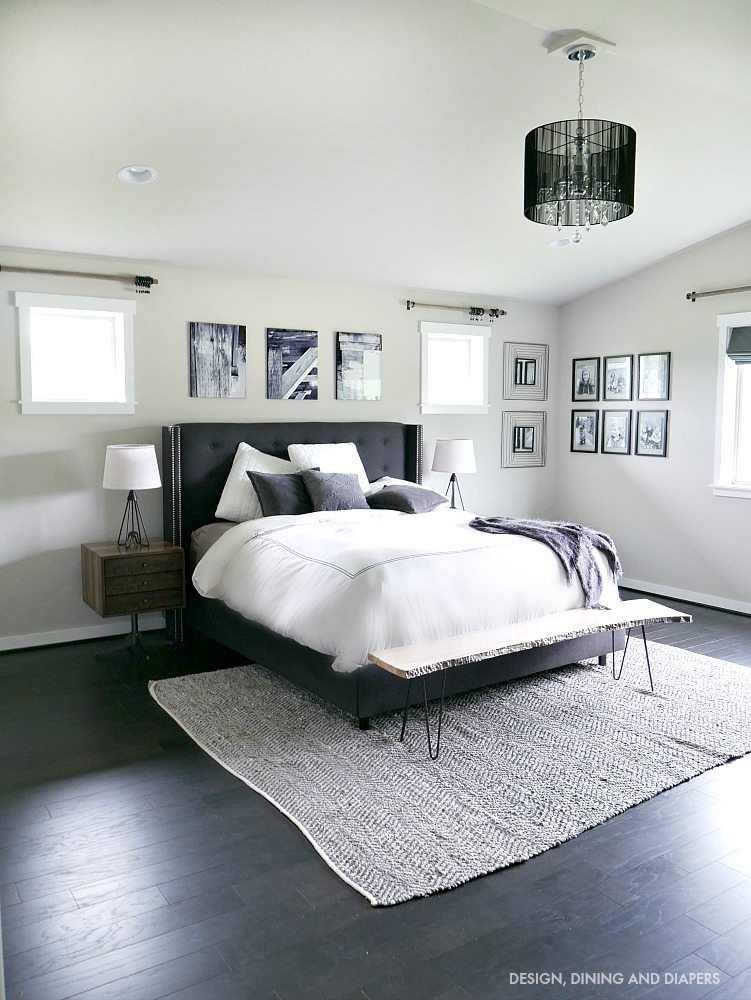 So are you ready to talk details? A few weeks ago, I shared some of the flooring choices that we were considering for this project. It really came down to a rustic gray and a rustic black. We ended up going with the Black Forest Oak, it's a pre-finished engineered flooring.
There were a few things we were looking for when picking out the floors, we wanted a bold color that was going to transform the room and blend in with what we have. We also wanted some texture to the floors, so they aren't perfectly smooth. We wanted them to have dimension and reveal some of the wood grain.
This was the perfect flooring choice. It completely changed the look of the room. Removing the beige builder's grade carpet and replacing it with these dark floors made such a difference and we couldn't be happier.
Since our house is still fairly new and the molding is in perfect condition, I didn't want to remove the molding and reposition it and repaint it, which would require a lot more labor. So we went decided to add quarter round along the bottom of the molding in the same color as the flooring.
I'm so excited for the big change and I can't wait for it to transform even more!
And in case you forgot, here is what our room looked like with our beige carpet. SUCH a difference!
Keep an eye out for a new modern bed frame and bedding coming soon and I still need to decide on curtains and a new chandelier and a million other things!