Disclosure: This post is in partnership with Minted. All opinions and content creation is my own.
Do you remember when I gave our front entry way a makeover a few years ago? I fell in love with a picture on Pinterest and decided to replicate it on my own. At the time, I was trying to keep the makeover on a budget and simply downloaded a few free printables for the artwork. While they worked, it's finally time to take this look up a notch with some new fine art. I want to give it more of a luxe look that will last for years to come. I am really honored to be working with Minted while I go through the journey of picking out new art for an entry way and throughout the downstairs.
Also! Minted is giving YOU a discount code TOO!
GET 20% OFF FRAMES + FREE SHIPPING USING CODE TARYNWHITEAKERFRAMES
Picking Out Art For An Entry Way
I had an idea of what style of art I wanted for our entry way, which helped narrow down the search. I'm glad I had a few parameters because Minted has such a HUGE collection of unique fine art. I spent hours looking for the perfect pieces for this space that fit my style and were also complimentary of each other.
I knew I wanted square prints, black frames and something neutral but also a little abstract. I really like to blend "hard and soft" or "masculine and feminine" interior design trends and that is what I was going for with this artwork collection as well.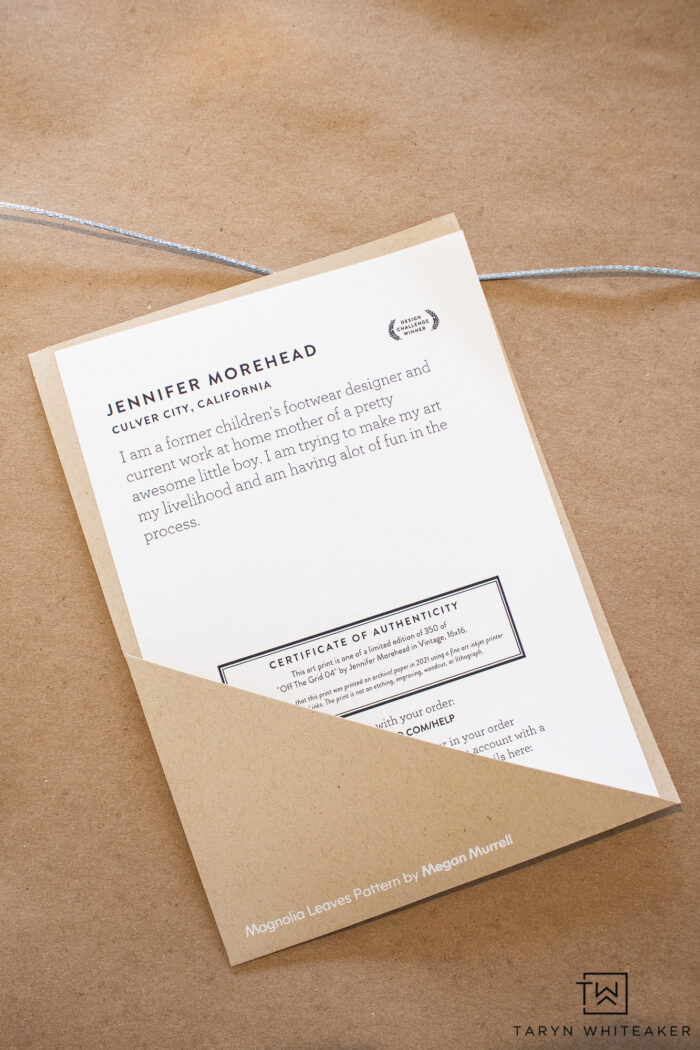 One of my favorite things about Minted is that it supports thousands of independent artists. On the back of every print you will find a card about the artists who created the piece. I love the personal touch it gives each piece of artwork in our home. These aren't just reprints of something EVERYONE has in their home, these are beautifully created custom pieces by talented people.
Before Entry Way
If you need a little refresh, here is what our entry way looked like earlier this fall. Changing out the prints with Minted fine art made such a difference and the subtle earth tones give it a lot more dimension.
Rustic Modern Entry Way Decor
When purchasing art through Minted, you can customize the color and style of the frame as well as the matting options. I choose a "float mount" which is so beautiful. The artwork looks as though it's floating in the frame giving it a gallery look.
Even though I enjoy more abstract art, I also like to combine it with vintage landscape prints in the same color tones to add warmth. The key to combining different art styles is to make sure they fall into the same color guides. Minted has a list of colors associated with each print to help you find complimentary pieces for your gallery. They also have pre-selected galleries if you would rather have someone put it all together for you :)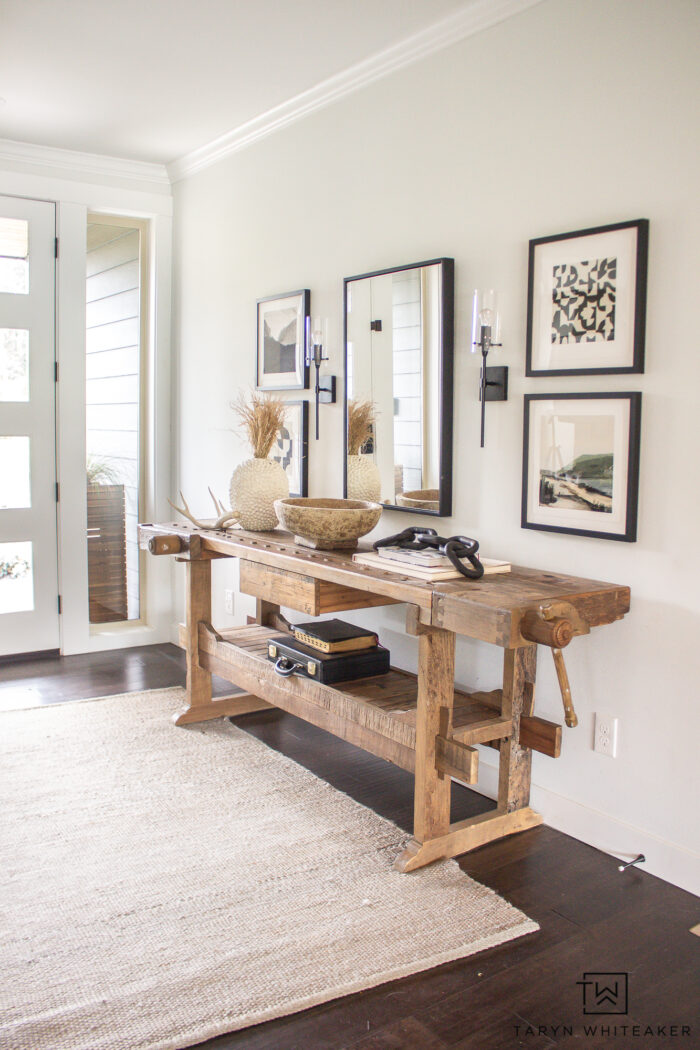 I feel like our entry way is even more of a show stopper now!
Hallway Art
Are you ready to see more? I didn't just stop with the entry way, I actually added two more pieces of fine art to our downstairs. The little hallway that goes into our power room was in need of some upgraded artwork as well.
With so many black frames in our home, I decided to frame this abstract print in the White Washed Herringbone Frame that is an option with every print. I really love the texture of the frame and the warmth it brings to our space.
Bathroom Art
Heading down the hall into the bathroom is the final print I added to our home. Living in the PNW I have a soft spot for landscape photography that features the beautiful views of nature in our area. I instantly fell in love with this print called "Fog at the Beach in the PNW". I thought it was the perfect addition to our newly renovated bathroom.
Watch The Process:
Get This Art!
GET 20% OFF FRAMES + FREE SHIPPING USING CODE TARYNWHITEAKERFRAMES
If you are interested in purchasing any of the artwork from this collection, head to Minted.com and search for these prints. I'll also list out how I ordered them.
Paper Napkin Panorama I Art Print

16X16 Float Mount with Rick Black Wood Frame

Off The Grid 04 Art Print

16X16 Float Mount with Rick Black Wood Frame

Off The Grid 03 Art Print

16X16 Float Mount with Rick Black Wood Frame

Miles II Art Print

16X16 Float Mount with Rick Black Wood Frame

Modern Lithograph Art Print

40X30″ Matted with White Wash Herringbone Frame

Fog at the Beach in the PNW Art Print

30X24″ Float Mount with Rick Black Wood Frame