Disclosure: This post is in partnership with Anko. All opinions and product selections are my own.
This season has been all about fall table decor! I've had such a wonderful opportunity to partner with Anko, an affordable home store that is based in Australia and is finally hitting the US with four stores in Seattle and another one opening soon! We are loving the stores here and I hope you all get to experience their amazing products near you soon!
Anko has an incredible selection of kitchen and dining products, their ceramic plates are just $2-3 each and allll the accessories to go with them. I have been using their dining sets on so many of my tablescapes over the last year, so I was excited to work on a series of fall tables with them this month. I even taught a tablescape workshop at a local store and shared some tips on local TV! In case you missed any of it, or aren't local, I wanted to share one of my favorite tables with you here along with some of my tips for putting together a fall tablescape.
Black and Plum Fall Table
This black and plum fall table is one of my favorite looks I put together with Anko. It's sleek, modern, cozy and yet still festive. And you won't believe the prices on these items.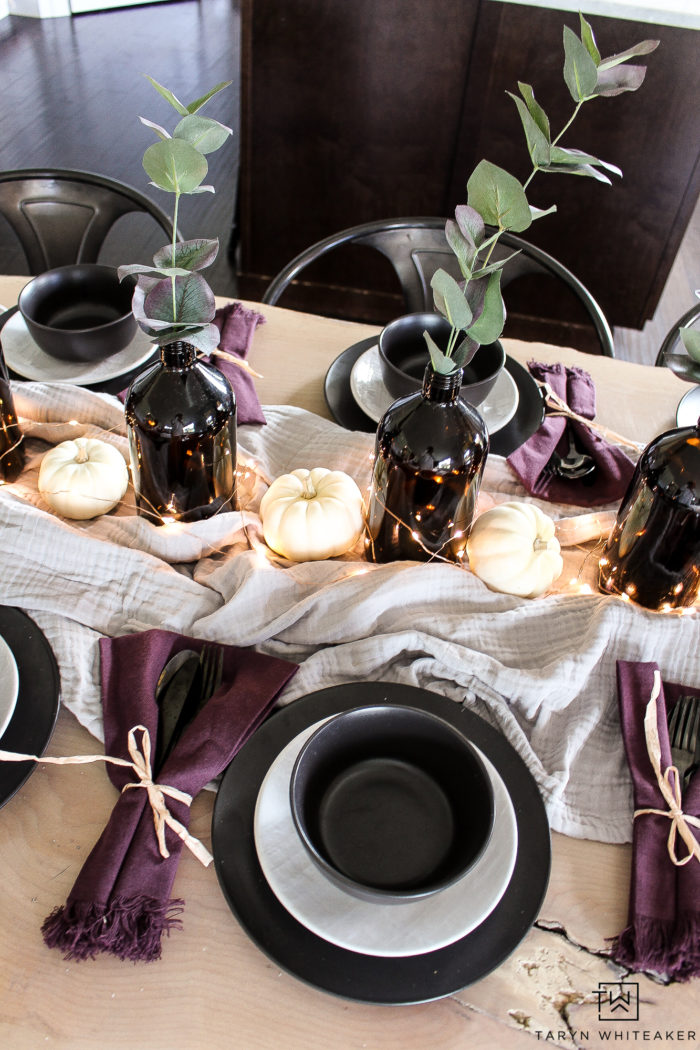 Tips For Creating A Budget Friendly Table
Use Unconventional Items
When building a tablescape, I always look for unconventional items to use on my tablescape that will make it interesting and cozy. I found this linen-like throw blanket at Anko for just $15 and had to have it! I used it has a cozy table runner for this look. I love it gives off a very organic vibe to the table. I also used it for a tablecloth for a different look!
Recycle Old Bottles
So you an either recycle your own bottles, or go pick up these gorgeous amber colored glass bottles at Anko for just $2 each! Seriously, I think these are my favorite find this season because they are so versatile, work year round and are a great buy!
Use Natural Elements
Another great way to add a little festive touch to your table is to use natural elements to add texture and character. I picked up these pumpkins at the grocery store and you can alway take a trip to your yard and cut down some dried grasses, tree branches, lavender etc.
The filler I used for the bottles on this table is faux eucalyptus plant from Anko. I love the hint of purple on them it really ties together the whole table from the napkins to the centerpiece.
Look at all those textures together!
Add Lighting
Whether it's through candles or baby twinkle lights, a little sparkle is always the perfect way to top off your table this time of year. It adds much warmth and coziness and creates a great ambiance for the darker evenings and more elegant dinners.
I found these battery operated twinkle lights at Anko for just $4 a strand, which is a HUGE savings compared to other places I have found them. I just tucked the battery pack under the blanket and wrapped them around the bottles. Another great piece that you can use year round and is super affordable.
Mix and Match Dinnerware
The dinnerware section at Anko is my favorite! I love having different dining sets at the house so I can mix and match plates and bowls to create a personalized look to my tables. They are the perfect place to purchase individual pieces to add to your collection and they are all SO affordable.
The plates I'm using for this table are the black matte dinner plate, the white textured side plate and the matte black bowl.
They also carry table linens now, I found these purple napkins there for just $1 each! Love the pop of color they add to the minimalist table.
Hope you found some inspiration in today's post!
Shop This Post:
Gray Throw Blanket | matte black bowl | black matte dinner plate |white textured side plate | Amber Bottles | Twinkle Lights
Watch The Segment on King 5 News!