I can honestly say fall has made itself very known around here this week! It's been raining and pouring and it's even getting a little too cool to stay outside too long. That hasn't stopped me from decorating our outdoor space for fall! When it comes to outdoor fall decor, I focus mainly on three things 1)mums 2) pumpkins 3)blankets. Three simple things that instantly make a space feel ready for the fall weather and colors.
Today, I'm joining a lovely group of bloggers as we all share our outdoor spaces decorated for the new season. At the end of the post you'll find more inspiring spaces.
Decorating An Outdoor Space For Fall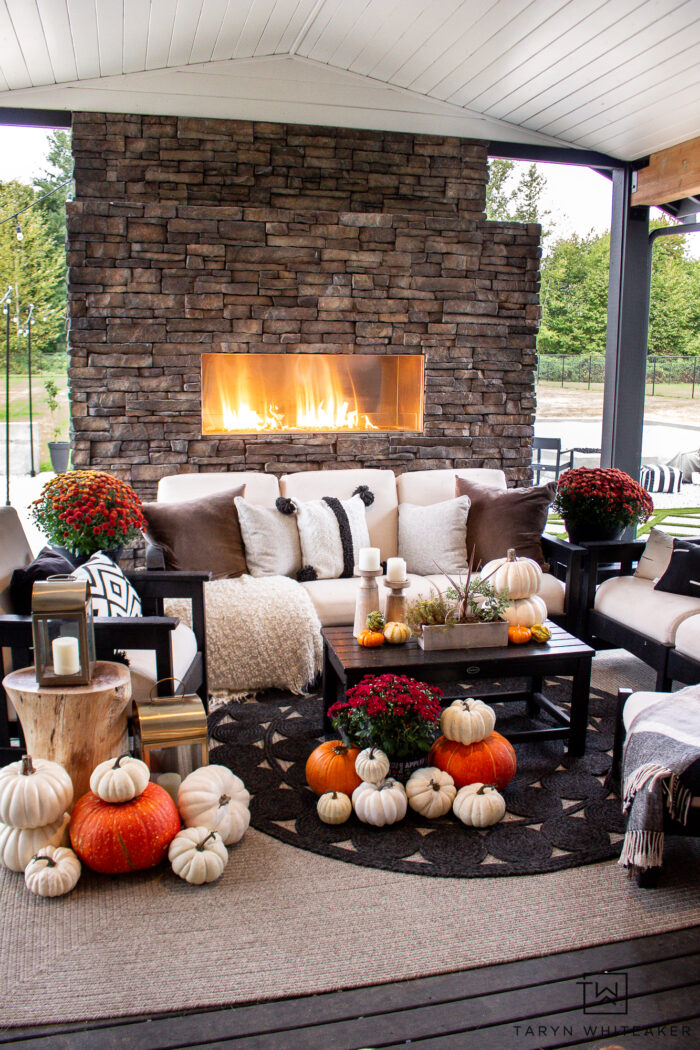 I shared more of our fall home tour last week. You guys, I still haven't decorated our porch yet and it's almost October! Who am I?! I normally have it up at the end of August! I have been focusing on some major DIY projects around the house and just haven't made fall a huge priority, but it's finally starting to feel extra cozy around here.
When it comes to pumpkins, would you believe half of these are real? And the other half are fake? In fact, every single white pumpkin in this photo is faux. Pumpkins don't last too long so it's nice to have fake ones that look SO realistic. I love that they last all season and I can reuse them year over year.
There are a few changes I've made out here since my fall outdoor space last year,
Here are a few links to my casual fall outfit:
Shop This Space:
More Fall Outdoor Spaces

Today I'm joining some of my talented blogging friends for the Fall Seasonal Simplicity Series: Outdoor Spaces hop. Be sure to check out all of the beautiful inspiration by visiting their posts. All the links are just below the images.