The colors and textures of fall are slowly sprinkling their way throughout the house. The transition to fall is an easy one because I love neutral colors and lots of texture to begin with. This time of year it's all about brining a few decorative pumpkins inside and switching out the vase fillers to something organic and bringing out allll the cozy blankets! I'm taking you on a little tour of on how I'm decorating our home for fall this year.
I'm joining a group of home bloggers today as we all share touches of fall around of our homes. If you are here from A Pretty Life In The Suburbs, welcome! Scroll down below for the full list.
Decorating Our Home For Fall
Fall Entry Way
Our entry way is always a great place to start with fall decor. I change out the vase fillers with sprigs that are a little more earthy and rustic. A simple change that is often FREE! Clipped these from our yard!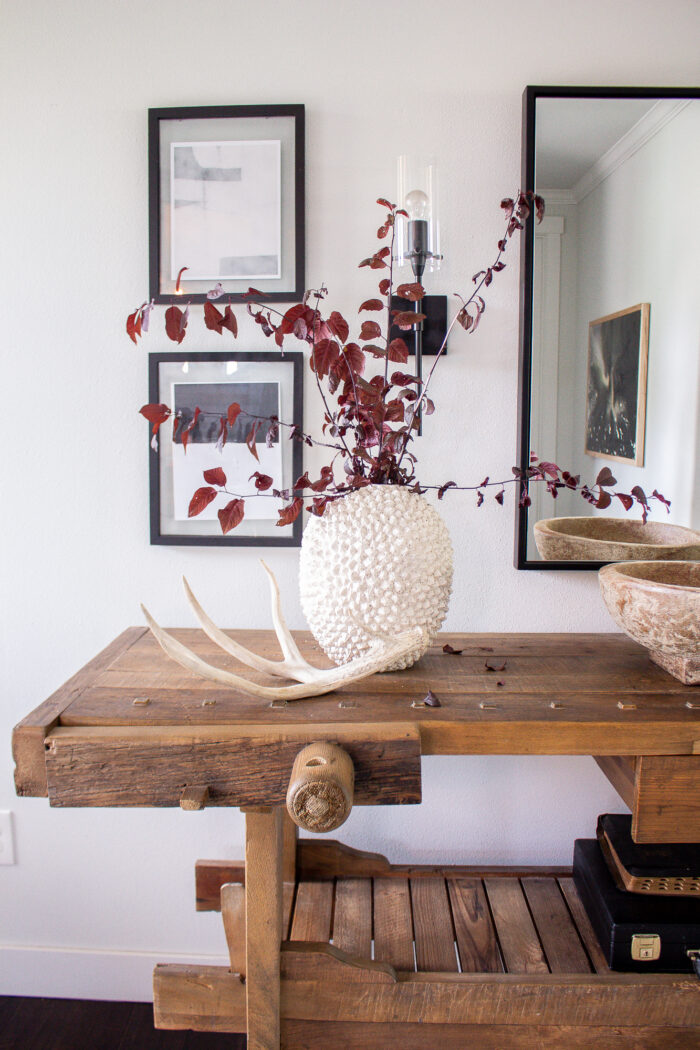 I do have some additional updates I'll be making to this space for fall (well more like general decor updates), so stay tuned!

Simple Fall Mantel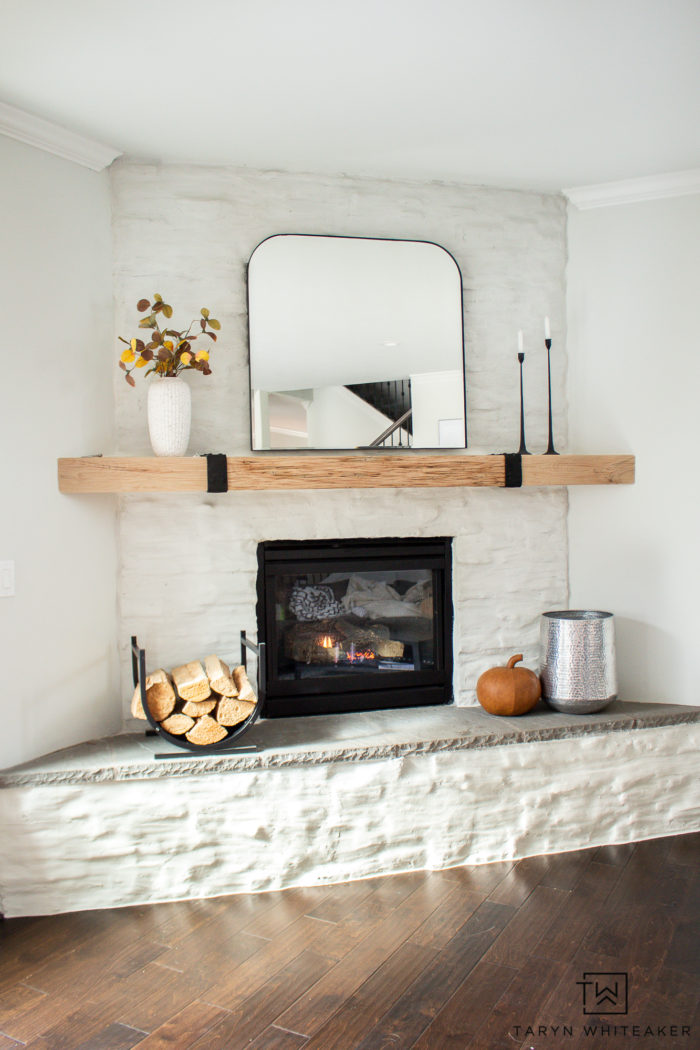 I shared our fall mantel on the blog last week. This is the first fall/winter season that we don't have the TV above the fireplace and….. oh.my.gosh. it feels to good to be able to decorate the full space and not have to decorate around a TV. We LOVE having it on the wall? I'll hopefully be sharing more of that space soon too.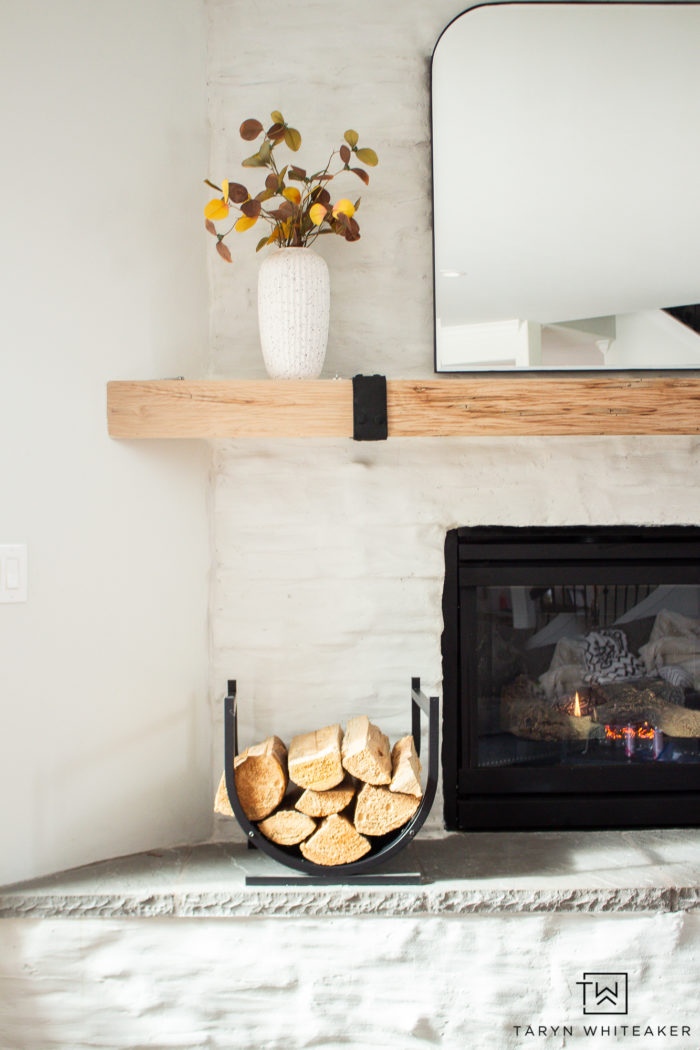 Fall In The Kitchen
Adding seasonal decor to these shelves is a must! It's my favorite place to play around with. I shared more pics and tips on styling shelves for fall last week.

All it takes are a few decorative pumpkins and loving feathers! (Loving these ones from Amazon!)

Fall Bedroom Decor
I think this is the first time I have ever added touches of fall to our bedroom and I'm kinda loving it. It's typically pretty monochromatic and super modern, seeing a few softer touches is actually kinda nice in here.


Moody Fall Room
Our bonus room is one of the spaces I completed (well 90%) last fall! It feels sooooo good to have this space done. We use it a lot when the cooler weather comes around. It's perfect for hanging out, playing games and watching football!
Fall decor is also all about the cozy blankets! Sunset Snuggles was super gracious and gifted us with the coziest, softest blankets for our home this year! You may have seen them in a few rooms! They would also make the perfect gift!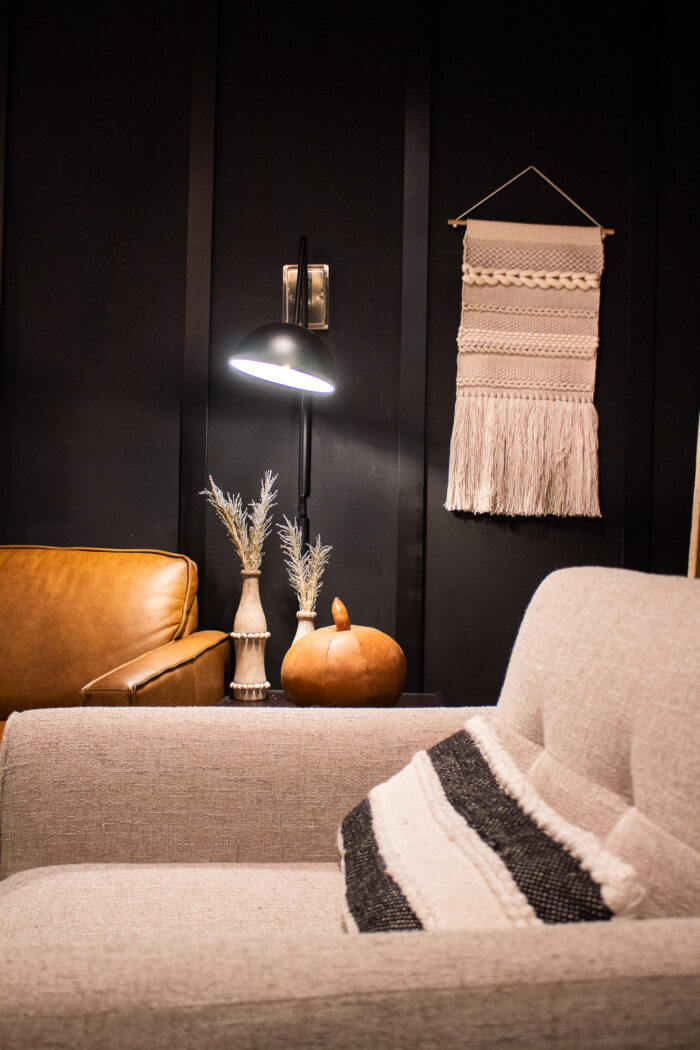 I added a few natural grasses to vases I already had in here and these gorgeous leather pumpkins I grabbed last year. (You can browse more decorative pumpkins here)

Hope you enjoyed a little tour of our fall decor. I'll be taking you around the outside next week!
Be sure to check out Inspiration for Moms, her house is always so wonderful!.
More Fall Tours To Browse

This week I'm joining some of my talented blogging friends for the Fall Seasonal Simplicity Series. All week long we are sharing our homes decorated for Fall. Be sure to check out all of the beautiful inspiration by visiting today's tours, and pop by again during the week to visit everyone else who is sharing!
Sharing with me today…
Tuesday
And sharing the rest of this week…
Monday
Wednesday
Thursday
Friday