I'm about a month late setting out my fall porch, but better late than never! I was so excited to decorate our porch for fall this year because it's the first time putting bright pumpkins out against our new dark exterior! I knew the contrast was going to be good, and it didn't disappoint. I'm giving you a little tour today of my modern fall porch display. Minimal, elegant and will last through the season.
Modern Fall Porch Display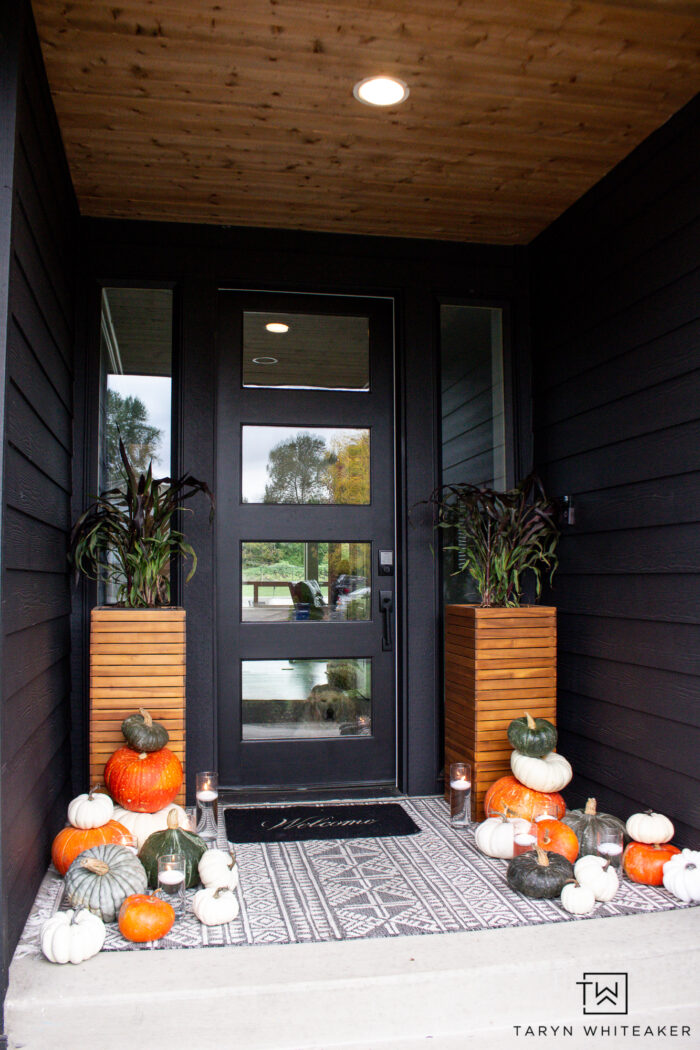 Gah! Look at how those pumpkins pop against the black exterior. This porch was made for fall and Halloween! I love the moody fall tones and how cozy it all feels.
I was hesitant to keep these planters out for fall, they feel a little too summery or tropical to me. I asked for your input on Instagram and everyone said to keep them. I stretched me a little but I think just switching out the plants to something darker helped a lot. I'm glad I kept them because they work so well with our porch.
Pumpkin Display On Porch
I've tried lots of different pumpkin displays over the years. I went with all white pumpkins for many years. A few years ago I started venturing into some more earth tone colors and playing around with gourds and heirloom pumpkins. I love the character they bring, how every one is so different and unique. Plus the colors back everything so festive.
I pick up most of my pumpkins at a local farm not too far from us. But most of the white ones are actually fake! They look so realistic and I can bring them out year after year. They make for great filler pumpkins.
Ok, so I know the candles are not practical and definitely not that safe when little trick-or-treaters are coming around. But I thought they added a little sparkle to this styled shoot. I think I'll add some battery operated lights around the pumpkins as we get closet to Halloween!
New Fall Outfit
If my porch was getting decked out for fall, it was a great excuse to bring out a fun fall outfit! Johnny Was sent me a few gorgeous dresses and accessories to style for this fall and they are stunning. Definitely splurge pieces that you will keep in your closet for years to come!
They have so many fun pieces! Tons of colorful, funky outfits. I chose more neutral timeless pieces that fit my personal style, but if you like brighter and more statement pieces, you'll love their site. This black dress can be worn all year round and dressed up or down. I belted it so it was a little more form fitting.