It's hard to believe we moved into this home over four years ago. I typically write this post every August, but well I was busy with travel and room renovations and it's just now happening! This is the first year where I feel like we are actually making a lot of progress on the house. I finally see more spaces decorating than not and our project list is getting smaller. I mean, there will ALWAYS be projects, especially as I decide to redecorate or make changes to spaces that are already complete. But at the end of the day we only have a couple of spaces left that need a full overhaul. Which seems crazy! It's been a slow and steady race, but every day I feel like we leave more of our mark on this home and are really turning it into a space that truly fits our style.
Every year I like to do an updated house tour so you can see the progress we are making and see how our house flows together. At this point, some of the rooms haven't been touched in years and others are constantly changing.
Pacific Northwest House Tour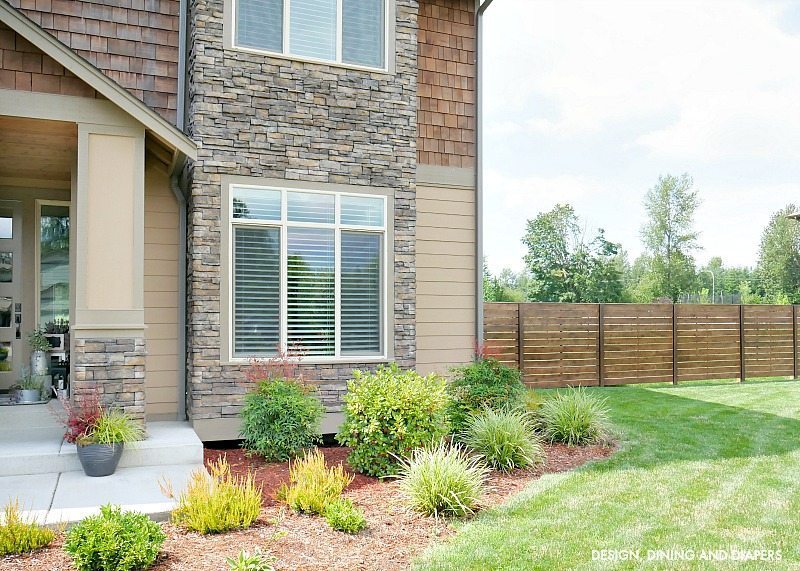 Every summer, we pick a new exterior project to tackle and two years ago it was our fence! You can read more about that here. Last summer, we landscaped our massive ditch in front of our house with a really cool dry stream and modern plants. It's been done for over a year, but I have yet to blog about it! Hoping next summer when we get fresh bark and the plants are all in bloom.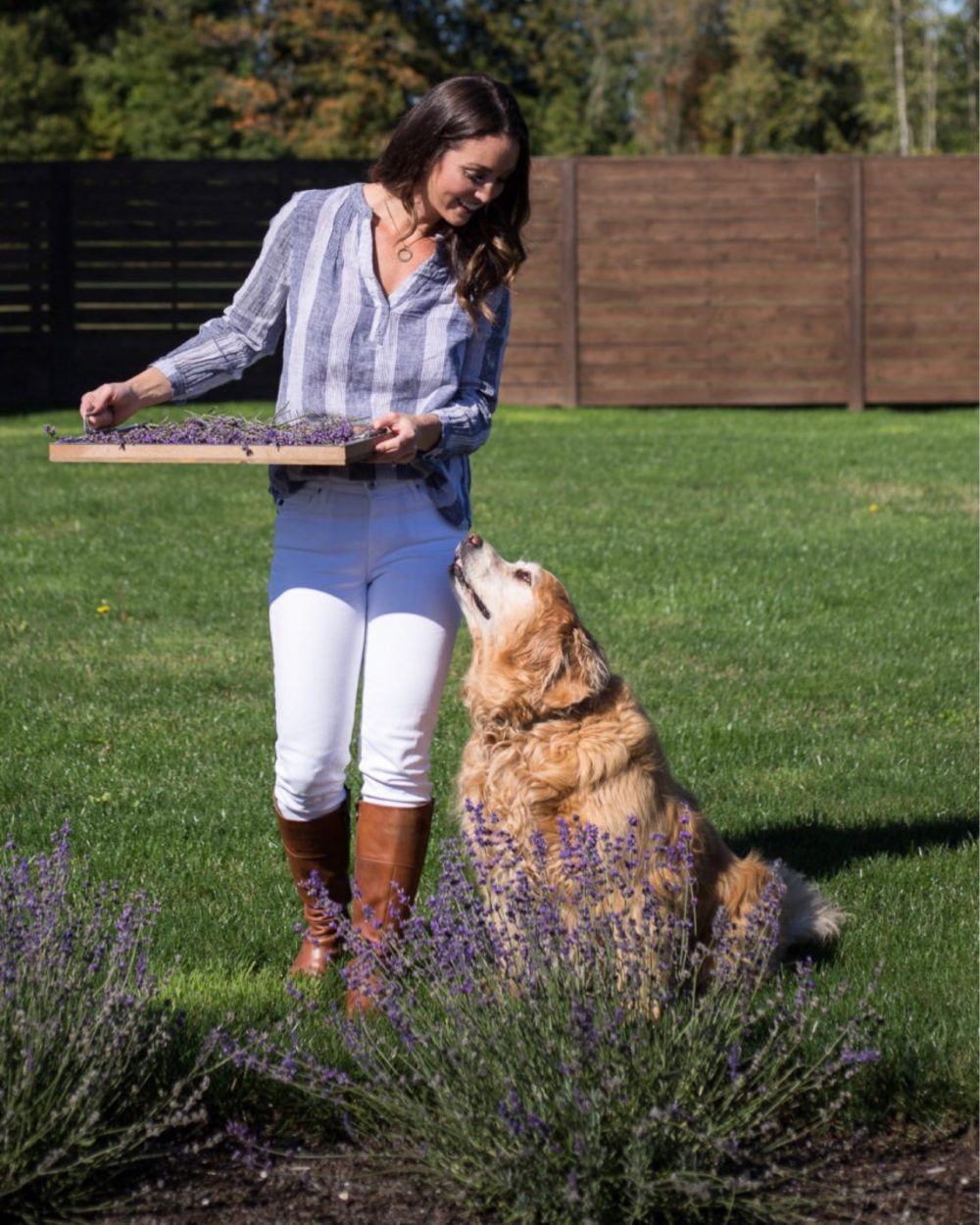 This year, our 25+ lavender plants that border the property were in full bloom for the first time and I lOVED it! This was my first time pruning back our lavender plants for fall and I couldn't believe how much I had to play with. I put together this lavender tablescape with some of it, and gave the rest away to friends. I want to learn how to make more things with lavender to take full advantage of it. Send me some of your favorites!
Front Porch Design
I switch up our front porch a few times a year, but here is our front porch all decorated with modern containers and Japanese boxwood plants. This spring porch decor ended up being my most popular post of the year!

Chic Entry Way
As you enter you have our entry way, that hasn't changed all that much since I put in the sawhorse table and oversized mirrors, I just added a lit bit of seasonal items and accessories throughout the year! You can see my fall entry way here, and Christmas last year !
Shop This Room

Rustic Office Design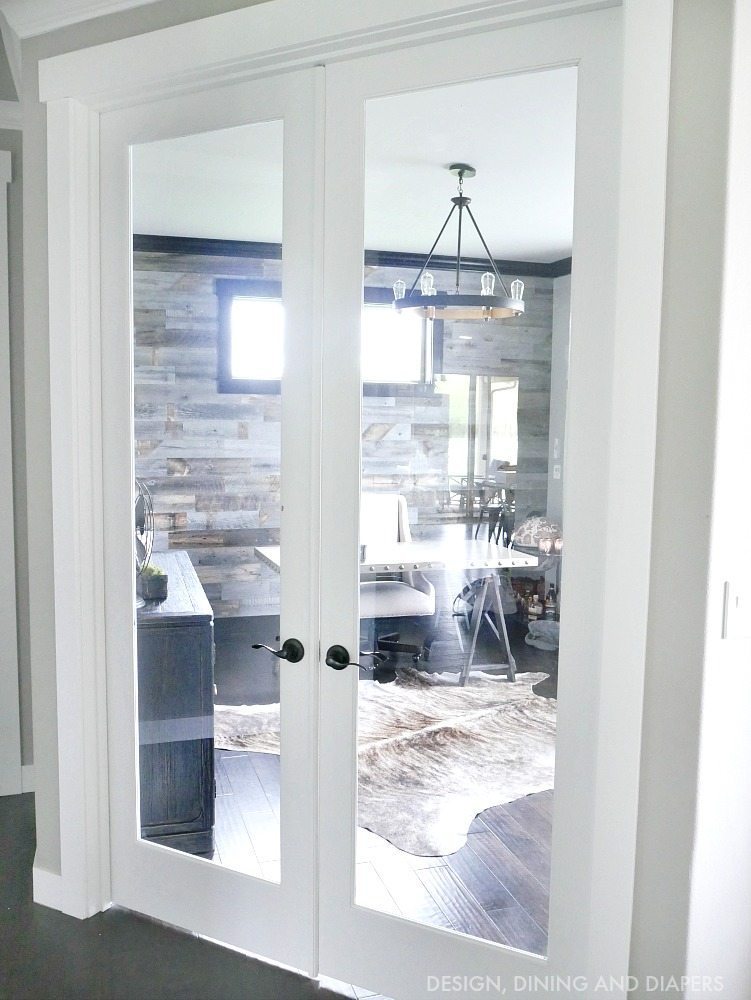 Right off our entry way is my husband's office. This was a project that took me over a year to complete but I'm so glad I kept working on it until my vision was met. It is a mixture of both masculine and rustic and a classic look. Over a year later and I still love every inch of it!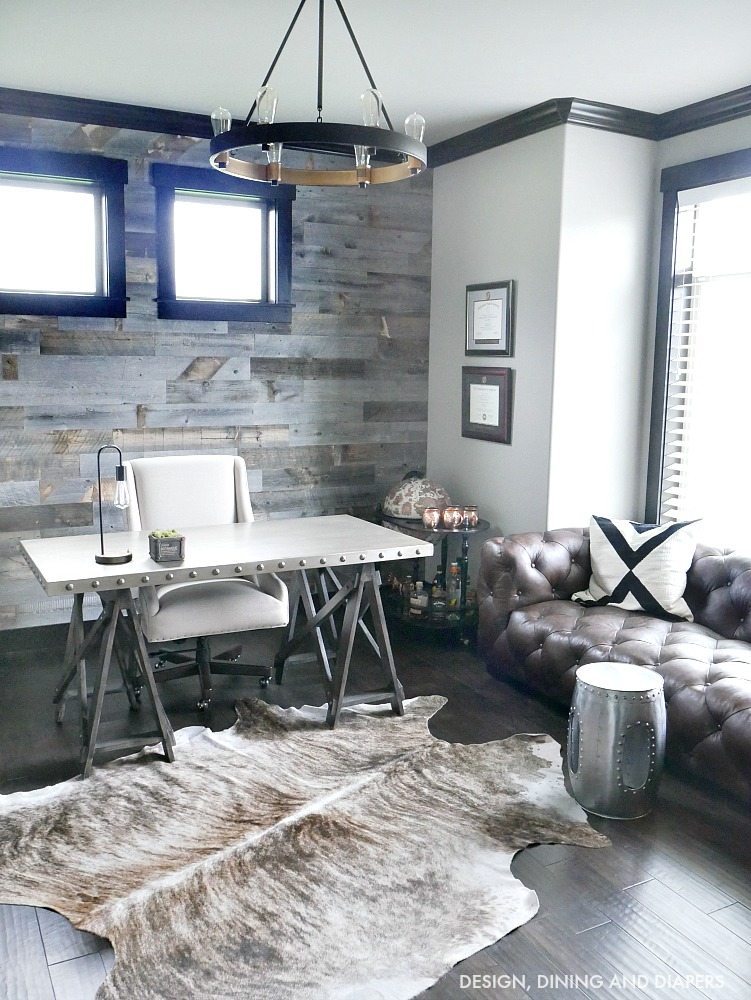 This is probably one of the rooms I am most proud of because I really pushed myself and executed a design that I absolutely love. I love sitting in here at night in this cozy den space working away and looking around at all the touches. I have no intention of changing anything in here!
SHOP THIS ROOM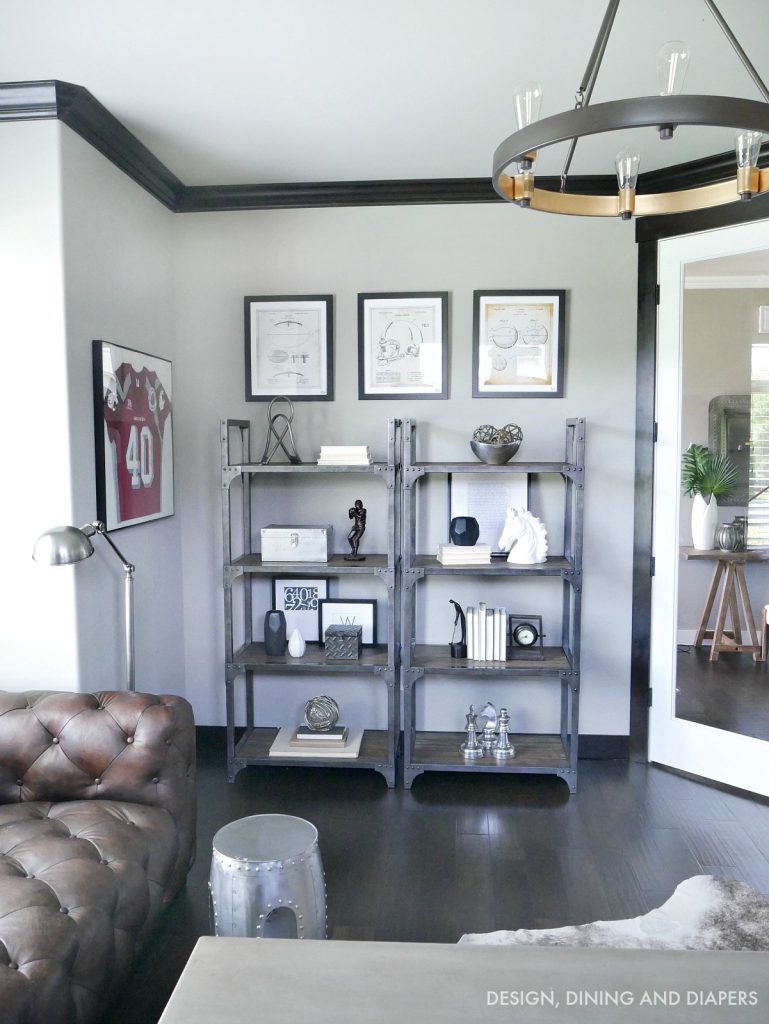 Through the glass French doors you can see right out into the entry and all the kids running and screaming by all day :)
Downstairs Open Floor Plan
For our main living space, I have added even more black and white than ever before and I'm sorta on a kick. I want everyyyyything black and white in this space! I love the color combo, it's classic and it can merge into so many different styles.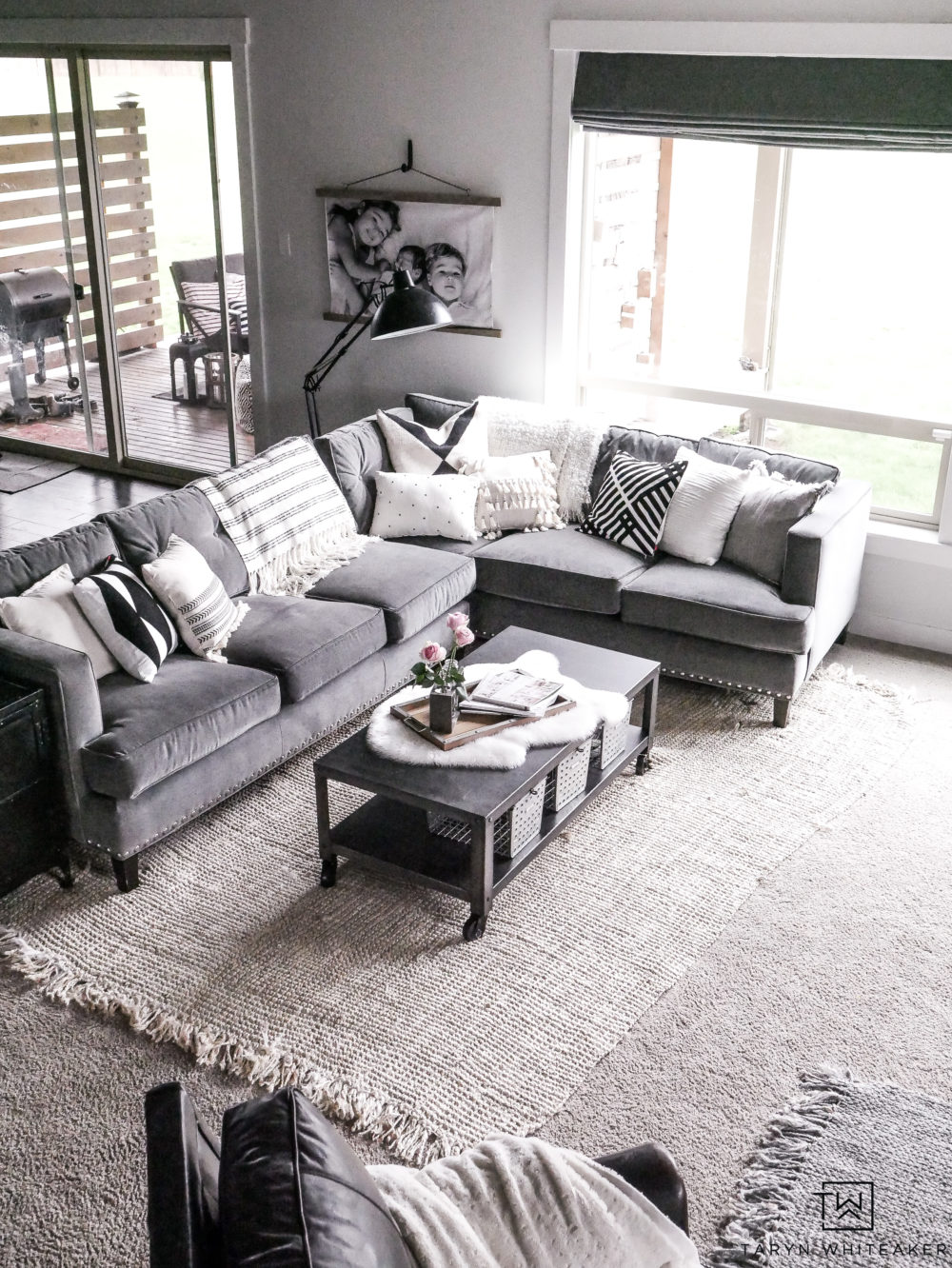 Our big change in this room this year was the paint color! I took the plunge and painted our entire downstairs Reserved White by Sherwin Williams. It was a little bit of a shock at first, but I absolute love it and now every room in our house is slowly getting painted!
One of the things I do each season is switch out the pillows on this couch, it always seems to freshen up the space and give it new life every few months!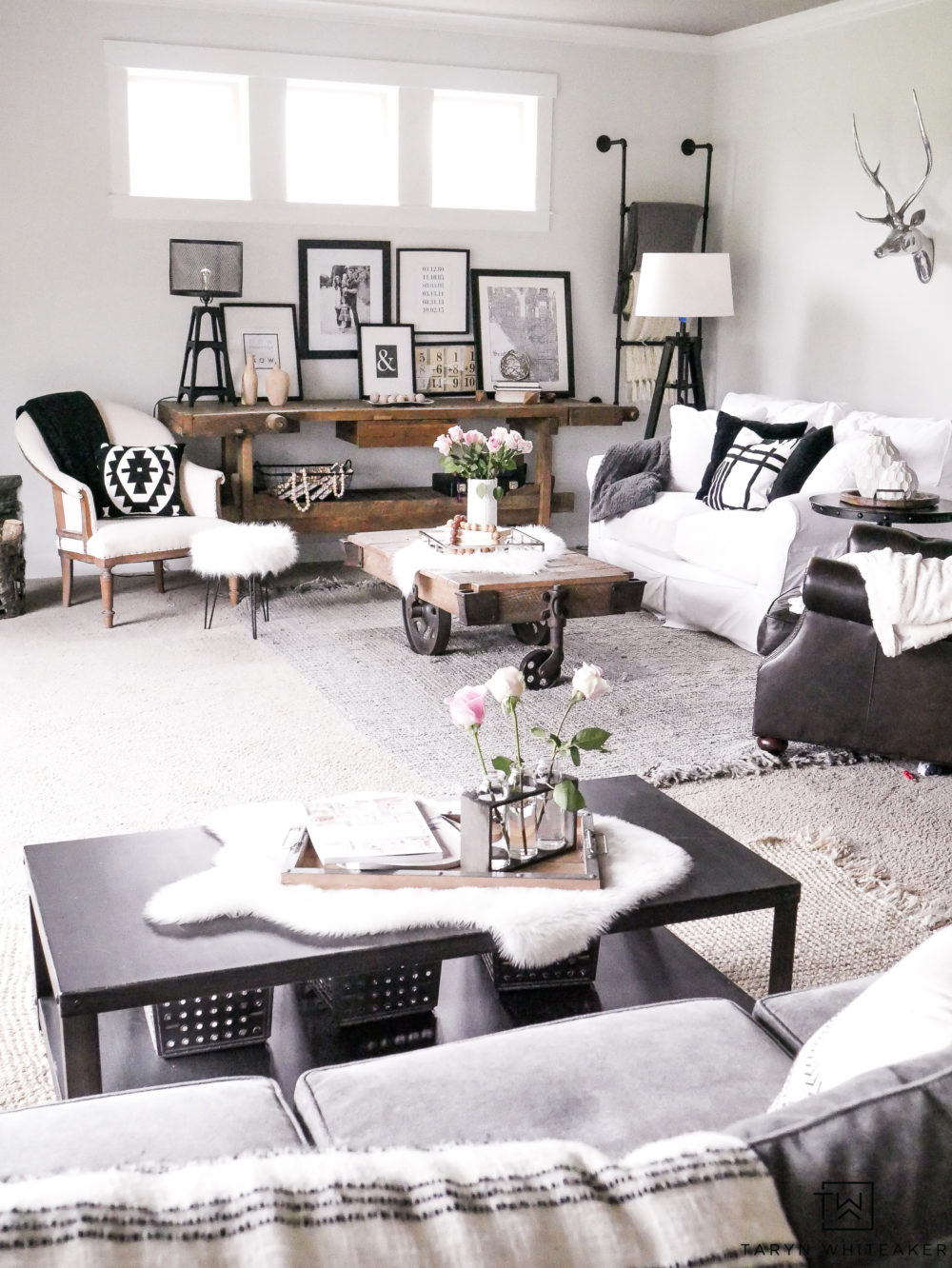 A few years ago I was looking for a more industrial looking coffee table for this space and I came across this one for only $170!!!! It's such a good deal. I will say the top will scratch if you put metal to metal, but it's a great solution for a great price.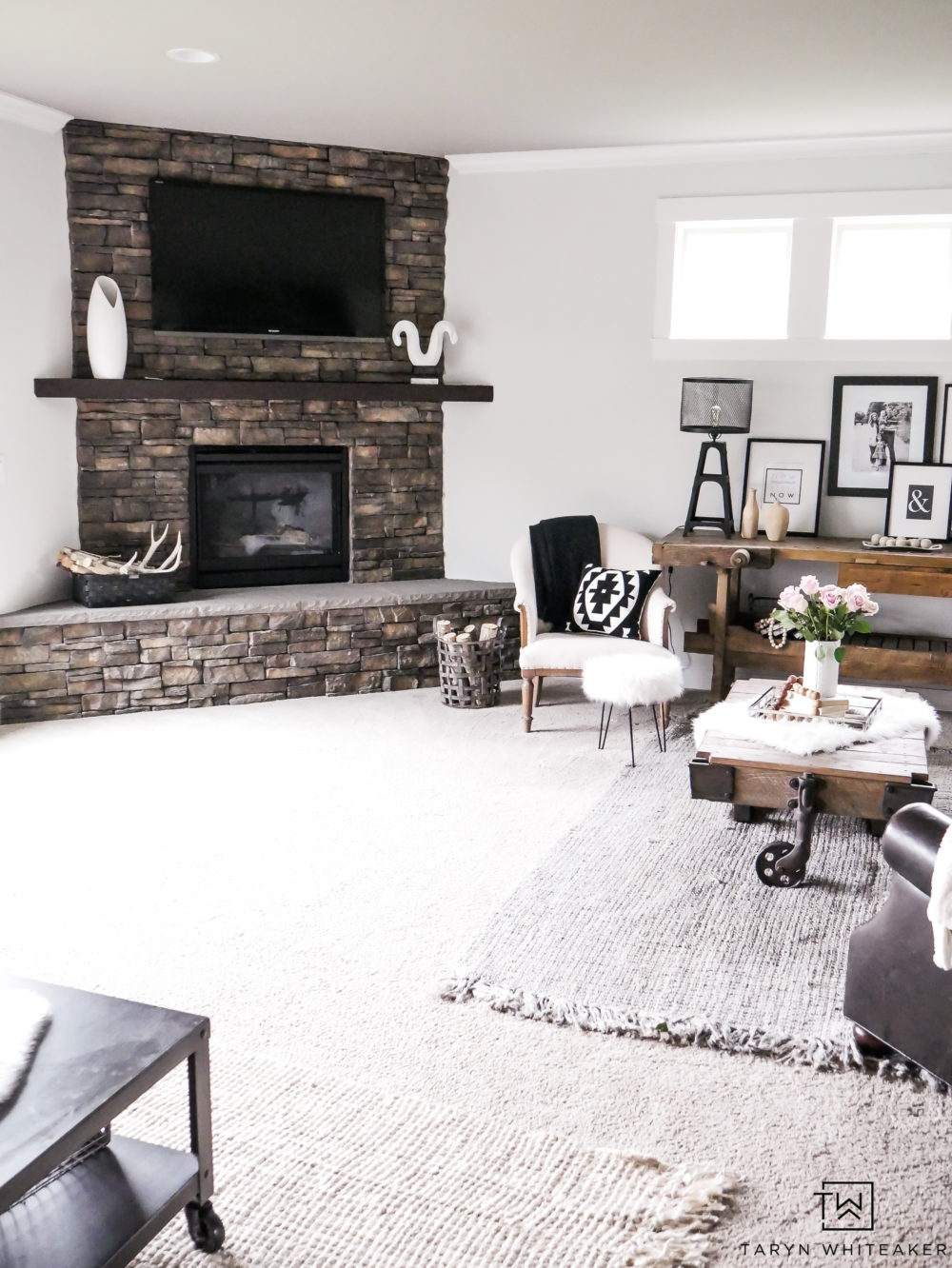 SHOP THIS ROOM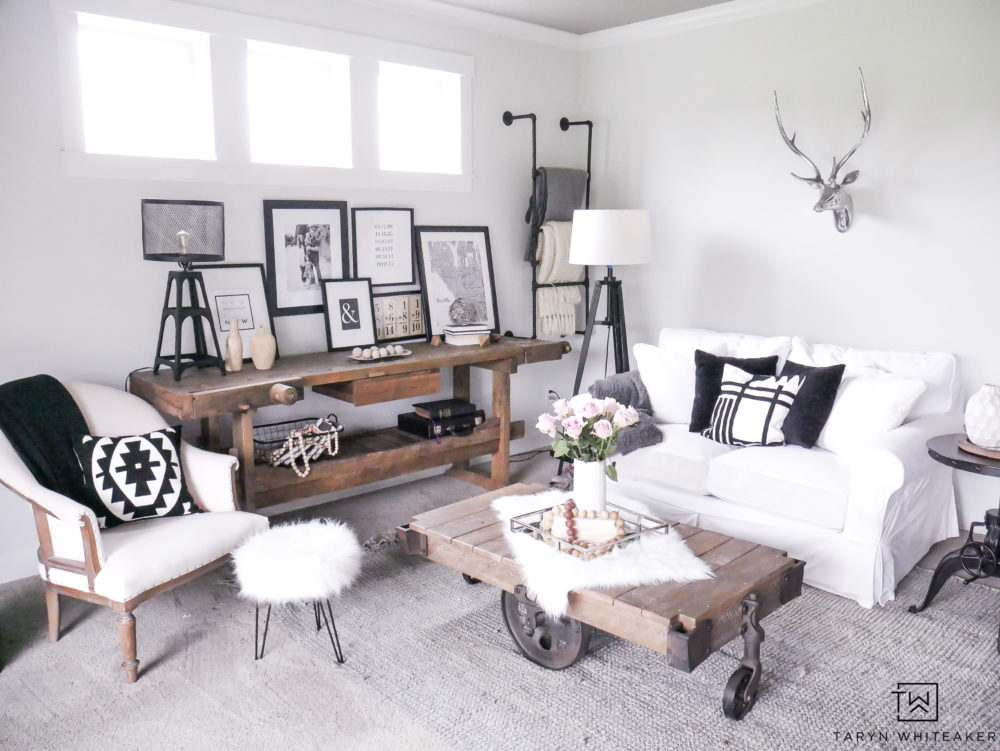 I've made a few recent changes to this space, by adding a layered throw rug and changing out the lone door head to an industrial mirror. You can check out the newest updates here.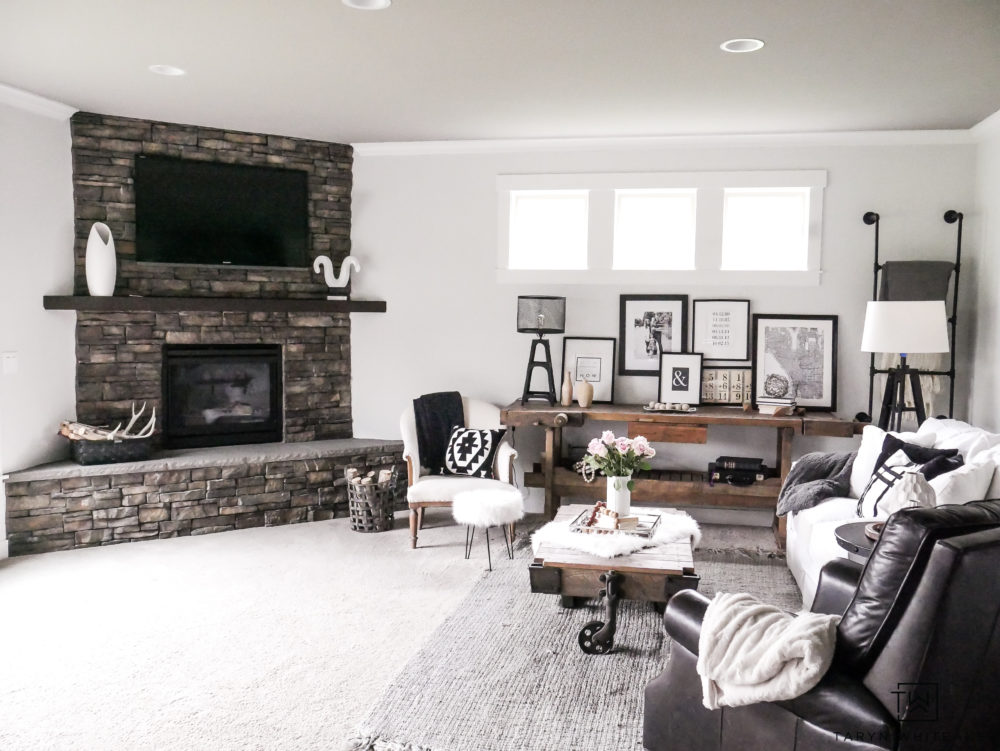 Dining Area
I spent many years trying to figure out what to do with this all here. It is a HUGE blank wall right off our dining area and kiten, and last winter I built this Shiplap Display for it. I use it a lot for parties and seasonal displays. If you missed this post earlier this spring, I put together a more permanent display on our Shiplap Wall Display. This year I updated it with the white wall paint, the more modern lamps and a new set of prints (that change seasonally!) You can download the free printables here and view how we built this space here.

I really love this view of our downstairs. The white cabinets really brighten up the space and it often seems surreal that this is really our home. I had dreamt of an all white kitchen for years and years and I can't believe we have lived here for four years. I get many questions about the mirror subway tile. It actually came with our home. I wouldn't necessarily have picked it out myself, but I don't mind it at all. It's a not quite as 'blingy' in person and since it's not at eye level you don't really see yourself in it all the time. However, you can find my putting on my makeup in the reflection as I'm running out the door to the bus stop with the kids :)
Outdoor Living Space
This space got a big makeover this year! We got rid of the older furniture and replaced with an amazing new set that fits a lot of more people!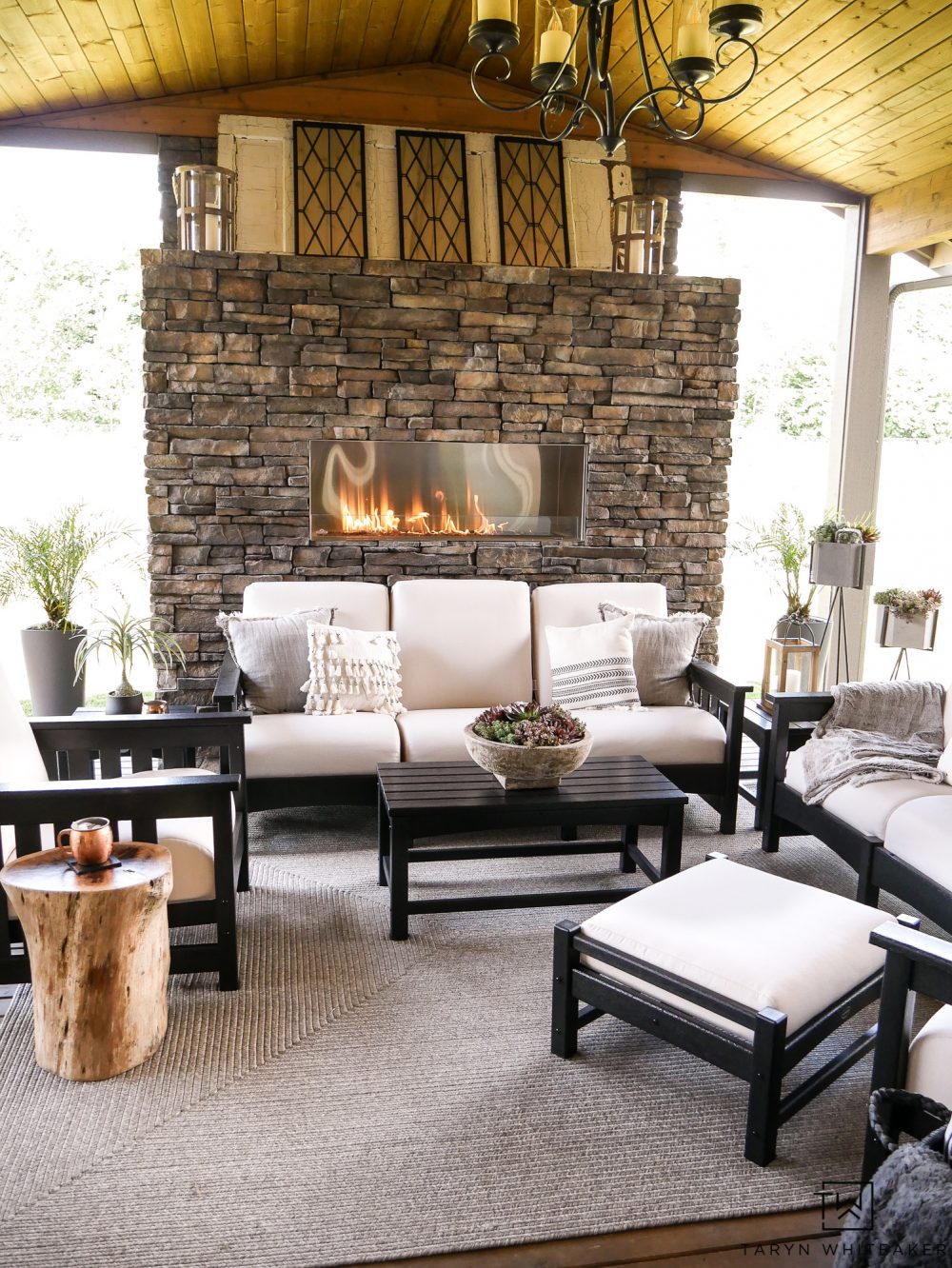 I feel like we are now maximizing this space! It feels much more put together and cozy. We can lounge out her year round and I am loving it.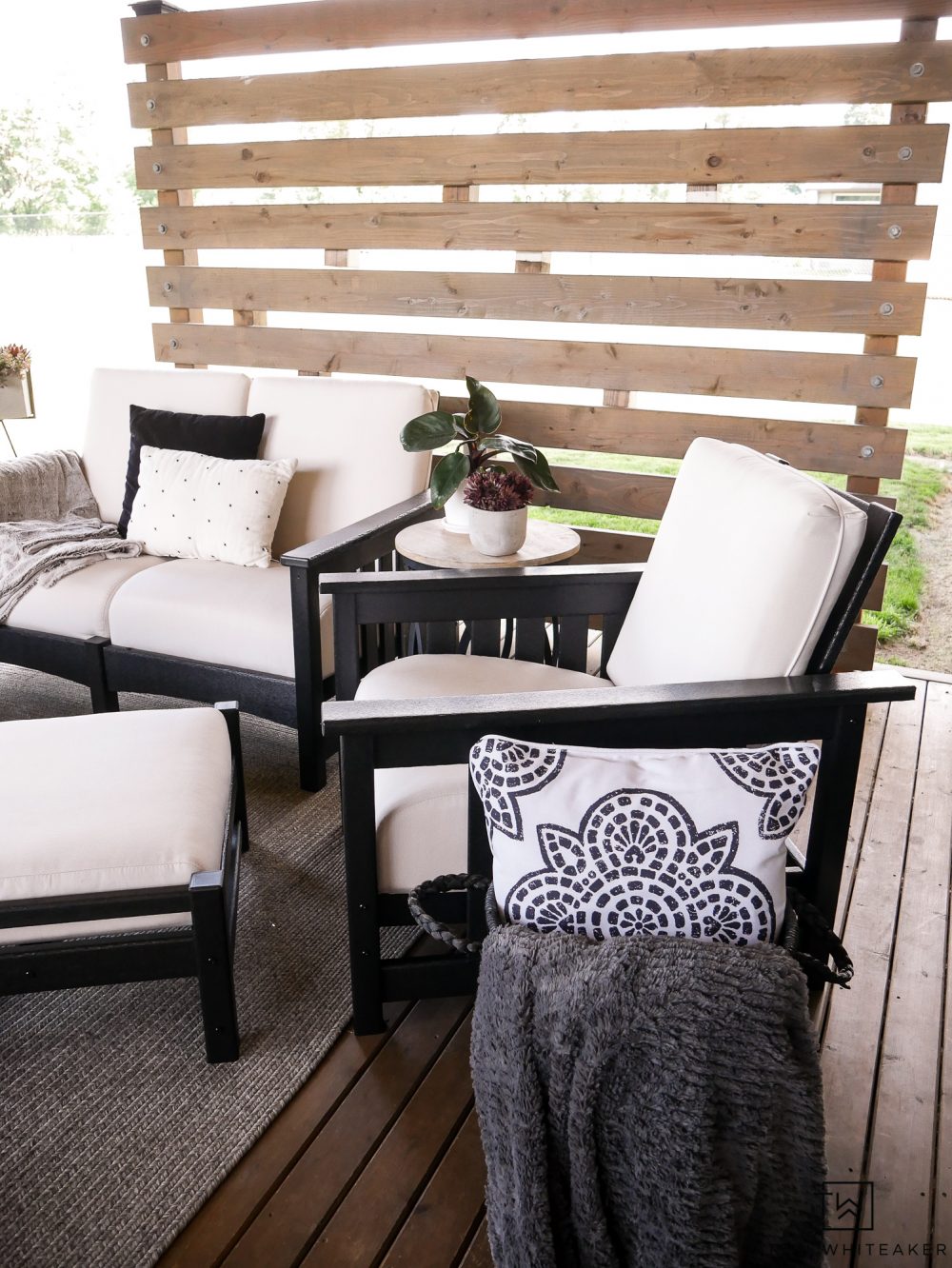 SHOP THIS ROOM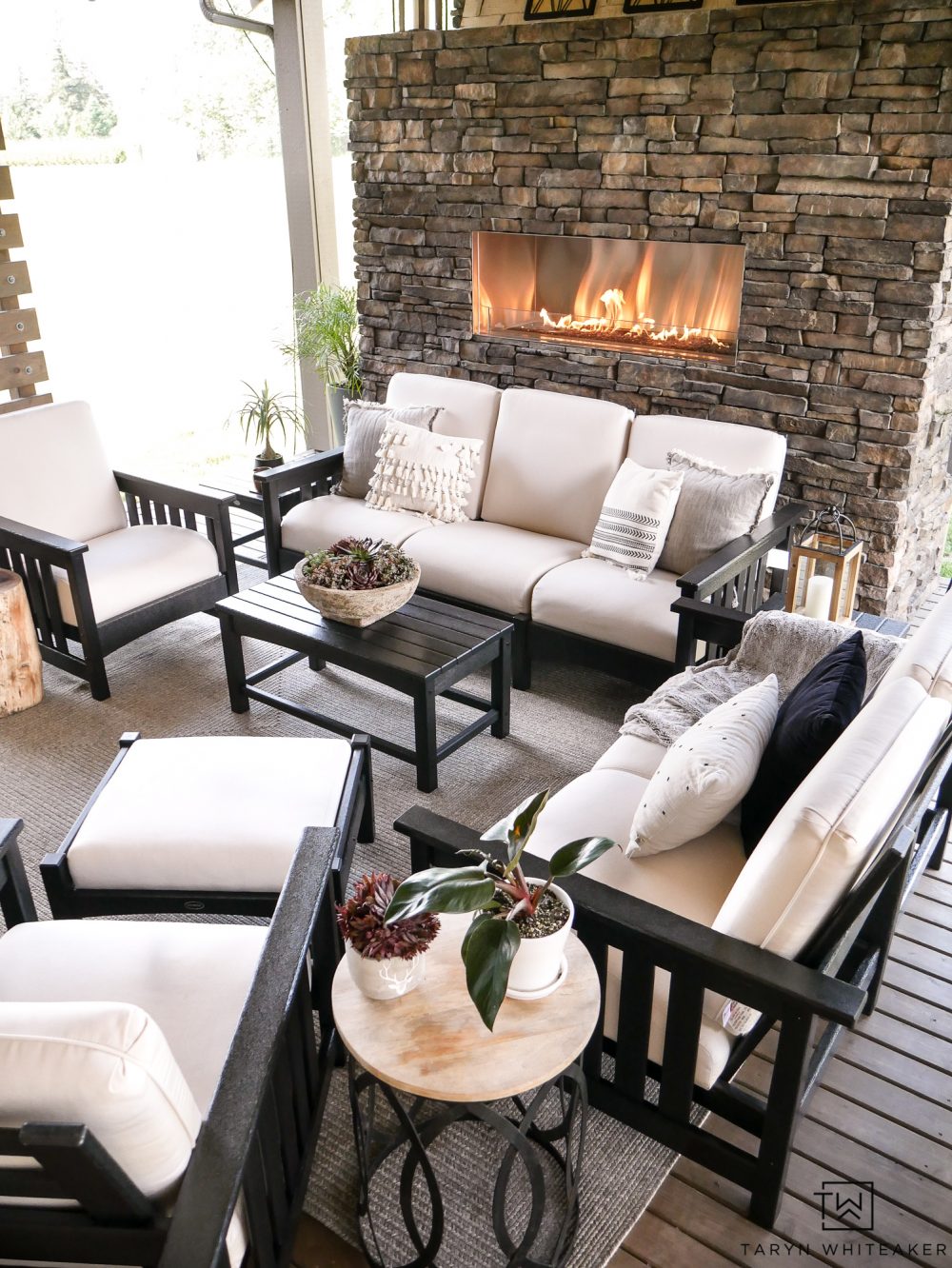 Now that we have the updated furniture out here, I don't plan on changing it any time soon!
Now, let's head upstairs!
I'm sure you are all aware of our big master bedroom renovation happening right now. This is one of the first rooms that I have shown you each update as it happens and this is the current view. We started this makeover over a year ago, if not two. It's definitely been one of the slowest room makeovers I've ever done but I want everything to be just right. This year we added this seating area in our master bedroom that faces the brand new fireplace and built-ins (that will be blogged about soon!)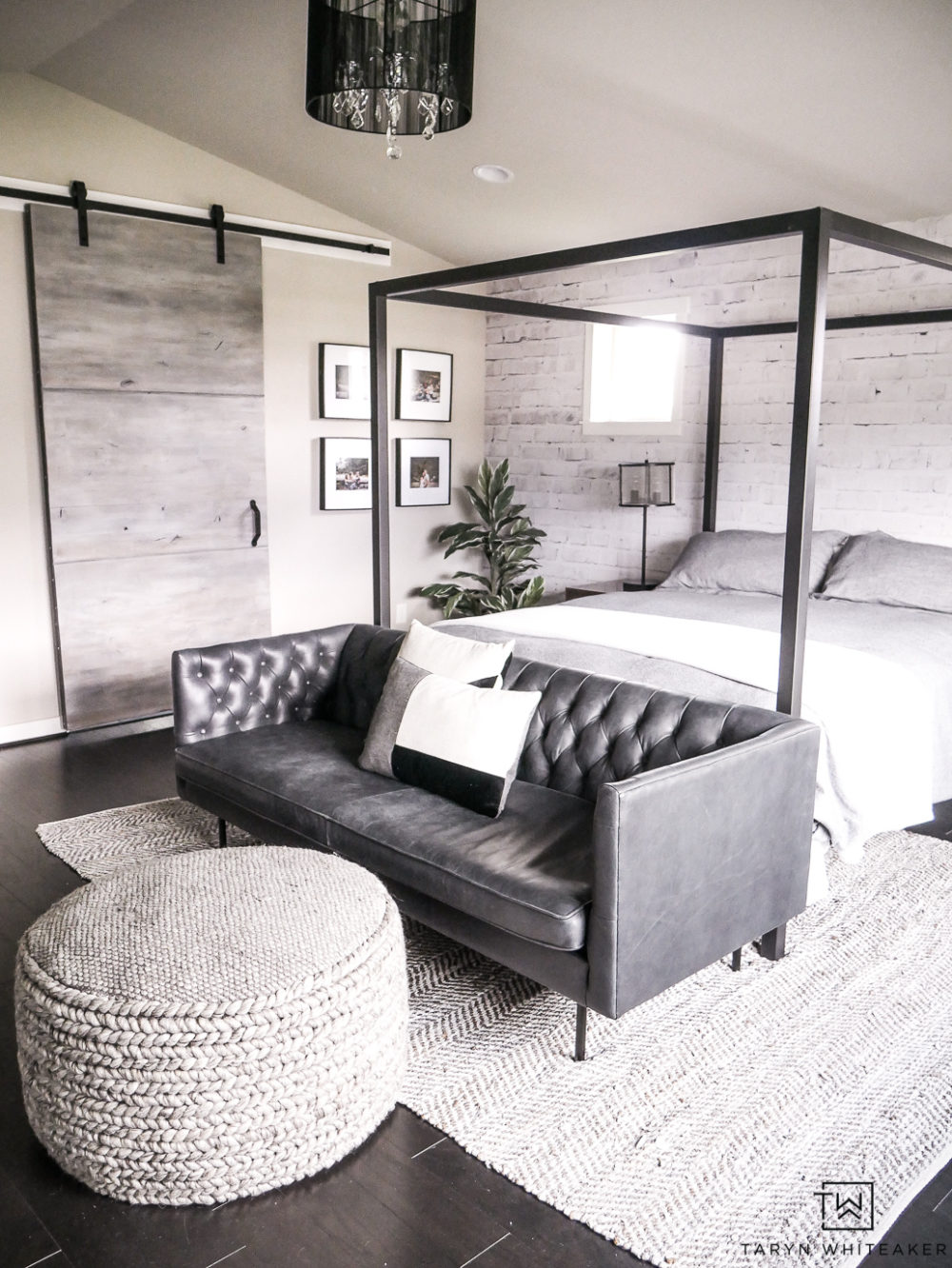 Last year we installed hardwoods in here, hung the barn door and revealed our new bedding and brick wall. There is much more happening in here soon to finish it all up!
Whimsical Little Girl's Room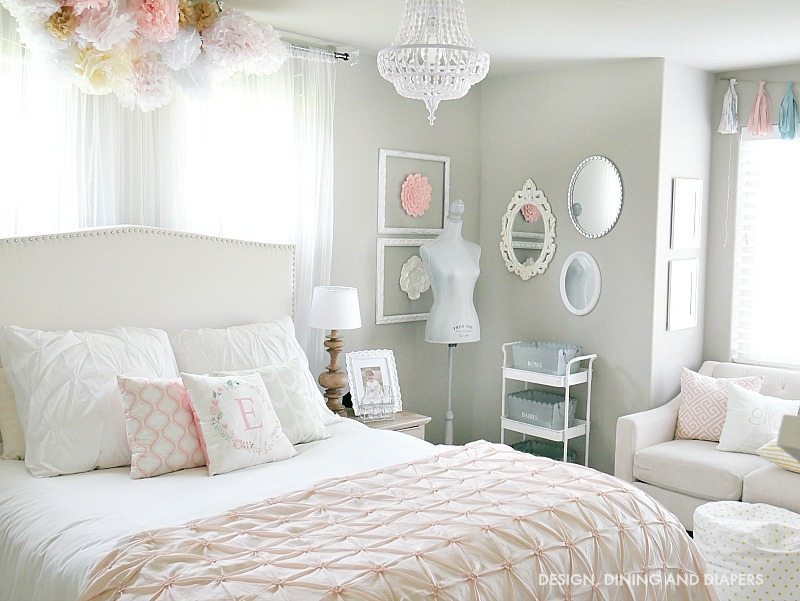 My daughter's room was the very very first room that I revealed in our home almost four years ago. I wish I could say it looked this clean and put together but it has definitely been worn over the years. I was just chatting with my little girl the other day about doing a little refresh in here. A lot has changed in four years she's gotten older and has defined her own style more and we are in need of changing some of the furniture to fit her needs better.
SHOP THIS ROOM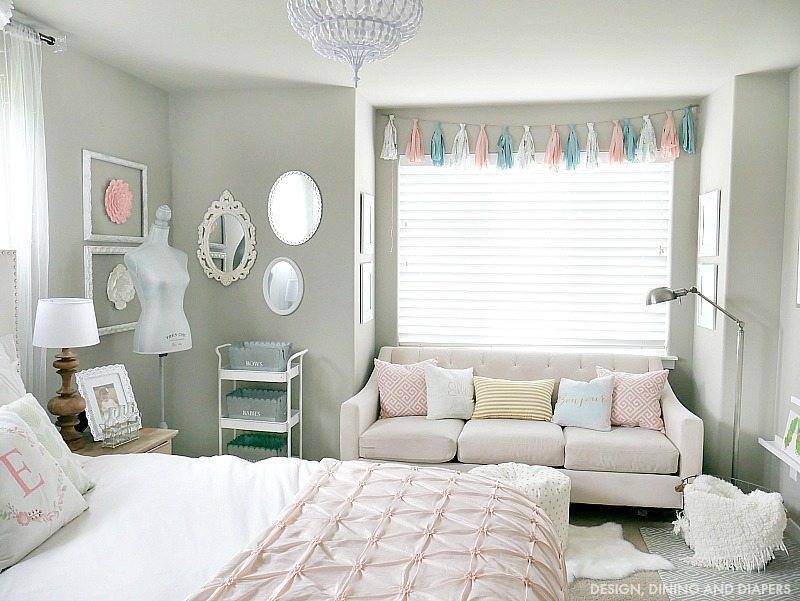 I still love it in here though! It will always be one of my favorite rooms!
Kids' Shared Bathroom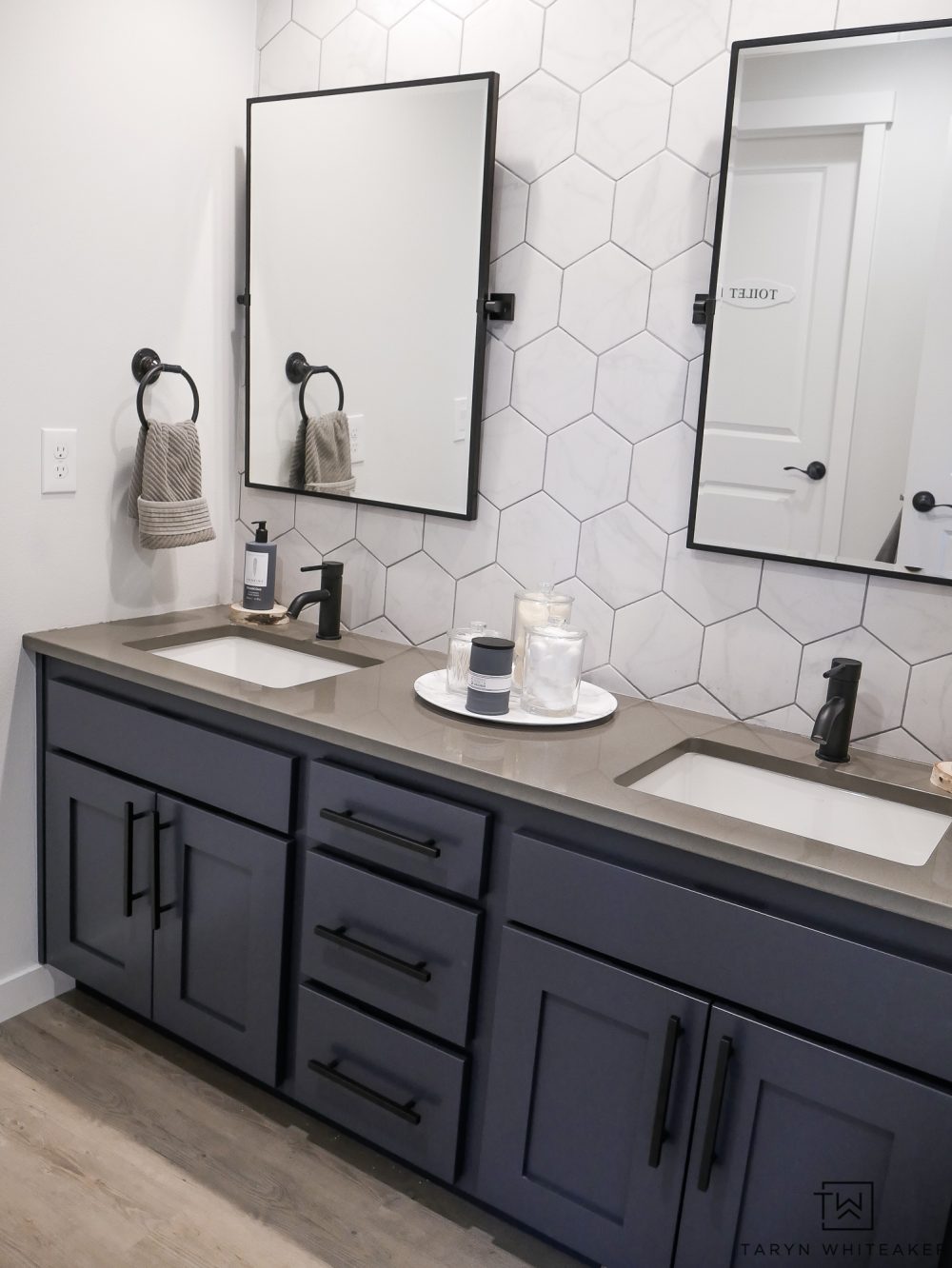 This bathroom renovation was another huge project this year! We pretty much gutted this bathroom and turned our basic builder grade bathroom into a space that truly fits our style! The hexagon tile makes a big statement an I'm so happy with how it turned out. You can see the full reveal here.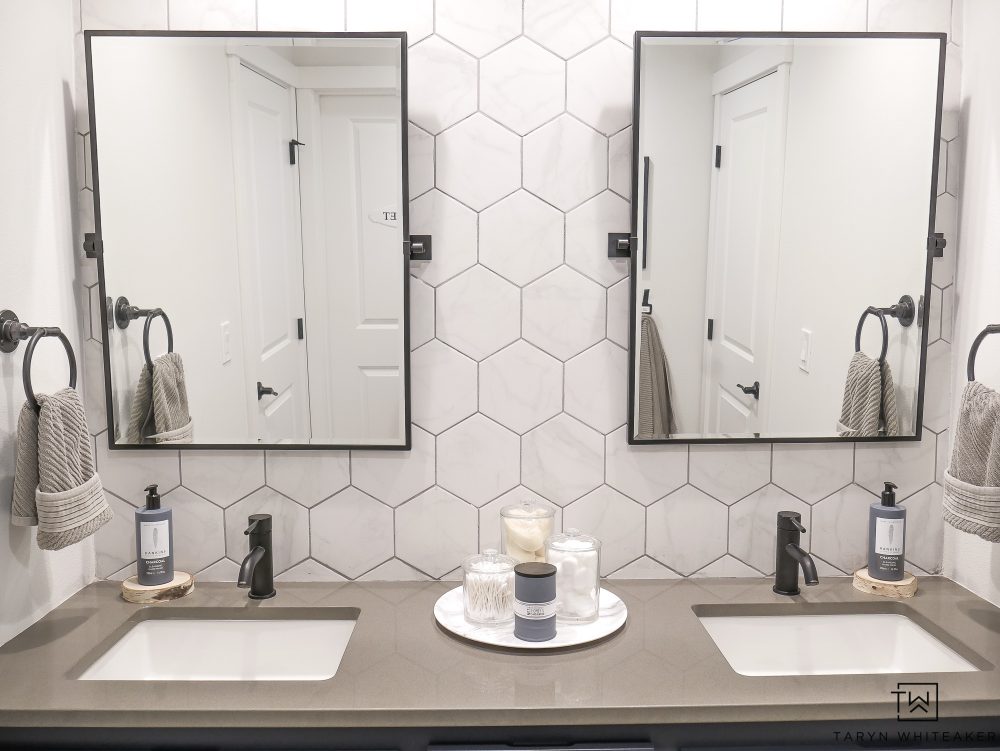 SHOP THIS ROOM

Rustic Boys Room
Through the bathroom you can enter my middle son's room. I kept a lot of the same pieces from his nursery reveal, and turned it into a rustic modern big boy room and this year I added some new bedding, more blue and a geometric rug to give it a little more dimension!

Modern Adventure Boy Room
This was my latest huge room reveal! This Modern Adventure Room complete with a tree house bed is one of my favorite rooms ever. We turned my son's nursery into a big boy room and I absolutely love how it turned out.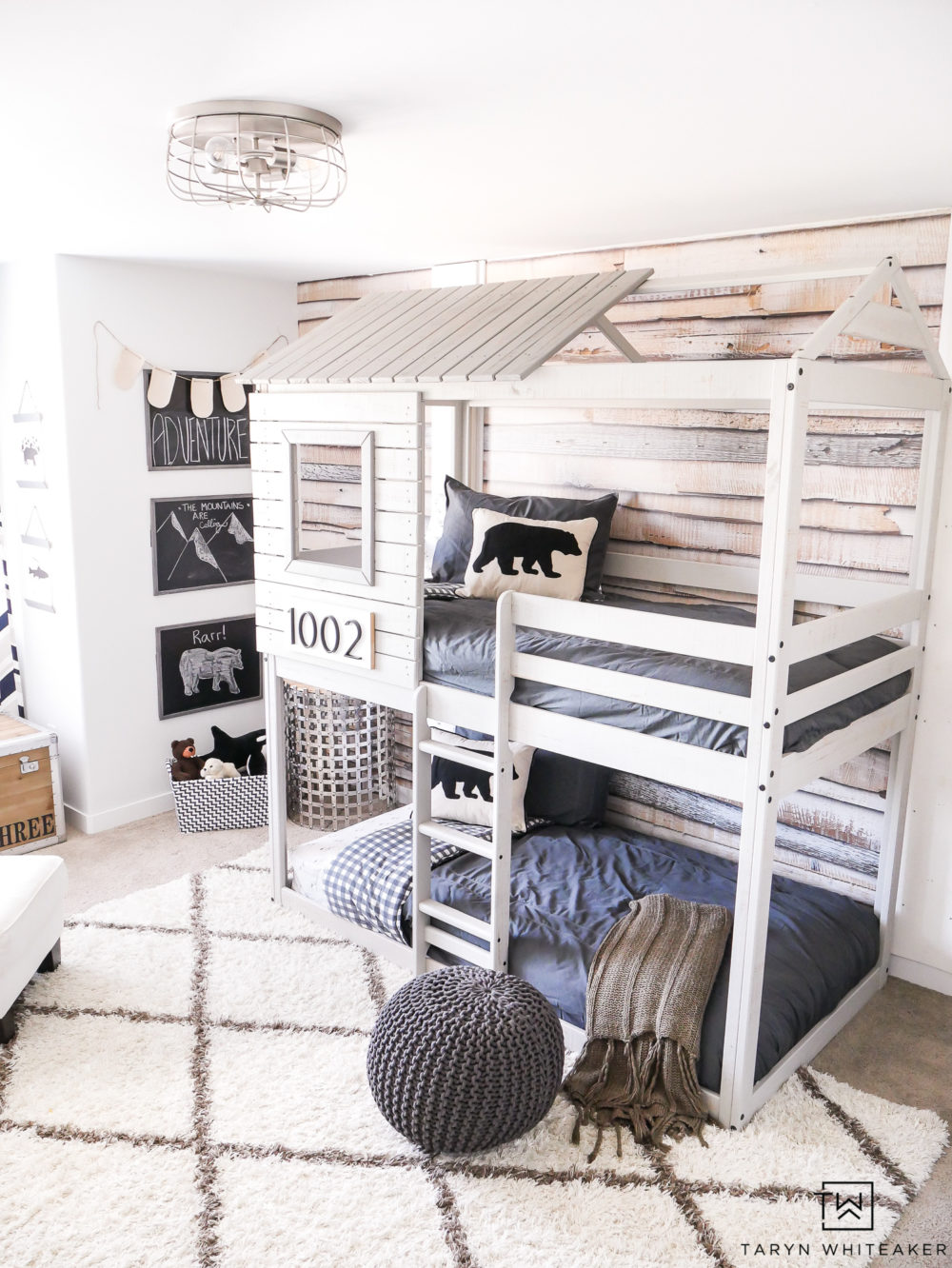 We kept a lot of the same elements from the nursery, the wall paper, rug, and the whole outdoors vibe, but also managed to transform it into a complete different space with new furniture and some pops of deep color!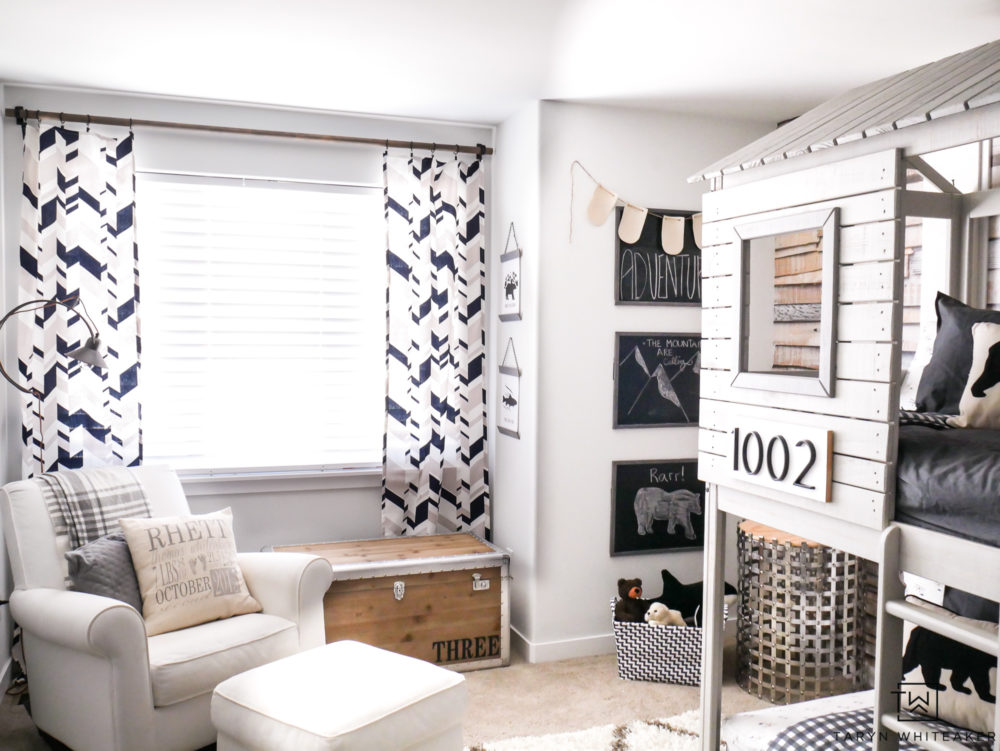 SHOP THIS ROOM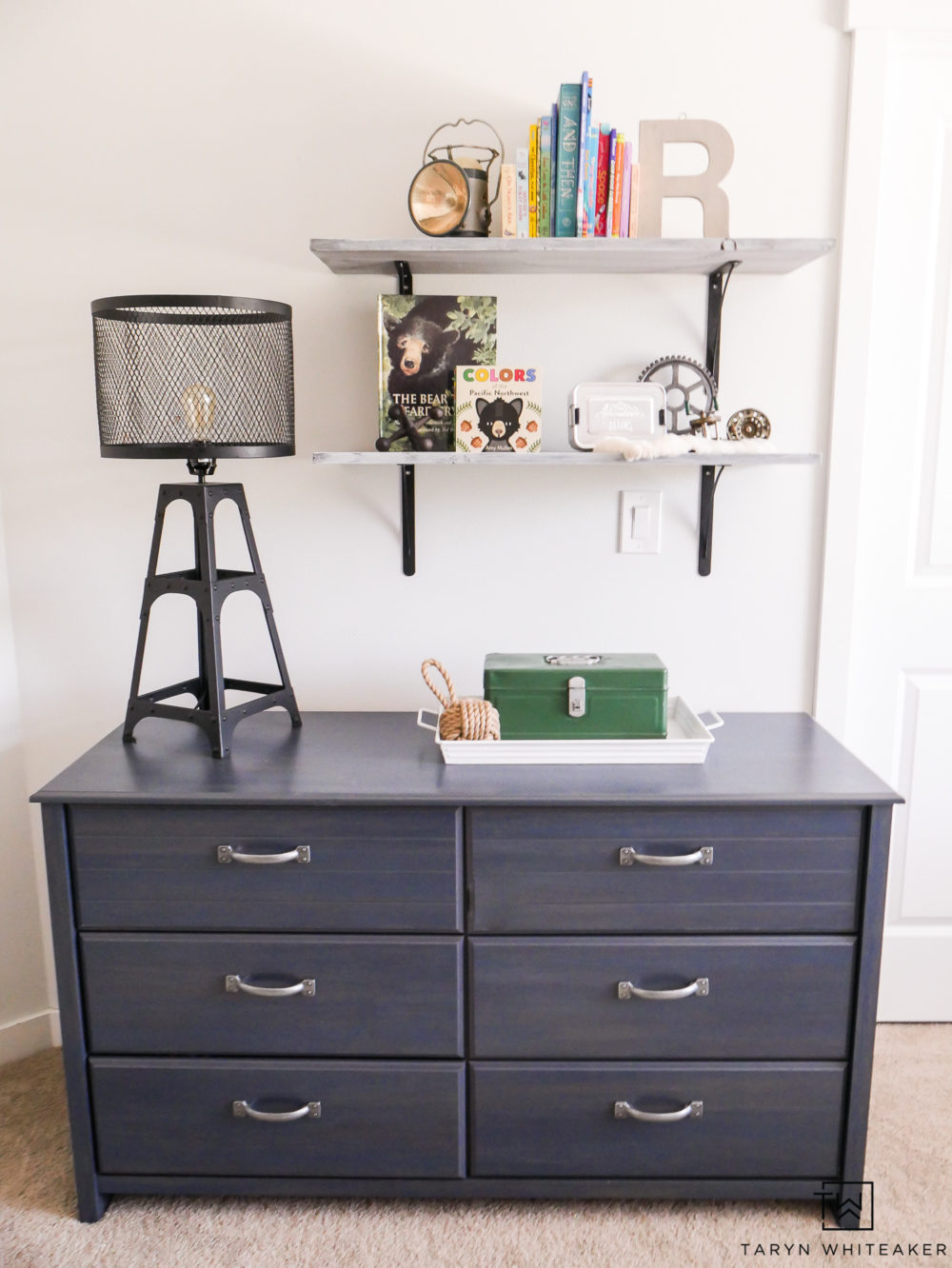 Black and White Geometric Bathroom
We gave a basic builder grade bathroom a completely new look with the help of the grid wall paper and more industrial touches. There is still so much more I'd like to do in here to update it even more, but this was a great start!SHOP THIS ROOM


Moody Movie Room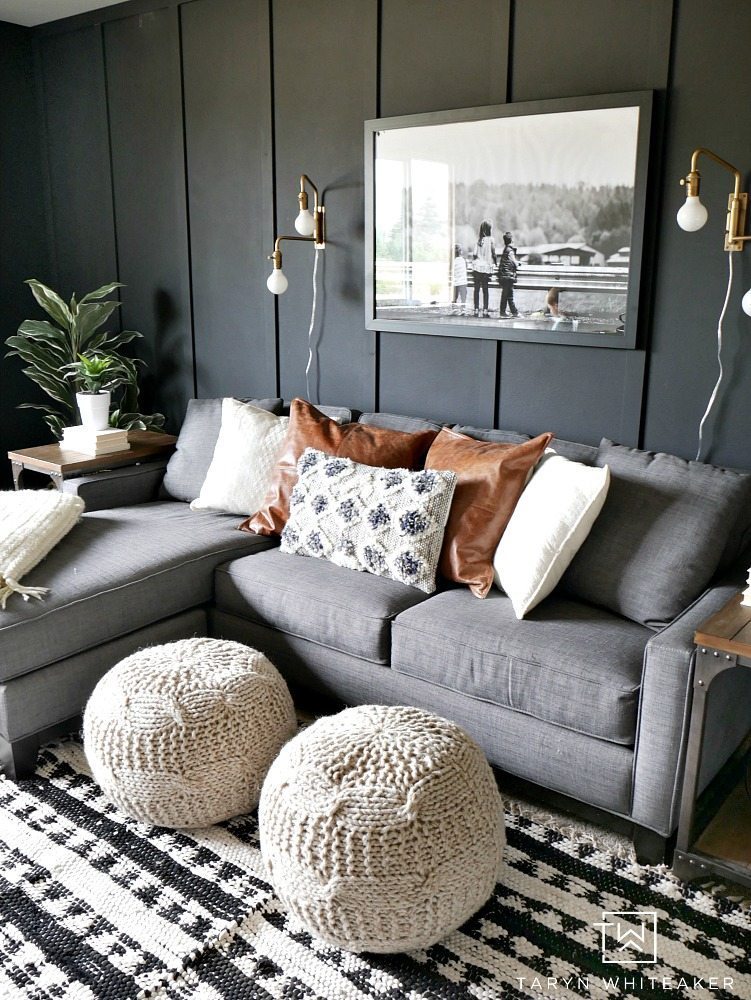 Our bonus room has made great strides over this past year or so, but there is still so much left to do in here! Last year we gave it a huge makeover with a simple coat of dark moody paint! We still have yet to finish the rest of the room, I make small changes here and there but I'd really like to finish it off one of these days. It's one of the last rooms left on my list!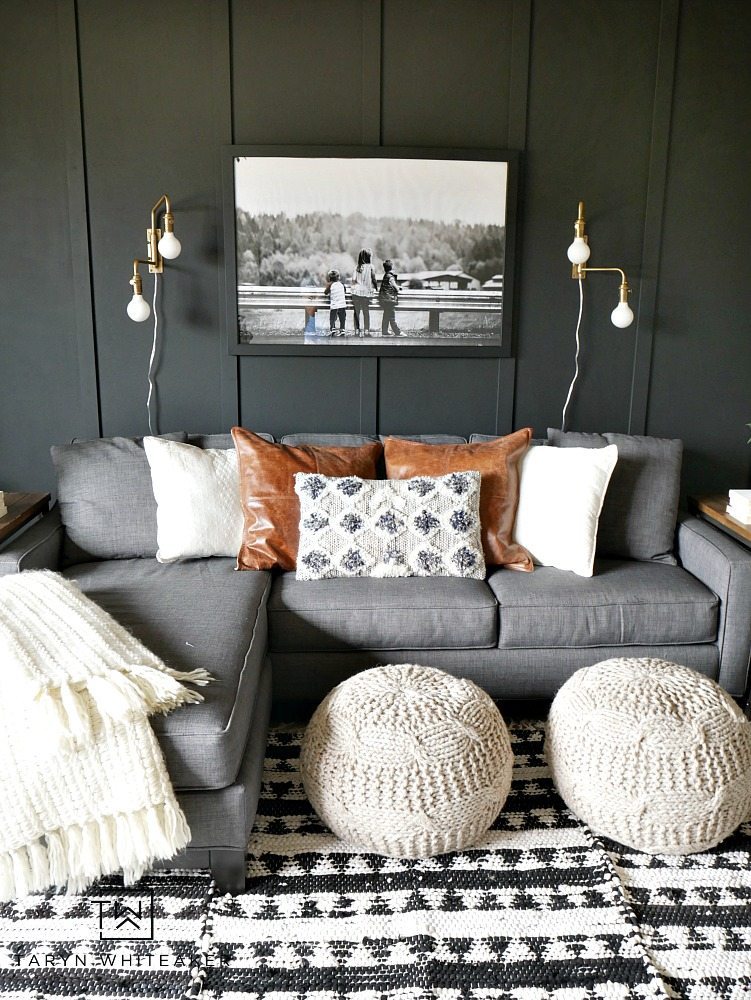 Shop This Room

One of the small projects I did in the movie/playroom this year was this little corner! I created these personalized signs for one of the blank walls and added a little corner for the kids to create in.
Industrial Laundry Room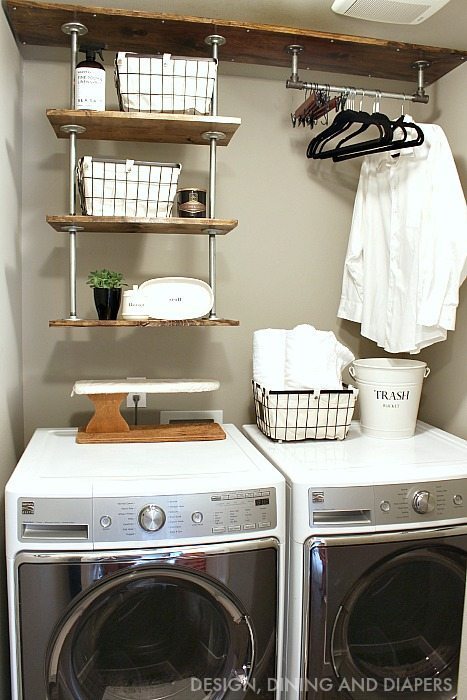 When I put in these industrial laundry room shelves a few years ago, I knew it would be a temporary fix for us. I have really big plans for this space. I'd like to knock out the small closet in here which takes up so much needed space and replace it with built-in cabinets and maybe a sink or counter top. We will see what happens! This is also something on the very end of our list!
Shop This Room
Garage Drop Station
The last little spot on our tour is this drop station we created for our garage! We don't have a mudroom or entry way where we would drop shoes, so our garage takes the brunt of it. I created this space to store all the sports gear, shoes and backpacks and help keep us a little more organized!
Thanks for taking a tour with us! I'm looking forward to seeing what the year brings!
You can view our other house tours below and see how much changes throughout the year!
SaveSave