Our lot is about 1.5 acres so this has been a huge project. We wanted a more modern looking fence that matched our style and decided to go with a horizontal style fence. I'm so happy we did because we love how it turned out! We hired a professional to build the fence for us and now it is our turn to stain it! So today, I'm sharing my Tips For Staining a Fence with the help of True Value.
It's no secret that I do my fair share of working with wood stain, but this was the first time I've done a project of this size. It was definitely a learning experience. Whenever we do a big project like this, I like to share my experience with you and talk about what worked, what didn't and what I would do differently.
GUIDE TO STAINING A FENCE

Why You Should Stain A Fence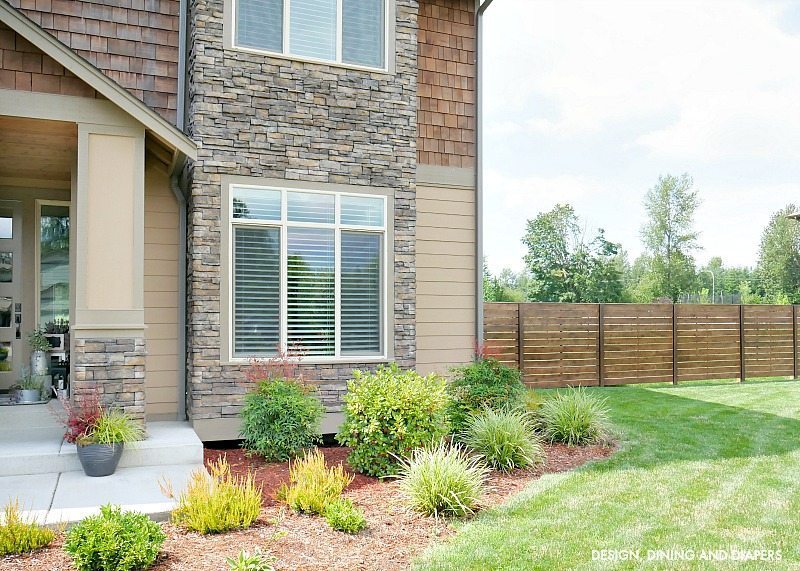 Staining our fence this summer was a big priority for a few difference reasons, 1) gives it a polished look and 2) it protects it from the rain and other weather. Considering how much rain we get in Seattle, it was really important that we got this done before the fall and winter (as if we haven't had enough rain this summer!).
I'm actually a little surprised just how much of a difference the stain made! It really made the fence pop and look like an extension of our house.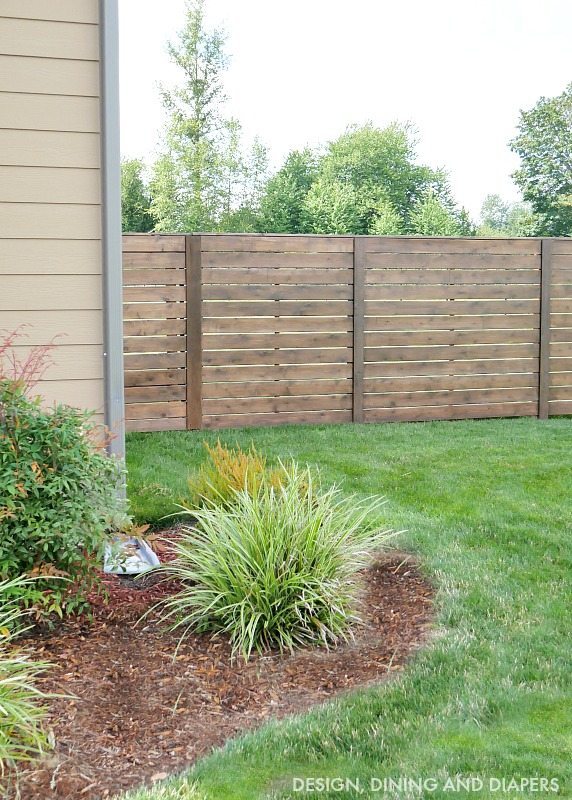 Are you going to be staining your fence this summer? I'm going to take you through the process we used when staining our fence. There are a few different ways but here is what worked for us.
Supplies For Staining Your Fence
Here is what our fence looked like before. Typically, you want to let your fence dry out for at least 24 hours before you stain it. But our fence is a little different. Instead of traditional fencing boards we actually used decking for the horizontal slats which is a lot thicker. So we let our fence dry out for 5-7 days before staining it.
The first step is prep work. We wanted to protect our house from overspray so we hung plastic sheets using exterior tape. Since we were working on a brand new fence we didn't need to prep the wood, but if you were working on an older fence you may need to pressure wash it. Just do your own research on what works best for your type of fence.
Just like any project I work on, picking out the perfect color can sometimes be the hardest part. When working on a fence, it's really important that you get a stain that is specifically made for staining a deck or a fence. We went with a Semi-Transparent All Weather Fence/Deck Stain with a built in acrylic sealer. This made a really big difference. I could tell the difference from just using my typical stain that I use on furniture and DIY Projects.
I've actually never used a paint sprayer to stain before so this was a little bit of a learning experience. It took us a few times to find our groove and discover what worked best for us in terms of the settings on the sprayer. The hardest part was managing the overspray (more on this later). We found that working on three rows at a time worked best. We used a light spray setting and stood about 12-18″ away. You also want to spray with the grain of the wood.
My husband would spray and then I would quickly follow with a staining brush and work the stain into the wood. This step needs to be done really quickly. The wood absorbed the stain super-fast, so if we didn't work it in right away we were left with spots. These were less apparent once we applied the second coat, but you still want to be careful.
There were times when we would get overspray onto areas that we weren't working on, like the picture above. If we brushed them in quickly enough it wasn't a problem, but you will want to keep an eye out for them every time you spray. It really helped to have two of us brushing at the same time.

This is just to show you what a difference two coats of stain make! The second coat just adds so much richness.
When we applied the second coat, we would do one long brush stroke to finish off each panel. This helped smooth out the stain.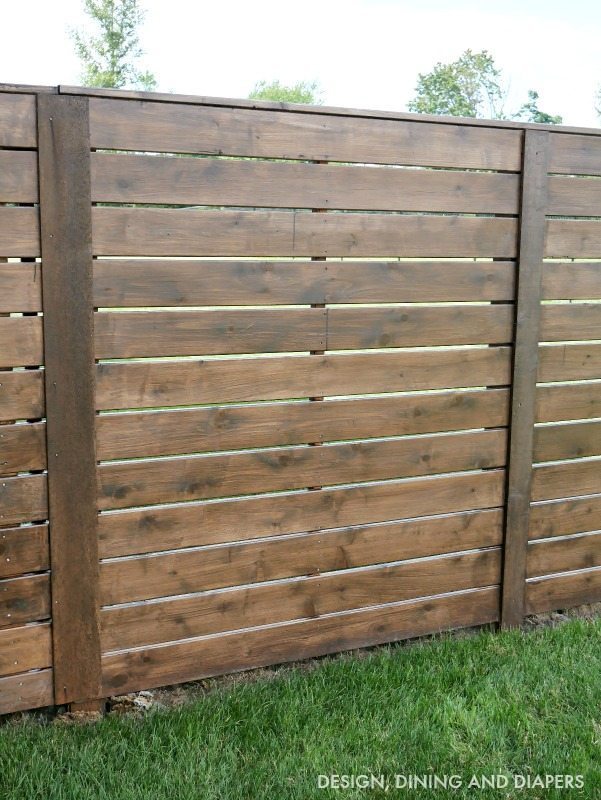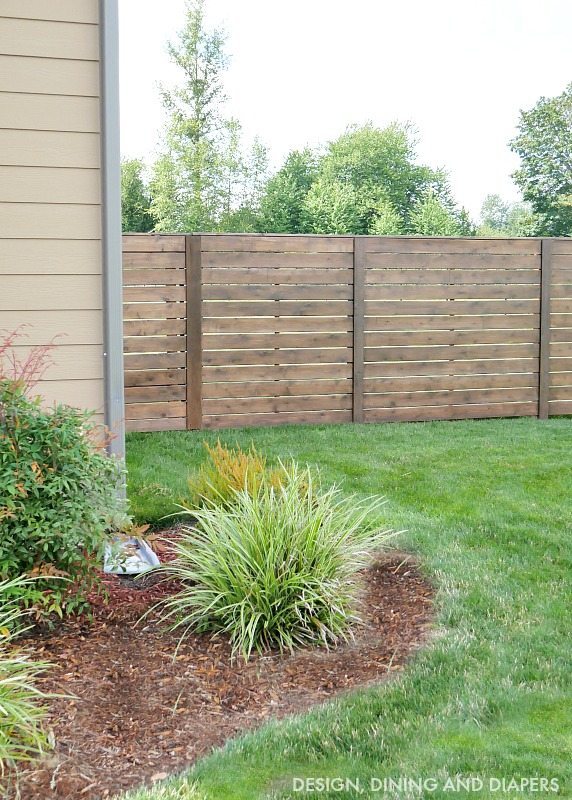 Now it's time to landscape in front of the fence! But maybe that will have to wait until next year :)
This is a sponsored conversation written by me on behalf of True Value. The opinions and text are all mine.
SaveSave