I honestly can't believe we only have 7 weeks left of school and it's officially summer vacation. I'm getting prepared mentally AND around the house! Tropical leaves are coming out, more greenery and coastal touches. About twice a year I update our shiplap display wall with a fresh new set of prints to go with the season and this weekend I added these Black and White Tropical Printables for a fun summer look and I'm offering them up for a free download.
Free Black and White Tropical Printables

The last update I did to this wall was back in September and I put together a rustic black and white gallery wall for the fall and winter months. I still love that gallery wall so I kept some of the more natural abstract prints and then added a few of my own summer prints to freshen up the look for the sunny months.

Let's talk about these lamps! If you saw my InstaStories the other day I held a little vote on which lamps to keep in this space. So THANK YOU to everyone who voted, your feedback really does impact design changes I make around here! And for the record, you guy won. I'm always changing things up and wanted a more modern look right here. If you can't remember what was here before, here is a link to my last gallery wall where I have the more farmhouse lamps. I decided to take the lamps that were in our master bedroom and put them down here. They are from World Market and I really love them. I like the switch, I think it goes better with the rest of the decor downstairs, so thanks for weighing in!
I could definitely go for one of those palm trees right now!
GRAB YOUR SET OF SUMMER PRINTABLES
For some added texture, I put this table runner over the table and a natural bowl with moss.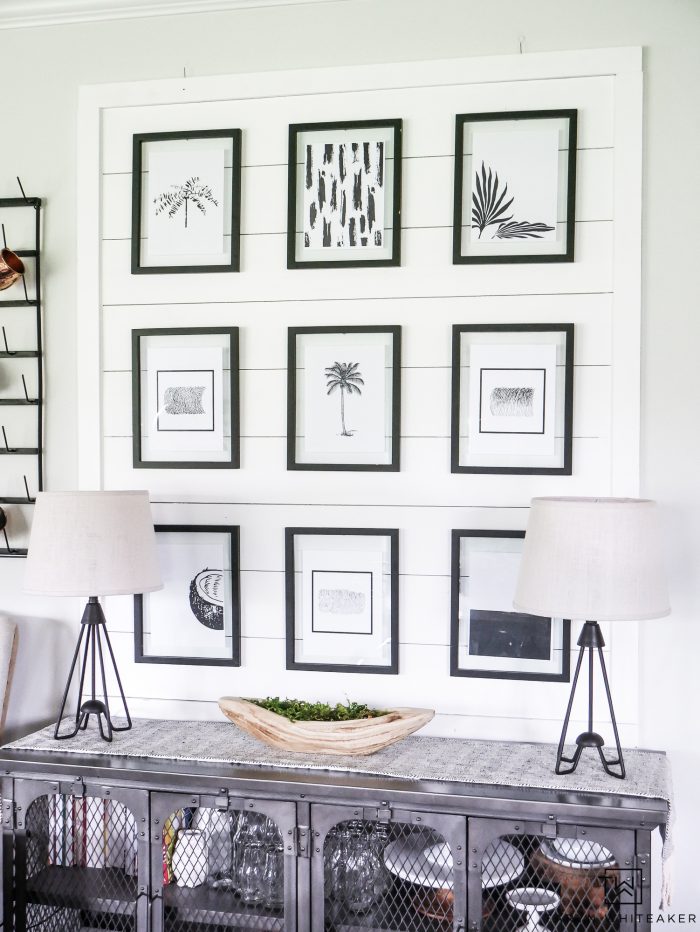 You can download my new tropical printables below, but here are links to the other printables in the gallery, many of them are from some of my favorite bloggers and Etsy Shops. BLACK BRUSH STROKES BY OH SO LOVELY   | ABSTRACT LINE ART |  | 6. ABSTRACT LINE ART | ABSTRACT LINE ART| ABSTRACT PAINTING 
DOWNLOAD FREE SUMMER PRINTABLES
COCONUT TREE | TROPICAL LEAVES | ABSTRACT COCONUT | PALM TREE
OTHER PRINTABLE YOU MIGHT LIKE:
SHOP THIS POST