This post is sponsored by Kohl's. I was paid for this post and received the included home goods as compensation. All opinions and styling are my own. 
How many of you do seasonal refreshes around your home? They can happen year round but I always feel like I do a big 'freshen up' in the new year and right when school starts especially with all the awesome Labor Day Weekend sales going on! Fall is the start of a new school year, fresh start for the kiddos and for momma and it's nice to start a new season with new bedding for those cozy nights ahead. For this little fall refresh I've partnered with Kohl's to give McCoy's room a nice makeover before school starts next month, and to take advantage of their big White Sale!
Ever since I did his reveal, I've been slowly adding a little more navy into his space and I found such awesome navy blue bedding for a boys room at Kohl's! Ready to see the fresh new look for just a tad over $200?
Navy Blue Bedding For A Boys Room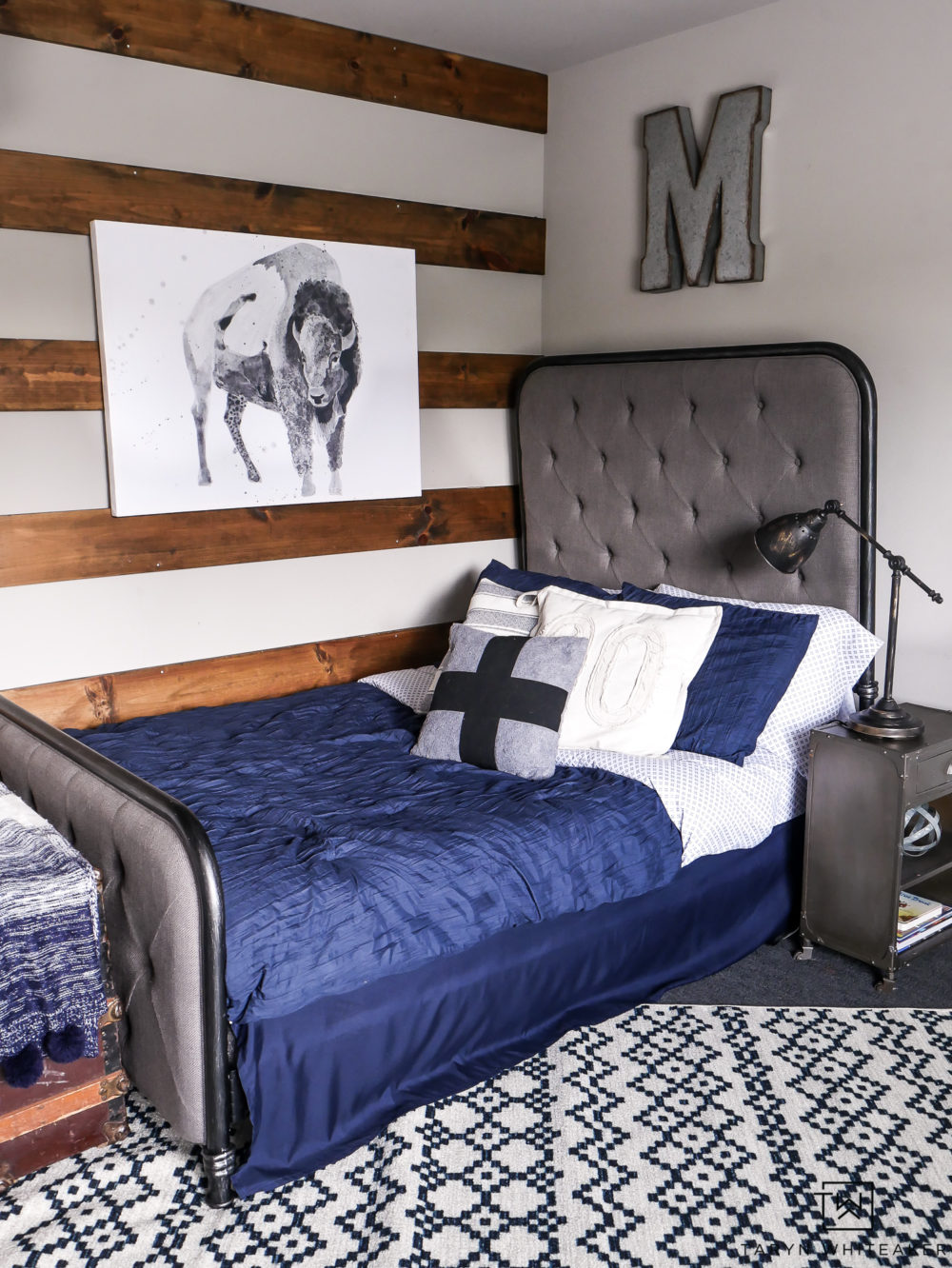 I went with this Navy Blue Crinkle Bed Set by The Big One. This is a killer deal for just $139 and I would check the link because it keeps going on sale, down to almost half the price. I got the full size and it includes the bed skirt, sheets, comforter, and two shams. The bed in a bag is a great deal and totally gender neutral. It would look super cute in a guest room too! The sheets are comfy and I love how the bedspread never looks wrinkled because of the crinkle material.
The Big One has tons of deals on bedding sets, pillows and mattress toppers during the Kohl's home sale!
Navy and White Patterned Sheets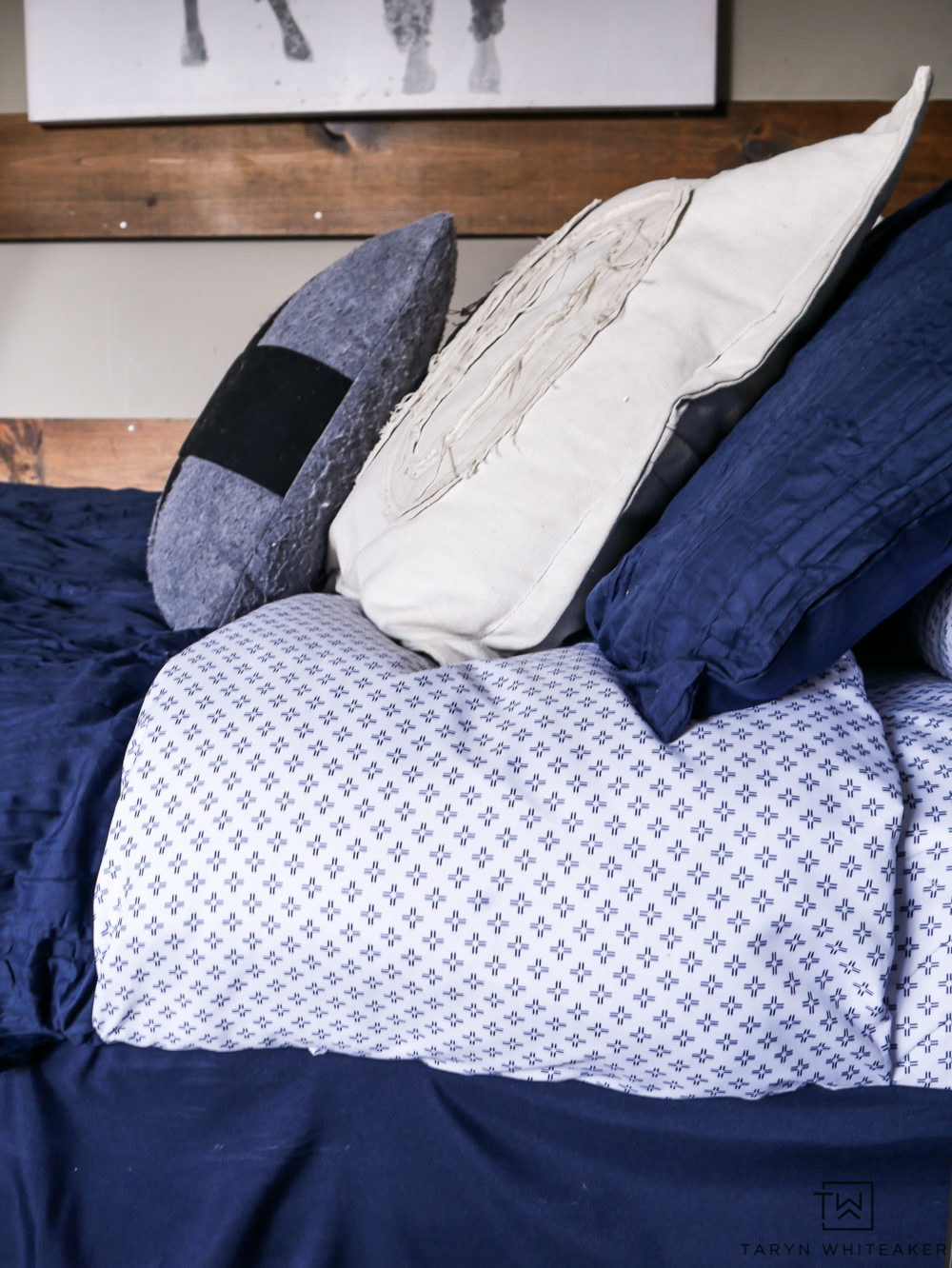 I wanted to give you a closer look at these adorable sheets! One of the things that sold me on this set was the super cute pattern. I love how they contrast against the solid navy comforter and bed skirt.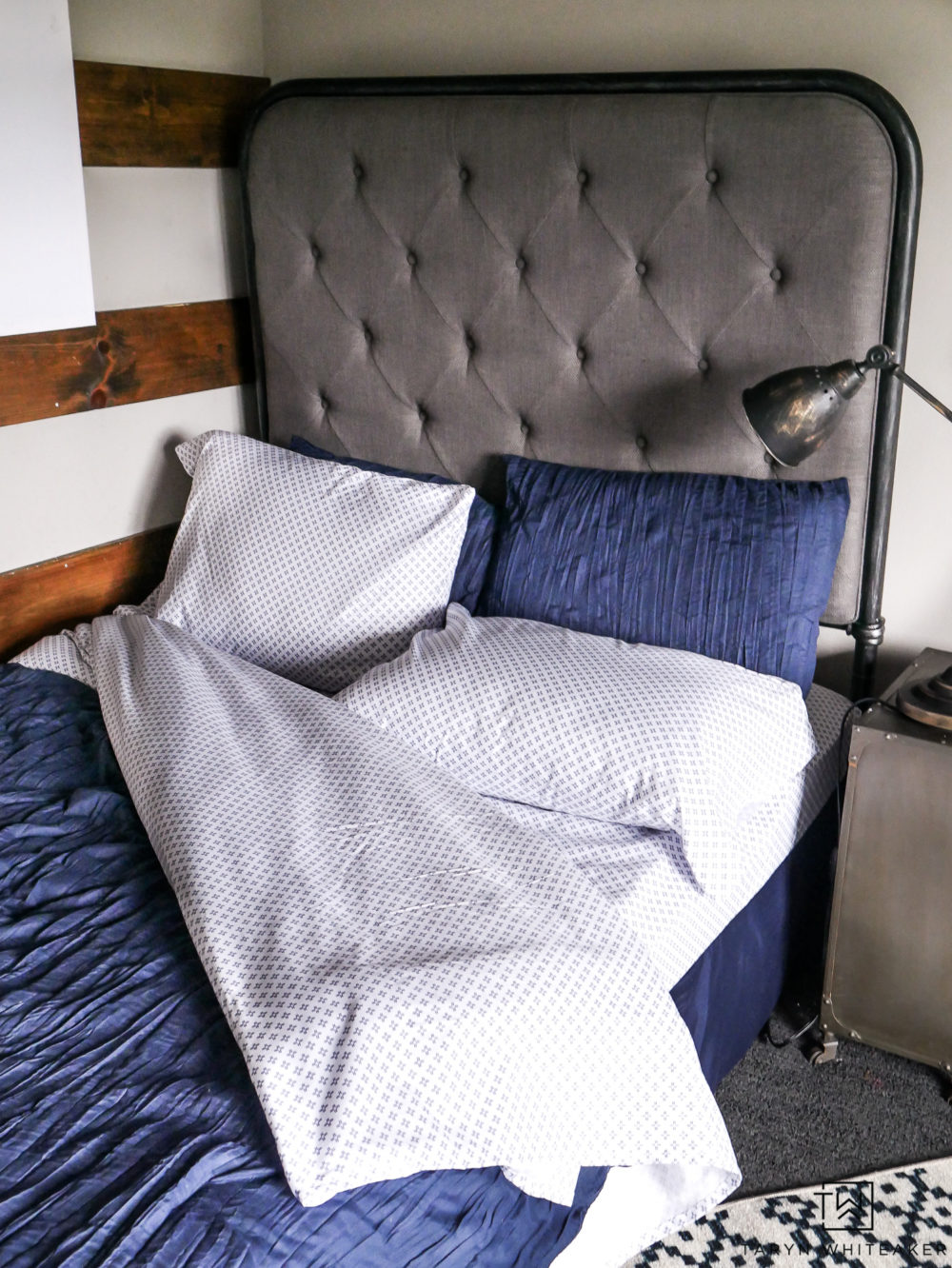 Fluff Those Pillows
With new bedding, I wanted to upgrade the pillows in here. I had originally purchased a set of very inexpensive pillows for in here and they haven't held up well. So it's time for a set of high-quality Serta Down Firm Pillows. These are SO soft. They are 300 thread count and I can only hope that they bring very sweet dreams to this child.
Did you know that you are supposed to buy new pillows (nice ones) every 18-36 months? So if you still have those same pillows since your wedding 4+ years ago, it's time to switch them out! All of the Serta Three Layer Memory Foam pillows are 50% during the sale, so if you need to switch out those pillows I'd check it out.
Layered Rugs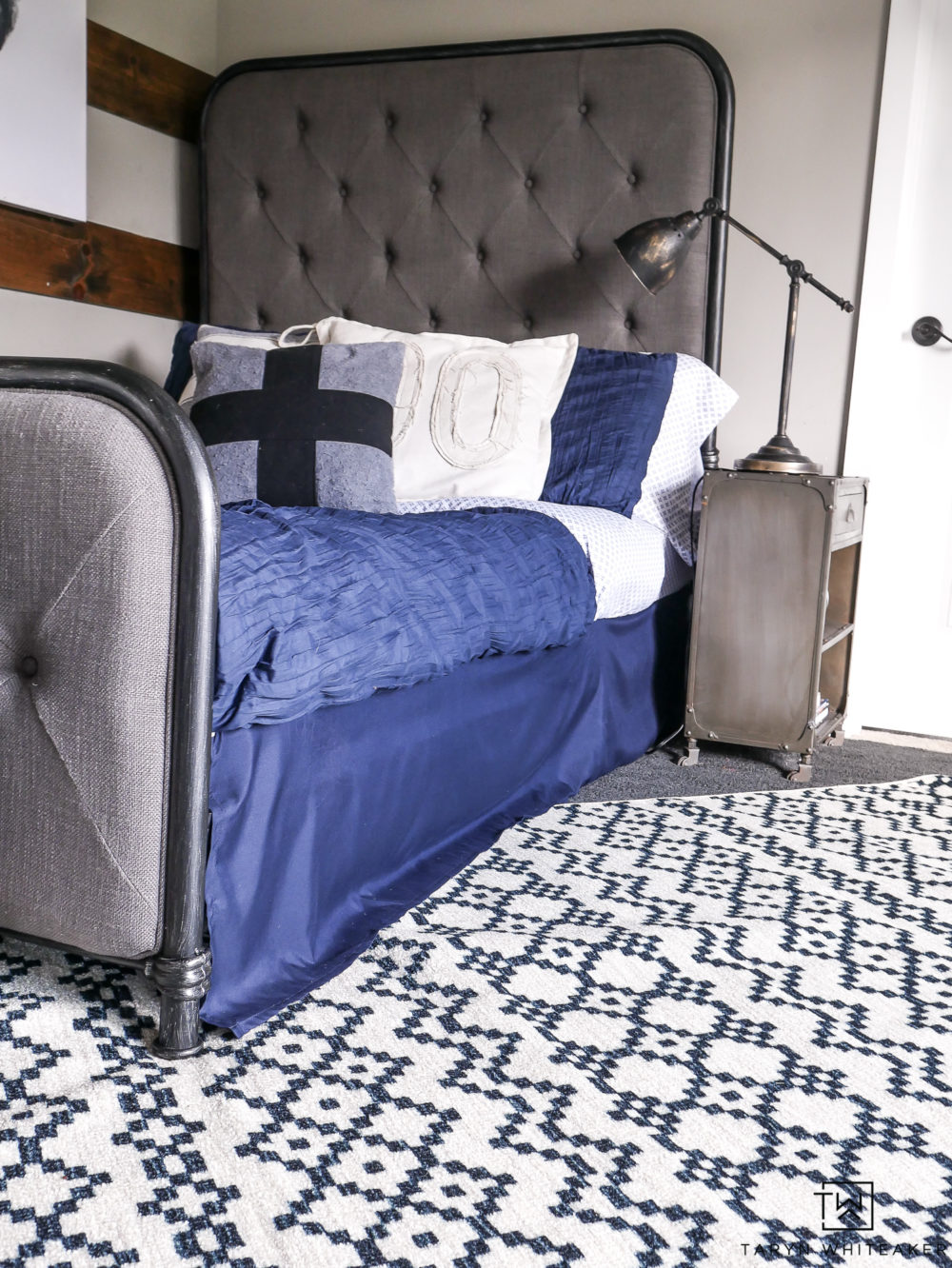 I love layering rugs. It's one of my favorite ways to bring texture to a space and I thought this little corner could use a little more patterned too! I picked up this Mohawk® Home Aztec Bands Geometric Rug in navy and cream (definitely more of a yellow cream than it appears in the picture online). I think it adds a great pop to this corner and gives it more dimension. Plus I think the Aztec print just screams fall!
There are SO many Mohawk rugs to browse through. The new solid print kitchen rug are nonslip design, machine washable (yesssss), latex backing, made in the USA, and have a framed border, stain resistant. They come in 8 colors and a few different sizes.
Check out the sale!
I'm really impressed with the quality of products I was able to get for such a good deal. With sale prices and free shipping, I paid roughly $200 for the entire refresh! Such a good deal.
Are you planning updating any spaces in your home this fall? If so, I would definitely recommend checking out all the amazing deals going on for the Kohl's White Sale that is running from August 22 – September 3! I picked items from Serta, Mowhawk and The Big One, but Colombia also has great items on sale during the Kohl's White Sale.
My blog may contain links to other websites. I am not responsible for the privacy policies of those other websites. When you click on a link, your information may be collected by those websites so I encourage you to read their privacy policies. Any affiliate links are not associated with Kohl's.
SaveSave
SaveSave