Well, I meant to write this post last month but life just happens sometimes! On August 20th we celebrated two years in our 'new' home. TWO YEARS?! How in the world did time go by so fast?! When we moved in our middle boy wasn't even a year yet, and here we have a second boy who is coming up on his first birthday. My, oh my, how quickly life seems to go by these days and how quickly it changes. Did I mention my daughter starts kindergarten next week?! Ahhhhh. My kiddos are just getting way too big too fast.
Anyway, I digress. I wanted to share an updated home tour with all of you. I always think it's nice to have the most recent home projects in one place and see all of the rooms together. I made a lot of progress in year 2 and I feel more than ever that I'm really finding my style with this house. While I still have a ways to go until I share all of the rooms, it's nice to see things slowly getting checks off the list. I have so many spaces that are 'almost complete'.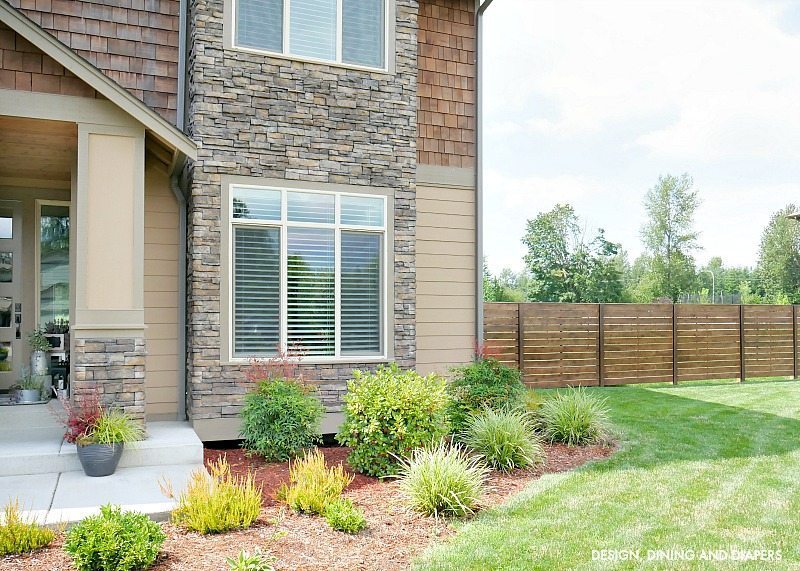 This summer we tackled a big exterior project and had our fence put in. Then, we stained it a dark brown to match our shingles on our home. (You can read all about our staining tips) This made a huge difference to the overall look of our property and also helped protect our little kids and dog.
Our porch is always changing with the seasons but this was our latest decor for spring and summer! I'm already in the process of putting together our fall porch, be on the look out soon!
Moving onto our front door that I just love. We just recently upgraded our door handle to use a Keyless Entry Option. I'm so excited! And I love that it matches our existing hardware.
And that takes us right into our front entry way! I finally decorated this space this year, it's been empty since we moved in. It's really nice to have a big impact display right when you walk in the door and a little place to put your shoes on.
Directly across from the entry way is our home office, aka "the man room". This year my husband specifically requested that I start working on his office. I hadn't touched it since we moved in, and it was still filled with moving boxes and an old desk. You can check out the before photos in the makeover post!
This is the only room in our home with dark trim and a darker look and feel and I love it. I really wanted to keep the masculine look and keep it more of a club room feel. I put in a Stikwood wall (amazing, highly recommend it) and then added a brown leather tufted couch. I still have a few things left in this room to really polish it off, and I'm hoping that comes together sooner rather than later!
Joined to the office is our downstairs bathroom. You can actually access this room from the office or the hallway. This year I finally put some decor on the wall and created a bathroom station using an industrial wine bar! I love how it turned out!
The downstairs bathroom has a walk-in shower that sadly has never been used. I'm not really sure whey we have a shower down here when there are no bedrooms, but I suppose we could turn the office into one if we ever needed to!
As you walk down our entry way, it will take you directly into our open kitchen and family room. Our downstairs is basically one big open space with the exception of the rooms I already showed that are up at the front.
I've always dreamed of having a white kitchen and dark floors and I still love it today. I know some people are scared of how dirty white cabinets can get, but honestly it hasn't been a problem.
Right through those big sliding doors is our outdoor living space. A place I will never get tired of.
The focal point of our kitchen is our dining room table. I had my heart set of a live edge table but they are SO expensive. So we pseudo DIYed one with a little help and saved a ton of money. You can read about that here. It's such a fun and unique piece that we will have forever.
This year I made a few changes to our family room to help soften the look and give it more of an industrial chic look that I really wanted. No matter how many times I design different spaces, I generally don't get it right on the first try. It takes me a little while of playing and living in a space to really help it get the look that I want. Even though the changes were small (new coffee table, rug and different pillows) I think it completely changed the look of the space. You can view what it looked like before in our original family room reveal.
On the opposite side of the room is our second seating area. Our family room is really large, which is awesome, but and it's alway hard for me to fully capture the layout. It has been a struggle for me to merge the two spaces and make them look cohesive yet on their own. We really wanted to maximize the seating for entertaining so additional seating was a must.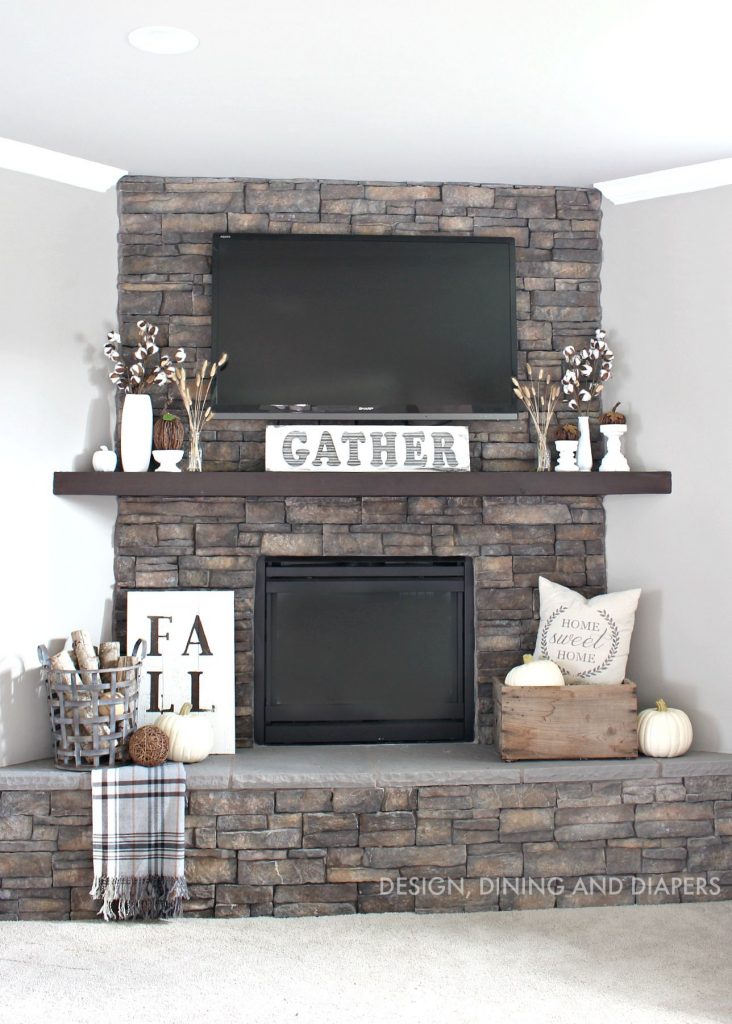 Both seating areas look right at the mantel and TV. Here is our fall mantel from last year! I'm just seconds away from putting the final touches on this years and I went with a completely different look!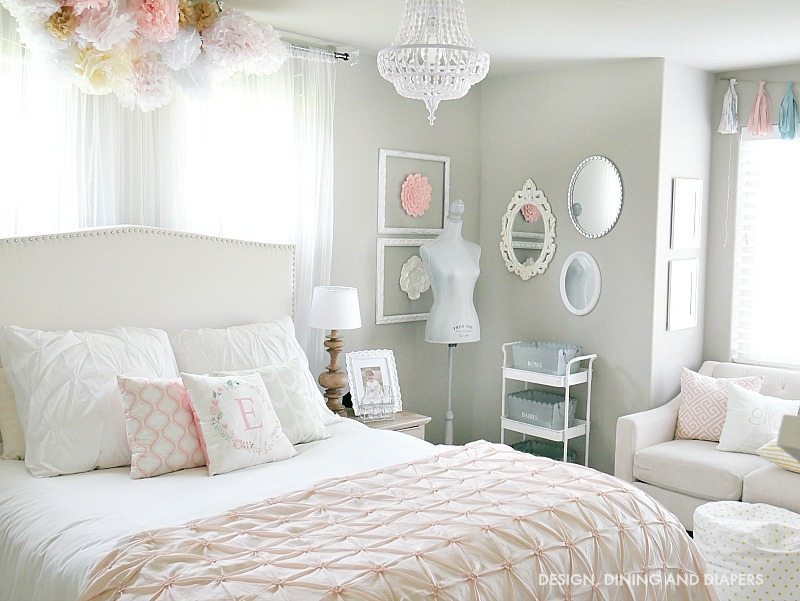 Let's move upstairs! I finally finished my sweet girl's big girl room! She starts kindergarten this year and since she's my only girl I really wanted to give her a dream bedroom. I typically don't like things extremely girlie, but I LOVE her bedroom. Ok maybe I'm a little jealous.
She was very specific about what she wanted in her room. She asked for a 'pink and mint' bedroom, with lots of girlie things and a big headboard. Well, she got her wish. It was fun working on it together.
One of the things she requested was pink walls, I just couldn't bring myself to paint her bedroom walls pink, so I told her I would paint her closet pink! So I held true to my word and gave her a closet makeover too! You can see how I organized it all here.
Now onto my son's room! These pictures are a little dated now because we have since moved all the baby furniture into the new nursery, but here was his completed room. Still love that striped wall. I have yet to share the updates we've made to the space! So soooon!

You can view the tutorial for the shelves here and the growth chart here.

Oh his sweet little rustic boy room, this will always be one of my favorites.
I haven't shared much of the new nursery just yet. I have two small projects away from being completely done. Yay! I've sorta kept most of this one a secret because I'm so in love with it. :)
Sadly, I didn't make any progrss on our master bedroom this year. It's one of the rooms in our home that I started completely from scratch and I keep changing my mind on what I want. Not to mention I am forcing myself to complete both the boys' rooms and the office fully before I hop onto a new project. I'm using that as my motivation :)
The playroom is one of those spaces that I slowly chip away at as projects come up. When I found out I was pregnant with baby #3 I knew I wanted to put a seating area up here for us all to hang out.
And just recently I added a little sitting area for the kids to do projects and play on.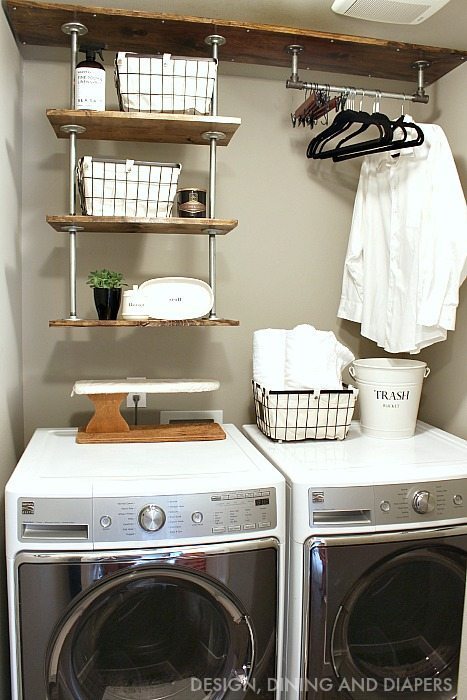 Our laundry room is still nice and organized with our awesome pipe shelves. I've played around with the idea of putting shiplap in here but then I feel like I might regret it since the rest of the house doesn't have it. Hmm decisions. So many ideas!
And as we start a new school year, I'll leave you with this. Our garage 'mudroom'.
I can't wait to see what this year brings. No mater if you move into a fixer upper for a brand new home, the projects never seem to end! I don't mind too much, I just wish I completed them a lot faster :) I'm so closet to finishing up some really awesome projects, I just can't wait! I just need to focus!