I think this post is often times more for me than anyone else. I have been blogging for over 10 years now and my yearly recap post has become a moment in time for me. A scrapbook page that helps me reflect on the last year. I often look back at these posts and am reminded of projects, what I was going through at certain times. I can look at a space from a specific moment in time and remember things my kids did, what I was feeling while painting that room and so much more. It's also a very gentle reminder of just how far I've come on this house over the past 7 years. So let's dive in at the major before and after home projects from 2021.
A lot of smaller projects happened in-between all of these, small styling things, easy printables and seasonal decor. But these are the big moments that have really defined this year.
Before and Afters from 2021
Exterior Makeover
One of the biggest transformations for us this year was our exterior! We've been in this house 7 years now and have hardly done anything to the OUTSIDE! Our exterior was very tan. Tan on tan on tan and I have been waiting 7 years to finally change it!
Not to mention, the landscaping desperately needed some help.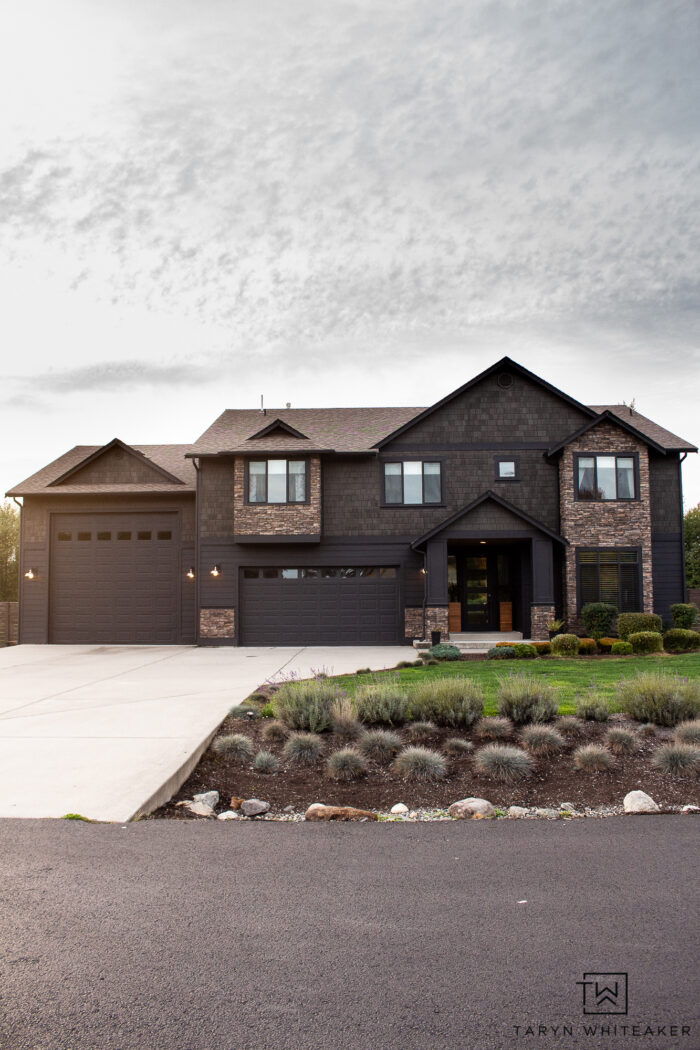 We painted out exterior Tricorn Black. It was a bold choice but I am SO SO happy I stuck with my gut and went with it. You can read more details on painting our exterior in the full blog post. It feels so rich and moody and fits perfectly with our PNW home.
We started to landscape the drainage ditch a few years ago, but I haven't shared much about it. We ended up ripping out the grass, putting in a dry stream and adding a lot of easy to maintain plants.
Our backyard has also endure a huge transformation over the last year and a half! We live on 1.2 acres and up until now we didn't have any backyard space to really enjoy it. No patio, no outdoor dining, I felt like we truly hadn't take advantage of the space we have. And again, a very tan on tan on tan exterior.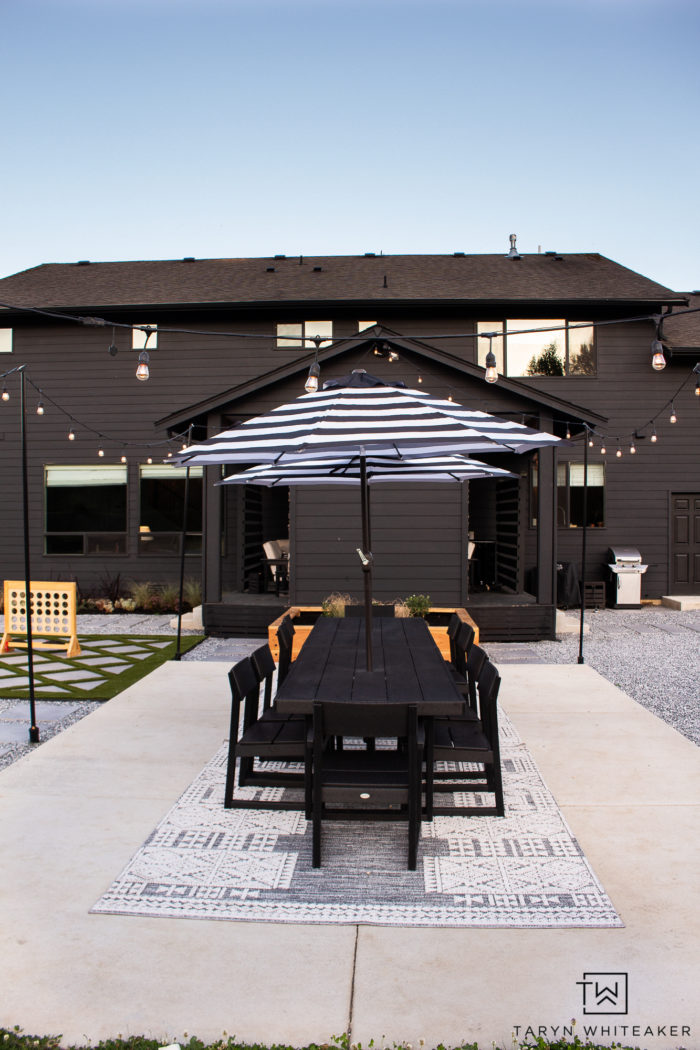 The dark moody exterior color looks so amazing back here. It pops against the monochromatic backyard design and the green grass. I love how new and modern it makes our house feel.
We did SO many projects in our backyard this year, so only sharing one before and after is hard. It wasn't just one project, it's been dozens. This was our huge project for this year, I spent most of the spring and summer working on our full backyard transformation. So let's take a look at some of those project below.
Backyard Makeover
We started our backyard project in the fall of 2020. We had all of the concrete poured and firepit done and then our fall and winter weather hit. SO this is what we started with in January 2021. It's crazy to see how much we did in 12 months back here.
This is what it looks like now! With the exception of the concrete, we did every single thing ourselves! I'm so proud of that. It was a lot of work, but so worth it.
You can ready more about our Polywood outdoor dining table and see more pics of our fire pit area here.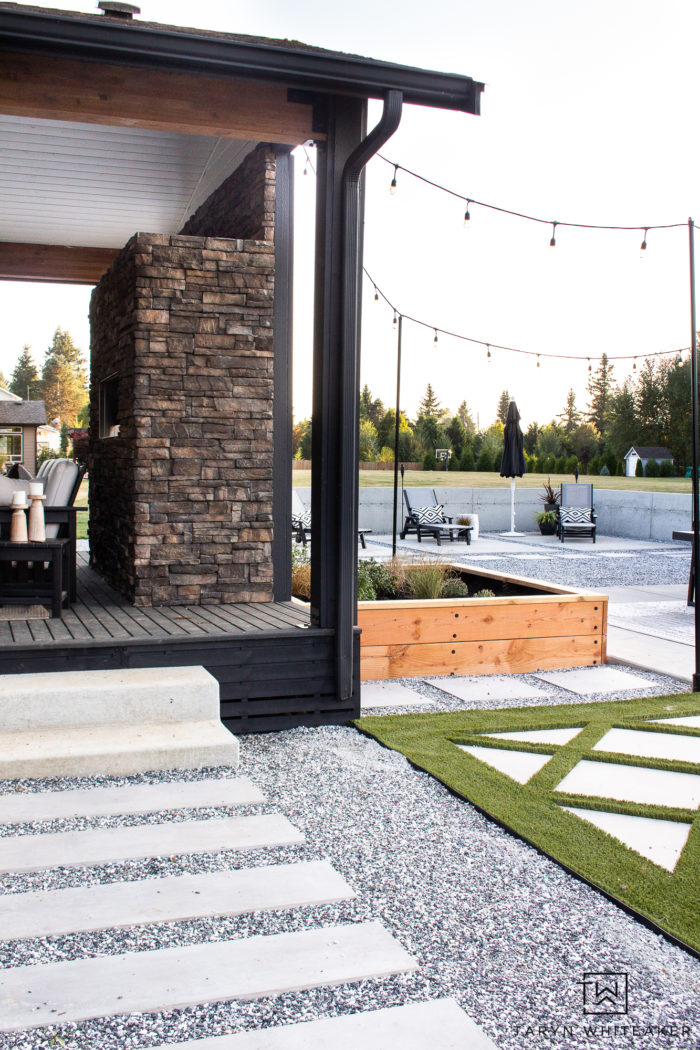 This section of the yard included laying pavers for all of the pathways, building a large planter box, and installing deck skirting around the outdoor deck.
We have truly loved every second of our new backyard, even in winter! You can read more about installing this amazing PaverTurf with pavers and hanging string lights in the backyard.
Bedroom Refresh
Moving onto interior projects! I kicked off 2021 by giving my son's room a quick refresh. I finished this lodge feeling bedroom bout a year prior but I just didn't feel 100 percent right to me.
By using a little paint and switching out a few fixtures, it now feels like the room I wanted. This modern ski bedroom is perfect for my little guy.
Primary Bathroom Refresh
This year was truly the year of the bathrooms! I saved most of them for last, which means I'm getting down to the very last of the big projects in our home! It's crazy to say that. Our primary bathroom is great but it isn't really our style, or the style I have used throughout the rest of our house. Tackling this bathroom will be a HUGE job, I'm not really ready to gut it, but I did want to give it a small refresh this year to make it feel a little brighter.
It was very tone on tone and a little too contemporary for me,
This year I gave it a quick makeover by painting the walls all white, replacing the mirrors and changing out the light fixtures.
Upstairs Bathroom Renovation
Here we go on bathroom number 2! This is the bathroom that is connected to my son's room upstairs. It's used as a guest bathroom from the hallway or his private bathroom. I never liked the finishes on this bathroom when we moved in. I gave it a temporary makeover a few years go with wallpaper and changing out a few fixtures, but this year I was ready to fully tackle it.
I started this makeover in April for the Spring One Room Challenge. I had high hopes guys, but this bathroom has been one road block after another. But I've made SOME progress.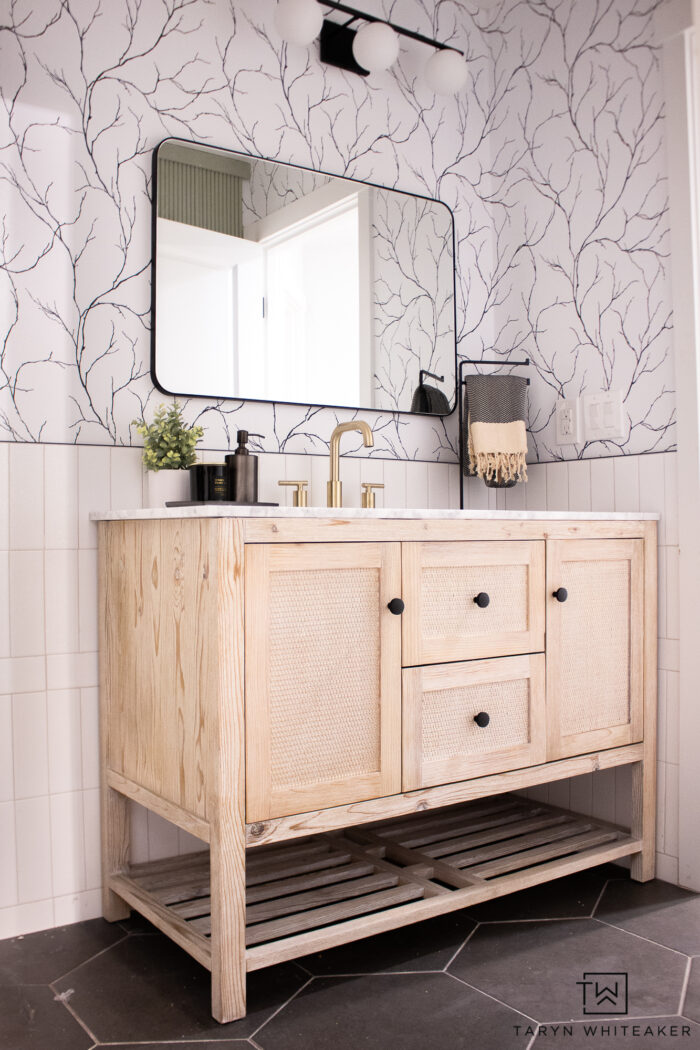 Here is how the vanity looks today! I completely gutted this bathroom (see update here) and was able to install new hexagon flooring, do a vertical subway tile backsplash, installed new wallpaper and vanity. You can read more about this entire vanity area here.
Opposite of the vanity, I completed this fun fluted accent wall to hang towels on! I still have the shower left to do and then this bathroom is all done!
Downstairs Bathroom Refresh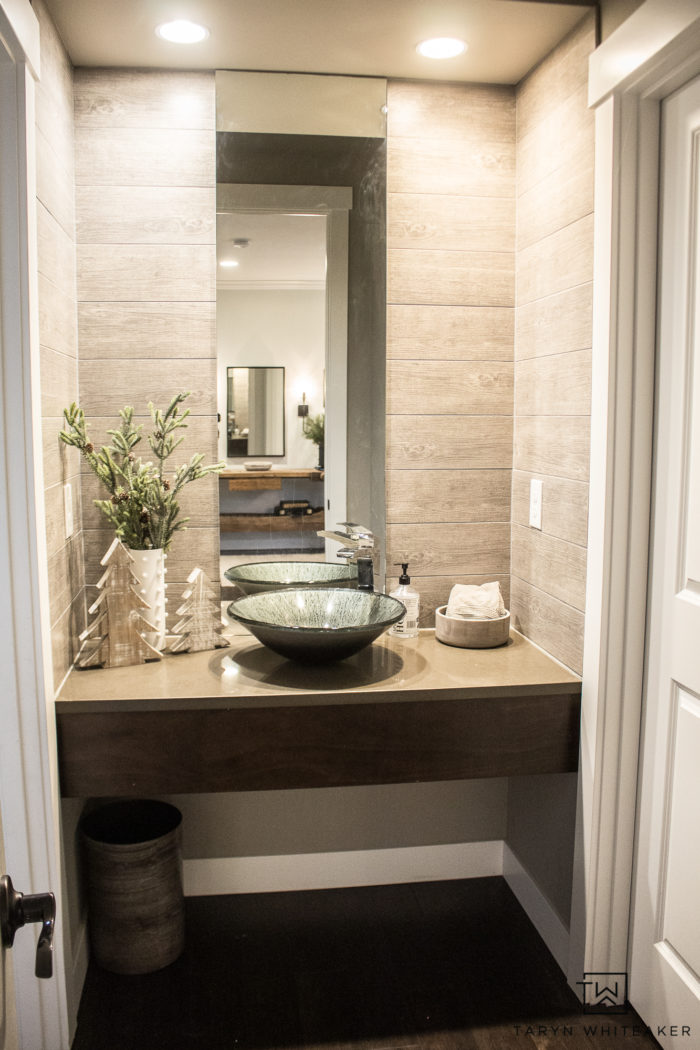 And onto bathroom number 3! Our downstairs bathroom! This bathroom is basically two separate areas. The sink vanity, and then the shower area (see below). This area isn't necessarily gut worthy but is due for some updates. The mirror and sink are just a little bit too contemporary for my style and I'd like to somehow cover the espresso wood paneling.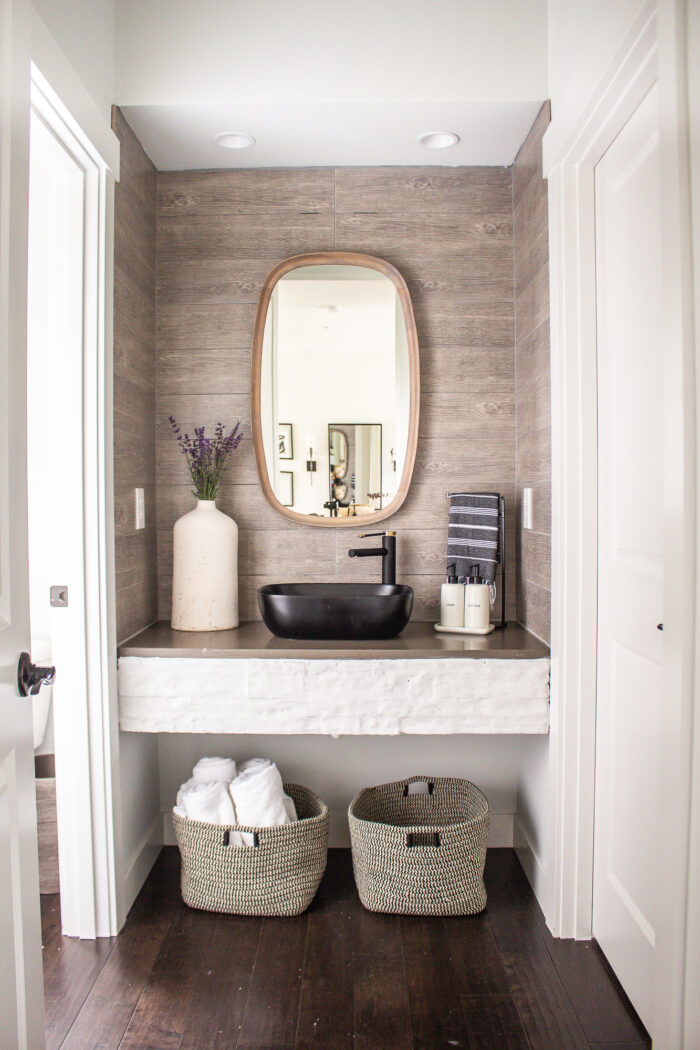 And this is how it turned out! New mirror, new sink, faucet and accessories. On the front of vanity, I ended up doing a German Smear technique on it, similar to our fireplace makeover. You can read more about this bathroom vanity area here.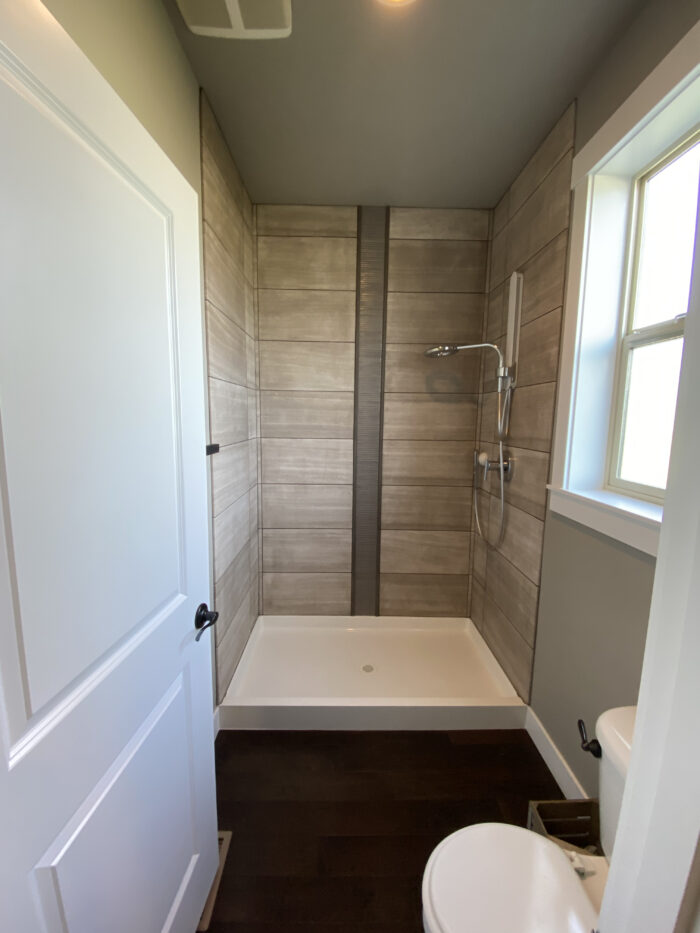 Let's take a look at the shower area! This is another great example of working with what you have and just adding enough to make it feel personalized and more styled.
Here is how it looks now! I kept the entire bathroom the same with the exception of paint. And then I added a frameless shower door, organization and towel hanging area. See the full tour here.
Living Room Makeover
The last big project of 2021 was our family room! We started this makeover in 2020 by ripping out the carpet and installing hardwoods. And this room has basically been sitting practically empty since then!
In November this year, I was fortunate to partner with Article and bring this family room to life! It feels so amazing to have this space feel complete and cohesive with the rest of the house. It's honestly been a dream come true. I haven't shared an official room reveal yet, but I did share quite a few sneak peeks in our holiday house tour.
I can't wait for this next year! I'll be sharing my project plans and goals this week. It will be a lot of finishing up loose ends, finishing spaces that are 80% and getting this house all polished up. It's almost done! But is a house truly done? :)