Alright guys, it's finally time to share my son's modern lodge bedroom refresh! I started this project on a whim a few months back and it has turned out to be a fun project with my son! We realized that he has never had the opportunity to help design his own room, when we moved in, he was just 11 months old and I designed a nursery for him that has slowly grown to a big boy room but 6 years later it was time for a full change!
I alway ask my kids for input on their rooms, ie. any requests? Colors? Styles? Features? The things my son requested are 1) a recliner just like Daddy's that he can cozy up in (the cutest) 2) a skiing theme because he loves skiing so much. Let's see how we did!
Modern Lodge Bedroom
I wanted his room to be a mix of modern, classic and a little mountain. And I think we pulled it off! You can see my full inspiration post for this room here. The green color block look was inspired by Cukoo 4 Design . I have always loved her son's room and gathered a lot of ideas from it.
Moving over to his requested recliner! I shared a peek of his reading corner last month, but it has definitely changed a lot since then! We found the cutest little recliner that is just his size and he loves sitting in here for some down time.
Moving over to his desk space! A desk space is the new "must" in today's distant learning lifestyle.
Now let's dive into a little bit more detail on each element of his room.
Vertical Slat Wall Accent Wall
While searching for green room inspo, I came across a photo on Pinterest with this vertical slat wall treatment and I LOVED it. I just thought it was so unique and different. I loved how it brought dimension to the space and a fun pop of wow!
Best part is, when you are laying under it at night, it feels like you are in a fort! So fun.
On the far wall is a special, personal touch to the room. We are a big skiing family and try to make it up to the mountains as much as possible. I was able to find an enlarged print of our trail map on Etsy and built a frame for it! Now he can plan our runs before we even head up there!
Kids Reading Corner
This little reading corner has evolved more than any space in this room! It took awhile to pull it all together and make it feel balanced. I love this big industrial clock I found from Lamps Plus.
I shared a video of me putting these shelves up on Instagram! Here are the original shelves I got on Amazon, I wanted larger shelving planks so I ended up cutting my own. The gold detailing is so cute!
I've always been a fan of these wooden side tables. They add the perfect rustic touch but are also a little modern.
And recognize this lamp? I'm always trying to use what I have when doing room designs, this lamp as been with me since our old home! I originally had them in our old master bedroom , painted them again for and again and this is probably my 4th time!
Modern Lodge Desk Decor
I saw this pic of a hotel in Jackson Hole over on Brighton The Day and loved the oversized mountain print on the wall. I knew it was a must for this space! I found this mountain mural print on WallSauce and customized the size to fit the space.
You can view a video of me installing it here!
I already had this white desk his previous room and it ended up working perfectly in here too! I added these copper and wood wire baskets as decorative and practical storage.
New Industrial Lighting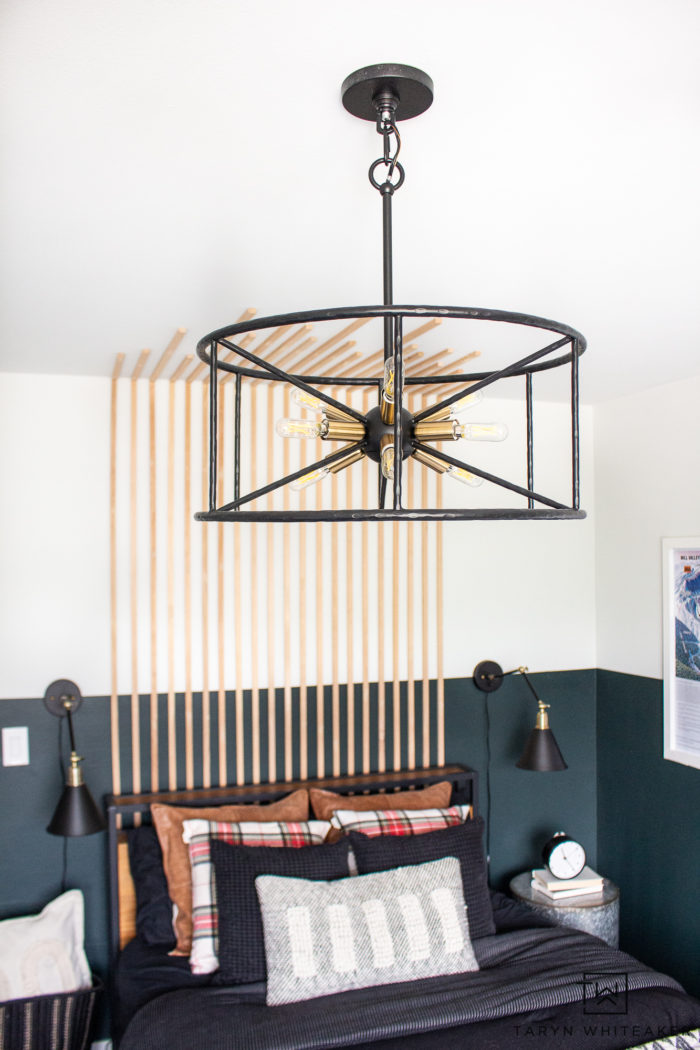 One of the big changes to the room was all of the new lighting! Simply changing out all of the lighting can make such a huge difference, it can instantly change a space. I partnered with Lamps Plus to update the lighting in here and bring a little cozy ambiance.
I love tis new chandelier because it is the perfect mix of what I was going for in this space. It's industrial yet a little mid-century modern.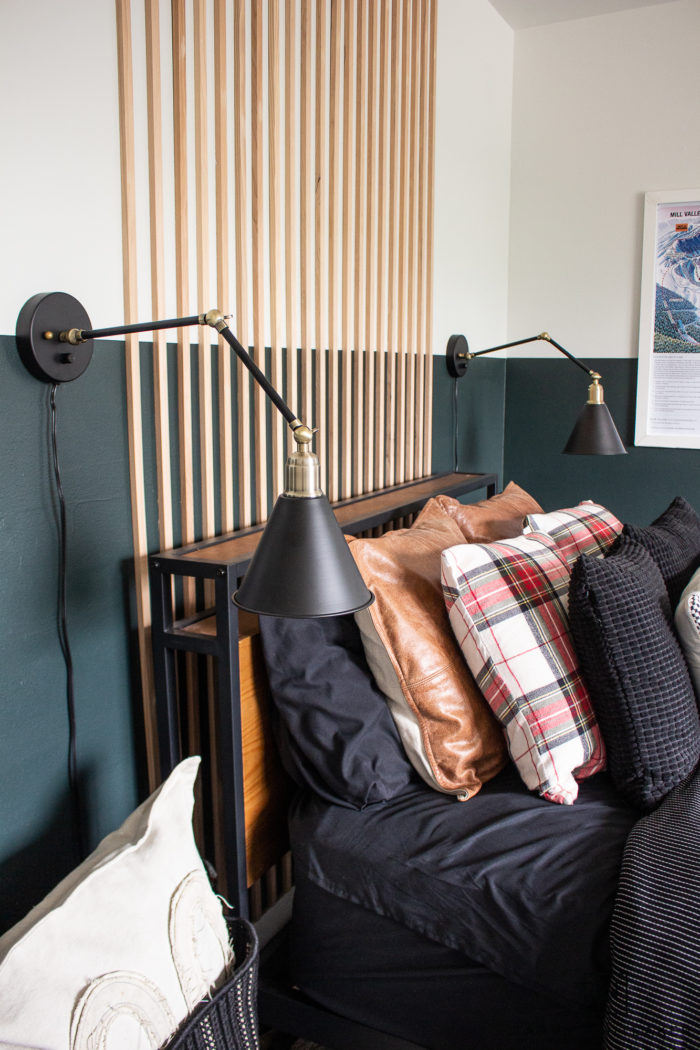 I'm a fan of plug-in sconces simply because the ease of use. I didn't want to have sconces hardwired in, so these wall sconces were a great solution. They have a great industrial modern look and add a nice touch around the bed. They also have dimmers on them!
Every desk area needs a lamp! This is white and chrome lamp a great option for a more modern, larger desk lamp look. It also has USB ports and outlets on the base to charge all your devices!
Thanks for taking a tour! Leave any questions below!
Shop This Modern Lodge Bedroom
Wall Color: Sherwin Williams Rookwood Shutter Green & Reserved White
BED AREA
READING CORNER
DESK SPACE
RUGS
LIGHTING