Back in February I finished up my youngest's mountain inspired bedroom and I thought to myself, wow I have all our bedrooms done! I won't be working on a bedroom for a long time. Well, "a long time" lasted about 4 months. No surprise. You never know what is going to happen over here! Anyway, I started to think about how my oldest son had never had a chance to really help design his own room. I started his room as the rustic boy nursery 5 years ago and it has slowly evolved from there. But it's basically been the same room design for the past 6 years. It's time for an entirely new look in here! So today I want to show you some of my Boy Room Makeover Inspiration with you! Here is what I'm thinking.
Green and White Modern Bedroom Ideas
I am really excited to get started. I will of course give this room my own spin with incorporating some Pacific Northwest elements and rustic touches.
Boy Room Makeover Ideas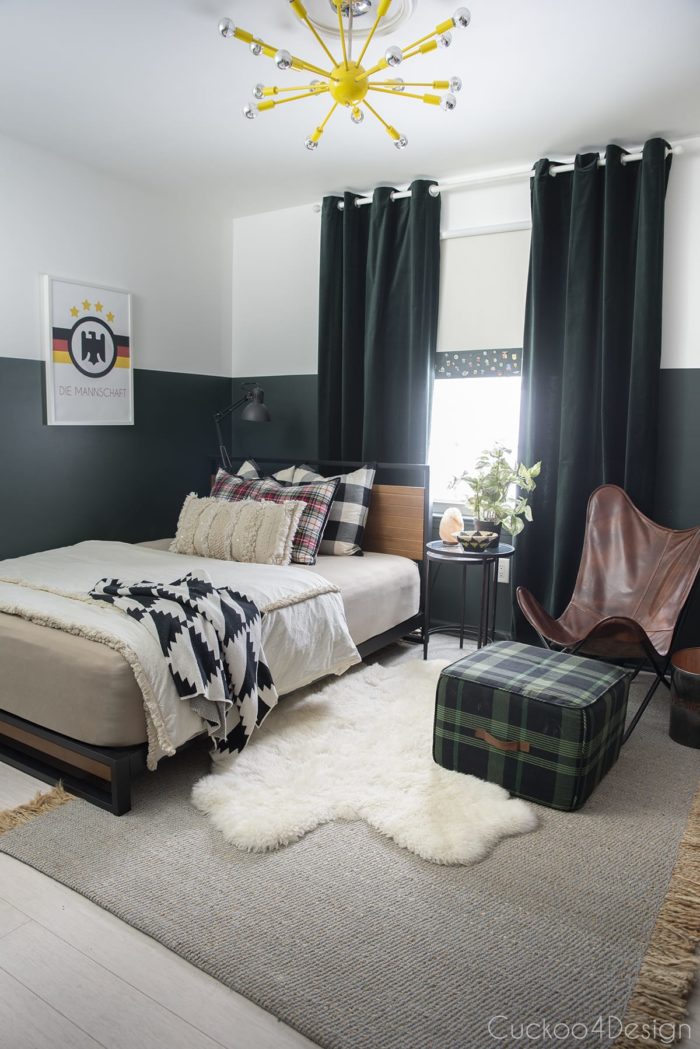 This room by Cukoo 4 Design will serve as a major place of inspiration for my son's room! It is the space that both my son and I felt drawn to for this makeover. There is so much I love about this space, but primarily the dark green color blocked wall and mixture of all the plaid, leather and texture done in a very modern, cabin chic look.
Here is a another great black and white bedroom with a neutral green accent wall! I am drawn to the clean lines and the wood design accent wall. The Merry Thought always does amazing work!
I really love this nursery from Bre Purposed. While I'm not designing a nursery but a big boy's room, I love so many of the design elements she did in here from the two tone wall and mixing the vintage pieces with black accents.
I love this green and black neutral room I found on Etsy (you can buy the signs over there). I like the color block green and white and the cabin chic vibe is has in here. My wall colors will be inverted but this helped me visual a little more of what I want!
I found this room on Wayfair ( I can't find the original source) but I love the mid-century modern look with the mix of the green accent wall and brown tones.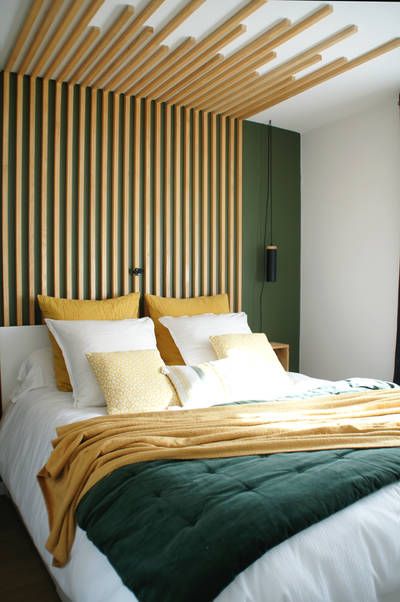 So here is the big design element I want to do, look at this wood treatment! I love this unique headboard idea and how it's so clean yet drama! My goal is incorporate something like this on the wall and ceiling. via Lilly Is Love
So What's Next?
I can't wait to see it come together! I have already started to demo the room and get it ready for paint and the new little reading corner is on it's way and ready to be installed. I'll be sharing updates soon!