Disclosure: This post is sponsored by Joss & Main, all opinions and product selections are my own.
Remember a few weeks ago when I shared some inspo for my son's new room makeover? I'm here with my first big reveal today! Say hello to his brand new cozy reading corner and a big sneak peek of his bedroom design. It was so fun to design this with the Organized Bedroom Challenge with Joss & Main.
Cozy Reading Corner
The best way I can describe the new style of his room is "modern lodge". Like all of my designs, I wanted a mix of both rustic and modern and this time I want a bit of a ski lodge twist. Living in the PNW, we are a big skiing family and my son loves hitting the slopes in the winter. So that is what we are going with!

Room Before
If you need a little refresher, here is what the corner looked like before in his navy blue bedroom. I still loved this room, but it was time for a change and something that fit my son's needs a little better.
Kids Recliner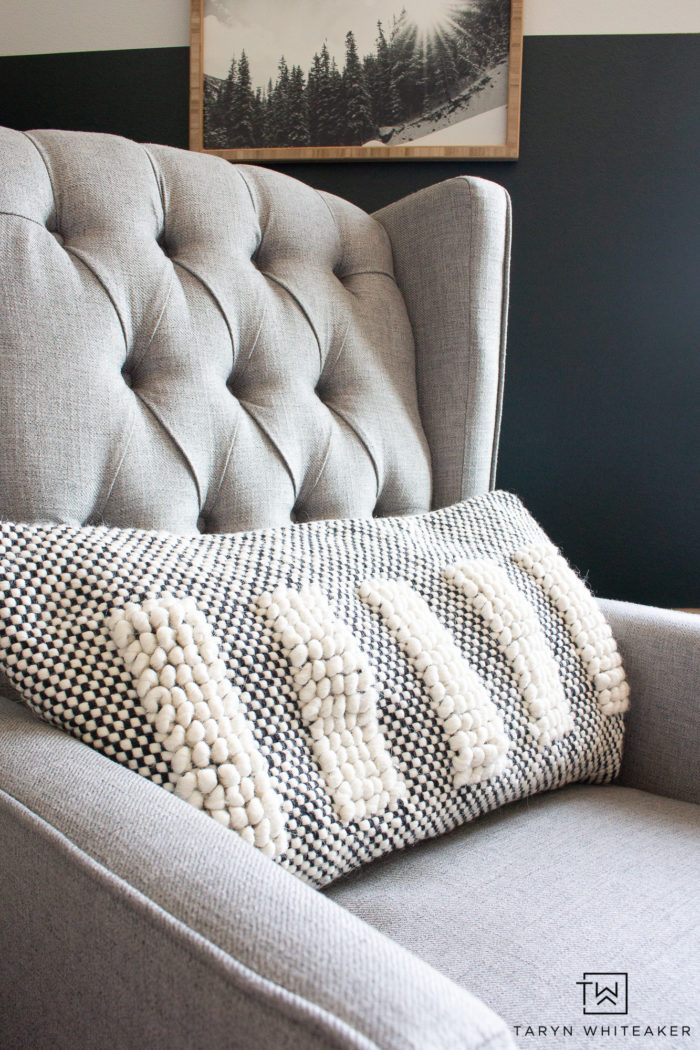 You want to know something funny? When I asked my son what his top priorities were for his new room, the very first thing he said was, " I want a recliner just like daddy's, but in my room". Oh my goodness, how cute is that? I found this adorable gray tuft recliner with this cozy throw pillow? It wasn't hard to find furniture options for this space!
I would not consider it a true "kids chair size" but it is definitely a smaller sized recliner. It fits my son perfectly, he can cozy up in it. My husband is a bigger guy and he would say it is too small for him. If that helps you out at all? I think it's pretty cozy though!
Wood Side Table
This little wood side table is the perfect splash of wood in here. I love the natural wood tones and the intertwined twigs.
To bring in some more of the mountain elements, I found this gorgeous snow print in a wood frame that ties into the same wood on the table.

Plug In Chandelier!
Every reading corner needs it's own reading light! I brought in a little industrial wow piece and picked out this modern plug-in chandelier. I know people have opinions about cords showing, I tend to like the raw industrial look of them, but you can also cover them if needed. Using a plug-in light allows you to hang a new light super fast without having to hardwire it in or add another light box.
Green Color Reading Corner!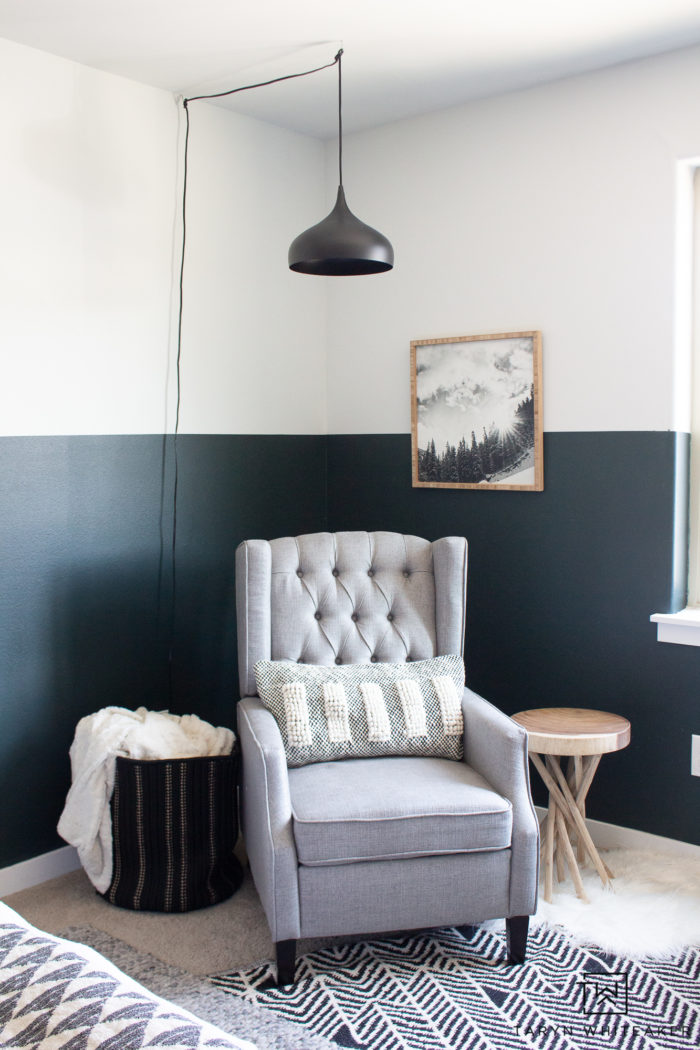 I cannot wait to show you more of this green, black and white color blocked room! It's coming together so well and I love the new modern vibe in here. But hope you enjoy this cozy reading corner to start with!
SHOP THIS SPACE