A lot of times I feel like I do these posts more for me than for anyone else. As someone who is constantly looking at my to do list and what needs to be checked off, I often find that I'm more focused on what HASN'T gotten done versus what WAS completed. So I decided before I dive into any goals or new projects this year, I just need to sit back and take a look at all of the HUGE before and after projects I completed in 2022. I mean, we moved from Washington to Texas so THAT in itself was a major project!
In January of 2022 I knew that there was a possibility of moving in the summer. It was very much just something we were exploring and really had no idea if it would happen or not. Regardless, since my job involves working on projects and home renovations that did factor into what I worked on for the first 6 months last year. When I shared my goals for 2022, I was completely focused on finishing up projects I had already started, polishing off the last 5% of finishing work around the house and getting our house ready to put on the market in spring. And if we didn't end up putting it on the market, then our house would just be DONE and polished for the first time since we moved in :) As we all know, we did end up putting our house on the market in April and we did a cross country move in July. Since then we have been working on making our new house a home and getting settled.
2022 Before and After Home Projects
I look back and honestly can't believe how much I managed to do this year, even though I feel like I took a lot of time off of projects with all of the transitions. So here we go!
Primary Closet Renovation
We lived in this house for 7 years with wired closets, clothes constantly on the floor, no where to put shoes and zero organization. It drove me nuts for every one of those 7 years. In summer of 2021 I sat down with Modular Closets and I designed our dream closet! I put so much thought and time into designing something that fit our needs, space and would not only be beautiful but practical.
And here is how it turned out! You can see the full primary closet reveal for more details and tons more pictures. There were a lot of features that I loved about this closet and I hope to use again in our new house one day!

DIY Outdoor Kitchen
We started our backyard renovation in September 2020 and it was a slow but steady journey of turning this space into our dream backyard! The ONLY thing we hired out was the concrete and the propane line to the fire pit, otherwise I did EVERYTHING else myself. This corner was originally supposed to be a flower bed, but after some consideration we decided it was the perfect place for an outdoor kitchen.
We moved the HVAC unit to the side of the house and then continued the gravel and pavers in this section to create a platform for the kitchen. I worked with RTA Outdoors and Coyote Appliances to build this amazing outdoor kitchen. You can see a full tutorial video of us putting it together here, and a lot more details in the blog post here.
DIY Planter Box and Trellis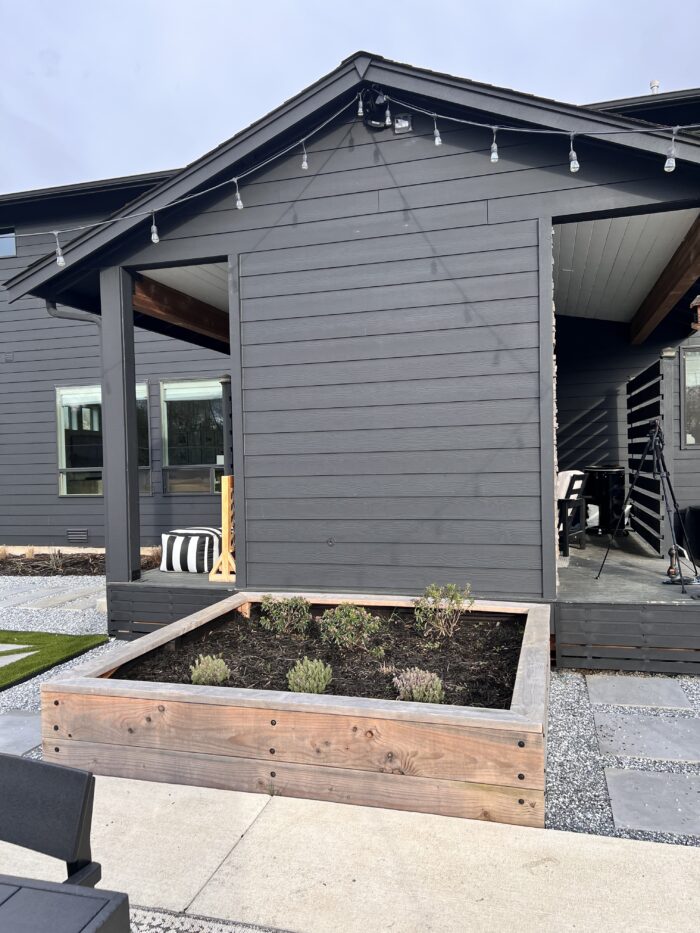 I had previous built this planter box and even though I had sealed it, it didn't weather great over the winter. I also wanted to add some greenery up the back of the house for a pop of color.
So in a quick weekend project, I stained the box in rich Early American and then built my own DIY trellis.

Complete Backyard Transformation
This was the start of our backyard renovation in 2020 but we finally completed it this year! This is what it looked like when I started.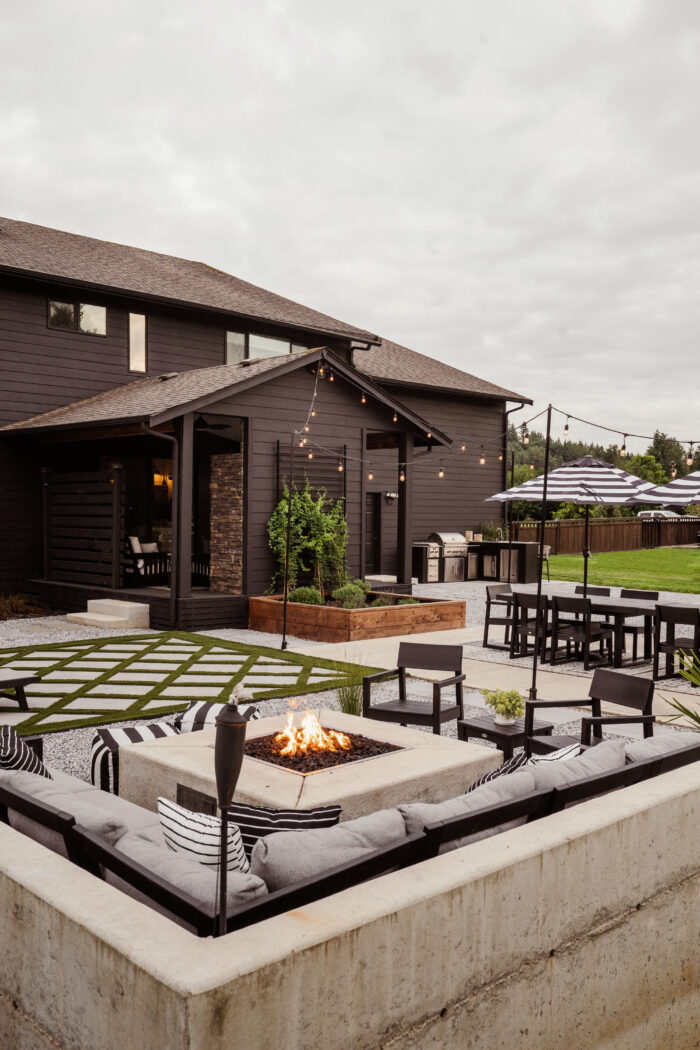 After adding some landscape, the out door kitchen and the trellis, this space is finally DONE! We finished literally just in time to put it on the market. That's how it always goes right?! You can take a tour of the backyard and see all of the projects from this space on the blog.

Complete Bathroom Renovation
This bathroom. What a learning experience. This is how it looked at the start of 2021. 7 months after I started it. It was the first time I had renovated a bathroom from the ground up, first time tiling a shower and I learned a lot. Not sure if I will do something like this again by myself, but if I do I will do a few things differently.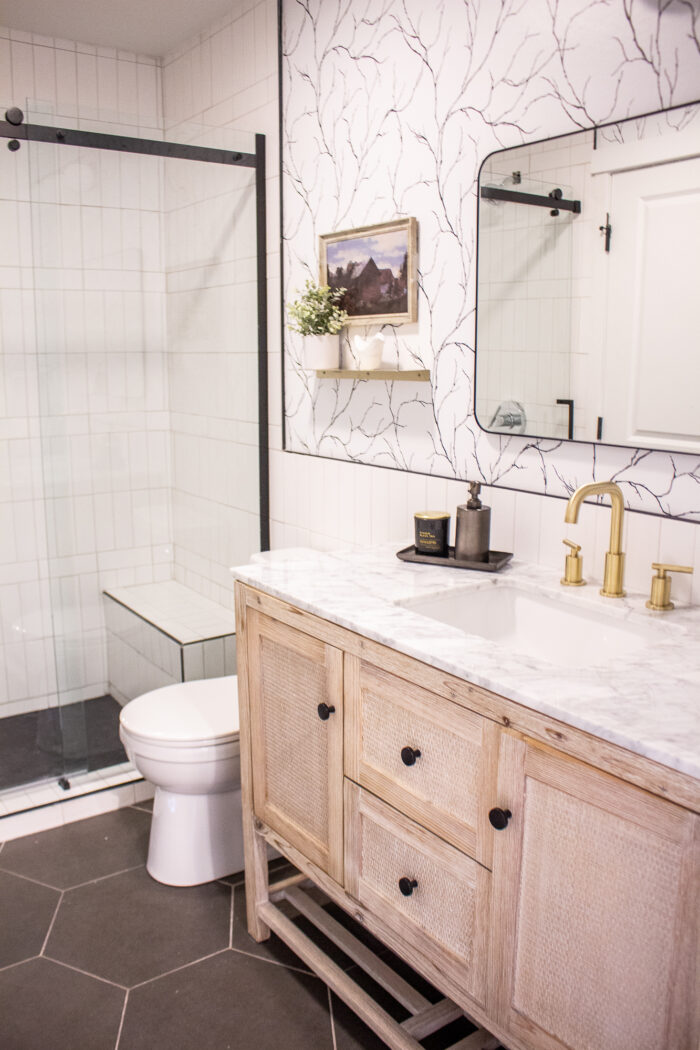 I always said I work better under pressure. I don't know how, but I managed to finish the shower before we listed the house. I mean barely. We were installing the shower door the morning the house went live! You can tour the full tour of this bathroom and all the sources here.

Moody Movie Room Updates
I did just a few small updates to the movie room. Something never felt right about the wallpaper in here. It was too light and wasn't the look I was going for. The cabinet also felt bulky. I reused an old kitchen cabinet primary just to use for homeschool materials but that was't needed any more and I didn't love how it looked.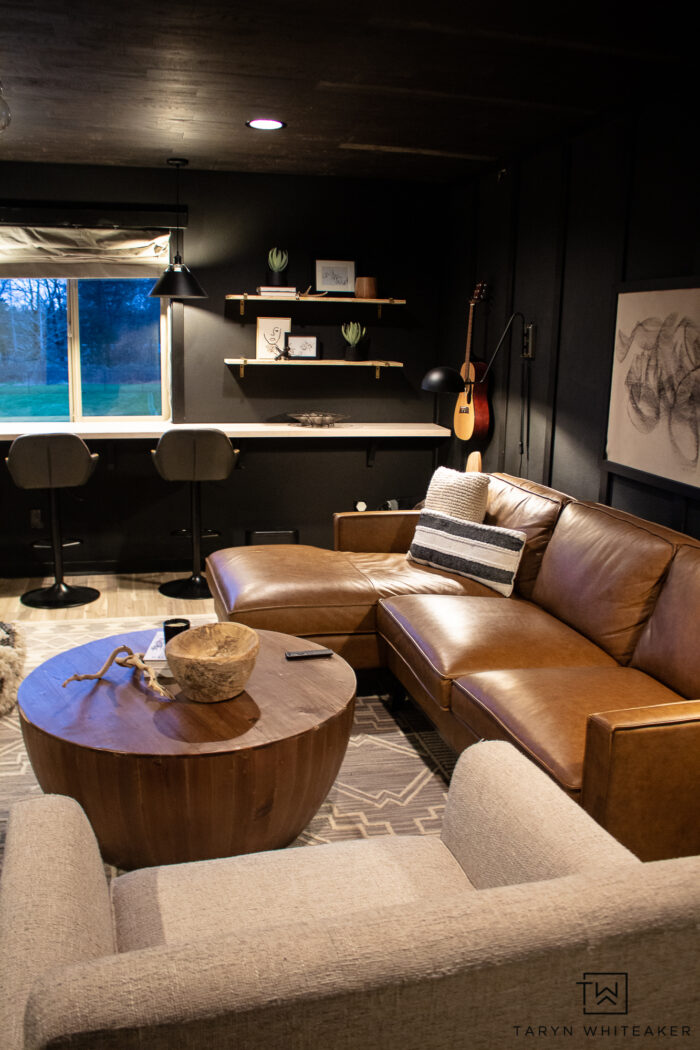 So I simplified the space by removing the wall paper and giving it a fresh coat of paint and added open shelving. If we were to stay there, I would have replaced the pendants with brass ones. See the reveal here.

You can see the final tour of our Washington Home here.
The Start of Texas Renovations
In reality, I wasn't able to work on any DIY/renovation projects from May-August this year during the move! It was a nice break, but actually really hard for me at the same time. I love being productive and seeing the full before/after of a design and this year required some patience. We moved into our new home in Texas in late July and spent the first month getting settled. Once the kids went back to school it was hit the ground running!
It's taken me some time to get a feel for this house and find a vision that really feels true to us. I've done a lot of work in the past few months but it still feels like not enough. I am so excited for this year, I feel like it is going to be a HUGE one.
Cozy Living Room
First step, get our living room ready for relaxing. We spend a lot of time in our main family room and we wanted it to bet the first space we worked on to help our kids start to feel at home.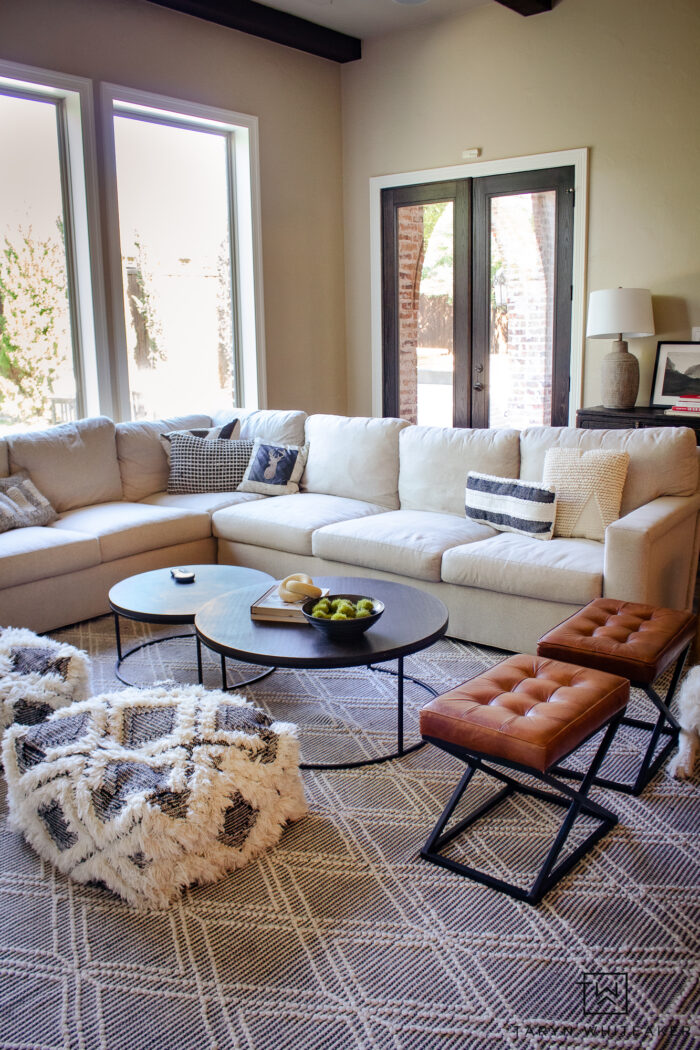 We bought this sectional from the previous owners since it was neutral and fit the space perfectly. Everything else we brought down with us! We were able to use our large textured rug from our previous living room, along with leather ottomans from our closet, fringe poufs and nesting coffee table.
We have some really big plans for this space down the road. We want to do full wall of builtins with a media cabinet and shelving. I've been reaching out to contractors for the project so hoping for more progress on this space this year!

Outdoor Furniture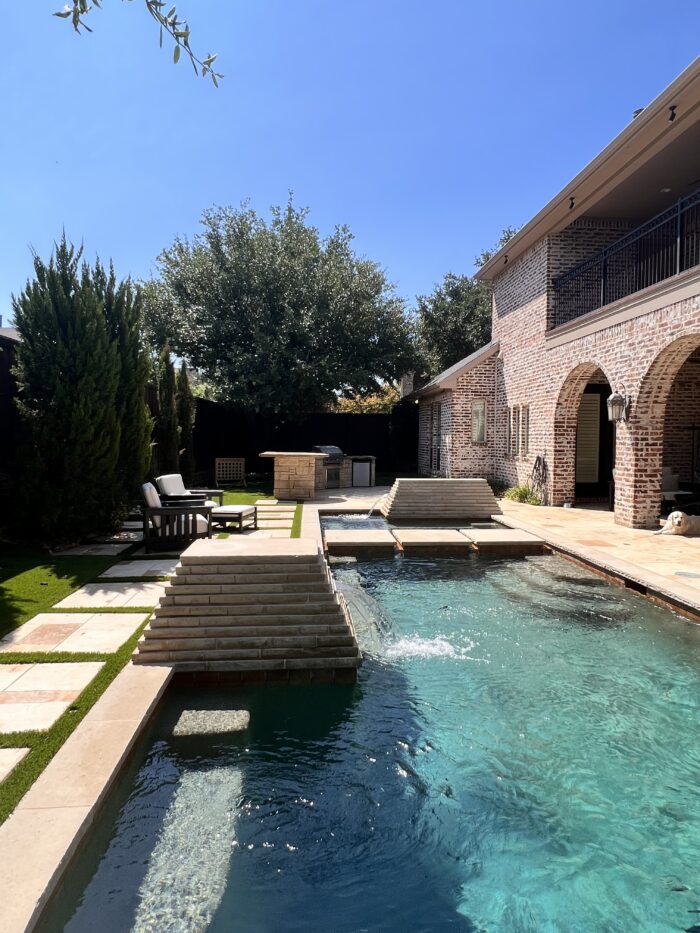 I haven't shared much of our backyard on the blog yet this year, but I am SO CLOSE to getting ready to do a full shoot with it all styled. I've actually worked a fair amount on the yard this year but just didn't blog about it. But soon!
We got our new POLYWOOD furniture in the fall and I have just a few more projects left and I'll be doing a big blog post reveal on here!

Casita/Office Renovation
I kicked off my first BIG renovation project in September. We decided to convert the detached guest house into an office combined guest space. It started with baby blue walls and gorgeous wood beams.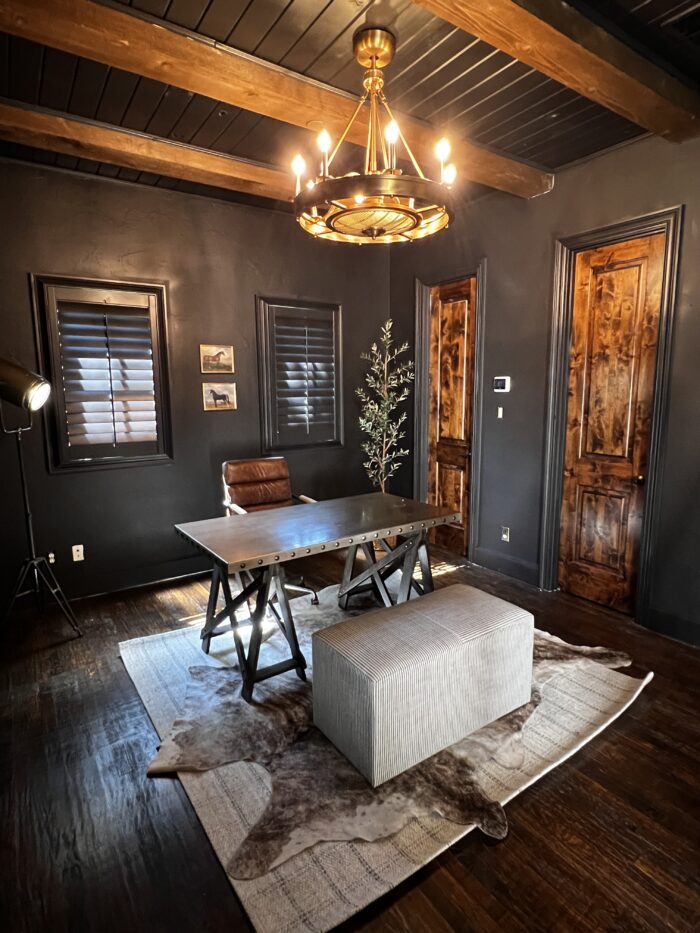 I added a diy plank ceiling and trim work, and gave it a really moody look by painting it SW Black Magic. This was only part 1 and we have part 2 coming this year! Time to build a murphey bed! You can see my inspiration for the room here.

Formal Living Room Seating Area
Our formal living room sits right off our entry. We had put some temporary furniture in here when we first moved in but it definitely wasn't working with this space.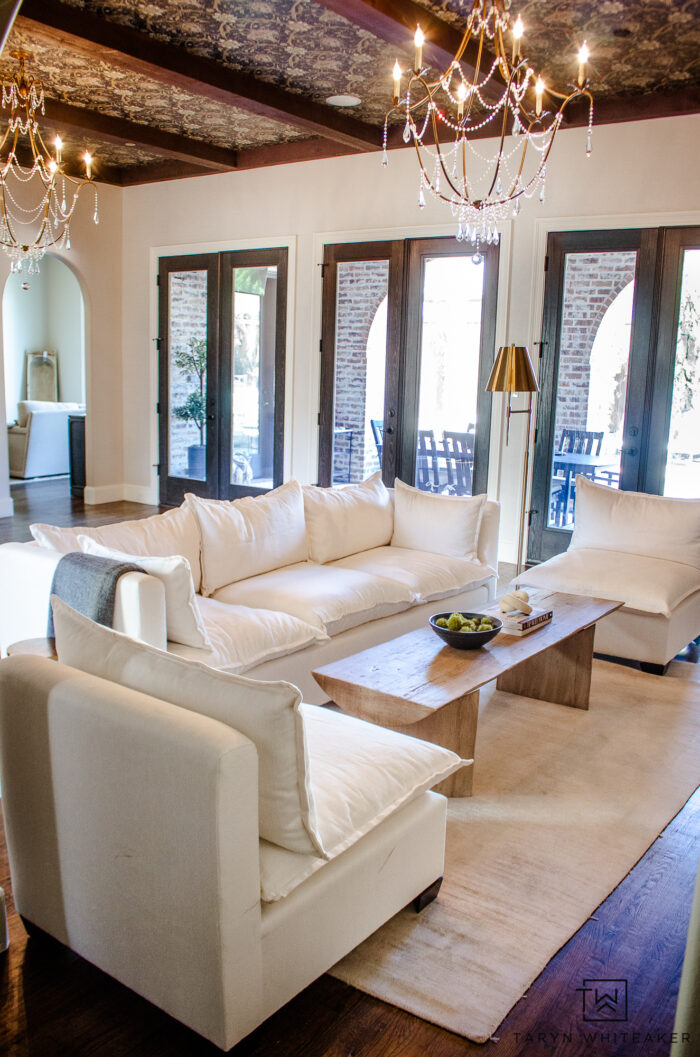 I wanted to bring in some classic yet clean lined furniture to balance out the traditional elements in the room. You can read all about the new furniture and accessories in the living room reveal post.

Hallway Refresh Part 1
The arched hallway in our entry is one of my favorite parts of our home. I truly love the architecture throughout our home but there is just one thing that feels a little off. The paint color. I truly feel like our home will feel like a completely different home by simply painting all of it. I got a quote from a paint company to come in and paint all of the main rooms (not bedrooms or bathrooms since i'll work on those over time). And the quote was astronomical. So I am going to be painting it myself, room by room!
I spent weeks trying to come up with the perfect creamy white for our home. I tried all of the popular ones, and none of them seamed to really fit. They were either toooo white or toooo creamy almost yellow. I finally created a custom version of SW Creamy and it is PERFECT. At least for our house! I needed to be pretty warm to blend with the trim and floors. However it still looks really light and bright. I will be doing part 2 in this hallway in the next week, so stay tune!

Outdoor Fireplace Conversation Space
My final project of 2022 was completing our outdoor fireplace area! I absolutely love this space between the casita and the kitchen. It's the perfect space for our guests to have morning coffee or for fireside chats in the winter.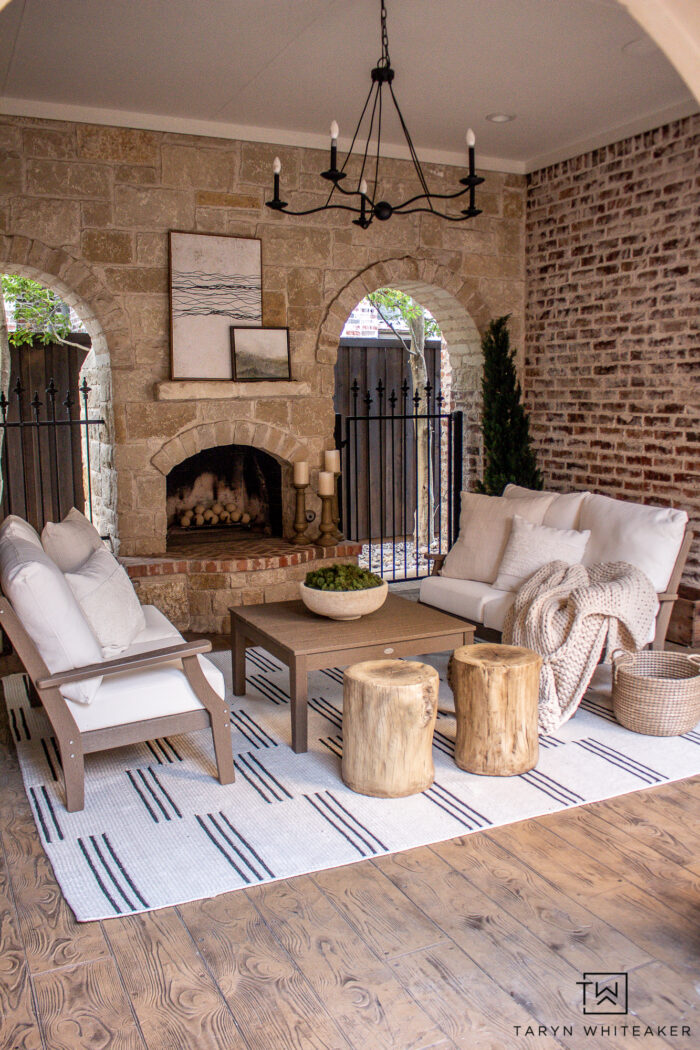 This was a 6 day makeover and I'm so glad I pushed myself to get it done before the holidays! I painted the ceiling the true SW Creamy, changed out the light fixture and added all new cozy furniture and decor. You can see more pictures of this space and get all the sources here.

WHAT'S TO COME!
I'll be putting together a goal's list for this year. I have SO many ideas for this house that it's going to be hard to narrow it down. I'm trying really hard to stay focused on continuing progress on the main living spaces in our home to make them feel livable and comfortable. Those will always be a work in progress with continual tweaks.
The other big focus for 2023 will be the bedrooms! All 4 of our bedrooms feel very bare and sterile right now. The kids all having moving boxes in theirs still and I think we are all anxious to feel like we have our own personal spaces. I know the kids are ready for their rooms to feel like THEM. So that will be a major focus for this year! We just want them to feel at home even more than they do now!