We just hit the 2 month mark in our new home in the Dallas area and I can't believe I haven't had a chance to share our full new home tour with you yet! As you'll see, our new home is NOTHING like our previous home in Washington. Our previous home was a brand new builder grade home that we customized and updated over the 8 years we lived there, giving it a very rustic modern style with heavy Pacific Northwest influence. Our new home in Dallas is 15 years old, it is full of character, charm and traditional European architecture. The minute I walked into the brick and stone courtyard, I fell in love.
I shared a walk-through tour on Instagram, but I know it helps to see still photos and take in the home, room by room. But if you want to see the 90 second walk through, I included it in the post below or you can see the highlight reel on Instagram where I take you on a longer walking tour.
New Home Tour
Exterior
When we started the journey of looking for a new home in Dallas we had a list of requirements, well more like a wish list. Great neighborhood, minimum 5 bedrooms OR 4 bedrooms with a designated place for guests, an office, European style architecture (aka I wanted a lot of character and architectural details) and most importantly a pool for the kids. We made a promise if we moved them across the country we would have a pool right away!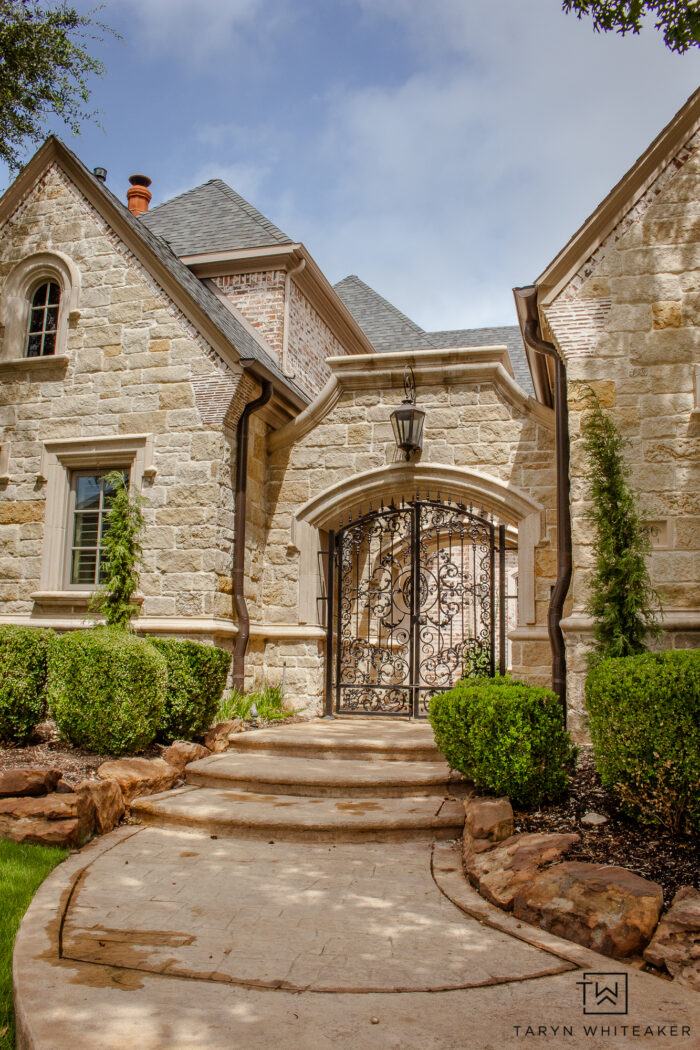 When my daughter and I flew down to Dallas in May to house hunt, this house wasn't even on our radar. It wasn't on my list, in fact we were coming down to put an office on a house that had actually been sitting on the market for a few months and had actually dropped in price TWICE. It was a total fixer upper but I loved the neighborhood and schools. Well, that house went pending as we were BOARDING THE PLANE and I about cried.
But I also knew God had a plan and we would eventually find the house perfect for us. And we did. It was a bit of a crazy story on this whole process went, but I think that is pretty normal when finding a house. To make a long story short, God made it VERY clear that this is the house for us. This is where we are meant to be and we are so sure of that. Which makes this house so special to me.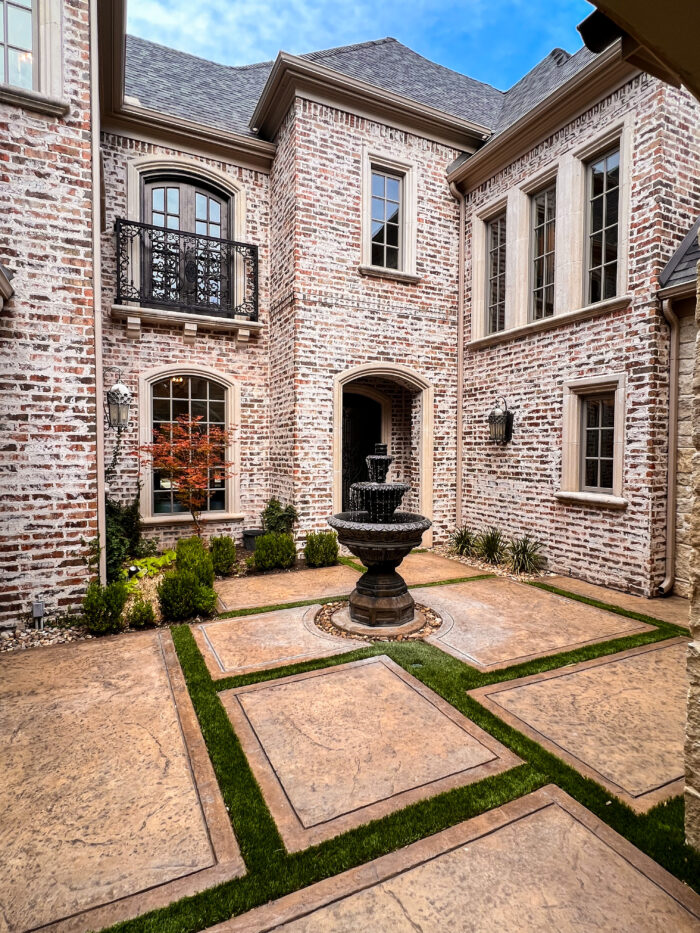 When I walked into this courtyard for the first time my jaw dropped. I fell in love within .2 seconds and I actually wondered why we were even looking at this house because I didn't think it would ever be ours. The sound of the fountain, the gorgeous exposed brick and stone, the archways that lead to an outdoor fireplace seating area. It was the most charming thing I had ever seen.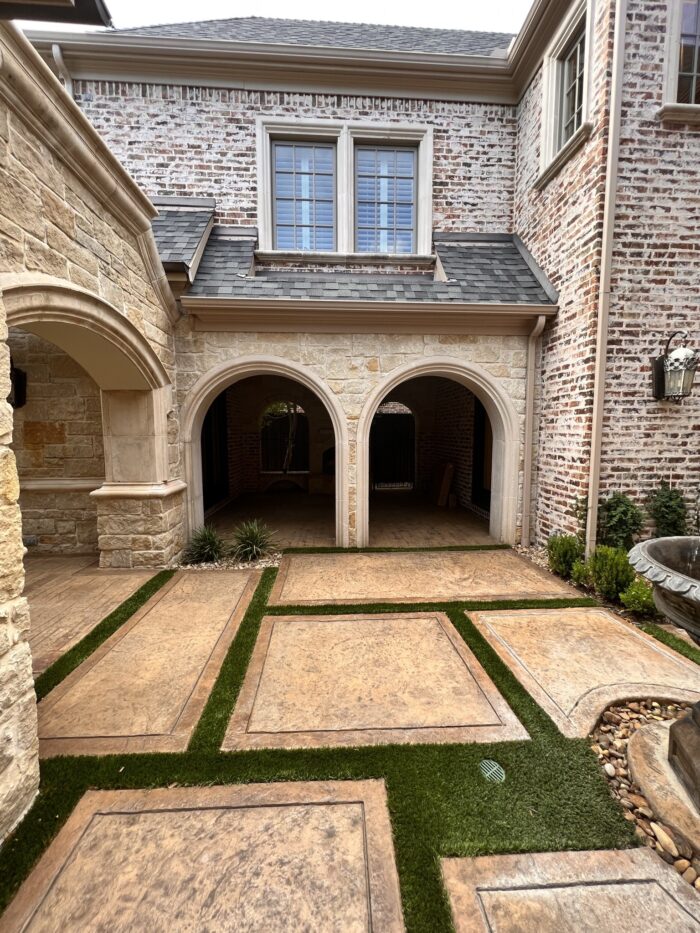 On this side is the covered fireplace (hard to see because it's all shaded) and the door to the left leads to the casita and the right leads to the kitchen.
Interior
As we entered the house I fell even more in love. The charm of the arch ways, the incredible trim workout throughout the house. It has this very dark and moody feeling, that is also so cozy and charming. I truly felt like I was walking through a villa in the French countryside. There is something about this house that just captured me.
The forma living space is right off the entry. This is one huge open space and we have already gotten started on it! I am obsessed with the fireplace and all the arches. The wallpaper isn't anything I would have picked out myself, but I also have grown to really love it and the character it brings to the room. It feels so stately. For now it will stay, along with the chandeliers.
The kitchen is right off the courtyard and has gorgeous beams, and updated features. It's been partially updated over the years. We plan on doing some minor updates in the next year and will plan on doing a larger update wayyyy down the road.
Kitchen Design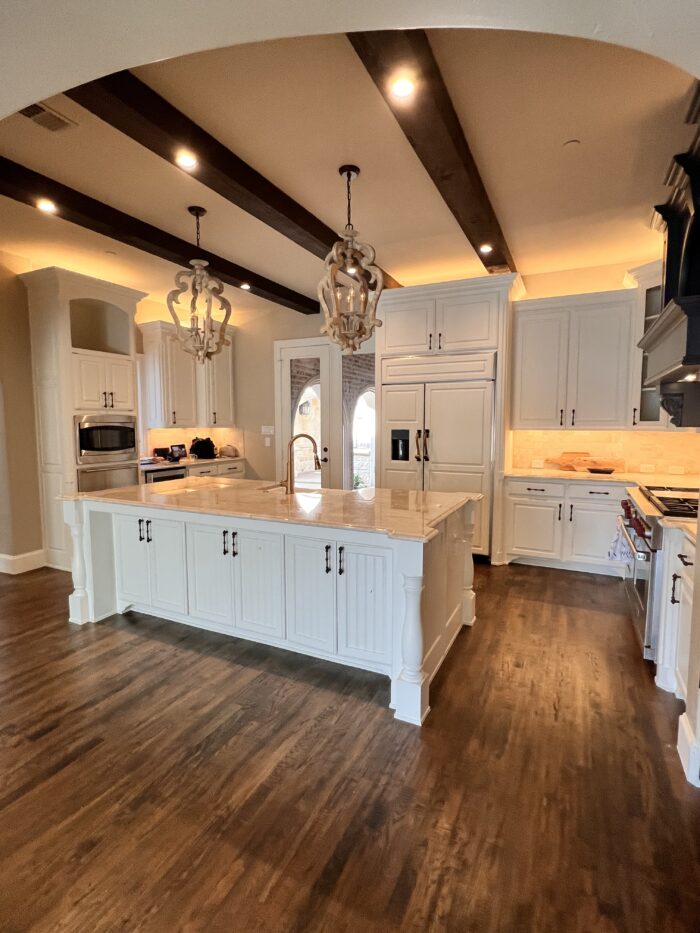 We have a great side kitchen with beams that go through most of the downstairs. There are a few things we will do down to the road to this space but for now it's great :) The cabinets are original to the house and have been painted, the countertops appear new. I have a mini update planned for early 2023 and then we will consider doing a larger renovation (likely years) down the road.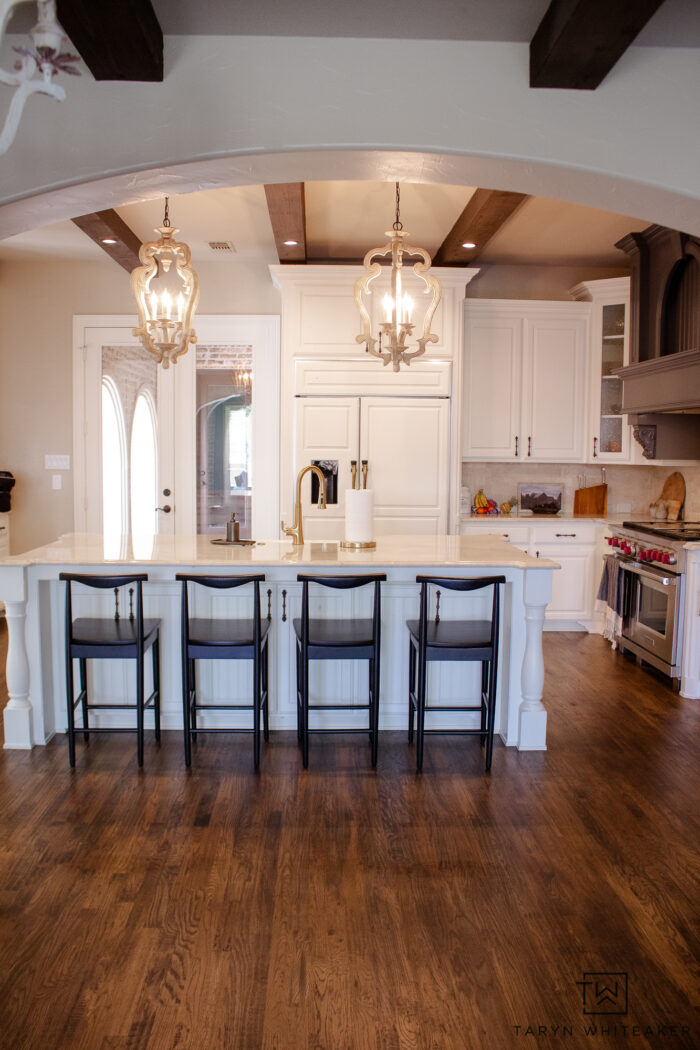 I did add these black barstools though so we have something to sit at! They were a great price for style and function! Once I get our dining table in (in the joining room) and make a few changes in here, I'll see if I still like them or if I need something in a wood tone. For now they work great!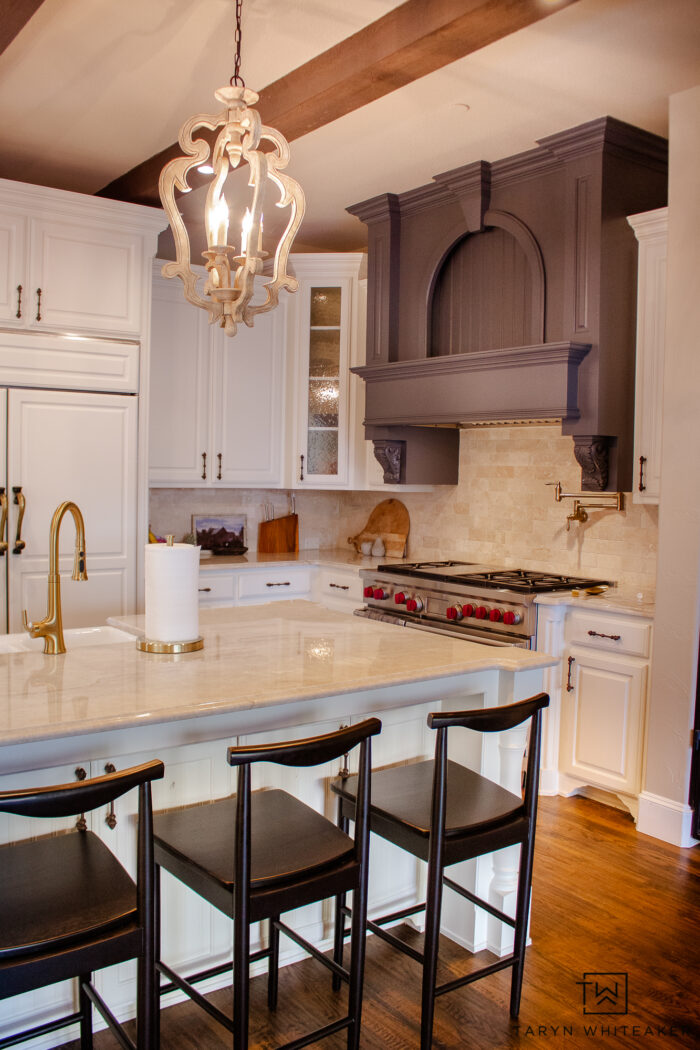 The kitchen looks right into the dining room with the brick fireplace, which then flows right into the main family room. I actually really love how the downstairs feels very open and spacious, yet has very specific rooms. The curved door ways differentiate each space and add so much character.
DINING ROOM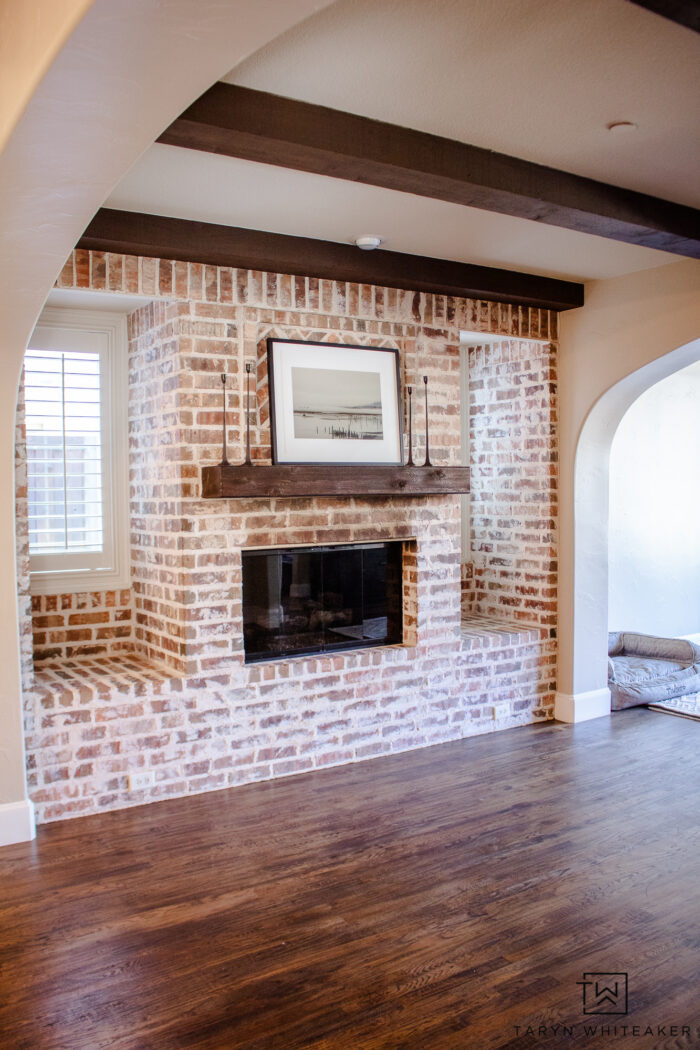 This dining space connects the kitchen and the family room. It has this very charming brick fireplace that has a German schmear on it. I don't plan on touching the brick because I love the character, I just want to bring more modern pieces into this room to balance it out.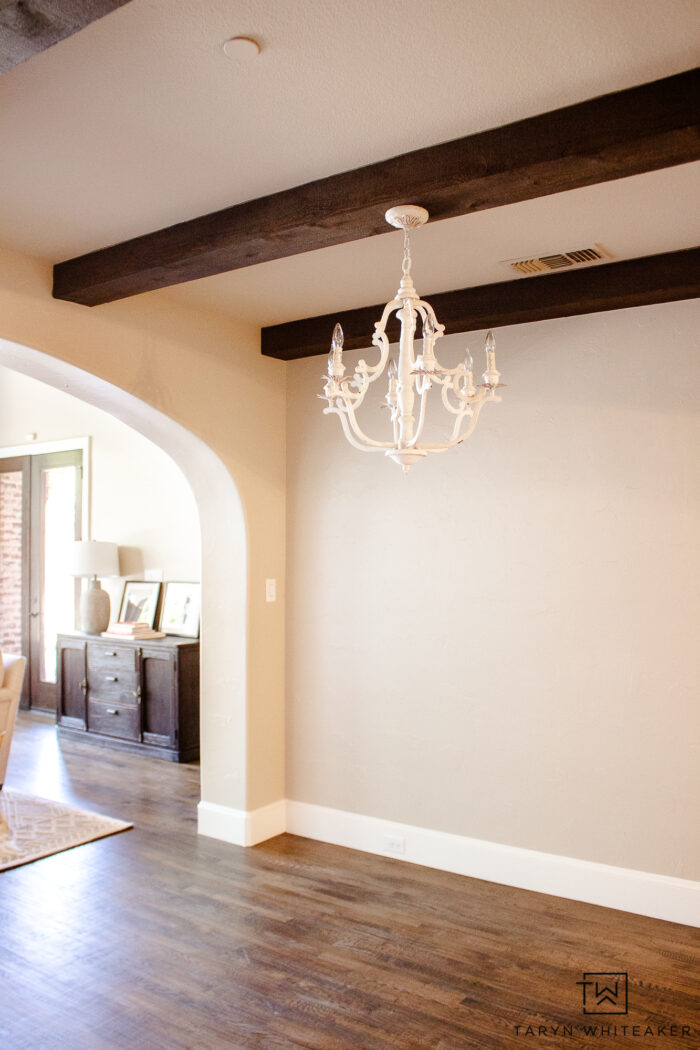 Here is the opposite side of the room! I big blank wall that I can't wait to get creative with! I will be painting the walls (and the whole house), maybe adding some wallpaper on this back wall, a DIY buffet and new lighting.
Family Room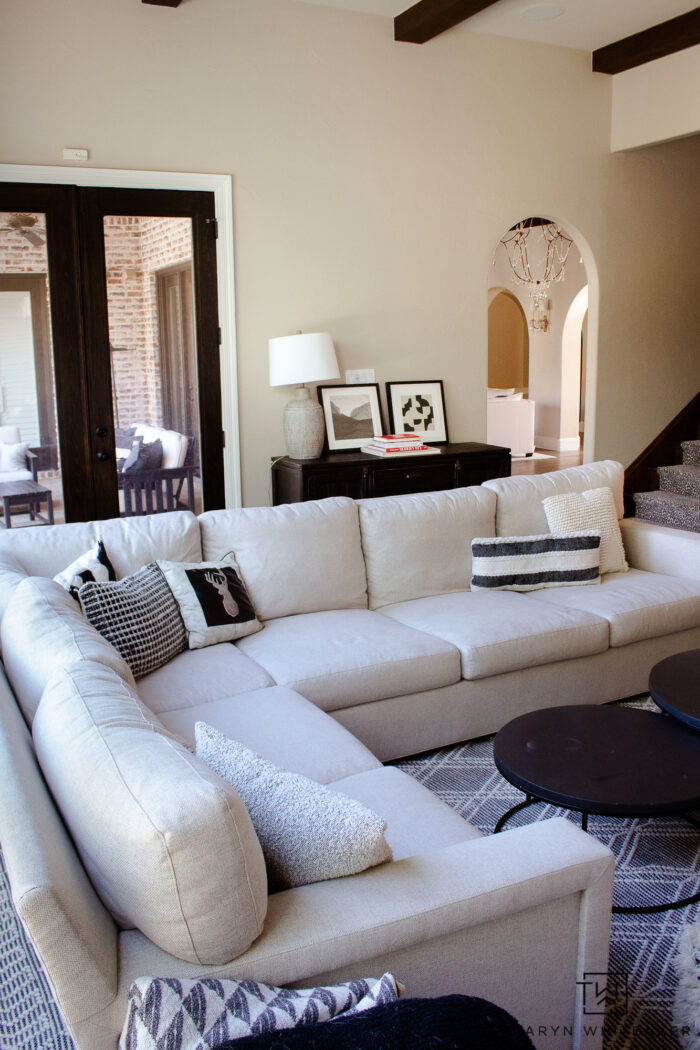 Heading into the family room! This is naturally where we hang out the most! On the 2nd day we moved in, I put together this room so we could have ONE space in the house that feels like 'us'. We will have a lot of work to do in here, but it at least feels cozy and comfortable. We purchased the sectional from the previous owners. I loved the color and the style and it was already here! We moved down here with very little furniture, so it was so nice to have something right away.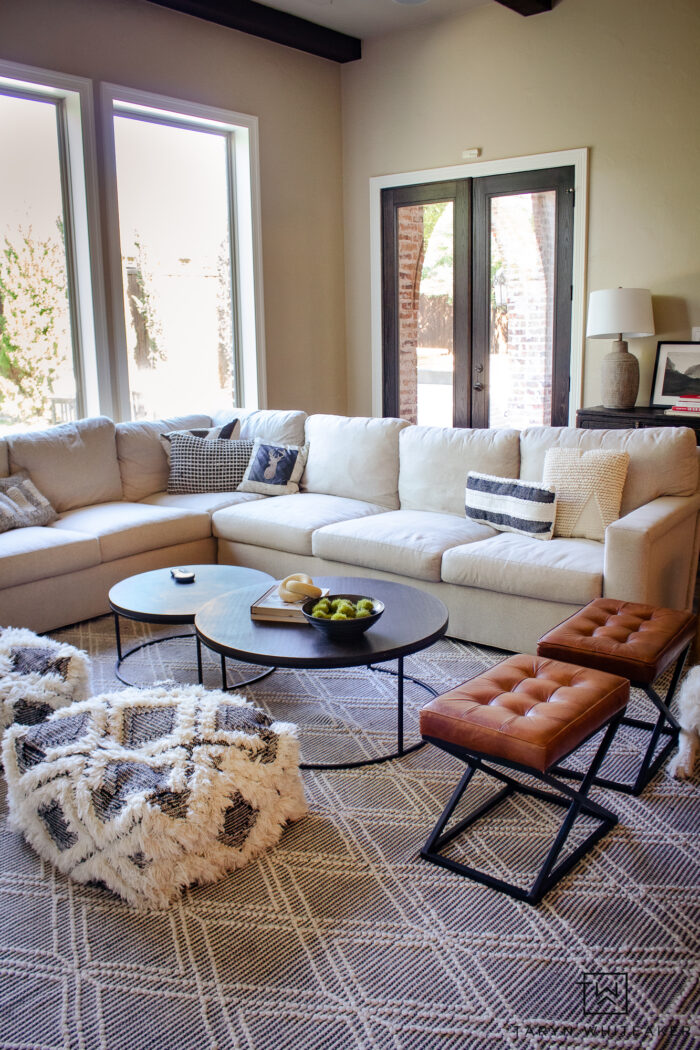 Otherwise I used everything I already had to put this space together temporarily. You can shop everything using the links below.
Shop This Room

From this angle, you can see how all the spaces connect. The large archway to the dining room, the small archway to the formal living space and then the staircase that leads upstairs.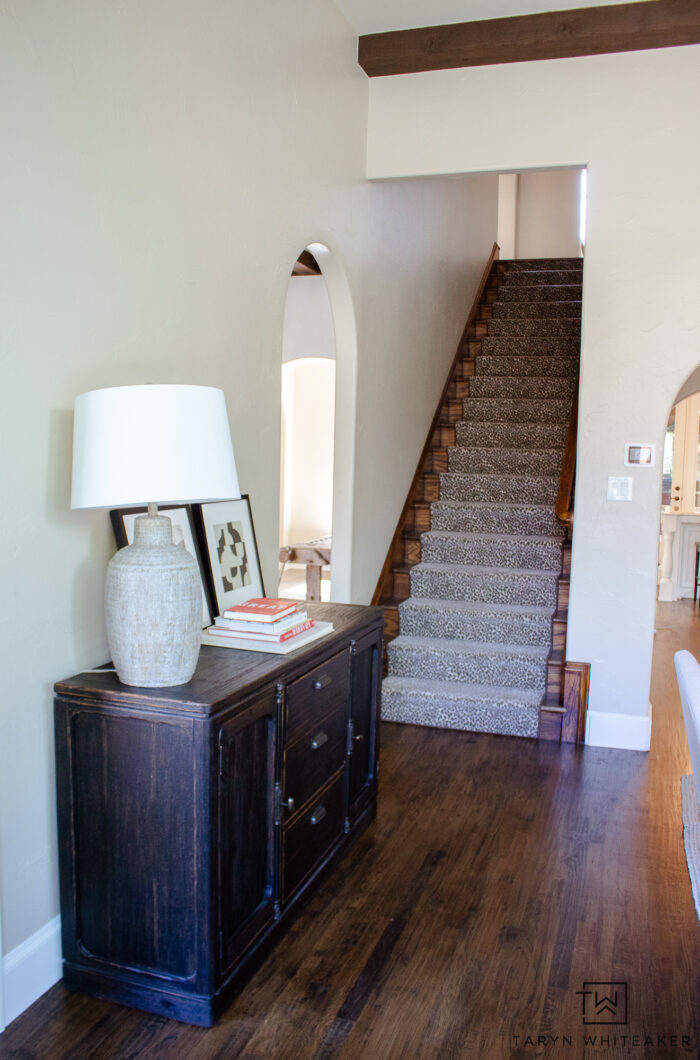 Is that leopard print carpet you ask? Yes, yes it is.
Heading Upstairs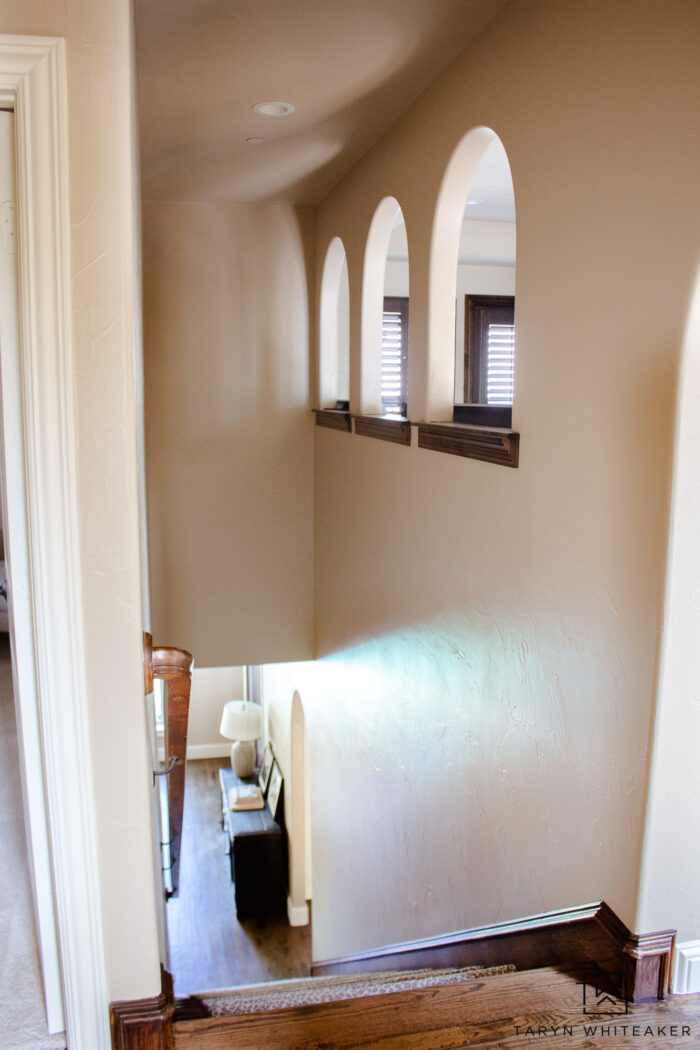 Our house has two sets of stairs, it's like a big loop. This set leads to the boys bedrooms and entertainment areas and I'll show you the other set as we move forward.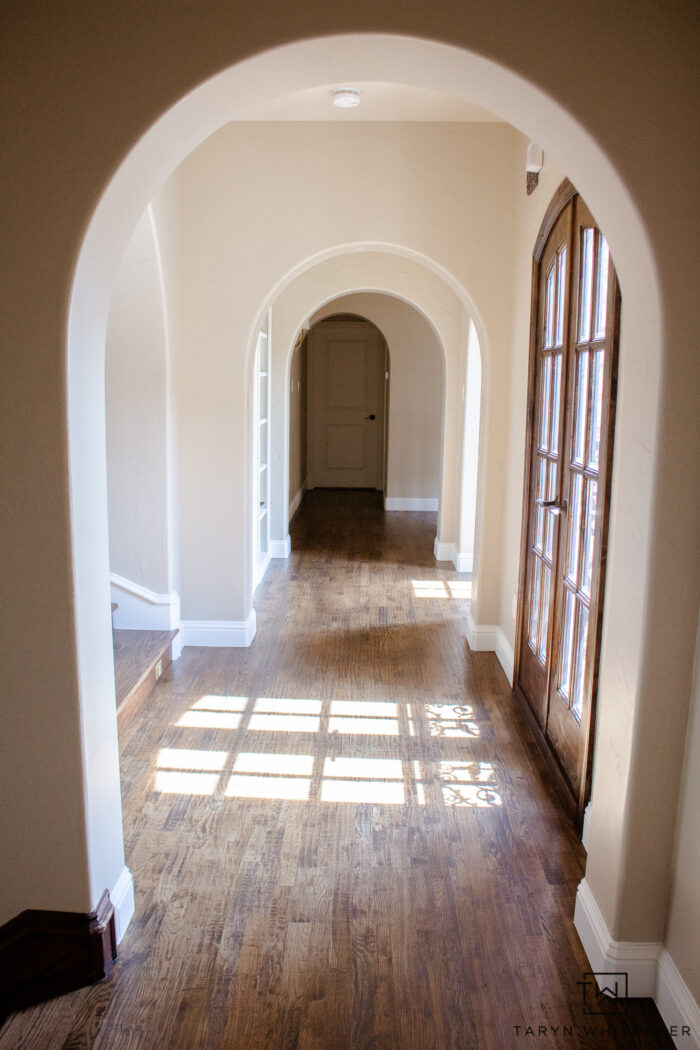 This is the upstairs hallway that looks very similar to the downstairs. They are exactly on top of each other.
Entertainment Spaces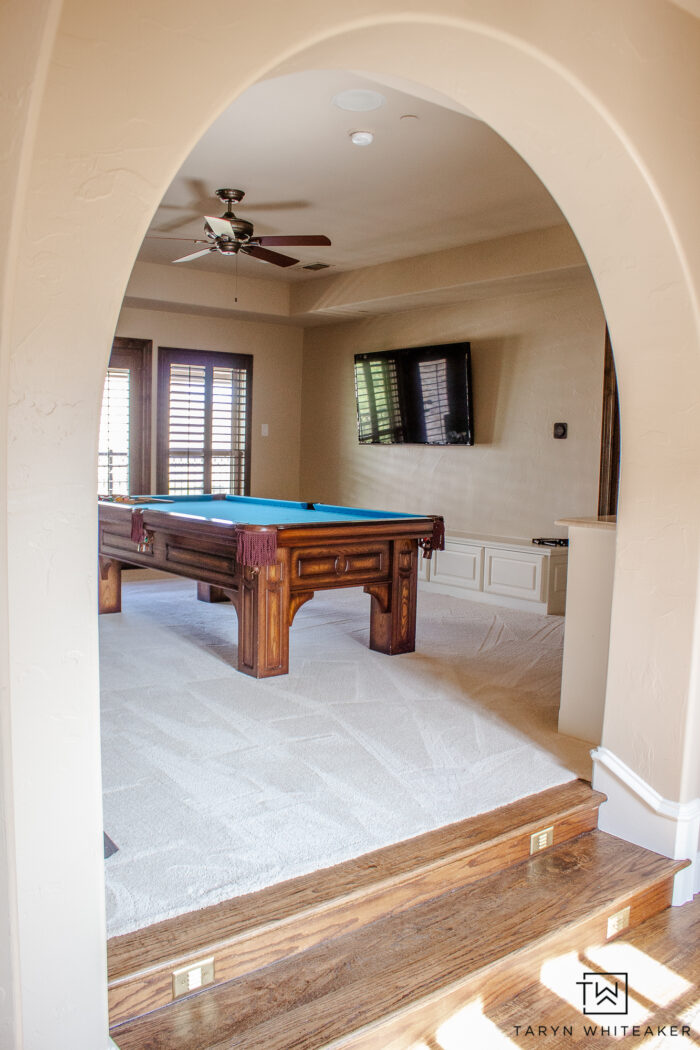 The first stop in the hallway is the entertainment area, which includes a pool table, theater room and a balcony that overlooks the backyard.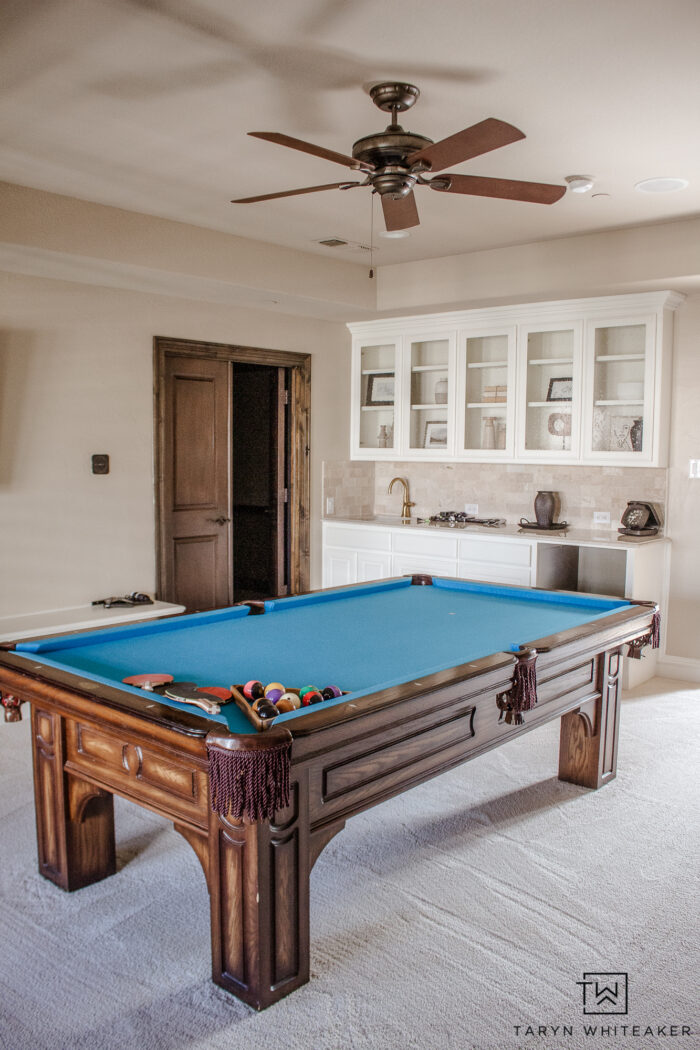 The wet bar up here is so nice to have! I just need to get a mini fridge to top it off! I am SO excited to tackle this space. I have SO many ideas for it. It will just be down the line a little bit!
The theater room is such a great space. The green walls will be going soon, otherwise I won't do toooo much in here for awhile.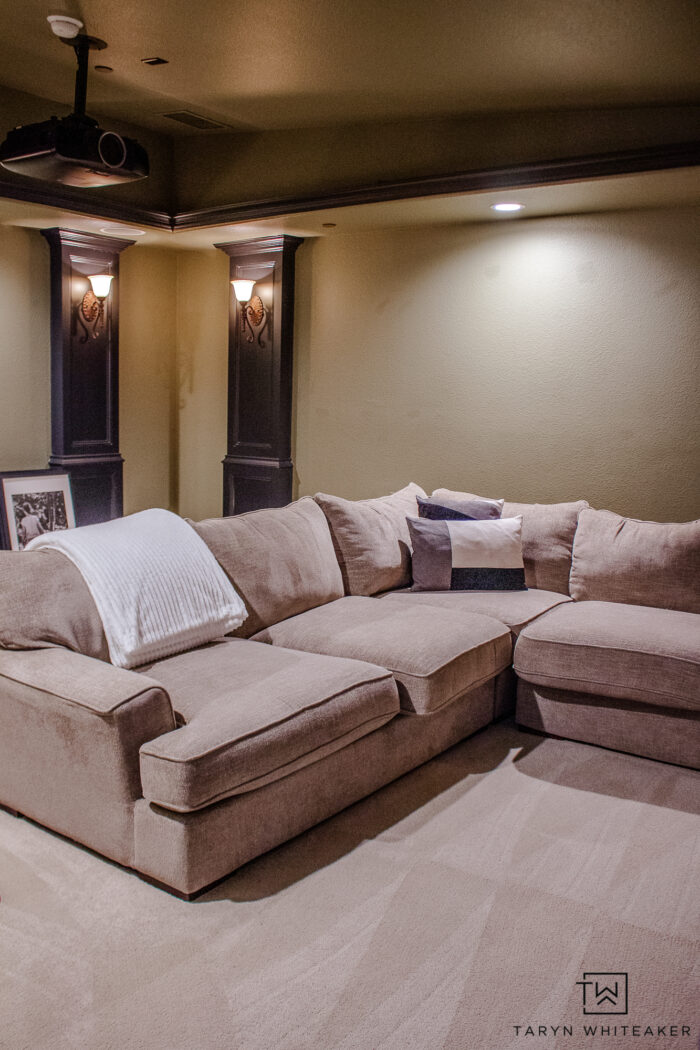 The columns are already a dark charcoal, so I'll be painting the walls, updating the light fixtures, hanging some artwork and finishing up the styling and we are good to go in here.
Upstairs Hallway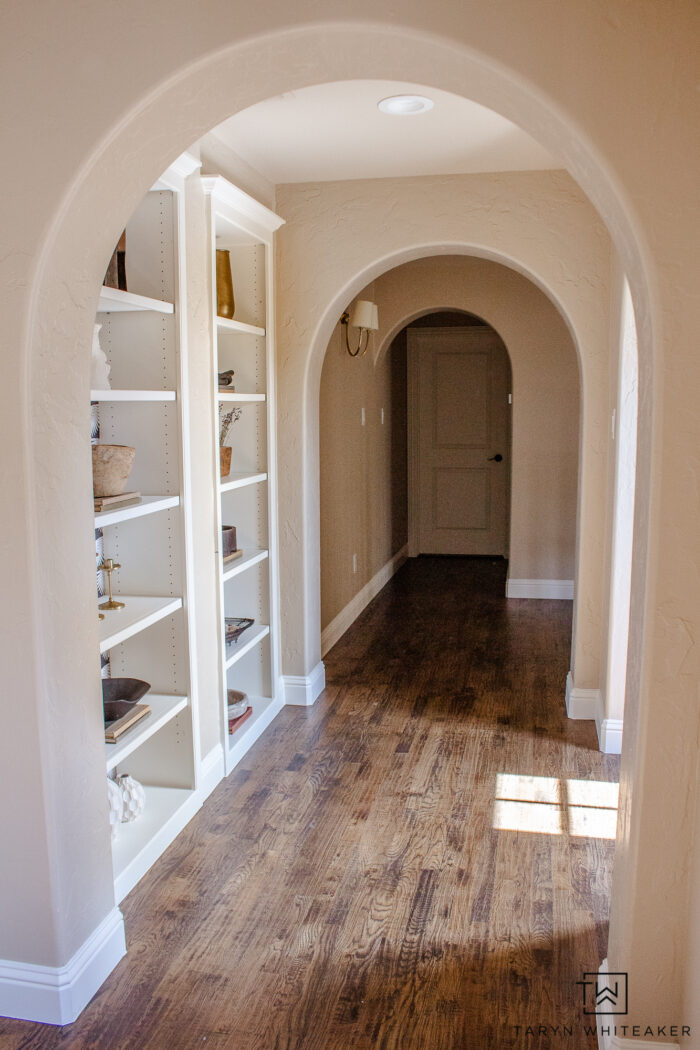 If you keep going down the hallway, we have these built-in bookshelves that I tried to spruce up but failed with the wallpaper choice, it was just too much in here! Long term plans include removing them though ( I think) or at least changing the build out a little bit.
Directly across from the bookshelves is this sweet reading corner. I think this space is just precious. Still trying to get some creative ideas flowing for in here.
This is looking back down the opposite side of the hallway. Straight ahead are the two boy's rooms with a shared bathroom. And the opposite side of the hallway is our daughter's room with her own bathroom.
Kid's Bedrooms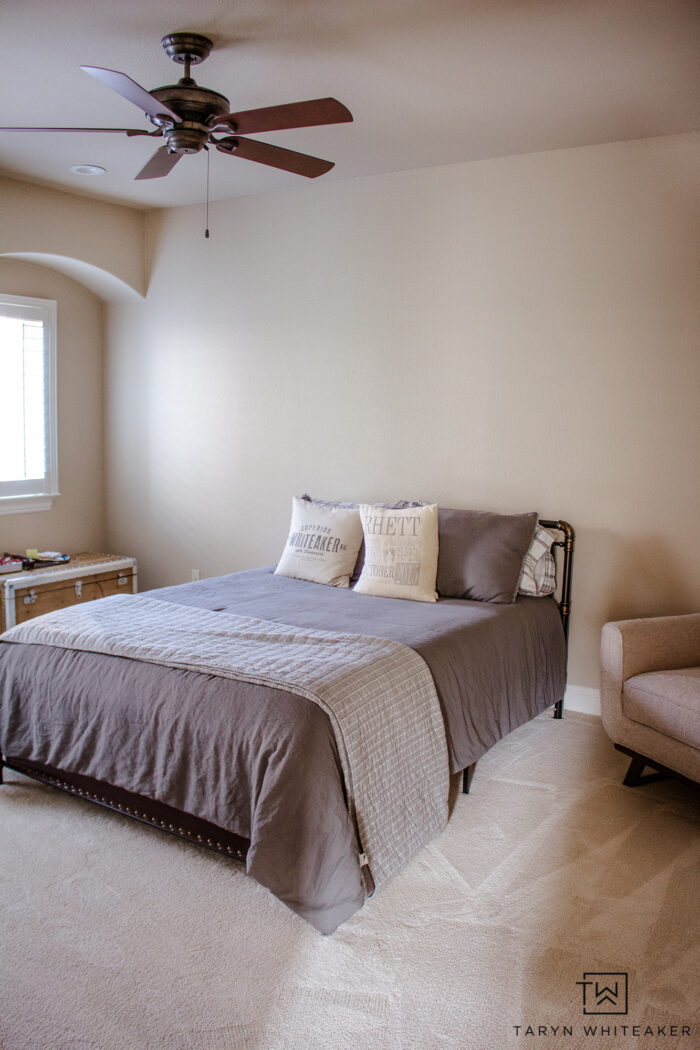 The kids' rooms are great sizes with tall ceilings! I bought them beds to start with and I cannot wait to go all out on their rooms down here! I plan on tackling all bedrooms in 2023! They are itching to get settled so I am going to spend some time on their spaces sooner rather than later.
This room is our youngest's room. He has requested a baseball themed bedroom and I already have some super fun ideas in here! (here was his bedroom in our previous home)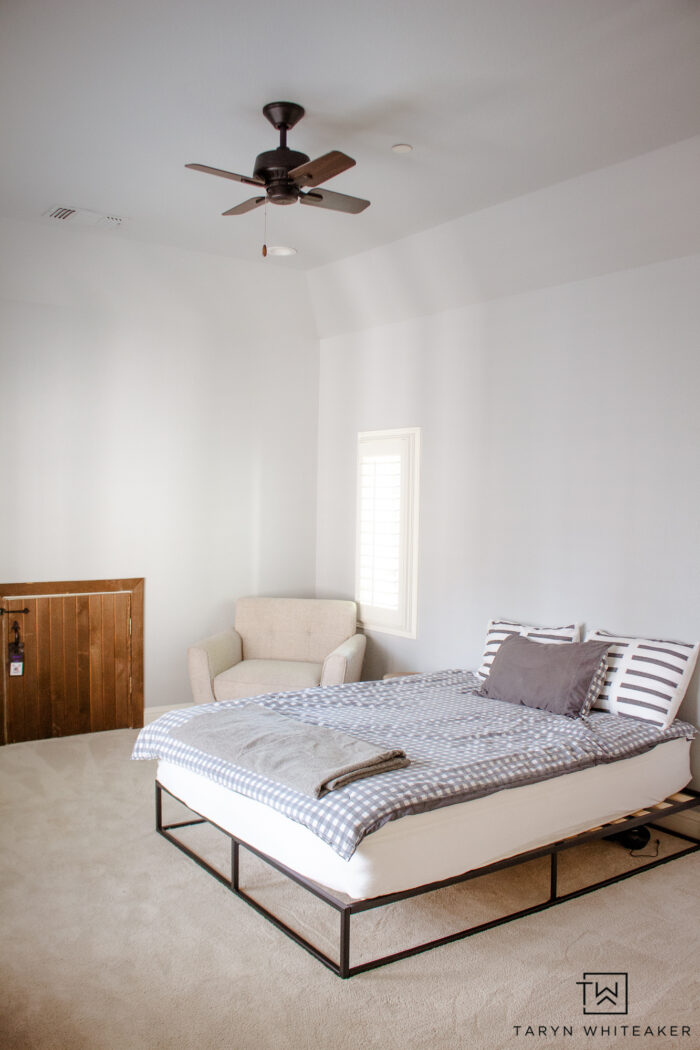 Our middle son has the largest kid's room, including…. a secret room! That little wood door actually leads to a little hide out. I am so excited to do this room and disguise it even more. I think this will be so so fun! He has also requested a sports themed bedroom focusing on football and lacrosse, I've got some ideas but still trying to come up with something super fun. (He had a modern skiing bedroom in our previous home)
My daughter, who is the oldest, actually has the smallest kid's room. BUT it's completely away from her brothers and she has her own bathroom. So it's a win and just made sense. I got her this arched canopy bed that I absolutely love! She is helping me with her room design and I love that she already has very specific ideas that she wants!
Back Downstairs!
Right outside her bedroom is the second set of stairs. This leads right down into the formal living room off the entry. Hope this is making sense!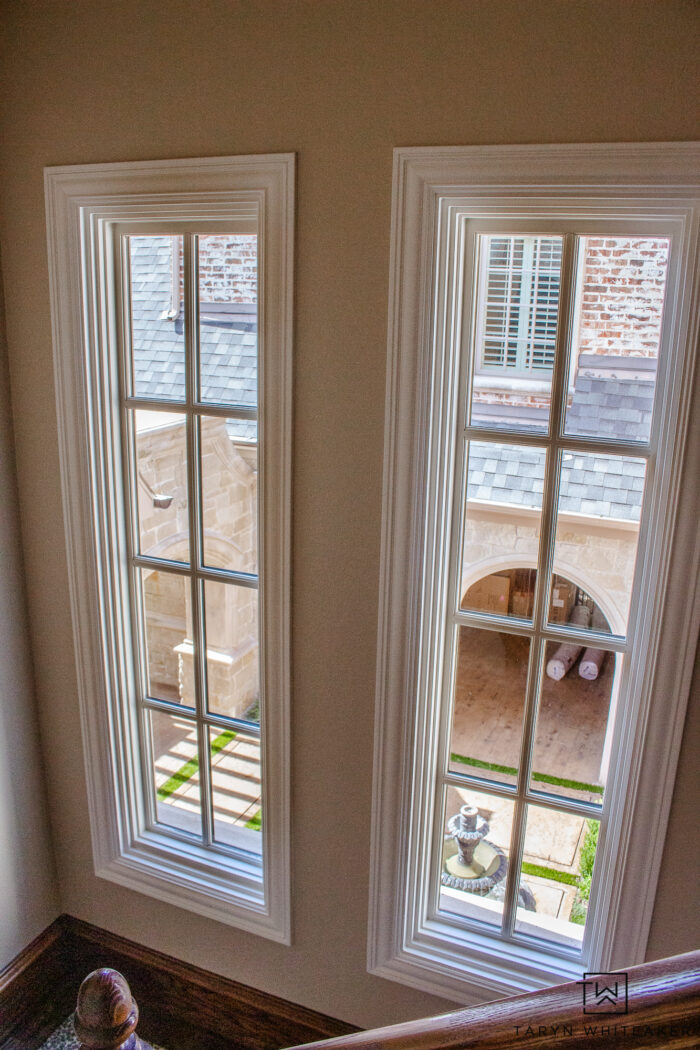 The windows look directly into the courtyard and I couldn't love the view more!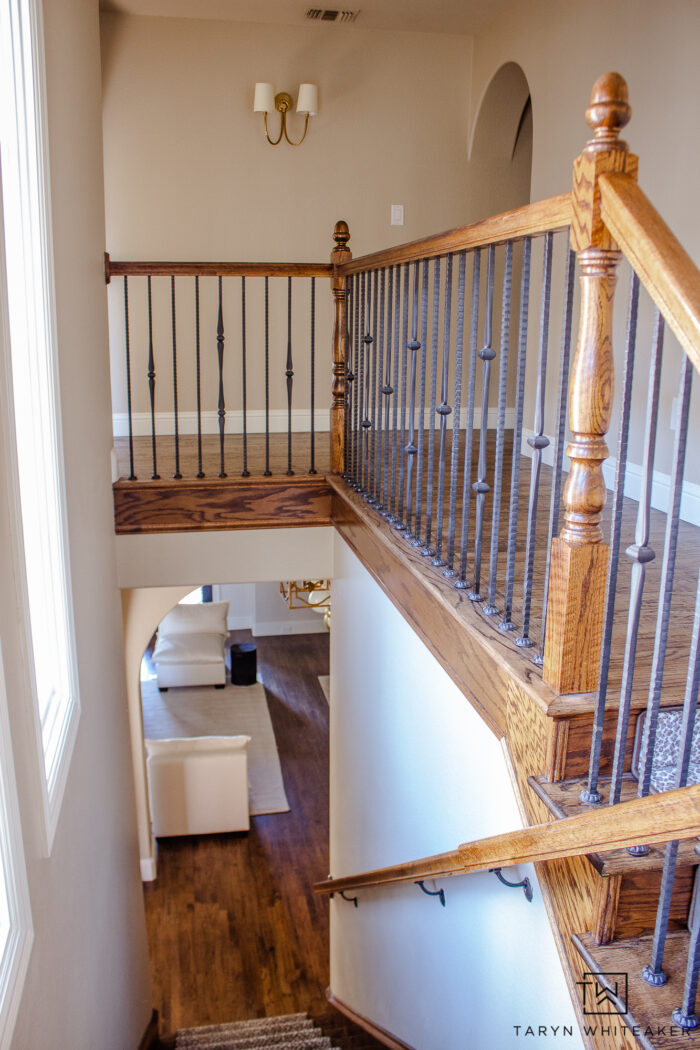 Eventually, I'll be updating all the stair spindles and railings and painting the trim.
Downstairs Powder and Laundry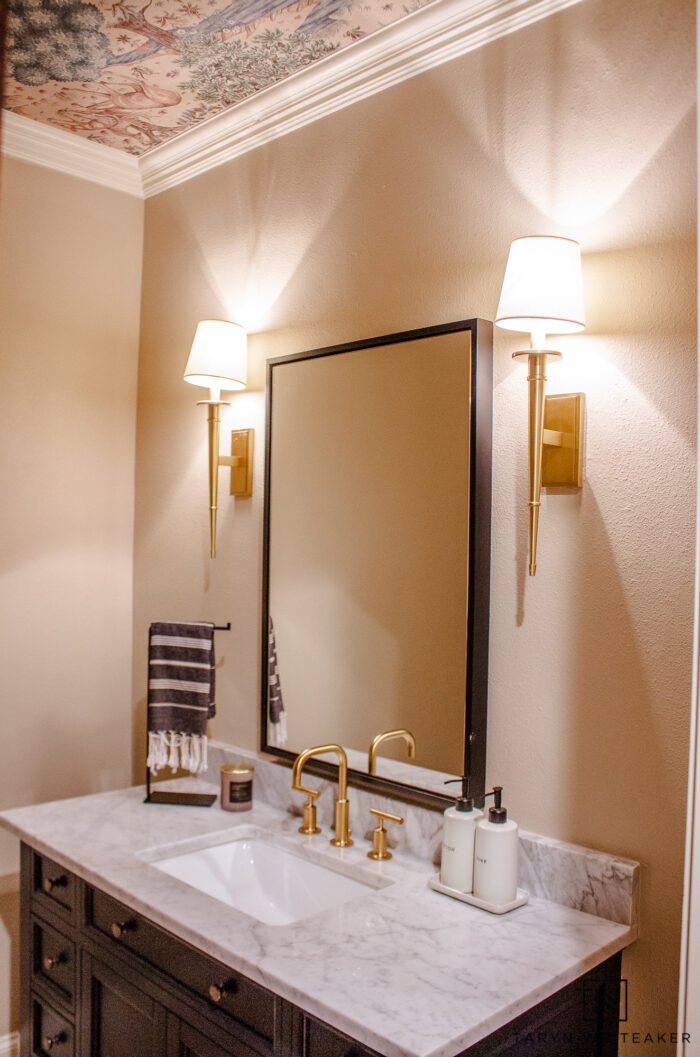 Downstairs we have one sweet powder room…
And a good size laundry room! The washer and dryer are on the opposite wall.
Primary Bedroom and Bath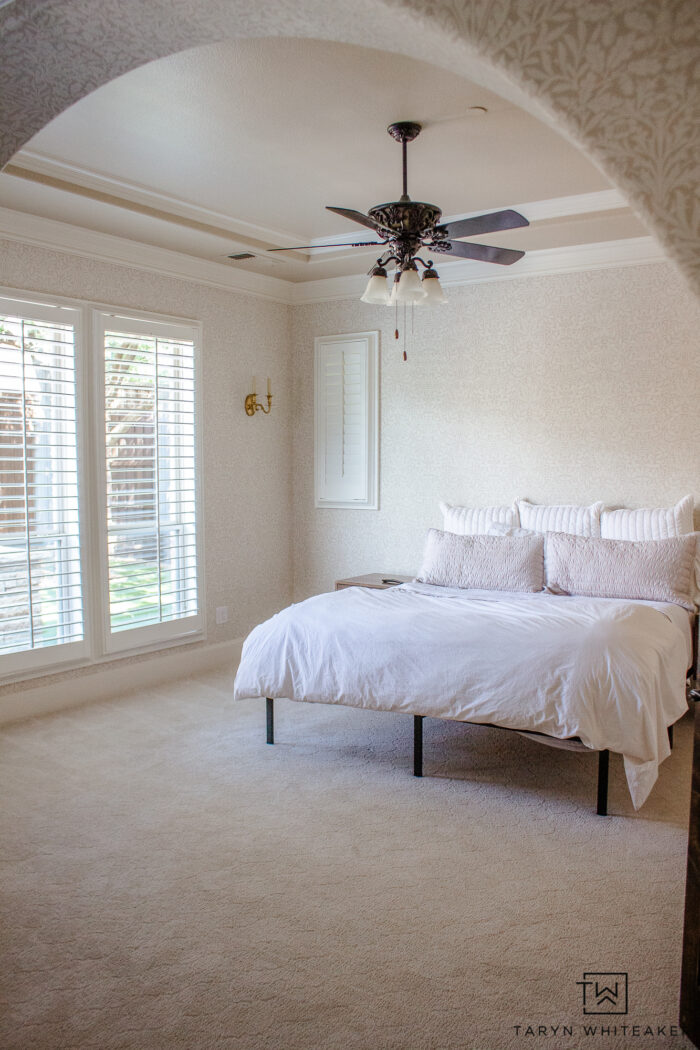 Our primary bedroom is also on the main floor! Which is definitely different but also really common for homes in the south. I personally like it. Our bedroom has tons of windows and looks directly out at the backyard and pool.
We also have a sweet little sitting area with a fireplace and TV in here.
Our bathroom is a great size but it will be ONE HUGE project down the road! I've never tackled a primary bathroom remodel before so I cannot wait to do this!
Backyard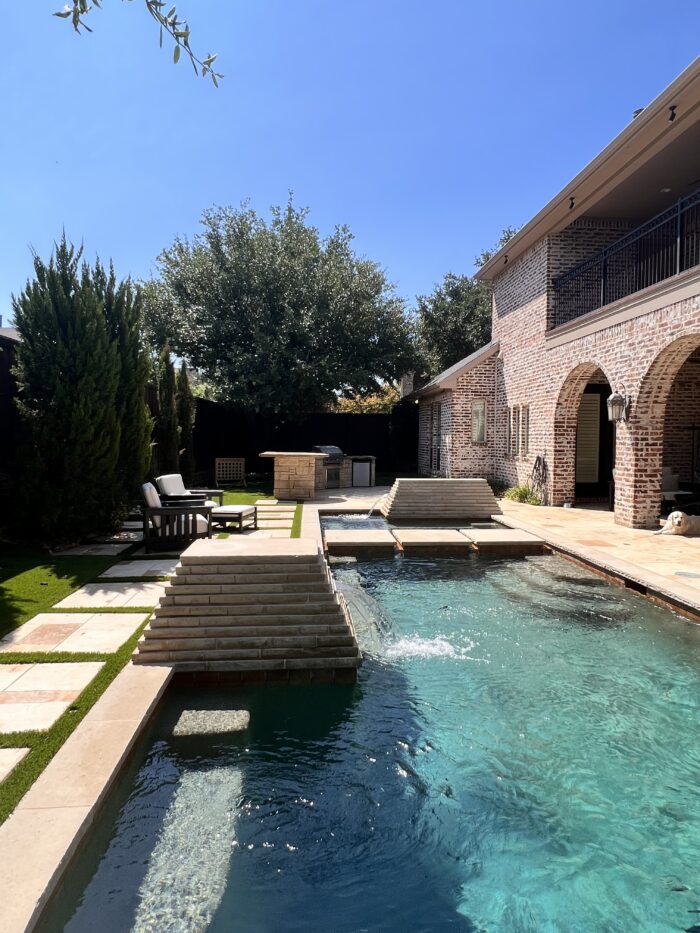 Heading into the backyard, one of the places that sold me on this home! It has a wonderful pool with a unique shape, hot tub, outdoor kitchen and lots of seating areas. (I've already gotten all our new outdoor furniture in back here, you can see a peek on this reel video). I'll be sharing a full blog post soon once I get a few things taken care of
And here's the backyard at night! This was taken the night we moved in!
Video House Tour