Wow what a year! I look back at my 2020 Goal list and I can't help but laugh when I read it. If only we knew what was to come! I won't go into a big long post about this year, but one of the benefits of being home is that I got SO much done around the house and knocked my project list out of the park! I honestly did more to our home this year than ever before and it feels so good to see if transform into the home that truly defines us. And that feels GOOD!
It's a tradition to do this post at the end of every year where I share the Best of 2020 on Taryn Whiteaker Designs! I do this post for me, just as much as I do it for you. Sometimes I get bogged down into my to-do list and what's left and I forget all that happened and was accomplished. I know I need a little reminder at time to sit back and enjoy the projects I've done! I encourage you to do the same. Alright so let's dive into the lsat 12 months of projects (that has felt like 2 years). You really need to click through to each full blog post to see all the before and afters!
Best of 2020 on Taryn Whiteaker Designs
I thought it would only be appropriate to share the top 20 posts of 2020. These are the major makeovers that happened this year, I feel like with every completed project, our home is started to feel more and more like us and it feels amazing!
Staircase Gallery Wall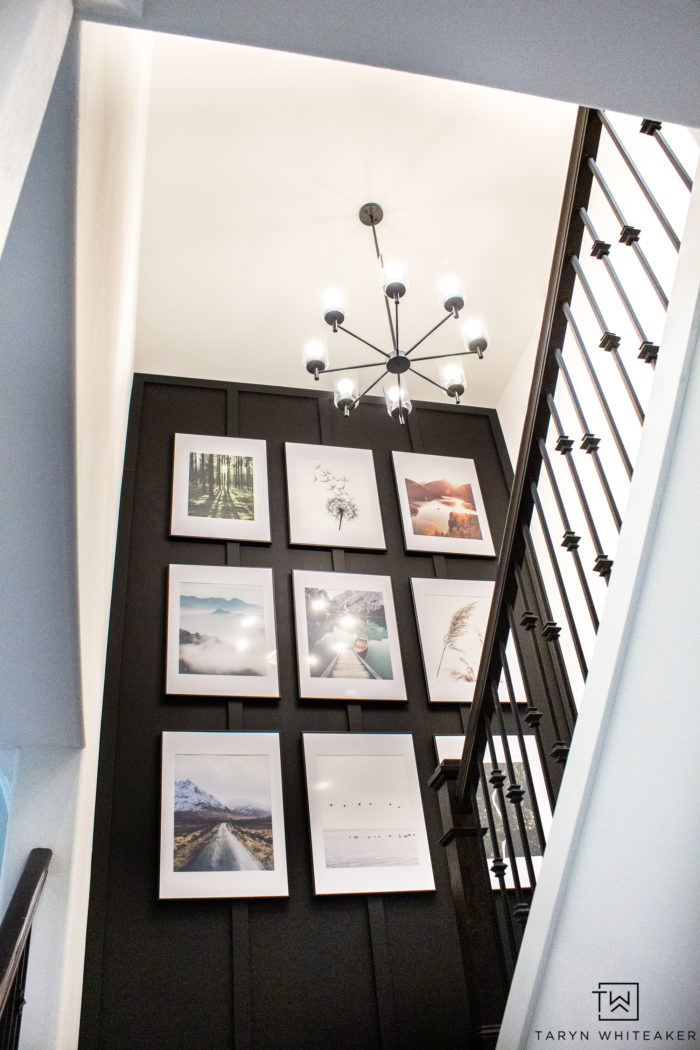 I kicked off 2020 with our Staircase Makeover, you have to click to see the before and after! I had a huge beige box here with an outdate chandelier and gave it an entirely different look! Much more modern now.
Hallway Gallery Wall
I also ended 2020 with completing the upstairs staircase and hallway area by adding a black and white gallery wall with personal pics of the kids and accent lighting! You can read all about this makeover here.
Small Laundry Room Makeover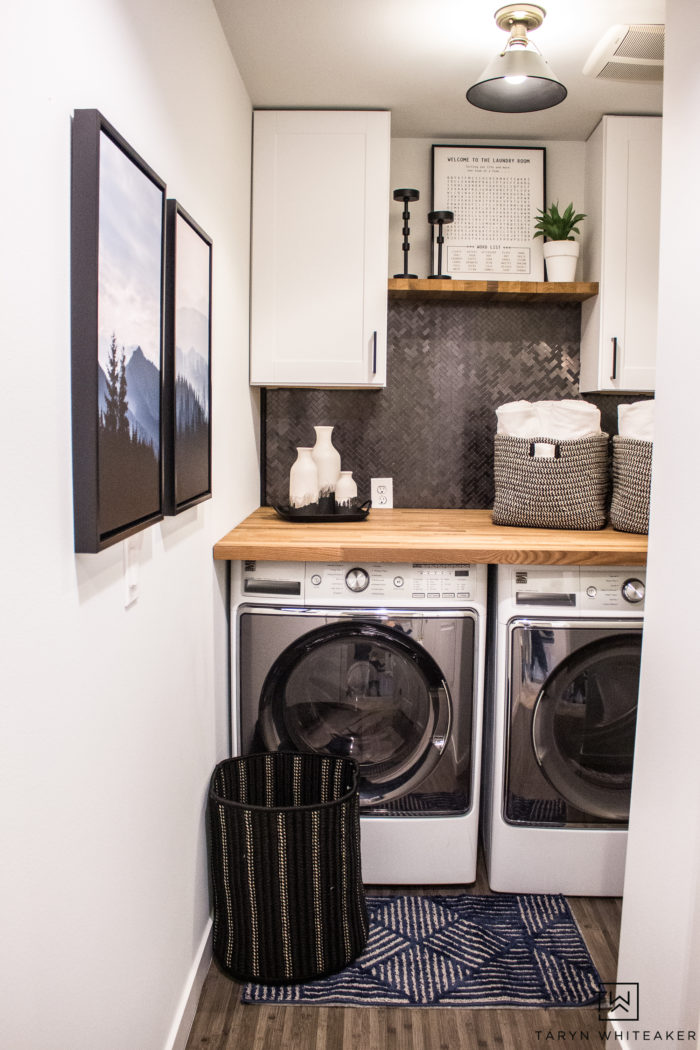 It didn't take long to jump right into another big before and after project. My small laundry room needed some serious help and a lot more storage. I wanted to make use of this space so I added cabinets, a countertop and a few decorative accents!
Master Bedroom Reveal
Our master bedroom has been a work in progress since we moved into this house over 6 years ago. But this year I finally finished it to a point where it feels complete. It feels so good to have a space that we can call our own and hang out.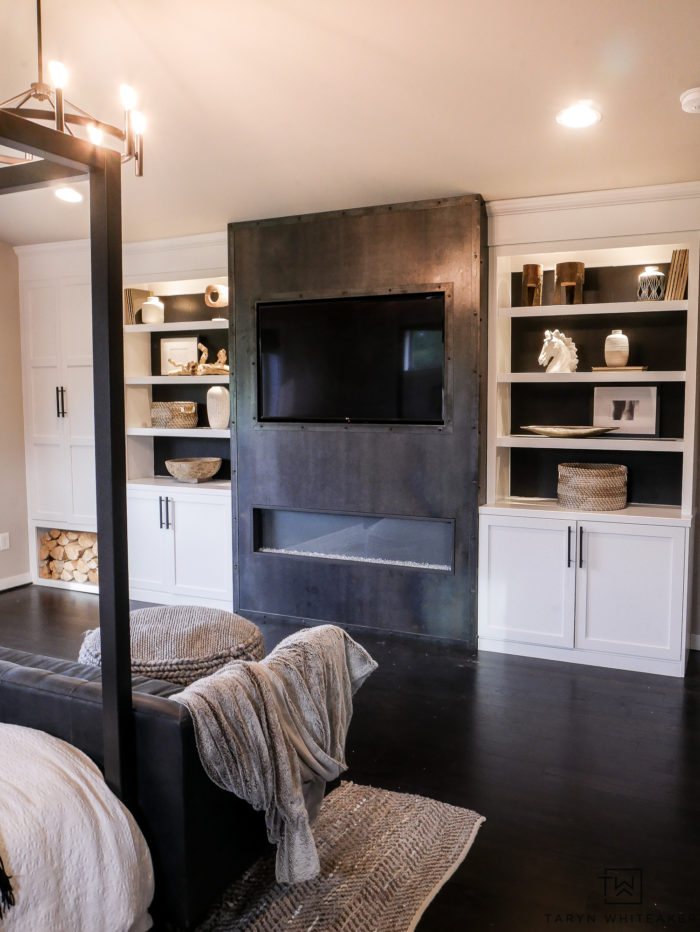 Here is the other side of the room where we did custom built-ins a few years ago and the steel fireplace. You can take a full tour of the room here.
DIY Ombre Forest Wall Bedroom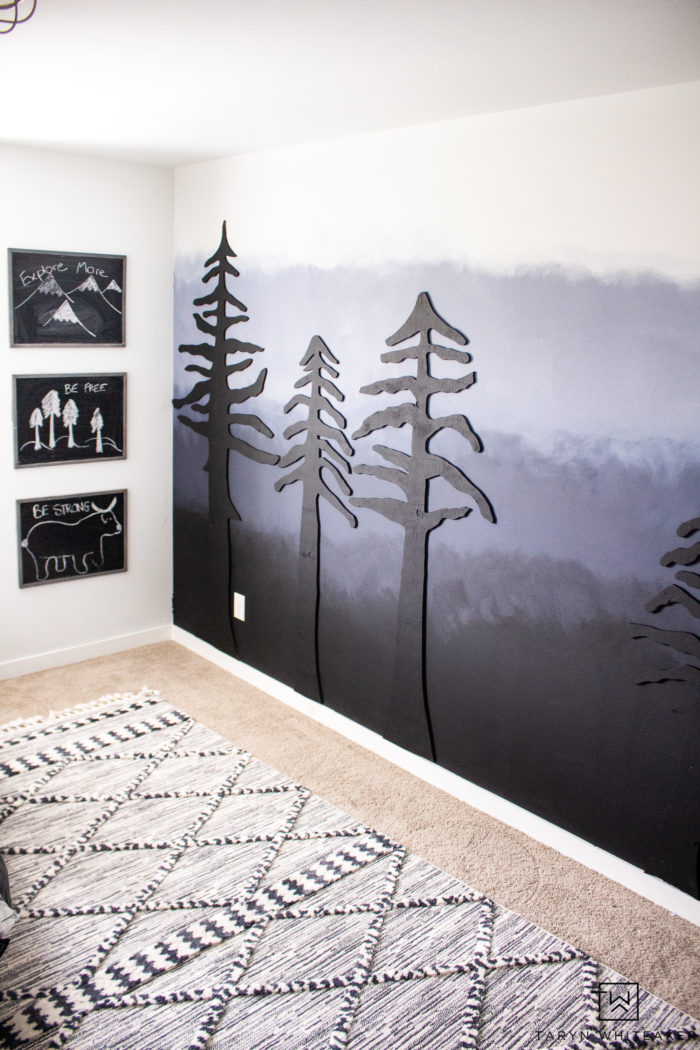 Every kids room got a bit of a makeover this year too! I started with my youngest's room by adding this DIY Ombre Wall .
And eventually turned the entire space into a modern forest bedroom. And it only took me a few hours to do this whole wall!
Modern Blue Girls Room
I feel like I just keep making tweaks to my daughter's room, trying to get it just right. At the beginning of the year I revealed her modern blue room by adding some more black and white accents.
And by the time Christmas rolled around this year, I took out all the harsh black and white and took the room to a whole new softer look for the holidays. I am really loving this softer, winter white look in here!
Green Rustic Lodge Bedroom
My middle son specifically asked for a room makeover this year. I wasn't planning on it but he has never designed is own room with me before so I thought it was time! I love that we did this rustic lodge look in here with a cool ceiling treatment, but I can tell you that we have some more plans for it in 2020!
He wants to make a few changes and I have to agree with him, stay tuned!
DIY Home Gym!
I mean, who else turned to working out at home this year? As soon as lockdown started this spring, the first thing we did was build out our home gym! Working out and staying healthy is really important to us and this was money well spent. We honestly have worked out more now that we have this space at home and I love how it all came together. You can learn more about the Concreate Wall we put in to really finish off the look.
Refinished The Back Deck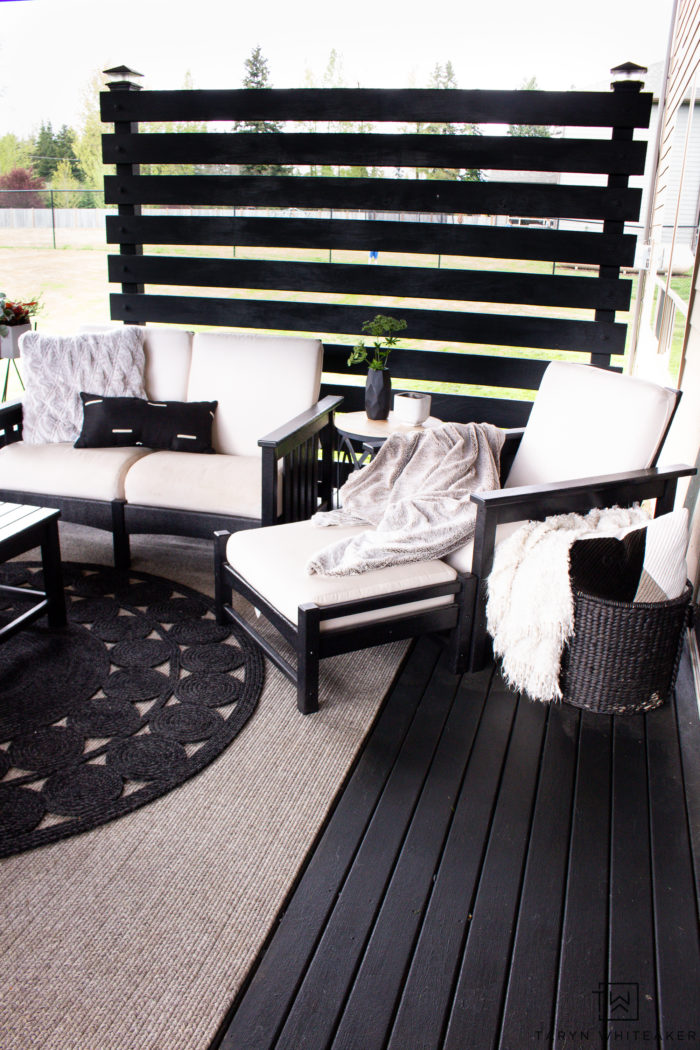 Heading into spring and summer I tackled a ton of outdoor projects including refinishing our back patio! I striped the wood down and then gave it a coat of black decking paint. You can read about the whole process. I love how the black gives this space such a rich modern look, but I will warn you, it gets dirty quickly!
Painting The Front Door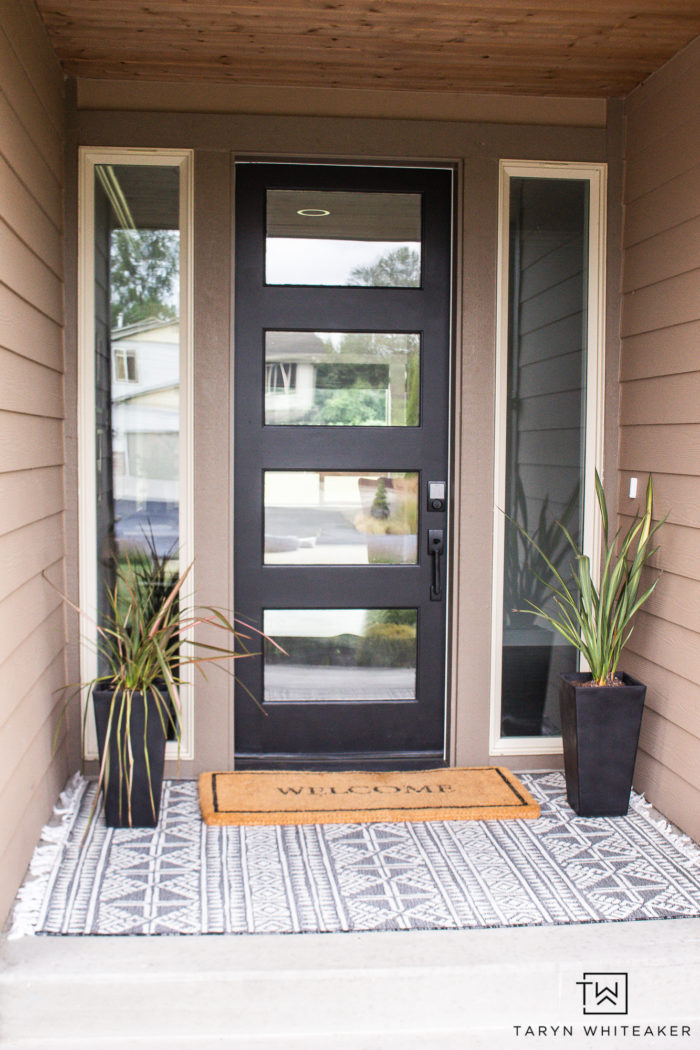 I think I'm seeing a theme to 2020 projects around here, I painted a lot of things black! Well, Rebel by Kilz to be exact. It's my fav dark paint, not quite a black, its a super dark charcoal gray and it's perfect. I checked off another small project I had on my list forever, painting our front door! I love the new pop of color it gives this space.
We Started Our Big Backyard Project!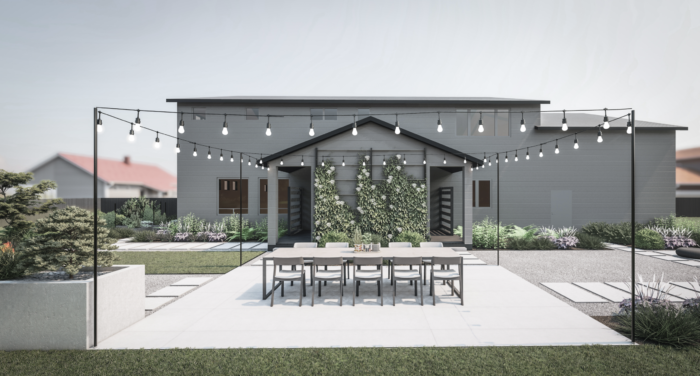 After 6 years of planning, we finally got started on our dream backyard! We started with these new renderings from Yardzen and then finaally got started on the space at the very end of summer.
We were able to get the base of the project completed right before our cold weather hit this year, I still haven't shared much about it on the blog but stay tuned because I'm going to be out here a lot in 2021 doing TONS of projects!
Stone Fireplace Makeover
I also kicked off our family room makeover this year! It felt so good! We ripped out the carpet and laid new hardwoods down and I gave our fireplace a brand new look with a german schmear stone look and a new mantel! This completed changed the look of our downstairs, it's a project I have thought about for years and sorta spontaneously took the plunge. So happy with it!
I'll be furnishing this room in 2021 and can't wait to show you the complete look in here.
Moody Movie Room Makeover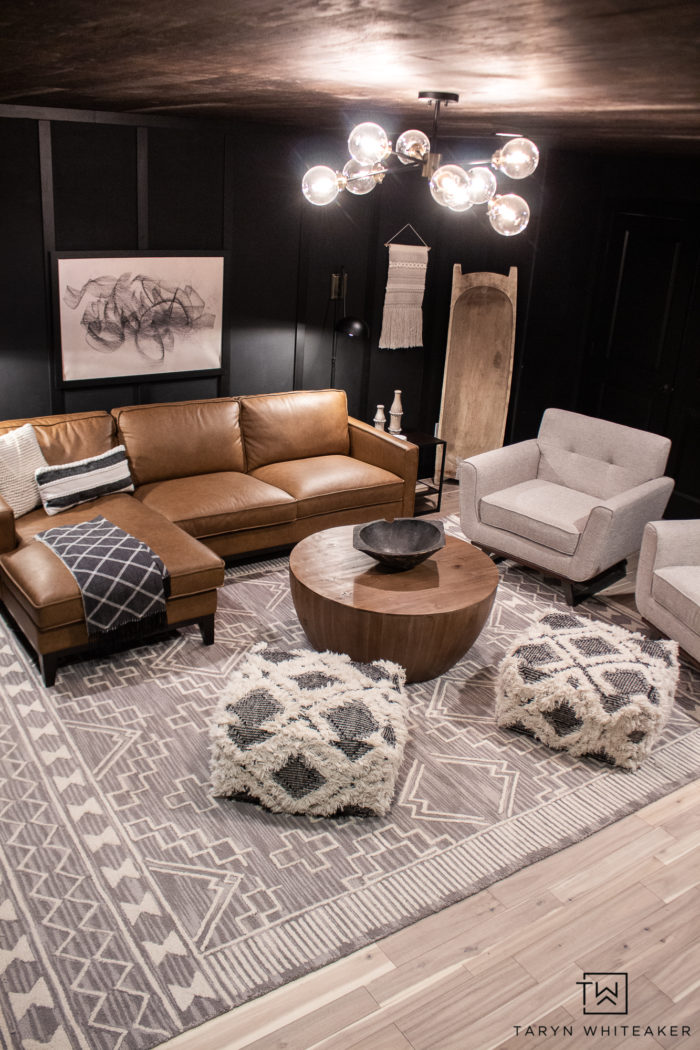 Our big Dark and Moody Movie Room reveal! This is probably my top project of this year, I LOVE how it turned out!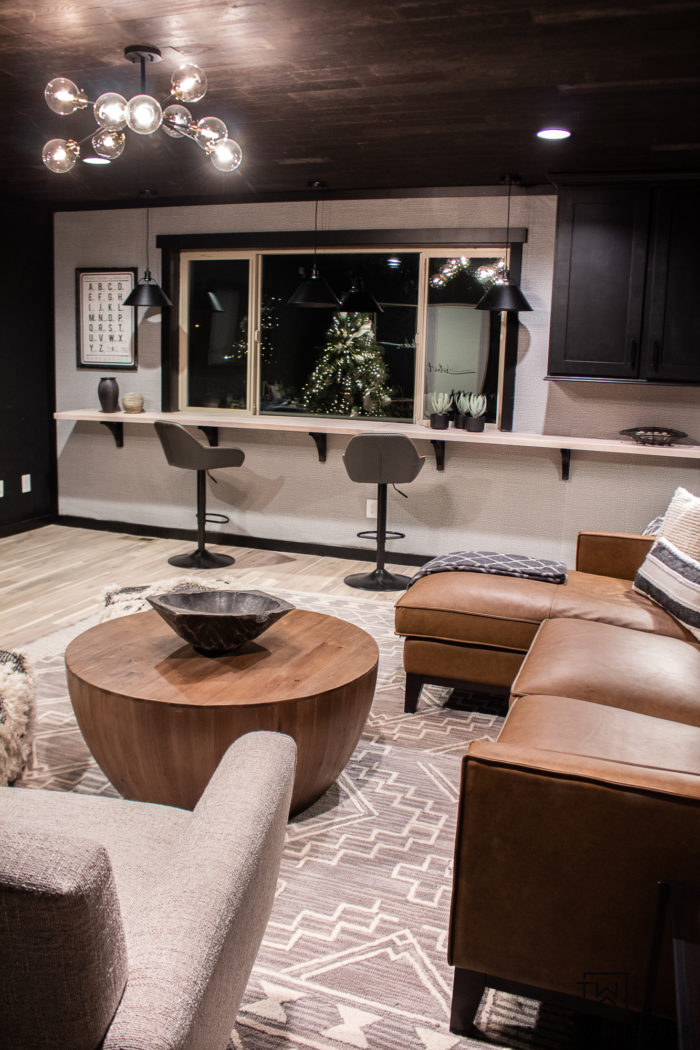 With how much time we spend at home these days I really wanted to finish this space and make it more practical for our family. I really needed a homeschool space and somewhere for us all to just veg and hang out. And it does just that!
I have some really big plans for 2021! There are spaces I've never shown on the blog before that I'm ready to tackle. So get ready for a another huge year here!
Thank you all for following along this year!