This month has been busier than I ever expected with so many fun projects, some I had planned out, others that just popped up but my goodness they are keeping me busy. Remember last spring when I revealed my daughter's blue big girl room? Well to be honest, there was something about it that just didn't turn out exactly the way I envisioned, I mean 90% right but I felt like it needed a few tweaks. So over the past few months I've been shopping my house and made a couple new purchases to turn it into the Modern Blue Girls Room that I was going for.
Modern Blue Girls Room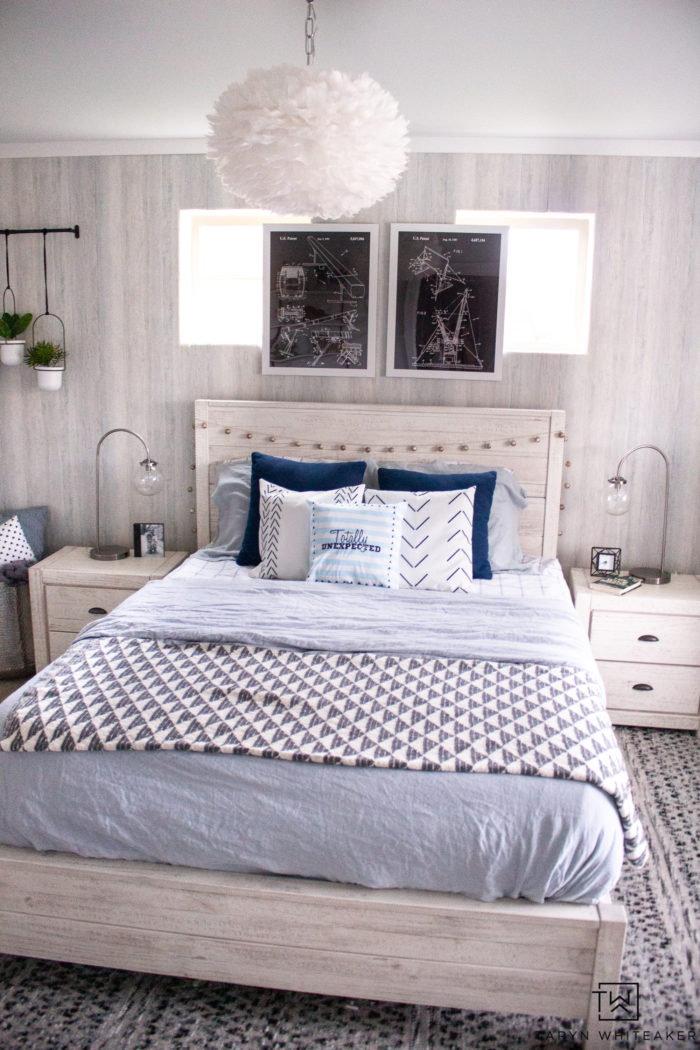 I realized that the chunky loop throw I had in the last reveal had a few lavender tones in it which changed the coloring of the entire room. I really wanted more navy incorporated into here and a little more black and that wasn't working as well in the first version of this room. Sometimes it takes one small thing like removing the throw blanket to help me change the direction in there.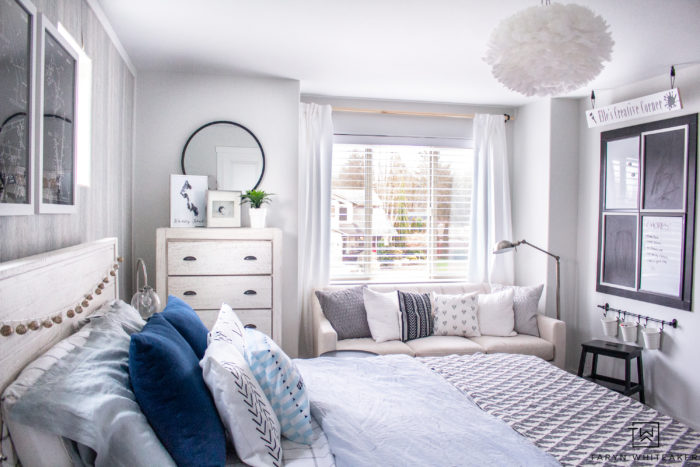 What I love most about the changes is that I didn't have to spend or change much to feel like I got it to where I wanted it. I "shopped my house" and found some extra navy pillows I had set aside, I did purchase this new set of black and white throw pillows to had some more geometric touches in here. Such a good price for the pack!
On this view I changed out the gray curtains to a textured white to give it a little more of a light and airy look in here. I grabbed them at HomeGoods, such a good place for inexpensive 96″ curtains!
Kids Bedroom Desk
I added some shelves above her desk with a few keepsakes and fun elements. Nice and simple.

Annnnd I finally did something with this corner! I moved the full length mirror from our bedroom (we are getting a new one) into here and found this adorable hanging planter that finally finished off the corner.
I can honestly say I don't plan on changing anything else in here anytime soon. I'm finally really happy and content in here. I love soft and subtle look in here but it also had a bit of edge too. I still love that she chose blue!

If you want to look wayyyy back, here is my original inspiration for the room. I wanted a very Pottery Barn Teen/RH Teen look in here. What do you think? Did I get there?
Tween Room
My daughter isn't exactly a tween just yet, we are getting close, but that is the style of the room she is asked for. And I know this will last for many years to come!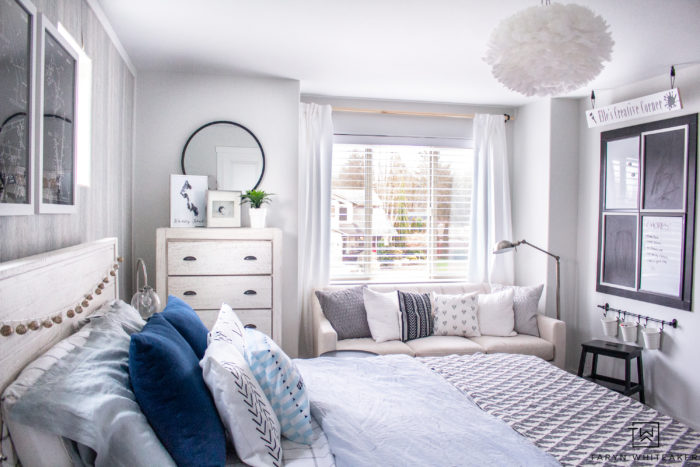 Bedroom With Night Glow
Ending the post with a little peek of the soft glow in here at night…
Shop This Room