Time to kick off my first big project of the year! When we first moved into this home four years ago, my daughter's bedroom was the very first room we completed in this house. It had always been a dream of mine to give my only girl the sweetest girlie girl room ever and we definitely hit the mark! Well, three years later and my sweet little girl who only liked pale pink and mint and everything ruffles is now growing up and developing her own sense of style and personality. Earlier in the fall she started asking about redoing her bedroom so it better matched her personalty and stage in life and well, here we are! I couldn't resist a good makeover and I love that she is so specific about what she wants!
Blue Girl's Room Inspiration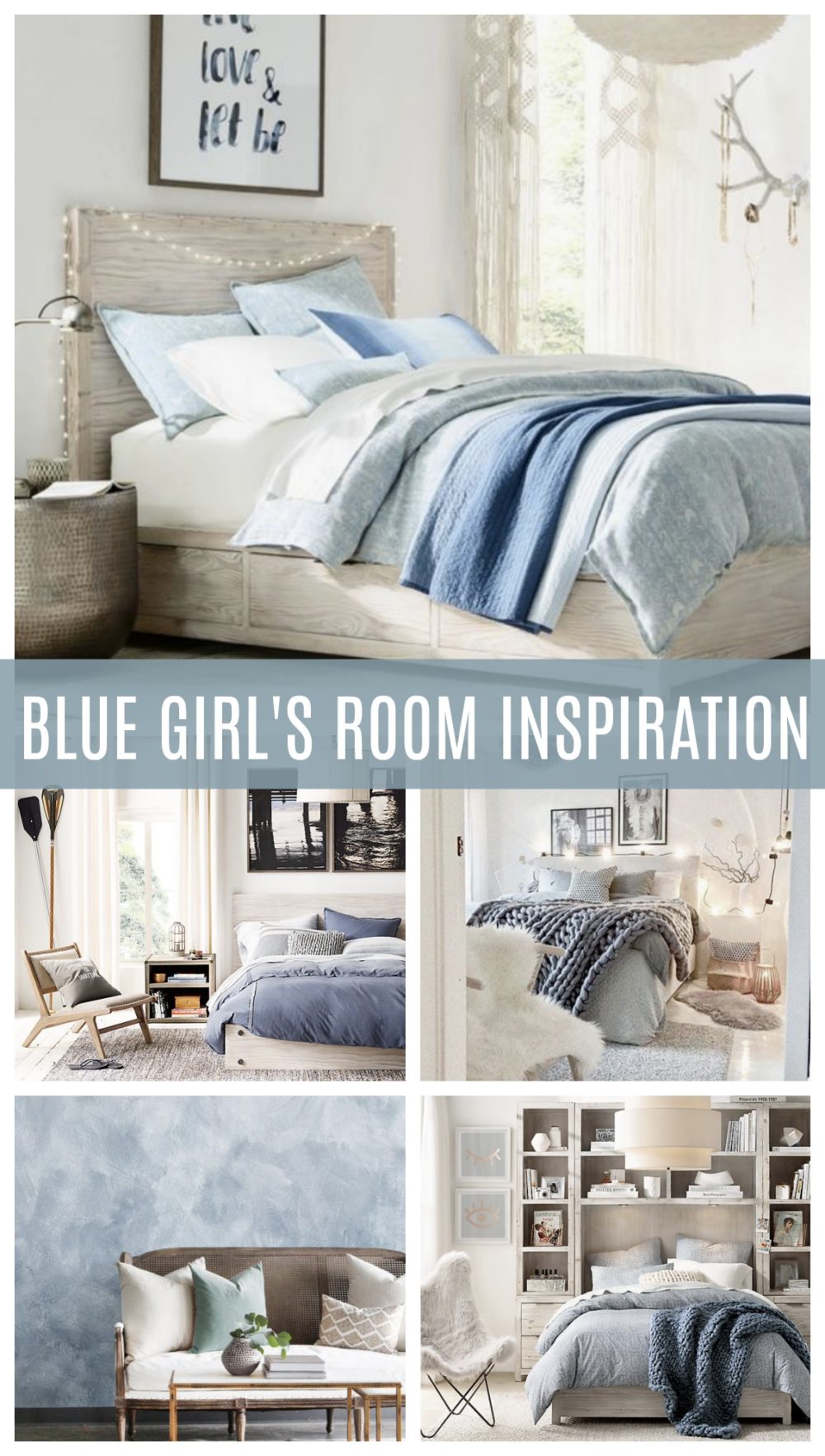 Heading into this project my daughter specifically requested a blue room! Now, there are many many different ways to do a blue girl's room so last week I set out to gather a bunch of inspiration for her space. I am all on board with doing a blue girl's room, in fact I really love it. But I also want to get it right!
This RH Teen bedroom is the very first room my daughter loved. She specifically said she likes the wood tone on the bedframe and the soft blue linen bedding. Can I just tell you that after showing her 10-20 images of blue rooms and hearing her say 'YES' to his one I about jumped up and down. Not only because we finally found a room she connected with but because I love it too!
RH Teen seems to be killing it in the blue bedroom department! Almost every inspiration photo I found was from there. I love all of the texture in this space. The soft blue tones with all the cream woven materials, drift wood finish and that chair!!!I love this bedframe too, it provides both storage and decorative elements. I don't think it will work for our space but it's awesome.
This modern beach house room from RH Teen is so amazing. I love the subtle black accents and the coastal elements. I definitely see a subtle coastal theme reoccurring with all these inspiration photos, so we'll see how this all comes together!
I found this image on Pinterest (can't find the original source), but I just love those chunky loop blankets SO much. I have been wanting one for a while now and I think this is going to be the perfect space for one. So. Much. Texture. And those lights, I think she definitely needs some accent lights that make the space twinkle!
Now let's chat accent wall for a second. All the rooms I shared so far all included white walls, which is the plan. But I keep thinking about doing an accent wall to bring the space together. A friend of mine suggested this beautiful blue brushed wall mural by Urban Walls and I'm in love with it. I think it's both subtle and bold at the same time. I think it will really bring the room together beautifully.
I'm excited to see how it all comes together! You can always follow on Instagram for more updates and behind the scenes on the project!