Welllll it's about time I got my Christmas Tour up on the blog! I think this is the latest I have ever been 'done' decorating for Christmas but I figured it was better late than never! This month has been eventful to say the least and I can't believe the big day is just around the corner. I've been gradually decorating our home for the holidays over the past month, I've shared a few rooms here and there like our front porch, entry way and back porch, but here is a full look at our Green Black and White Christmas Home Tour.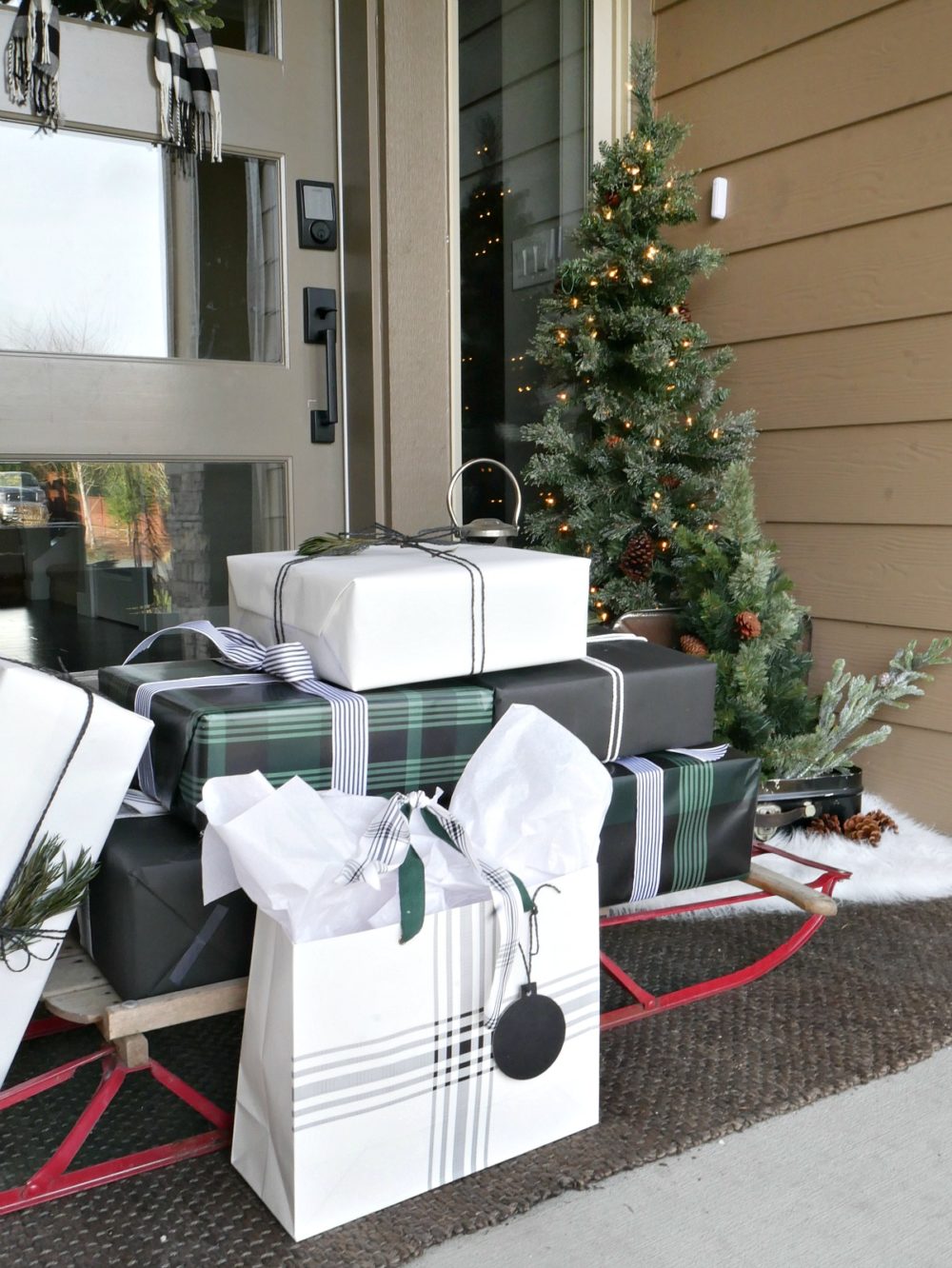 Going into this Christmas I knew I wanted to use black and white with a lot of greenery for our Christmas decor this year. A natural look but also festive. And then, the whole Table & Hearth line came out and I feel in love with it. So you'll probably see a lot of Chip and Joanna's line in this tour! You can catch a fuller look at our Festive Front Porch right here.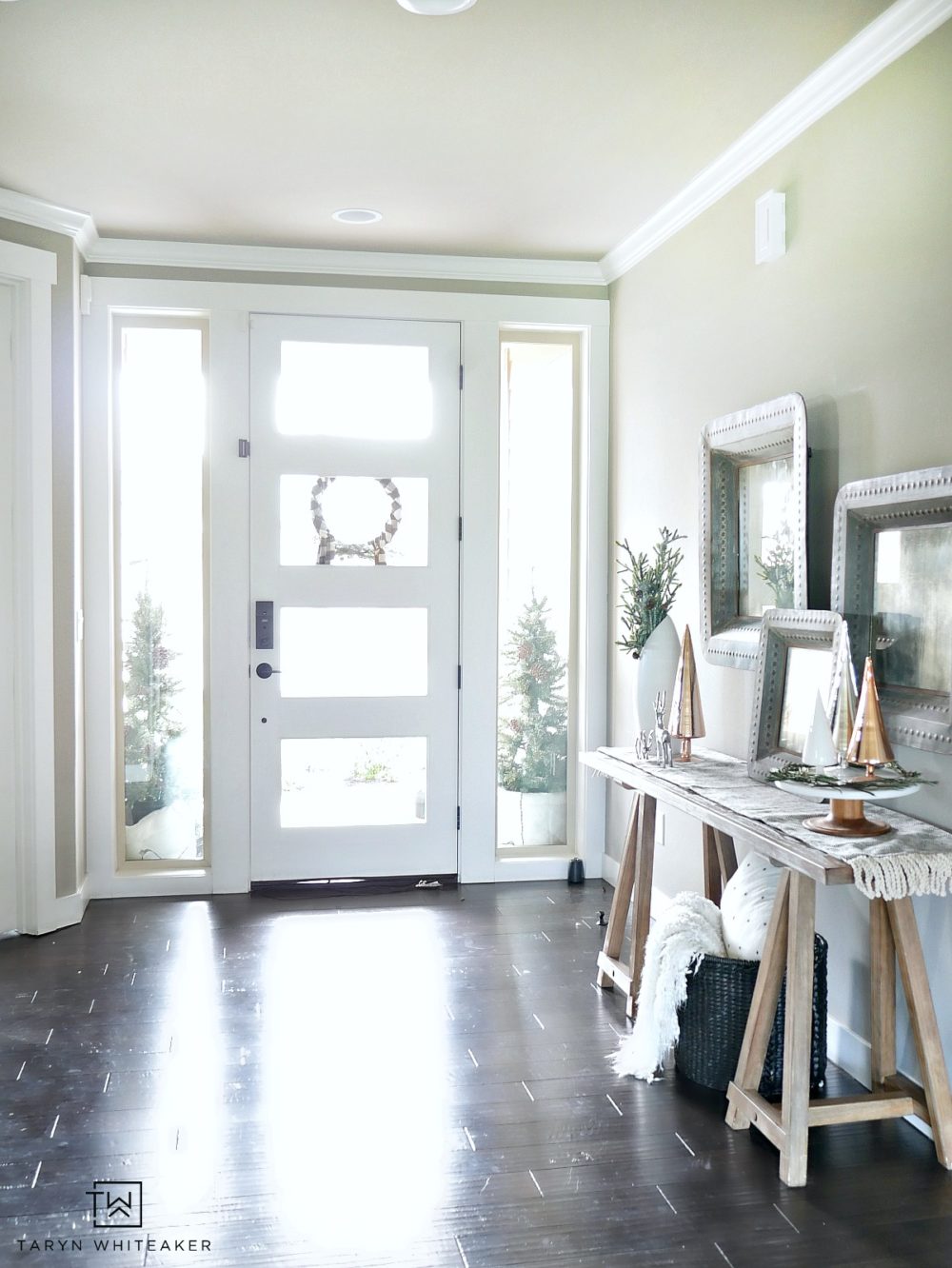 Then we walk in the house to see our Christmas Entry Way that I shared a few weeks ago. I like to keep this area nice and simple with clean lines and just a few festive touches. No let's head all the way inside for a full tour of our main living space!

Christmas is such a magical time for both kids and adults. For kids it's the magic of seeing your home transform with sparkling lights, see a tree taller than you that you have to reach up to, the letters to Santa, the cookie making and of course the story of Jesus. Everything is just so exciting, it seems like it's new to them every year and seeing Christmas through my children's eyes makes me want to decorate even more because seeing their faces light up is everything. 
For me, Christmas is everything I stated above and more. Since having kids, Christmas has taken on a whole new meaning. It's always been magical but reliving those moments that I cherish as a kid, creating new traditions with them, experiencing all the feels of the simple things is so rewarding. It doesn't have to be the big things either, just the little things. Like making gifts for neighbors, letting my daughter pick out gifts for the rest of the family, decorating Christmas cookies and talking about Advent. They've even inherited my love for receiving Christmas cards in the mail. We never check the mail as often as we do in December!
Walking into this room, no matter the time of day gives me the instant Christmas feel. We are the people who have their Christmas lights on all day (as long as we are home). Seeing the glistening lights and fire going on a cold day, to getting cozy on the couch at night, all curled up with a good sappy Christmas movie. This is my favorite room to be in. 
For me, Christmas is also a time to play around with decor, to experience with new colors and textures. Ok maybe not much color, but at least some new styles! Every year I switch up our Christmas decor, I don't always buy a lot of new things, I just put things together differently. I love seeing things in a new way, I LOVE change, so it's fun to see how things change from year to year. Last year, I even threw some red and plaid into the mix!

This year, I put together our Christmas mantel scene with the help of Balsam Hill, you can view all the details of this space here. I kept it really simple this year, I wanted the focus to be on the beautiful greenery and the whole scene around it. 
To make room for our tree we have to do a little rearranging, so this space get's a little crammed. I think I need to figure out a better way to arrange it. But this just gives me motivation to make a few changes for next year.

I moved our  carpenter's console table behind the sofa, and every year I think how I need to put one back here permanently because I love having little shelf up here to decorate. I've actually been thinking of making quite a few changes to this area in the upcoming year. Nothing crazy, but after three years ( how has it been that long!) I haven't really changed much and I think it's time.

This little corner right here, this is my corner. This is where I sit every time I'm on the couch. Isn't it funny how we get a spot and find our routine? So whenever I post pics on Instagram, it's from right here. The perfect view of the fireplace, a place to set my coffee on and a nice little foot rest. 
I actually don't show this view of our downstairs often. But you can see how these two spaces are in one big area. It's always been a little bit of a struggle for me to decorate this space with the weird angles, I'm never 100% ok with it and always thinking of how to bring the spaces together better. The biggest thing for me is creating enough seating space for our family and for large parties to feel comfortable in. I've been thinking about changing up the arrangement this year so we will see how this goes!
Turning our eye the opposite way, here is the look into our kitchen. Our downstairs is one big open space which has it's pros and cons. I love have such a large living space, but it is hard to get a full cohesive look. It's taken me a long time to get the flow right and I feel like I'm still tweaking every day!

This sectional has been so amazing. I was hesitant about it at first because it almost looked like it had a subtle blue tone to it, but once we got all our other decor in, it's been perfect. It's just the right gray. And it is SO cozy. You also get a peek at our annual Christmas card tree in the back! I remove our Large Scale Vintage Frame of the kids and then replace it with our tree every year. I love seeing this come together with all of the beautiful cards from our friends and family.
Lately, I've been playing with the idea of putting a rug under our table. For awhile I just wanted a super clean modern look in here, but I think I need something to break up this little area and make it feel a little cozier. I think I'm going to try it out soon! What do you think? Would a black and white/offwhite natural rug with a cool pattern be ok here? Follow me on InstaStories to find out how it turns out. 
I showed you our more formal Scandinavian Inspired Christmas Tablescape last month, and I loved the look so much that I kept the centerpiece for every day. 

I just recently shared the tutorial for these Embroidery Hoop Wreaths, they are so easy to put together, took me 5 minutes each!


Thank you for joining me on this tour! I'm glad I finally buckled down and got it finished just in time for the holidays! Make sure to pin images you like for your decor next year :)
SHOP THIS TOUR