As we begin to near Christmas, and before I take a little break from blogging during the holidays… I wanted to pop in and share one last post of ALL our Christmas decor from this year. It's been an amazing season. As usual it's gone by way too fast, I didn't complete everything on my list but it's been so fun decorating our home for Christmas this year. The first Christmas we lived here we didn't have any furniture, we were still using a pop up table for our kitchen table, and the second year I had a brand new baby and did the bare minimum when it came to Christmas decor. I feel like this year was my first year really enjoying our 'new' home for Christmas.
I wanted to wrap up all my Christmas spaces from various tours this year and give you my Black, White and Plaid Christmas Tour. 
I started out with a festive front porch that is a little out of my comfort zone, but it's fun to play around sometimes and do something different! But I already have plans for next year :)

I topped off the porch with a remake of last year's buffalo check scarf wreath! I still love this and plan on keeping it around through winter.
Now let's head inside….
I changed up our front entryway temporarily for the holidays this year. I hung this DIY cranberry art and added a few cozy touches.
I used a scarf as a table runner and added a few decorative trees, antlers, birch logs and books. Just a few of my favorite things to decorate with!
Now moving into our family room. The place where we spend the most time! I decked out our couch in tons of black, white and and plaid pillows! I love mixing different patterns and textures together and I love how cozy this space feels. However, I think the pillows have reached maximum occupancy… it's been fun for Christmas but I'll need to tone it down a bit after the holidays :)
When it comes to centerpieces, what I've learned with kids running around is that simple is best. Because let's face it, it's typically destroyed by the end of the day and simple makes it easy to put together at the end of the day :)
This metal coffee table is still one of my favorite and you just can't beat the price!

Our family room feel so cozy and festive this year. I used more greenery than I every have before and mixed a lot of modern lines with more rustic and vintage pieces.
So want to know a secret about my buffalo check 'ribbon'? It's actually not ribbon at all.. I found this beautiful fabric at Walmart and then cut it into 3″ strips.
To make room for our Christmas tree this year, we moved my favorite carpenters bench console table behind the sofa and I love having a little shelf behind it to add my black and white printables.
You can download some of my typography printables here.
And moving on to my newly finished space in our kitchen and dining area and my very favorite Christmas project! Our new DIY Shiplap Display Wall. You can read more about it in the post, but I desperately wanted something to fill this space that was tall, full of character and would also transition well into different seasons.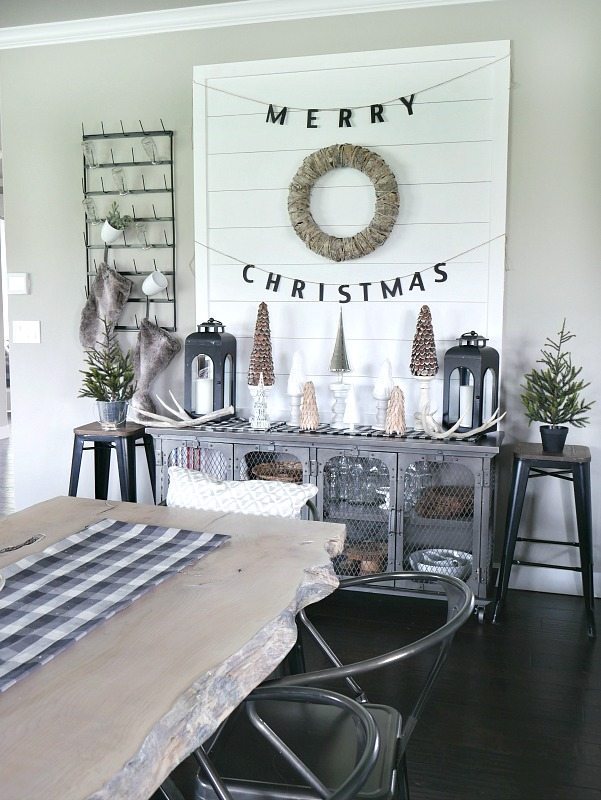 This is now the perfect space to decorate for holidays and parties and I couldn't be happier with it.

The wall blends so nicely right into our kitchen area with our live edge table and crisp white cabinets and molding.
Can I give you guys a little tip when it comes to decorating for Christmas? Sometimes adding simple touches of greenery to your existing decor can quickly and inexpensively make everything look more festive!

Our dining area also takes you right into our outdoor living space. This is my very favorite space in our home. And I LOVE decorating it for Christmas!

We've been enjoying this cozy space a lot this winter. I love taking the kids out here at night for hot cocoa by the fire and s'mores!
And our sweet Kona girl loves it out here too.
And one last stop in our master bedroom! Loving this new cozy space in our bedroom :)
Black Wire Mirrors : Mid-Mod Chair : Wood Tray : Red and Cream Throw : Float Picture Frames
Ok that is all folks! What a wonderful Christmas season it has been! Thank you for making this place so much fun during the holidays. Wishing you all a Merry Christmas! Be sure to follow along on Instagram for lots of fun peeks into our break.