My goodness, how are we already halfway through 2021?! Part of me feels like I haven't tackled nearly as much I as had planned. But the other part of me knows so much has happened in just 6 short months. Every January I put together a list of project goals for that year and outline everything I plan on working on over the next 12 months. Sometimes it goes according to plan, sometimes I get less done than I hoped and other years I get way more done than I had hoped! It's time to do a six month check in and see where we are at this year!
Like most of 2020, 2021 has also been a very different year for us. This year I decided to homeschool our two older kids which has definitely cut into project and work time, but I know I will make up for it this summer and the rest of this year! I'm already on a roll!
Ok here are the big projects I've tacked this year so far this year and I'll give you a peek into plans for the next six months!
First 6 Months of 2021!
I kicked off the year with a mini refresh in my son's room. I originally shared his room reveal last year and it just didn't seem right, so I decided to make a few tweaks including painting the wood accent pieces black and then switching a few decor pieces around to create a more modern skiing bedroom design.
Backyard Progress!
Our big backyard renovation has been my main focus of 2021! We started it last September, right before our rainy season hit here in Seattle and this spring I have been working non-stop on pulling the whole space together! One step at a time! We've actually done a lot more back here than we expected to this year and I don't regret it one bit.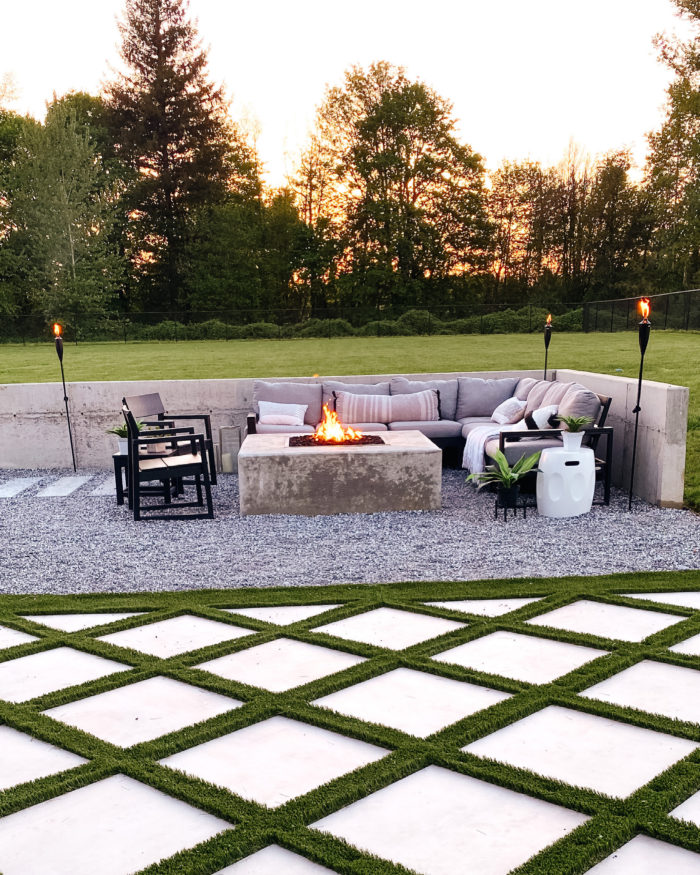 First things first, we finished up our fire pit seating area, and then put in this DIY PaverTurf project! I LOVE how the turf brings a pop of pattern and dimension to the backyard. We've been enjoying this space as I slowly finish the other areas.
I put in the paver pathways throughout the backyard. I haven't done a full blog post on them yet, but you can watch the video here!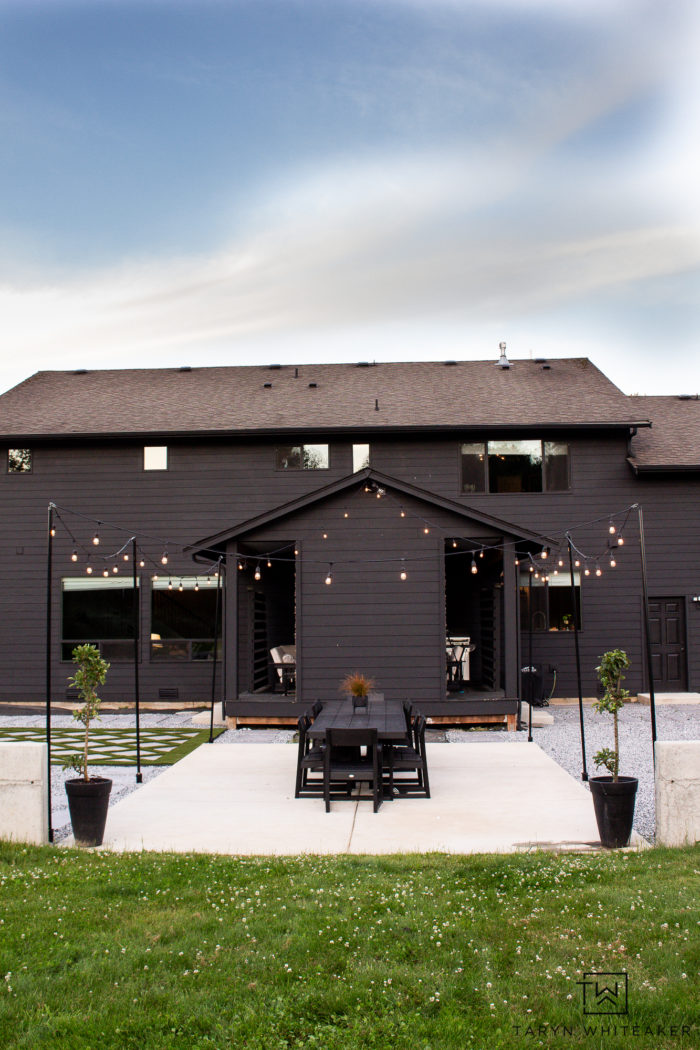 Our latest project on the backyard was hanging our DIY String Lights! After a failed attempt a few years ago and having the poles snap, I did a ton of research and came up with my own way of hanging lights that were sturdy and will last over time! I love the extra sparkle it gives our backyard! It truly makes it fee like a little escape!
The other small project we did back here was update our covered back patio! Last year I painted the ceiling white and then this year I added these decorative brackets to give it a more custom look. Something simple that added a lot!
Dark Exterior Makeover
Our other BIG renovation project this spring as been painting our exterior dark! I have yet to do the full reveal post on it (I'm a little behind on writing blog posts!), but should be up soon. I have revealed parts of it though, as you can see in the backyard photos and the ones below!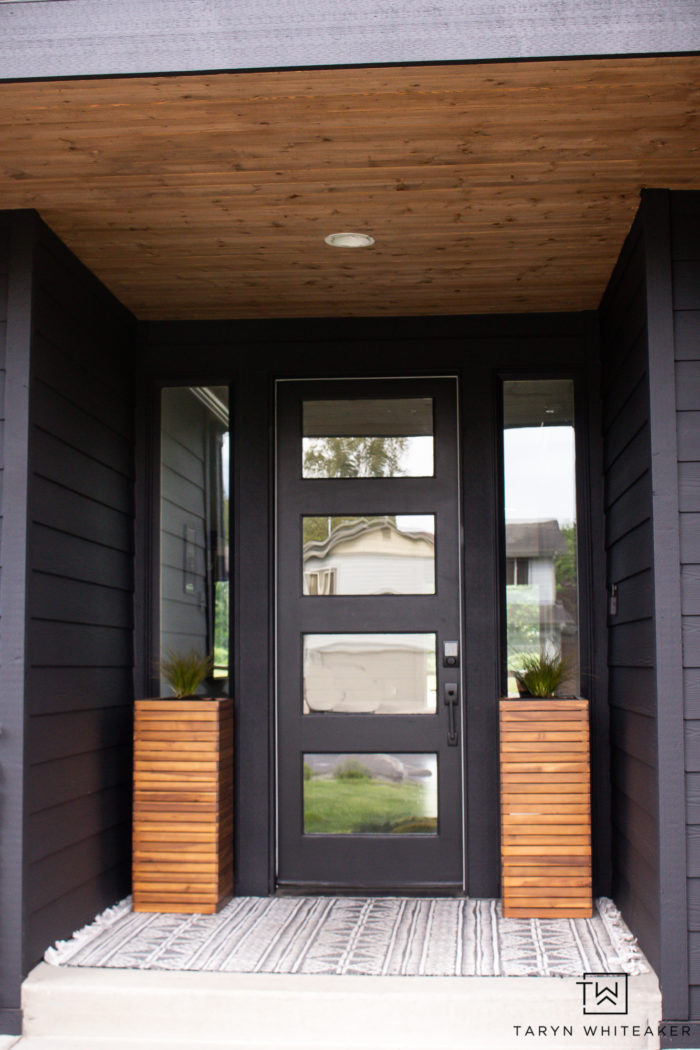 I love the dark contrast of our front porch. These tall wood planters make such a statement. You can see what our porch looked like with our previous house color here!
Watch These Projects In Action!
What's Next On The Project List?
Bathroom Renovation
I'm smack in the middle of a (big) small bathroom renovation! I literally took this bathroom down to the studs and have been slowly building it back together! You can see the progress and design plans here! I've actually made a lot more progress on it since this pic, you can follow along on my IG highlight for the most current details! I was hoping to be completely done by now, but I'm taking my time to do it right.
Backyard Landscaping!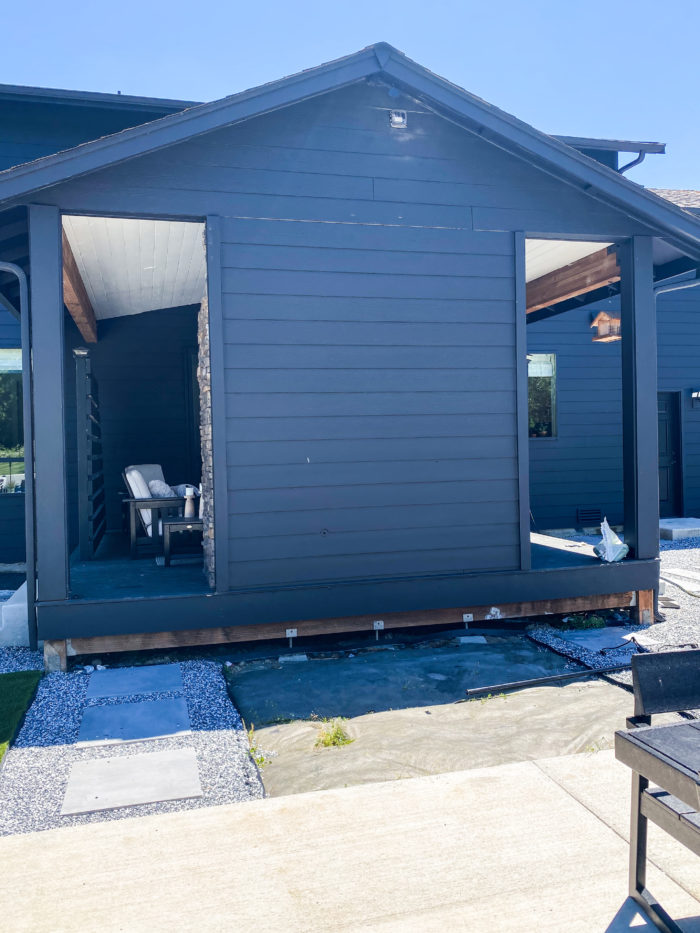 We have several more projects planned for the backyard this year and for years to come, but the last big one is installing all the landscaping to really finish off the space! We have several areas where we will be laying new plants down, and will also be building out a large planter box for this square space behind out outdoor living space. We will have a climbing plant up the back and will be finishing it off by adding deck skirting.
Those are my next two big projects! But I have a lot more coming in the fall, including our primary closet renovation, finally finishing the family room makeover (that I started almost a year ago!), and making some adjustments to the kitchen.