Disclosure: This post is sponsored by National Hardware. All opinions and product selections are my own.
The outdoor projects continue! I have spent the majority of the past month working outside on our big backyard renovation. I have another update for you and it's a good one. It's so simple but also made a big impact. In effort to polish off our covered outdoor patio, I added some decorative outdoor beam plates from National Hardware. They really made this space feel more custom. Let's see how this turned out.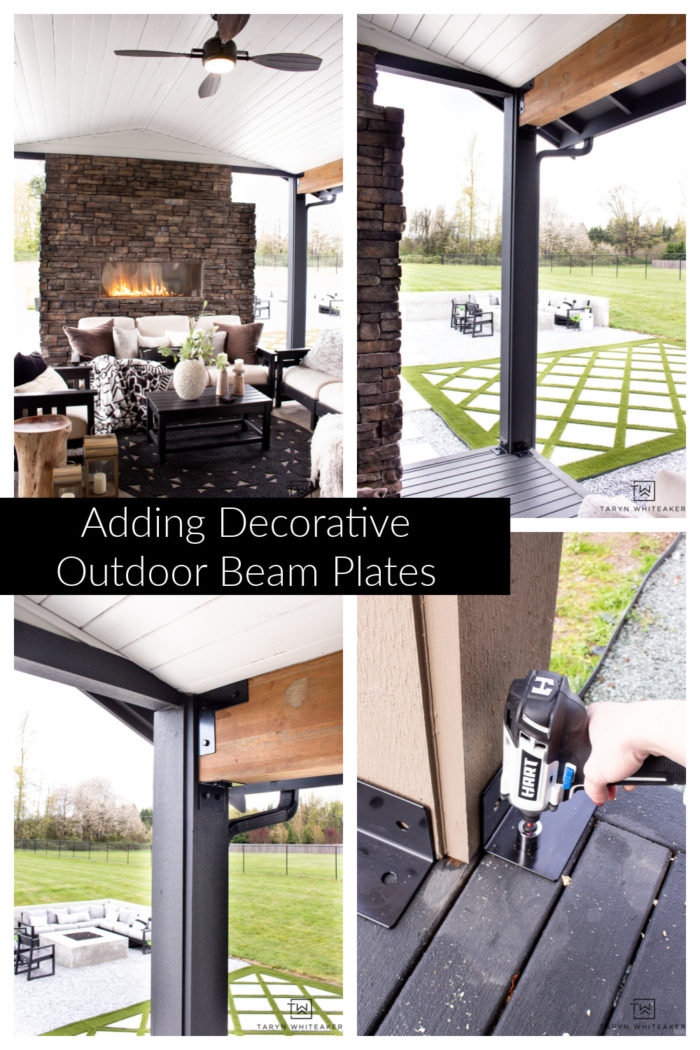 Decorative Outdoor Beam Plates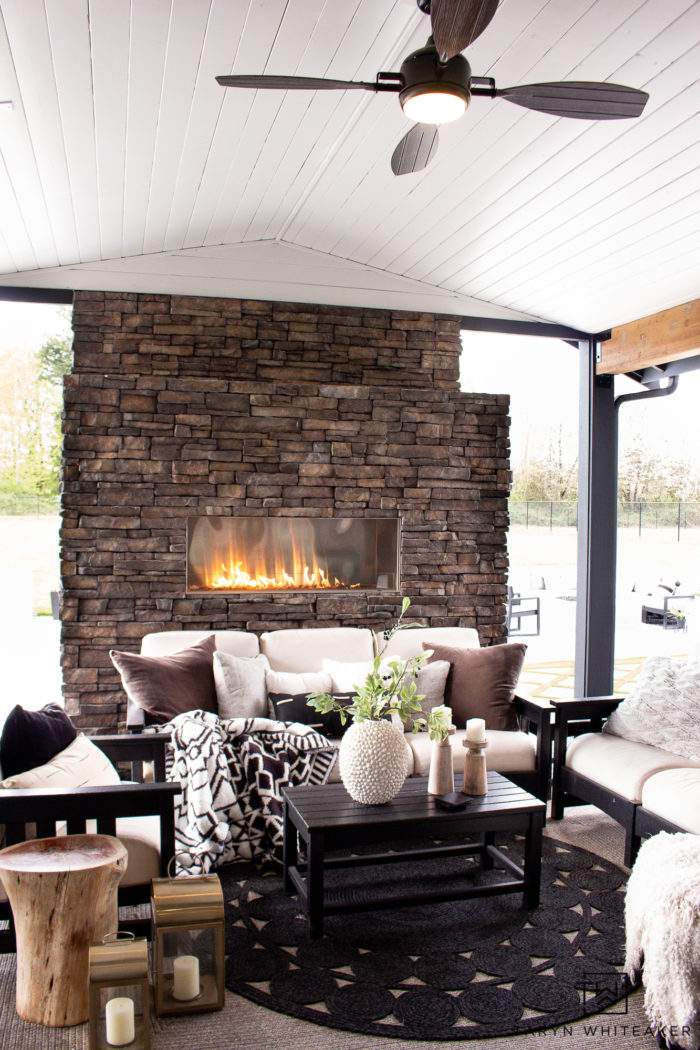 This section of our home was built when we moved in and I've always loved it. It's a nice little escape. Over the past year I've started updating it for the first time in over 6 years. Last summer I painted the deck and then painted the ceiling. This year we had our exterior painted (reveal coming soon) and I wanted to add a few finishing details to this space to make it feel a little more custom.
I love the look of metal beam brackets, I think they can look both rustic and polished at the same time. When I discovered that National Hardware had a whole line of decorative beam brackets, I knew I wanted to add some to our space. These are the perfect way to add a decorative element to your pergola or outdoor patio because they are SO easy to install and are purely decorative.
Before
Here is what our outdoor patio space looked like just a few months ago, without the decorative beam brackets. Our house wasn't painted then either! It's all coming together! The beams and post look a lot more basic.
National Hardware Indio Collection
For this project I went with the Indio Collection from National Hardware. This line of decorative brackets and straps have a more modern look to them. Based on the space I'm working with, here is what I'm using:
Tools You Need:
Drill
Impact Driver
Measuring Tape
How To Install Beam Brackets
It is honestly SO simple to install these. I actually overestimated how long it would take. At the base of my posts, I used the Indio Collection Heavy Angle with the Indio Collection 1/2″ X 1 1/2″ Lag Screws.
First, center your bracket. When drilling into wood, you should pre-drill your holes so it doesn't crack the wood. I used my drill with a to pre-drill my holes.
Then, using an impact driver put the lag bolts in. Make sure they are tight!
Seriously look how sharp it looks! Gah! I love the black hardware on the post and the beams. It polishes it off so nicely.
Oh and ps, can you spot the new addition to the backyard? Lots more coming on this project this week! That is coming along too!
I am so happy with how this small project turned out. Sometimes a space comes down to the little details and these made a big impact. Check out the Indio Collection at National Hardware if you are looking for brackets for your beams!