Alright friends, it's time to start this bonus room makeover for real this time! Back in August I shared my initial design plans with you and now it's time to share the final ones, along with some progress shots! We got a long ways to go and I'm ready to tackle all of the fun projects in this space!
Also, the timing of this room makeover ended up working perfectly with the Fall One Room Challenge, so I decided to join in to help speed this process up and I love sharing progress post with you and not just the final reveal. I think it helps to see that room makeovers don't always happen overnight!
Last year, I did our kitchen makeover for the challenge. It started out as a simple decor refresh and paint job and turned out to be MUCH more! And you know what, I am SO glad I went for it and made it our own. Because I LOVE it.
Current Space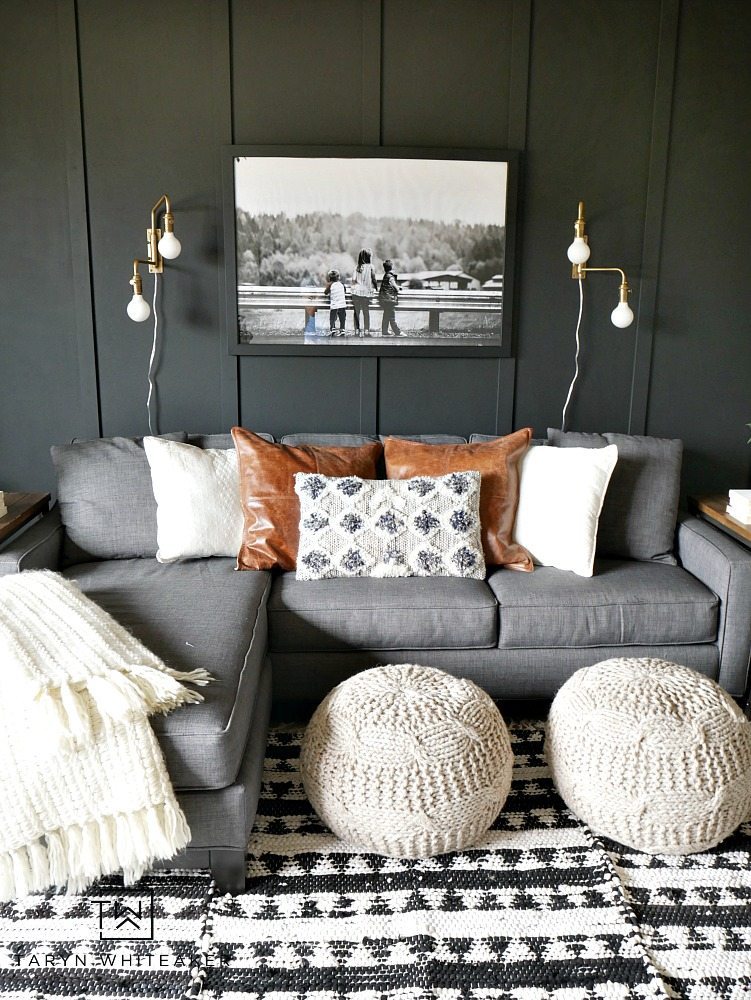 Here is the last time I shared this bonus room space on the blog! The thing is, this is the ONLY view of the room that was ever finished. Just this little space. The sectional was bought on a whim when we moved first into the house, but it's too small to fit all five of us comfortably anymore, so we can't even do movie nights in here more. The kids are getting big!
And this is what it looks like now!
It's almost entirely gutted, just waiting for a good fresh makeover to make it feel polished and fully useable. I want to finally take advantage of this space and make it pretty and practical. I need to finish clearing it out this week and start on the plans. So what are the plans you ask?
Bonus Room Makeover Plans
My main goals for this space is to:
Finally finish it and make the space feel complete
Create a lounging space that is big enough for the whole family to hang out and have friends over to watch games, movies etc.
Include a designated homeschool space for the kids, complete with a desk, storage for our materials, etc.
Add built-ins around the TV wall for extra toy storage and a mo
I am so excited to be partnering with Overstock on this project!
Here is what the main lounging space will look like. I will be keeping the dark moody walls that we currently have in there, since I love them so much! And I will be making it even cozier. I plan on using more creamy earth tones that we have in the rest of the house and I think this will add such a great vibe to this room.
The new seating will allow for our family to enjoy more time up there together, along with seating for guests.
Homeschool Space
The far wall under the window will turn into our homeschool space! I want to build out a desk space for all three of the kids, hang pendant lights, add storage and also new bar stools. Since we don't know how long we will be homeschooling for, I want to design this space so that it will continue to be useful in this room even after the kids return to school. It will also be a great 'bar' area for people to sit at and look outside.
What's Next?
Here is a quick overview of what I have planned. We will see how far I get in 5 weeks!
Paint the ceiling black to make it extra moody (might add some trim too)
Rip out carpet and install hardwoods
Update all the lighting
Install wallpaper and homeschool area
Furnish and style the space to make it extra cozy
If time allows, I'd like to do builtins around the TV (this is a big maybe!)
I can't wait to get started, I need this challenge to push me on this room! Plus I really enjoy sharing all the updates with you!