Now that we are shifting to distance learning this fall, it's time to finish our bonus room and turn it into both a learning space and hangout space. I am keeping the dark walls in there because I love them! So I am designing a space that is moody and cozy and one that we feel comfortable hanging out in all day. So let's look at our two Multi-Purpose Room Designs.
I don't do posts like this enough, so let's have some fun! When designing a new space I always start by putting together a mood board and getting a solid design plan in place. This is so important in the process because it helps create a cohesive space and not one that is pieced together. I can move products around and see which light fixtures look best together and how the whole room flows. I can honestly say that in the past when I don't do a room plan, the space just doesn't turn out as well. This helps a room come together a lot faster!
Multi-Purpose Room Designs
Current Bonus Room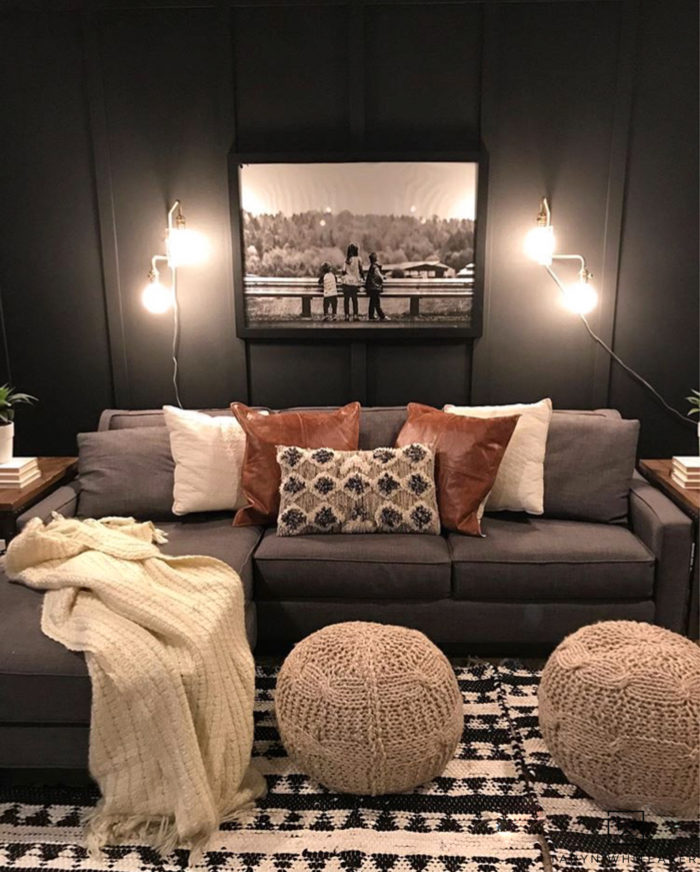 I still love the whole look in here but it definitely needs a refresh. We purchased the sofa 5 years ago when I was pregnant with my youngest. This room was completely empty and I wanted something to sit on while feeding the baby while the kids played. So we spontaneously bought this couch on a major sale. It has totally worked for the past five years but it doesn't fit all five of us anymore! We want to build out this space with a large enough couch and seating so our family can sit up here for movie nights or football games.
It just needs an overall look to not just the seating area but the entire room, which I have ever never done! So let's look at the different design options for our bonus room!
The Organic Modern Room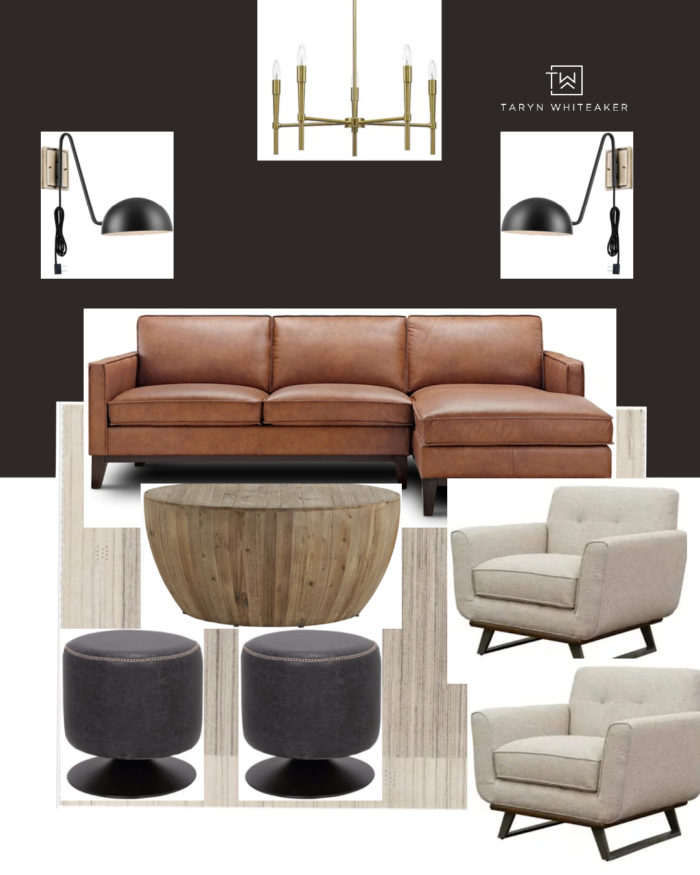 This is my first design for this space! It's a very modern organic look, with lots of neutrals and texture and mixing metals. I feel like this look is a little more 'trendy' but also classic at the same time.
I love a good cognac leather sofa and this one is bigger than we currently have in here. That along with the two comfy accent chairs we would be set for a good family night in here. I want to do leather in here to keep it kid friendly. A light sofa in here would be destroyed!
Shop This Look

Classic Modern Library Room
I love a classic chesterfield sofa. I have always wanted one so I splurged and put one in my husband's rustic office. I still love that space! I feel like a chesterfield never goes out of style and can blend into many different styles. This look would be a little more like a dark moody library room, or den. Think built-ins with tones of books and cozy reading chair or playing a game of chess. I love the classic vibe in here paired with the more modern pieces and pops of texture.
Shop This Look

My Thoughts?
I'm honestly torn on the two looks. I like them both! Let me know what YOU think!
Our new living room design will have a very similar look to the modern organic design plan in here. One one hand the looks would blend very well together, on the other hand it would be fun to do something a little different in here.
And the classic look is just plain classic. I have loved the dark moody library look for so long and I think it gives off a great ambiance for a movie room and education room.
Once I decide on a look then I will build out the design for the the home-school area!