I'm ready to kick off my first BIG project of the year! Last week I shared my initial project list for 2020 and it's time to jump right in to the laundry room makeover. I have had this project in mind since we moved in, but it's been very low on the priority list. Until now! Let's tackle this small beast in FOUR weeks!
For this makeover, I'm joining a group of super talented design bloggers as we all renovate, refresh or makeover a space in just four weeks. Today, I'm sharing my Laundry Room Makeover Design Board and giving you some insight into the look I'm going for.
Laundry Room Makeover Design Board
Current Laundry Room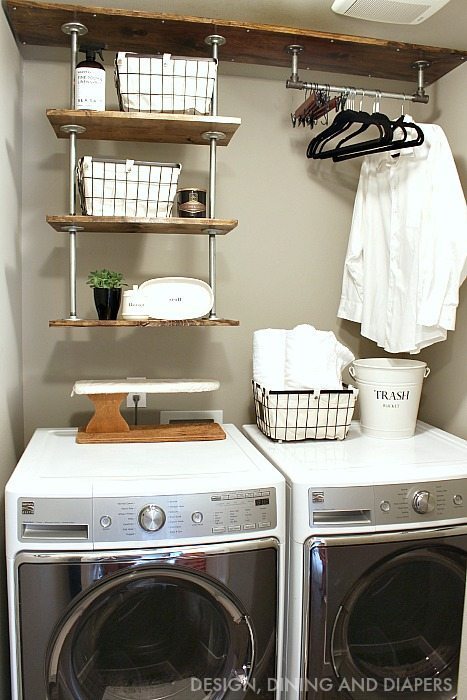 Let's start with what it currently looks like. We have a very very small laundry room. It's on the second level of our home and barely fits in a washer and dryer and I can hardly even open the dryer all the way due to the linen closet in there. But that is another topic. Anyway, this is the mini makeover I did on it four years ago! I added some rustic pipe shelving to make it a little more functional and
But it's time for a full remodel to make this space feel like an extension of all the work we've been doing on our home. I want to fully finish it off with cabinetry, a backsplash and a countertop! Let's take a look!
Black and White Laundry Room
Ceiling Lights | White Cabinets | White Bridge Cabinet | Black Mosaic Backsplash | Butcher Block Counter | Woven Baskets | Nature Prints | Black Woven Basket | Laundry Room Word Search
I loved how our recent kitchen remodel turned out and I'm excited to extend that look into the laundry room! I want to paint it Reserved White like the rest of the house, add upper cabinets, a black back plash, live edge counter top and some more modern decor and lighting! I'm confident we can get this done in the next four weeks!
Below are the other bloggers who are participating in the challenge and some of the sponsors. Browse around to see their spaces!
Meet The Participants!