More fall fun is happening around here! Decorating our porch for the different seasons is one of my favorite things to do. I always say, if you only have time/budget for minimal seasonal decor, start with your porch! It's the place that most people can see and it makes your home feel welcoming. This weekend I finished up our Elegant Fall Porch Design for this year. You can also scroll down to see 13 other fall porches from other home decor bloggers. 
Elegant Fall Porch

For this year's fall porch design, I knew white pumpkins would be involved. Lots of them! But that was a given since I have actually only used white pumpkins on my porch since I started decorating it years ago. For the overall look, I wanted to go with a more modern, elegant and classy look. I've been using a lot of deep earth tones in my fall decor this year and I think this millet grass was the perfect touch.
I have actually really liked the past few fall porches I've done at this house, I did a black, white and red fall porch, and then last year did a mixture of brown tones mixed with metallics. I loved both of them, so I incorporated elements from both previous porches into this one.
Porch Decorated With White Pumpkins
I made these pumpkin topiaries a few years ago and decided to bring them back out this year. I think they have such a timless and classy look and they really frame the door way.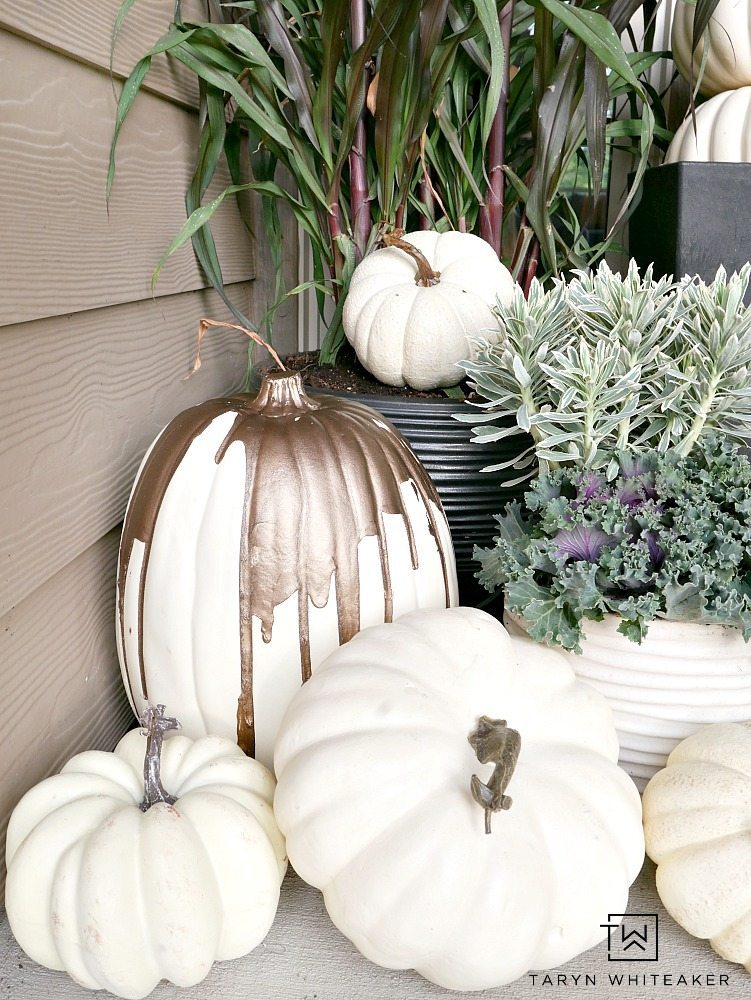 White pumpkins are seriously my fall love language. You can honestly never have too many of them. You don't want to know how many boxes of I have of them in the garage! And that leads me to my next point, yes these are ALL faux pumpkins. I am typically not someone who likes a lot of faux flowers and plants, but over the years Michaels has really perfected their faux pumpkins and gourds. I think they are so realistic looking and the best part is I just pack them away and don't have to buy them again every season!
You may also notice my paint dripped pumpkins from last year. This was one of my favorite fall DIY's from last year and apparently your's too! They even ended up on People.com :)
Fall Porch Decor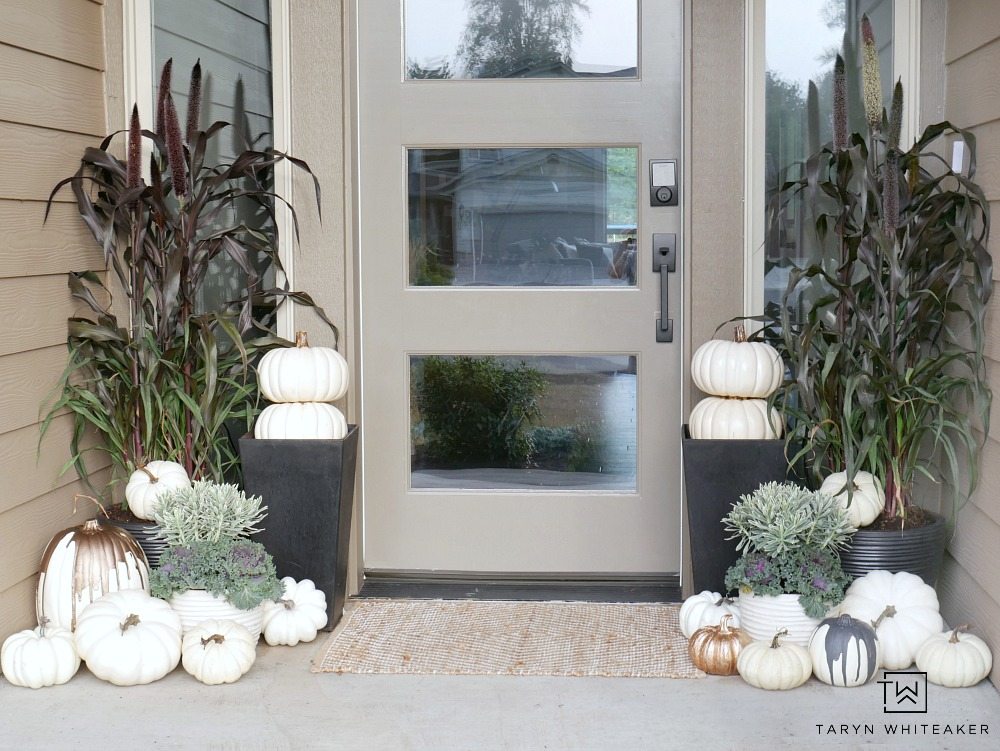 I have never used millet before. I have actually never even really noticed it before until this year.  I was at the local nursery picking out plants for our huge landscaping project (I'll blog about it soon!) and these millet plants caught my eye. I loved how they resembled corn stalks and had this beautiful deep color to them. I knew I wanted them to be part of my fall decor this year. 

These flowering kale plants are one of my favorites for fall. They add the perfect splash of greenery to the look.
Have you decorated your porch yet? Keep scrolling to look through 13 other fall porches. Each one is unique and beautiful. I love seeing how everything decorates for fall!
Festive Fall Porch Decor Ideas
Taryn Whiteaker Designs | Anderson + Grant | Christina's Adventures | A Burst of Beautiful 
A Pretty Life | PMQ For 2 | The Happy Housie | Settings For Four 
Little Glass Jar | Lolly Jane | Clean & Scentsible | Zevy Joy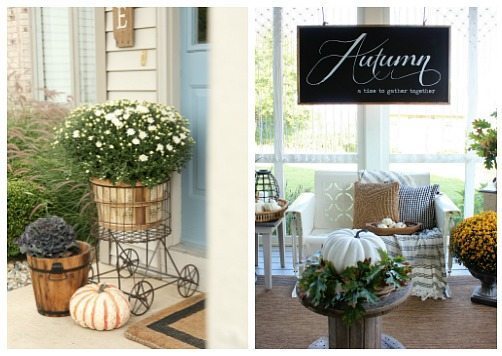 House by Hoff | Hymns & Verses
SaveSave