Fall. I just can't get enough. Like a lot of people, this is my absolute favorite time of year and I love bringing the season into my home. From January until August I am busy trying to decorate my home in general (and still go through boxes), and then once September hits my home takes on a whole new look as we enter the fall and winter.

This year, I've partnered with 14 other bloggers for the 'Fall Into Home' Autumn Home Tours. I love seeing how each blogger has turned their home into a cozy and welcoming space. Each one with a unique and beautiful style. (links to all tours at bottom of post). You can also follow along on Instagram with the hashtag #FallIntoHome. Feel free to tag your posts too!
Welcome to our Fall Home Tour. Last year, we'd only been in our home for a few weeks before I started decorating for fall. This year, I feel settled and finally feel like I'm getting comfortable decorating OUR home. It's funny how long it takes to really get to know your space.
I really love how our porch turned out this year. While I generally stick to very neutral decor, I love how the pops of red mums look from the street. They really make a big impact and I'm loving them.
I've always been drawn to pumpkin topiaries and finally got around to trying them out! I used Shannon's tutorial on AKA Design and it was super easy.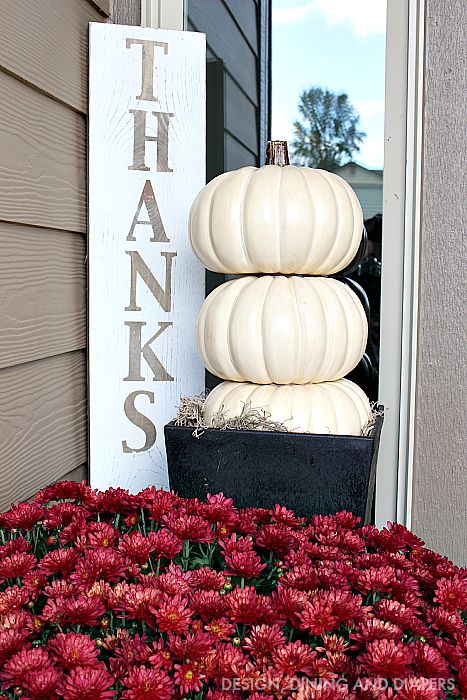 The THANKS sign was another quick DIY project, I used the same technique that I use for most of my signs. You can find the general tutorial here.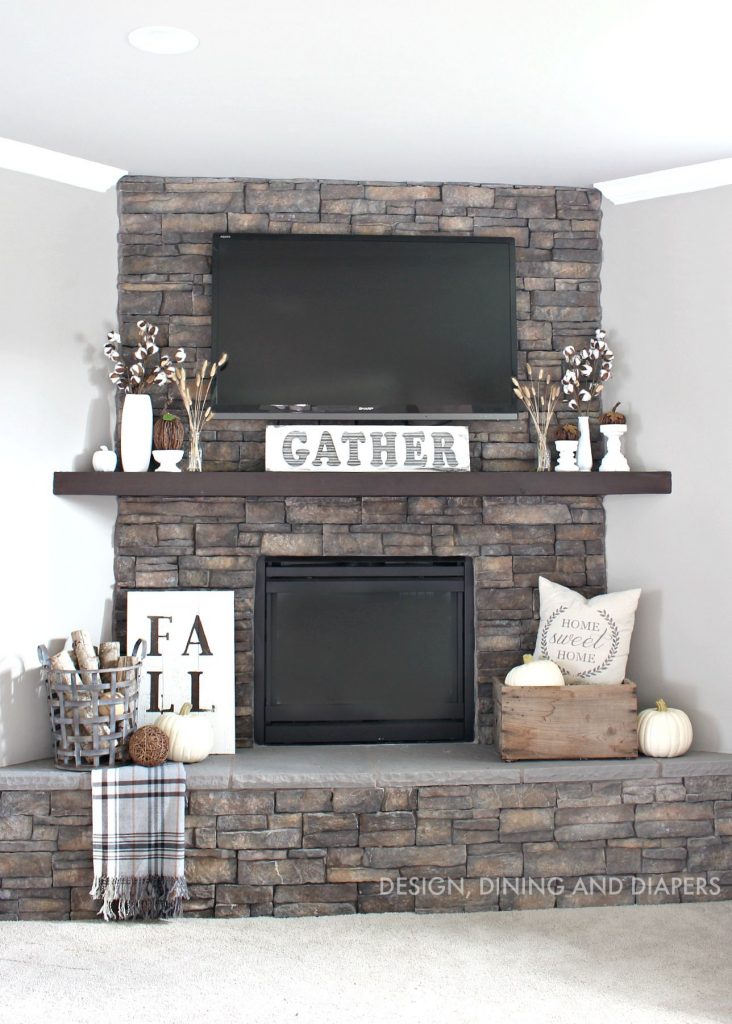 Moving inside our home to the family room.  Here is our fall mantel this year. With such a dark stone, I often feel limited to only using white or light colors otherwise whatever I put up there completely disappears. I don't mind too much though, you can never have enough white :)
Now onto my favorite place in our home. Our outdoor living space. I could stay out here all day, all year. It's covered so even when we are in the rainy, Pacific Northwest months, we can still sit out here by the fire and listen to the rain fall. And thankfully my kids love it too because they always ask to eat their lunch out here!
I fell in love with this entire fall line at Target this year. I was instantly drawn to these plaid and Cable Knit Throw Pillows and all the fun accessories. I could have bought every piece! It was the perfect soft, rustic look I wanted for our outdoor space this year.
Pretty sure everyone needs their own monogram mug :)
Thanks for visiting our home tour today! Below are a few sources for items in the post and don't forget to visit all the other homes in the tour!
AVAILABLE SOURCES
Gray Plaid Throw : Monogram Mug : Cable Knit Throw Pillows : Plaid Throw Pillow :  Plaid Dish Towel : Chalkboard Planter : Burlap Pumpkins : Glass Milk Bottle : Plaid Blanket : Home Sweet Home Pillow  : Small Sheep Skin : Galvanized Serving Tray : Watercolor Deer Pillow
Monday
Maison de Pax | Everyday Enchanting | Just a Girl and Her Blog | The Happy House | Finding Silver Pennies
Tuesday
Blesser House | Migonis Home | Cherished Bliss | The Woodgrain Cottage | Design, Dining and Diapers
Wednesday
Rooms for Rent | Shades of Blue Interiors | House by Hoff | The Sunny Side Up Blog | The Blissful Bee