Can I just say, ever since we painted our exterior black in the spring, I get SO excited to decorated it for every new season. It's such an amazing feeling, like this new creative energy, to actually see my vision come to life and style our home in a way that I have dreamt about. With the new dark exterior, I wanted to go with a classic holiday porch that gives it a traditional yet modern look for the holidays.
Classic Holiday Porch
This may sound a little odd, but I have alway struggled with decorating our front porch for the holidays. In the past I have often fallen short of achieving the look I envisioned. Or my lack of vision led to an overly simply and uninspired holiday porch. In fact there were a few years I never even posted about it. I have tried SO many things.
But this year…. This year I was inspired. I splurged a little with some new decor out here and I am so glad I did! I used these 4ft pre-lit trees last year (see below), but what a difference it made to put them in these cute wicker baskets instead of planters that were a little too tall.
Last Year's Porch
Here is a look back at last year's Christmas porch. I used the same trees, neutral rug and door mat. But our exterior changed and I added in some additional decor with the vintage sleds and brass lanterns.
Outdoor Christmas Decor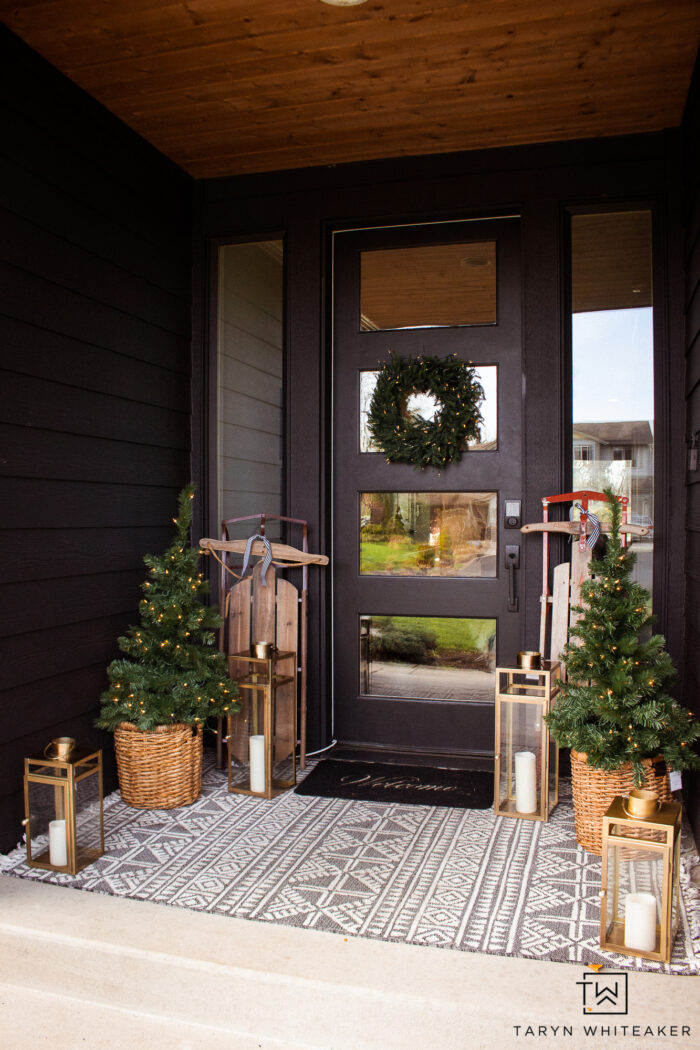 These gold lanterns were one of my favorite touches to the porch this year. They add a classic look to the porch but have clean lines. Exactly what I needed out here.
Christmas Porch With Dark Exterior
I couldn't love our porch more this year! I feel like I finally have the Christmas porch I have always dreamt of.
Shop This Post