Simple and classic. That is how I envisioned our Christmas porch this year. I wanted something that was full of greenery and also had that classic and elegant look of Christmas and I couldn't be happier with how it turnout. For whatever reason, I have never loved any of my past Christmas porches and I have to say this one is my fav for sure! So let's have a look at this Classic Christmas Porch that anyone can recreate!
Classic Christmas Porch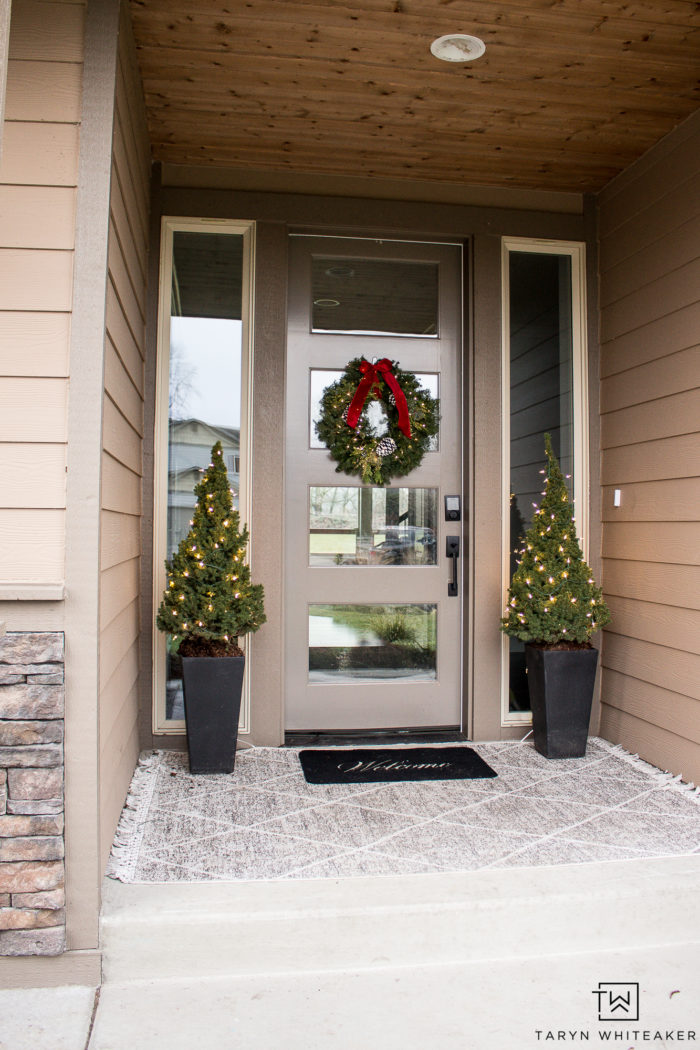 I picked these mini REAL Christmas trees up at Walmart and then planted them in my favorite black planters I've had for super long! I honestly can't remember where I got them but they are my fav. I finished them off with a strand of baby white lights.
I am surprisingly still loving this porch rug and look from my classic spring porch. I actually loved the look so much that I just tweaked it for Christmas!

Also, this little $10 welcome mat has held up surprisingly well over the past 6 months! I'm super impressed.
Classic Christmas Wreath
I added a very simple wreath to the front door. I picked this guy up at the grocery store and added a simple red velvet bow. I didn't want anything too oversized, just nice and simple.

I love how our porch glows, I didn't have any lights out here last. year and it makes a big difference! Twinkle everything this time of year!
You may also like to see my Christmas porch from last year and my very festive bright red porch that was actually featured in Better Homes & Gardens!