Alright friends! I skipped last week's updates because I really didn't have any. I always feel like when it comes to the ORC, I end up doing 75% of the projects in the last two weeks and it's looking like that right now! All of the DIY projects I have planned for this space are all on hold as I wait for product to come in. Everything that has come in so far are more finishing/styling items. So, not much progress has happened on the actual space itself.
So instead of showing you our completely bare bonus room, let's look at all the furniture styled in our living room! ha!
Organic Modern Furniture!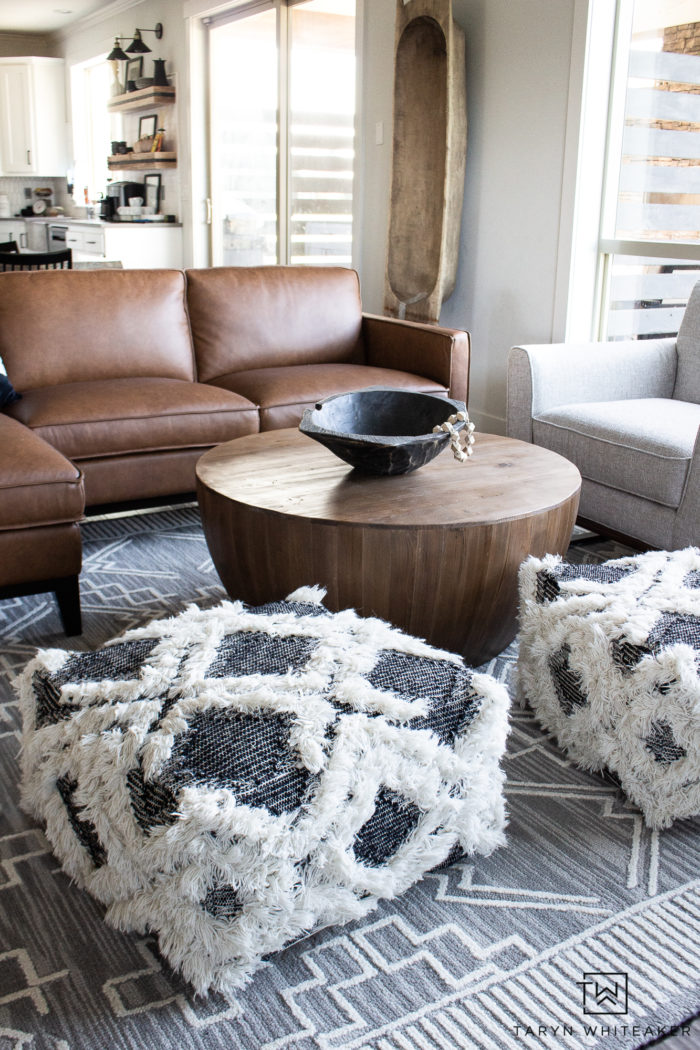 Ok, but let's see the updates that I DO have for this space! Almost all of the furniture from Overstock has come in for the bonus room, I'm just waiting on a few accessories but otherwise the big items are here! Huge thanks to them for partnering with me on this space! Since our downstairs is still bare, we are styling them down here and actually using them until they are ready to move upstairs.
Cognac Leather Sectional
The latest item that came in is this gorgeous Pimlico Top Grain Leather Sectional with Chaise from Overstock. I am in LOVE with it! When it comes to ordering furniture online, you always take the risk of the color being different in pictures or the quality is less than expected, but this sofa exceeded my expectations.
I'm still playing around with styling, but I threw some things together to be able to show you the pieces today! I shared these Nikki Chu Aaltos Black/ Ivory Geometric Square Pouf , the Willow Beige Tufted Mid-century Modern Chairs and the Hatteras Drum Reclaimed Woodblock Barrel Coffee Table In my last update, but they are looking so good all together!
I have still done close no nothing in the actual bonus room. Ok, I put up the new Wall Sconces , but that's it! However, I am confident that I will have a lot more updates for you next week!
Can I tell you something else? I am so thankful all of this furniture arrived while our actual living room is almost empty because it is helping me make final decisions on what I want to put in here! I have been struggling with the spacial layout and after having all of the bonus room furniture down here, I have actually changed my mind a bit! It's all working out!
And this sweet pup is loving our new rug! He has been laying on it non stop :)