This is a sponsored post written by me on behalf of Carpet One Floor & Home®. 
Remember a few months ago when I showed you some plans I had for my son's big boy room? Well I have a big update for you! I've been working hard over the past few months to really transform this room into more of a big boy retreat for my 3 year old. I still love the rustic modern vibe of the space, I just needed to polish it off and update it a little after we removed all the baby furniture sand put it in the nursery. So with a little bit of help from Carpet One Floor & Home®, my son now has a great Rustic Modern Boy Room all to himself.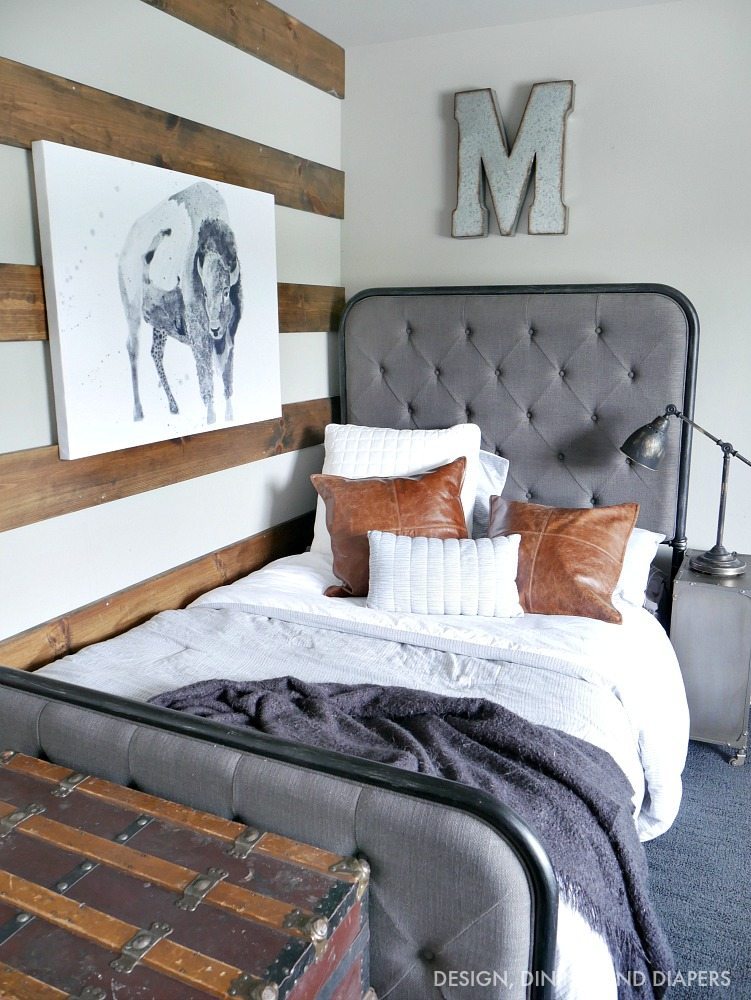 I kept the wood striped wall from his nursery days, I just couldn't let that go! A lot of his design focused around this bed that I found, it was the perfect blend of a modern farmhouse look and classic lines, it was exactly what I was looking for.
The biggest change in the room is the carpet! I didn't want to replace the carpet in this room, because that would mean I would have to replace it in the whole upstairs, but I still wanted to change the look of the flooring. So I worked with Carpet One Floor & Home® in making this custom wall-to-wall area rug for this room. Did you know they could do that? I was so excited when I found out that they can turn their carpet selections in area rugs, they make such a huge difference!
In my previous post, I chatted a little bit about the different carpet colors I was considering for this room. I decided to go big and bold and put in a dark charcoal area rug. It's called Sable by Relax, it's…Lees sold at Carpet One Floor & Home®. Lees repels spills to make cleanup quick and easy. Which makes this the perfect carpet to add to my three year old son's room! I have already needed to vacuum it, and it was really smooth and easy to clean.
The bed really takes up most of the wall, but I still wanted to add in a side table to a reading light and other things. I ended up finding this industrial metal night stand and turning it sideways. I thought it worked out pretty well!
In just about every room in our home, there is a piece of furniture or decor that is extremely meaningful and has a story behind it. This chest was given to me by my grandma and I love that it's now in my son's room.
This side of the room hasn't changed much, besides the addition of the super soft and dramatic carpet.
Another thing I really appreciate about Carpet One Floor & Home, is that they strive to ensure that the floor you'e created together is perfect for your style and your home. If not, we'll replace it for free. They call it The Beautiful Guarantee®.
Those shelves will always have a special place in my heart. Sigh. It's not very often that I do a project and still love it years later. These I LOVE. I simply changed up the styling a little bit for this new edition of the room, but otherwise they stayed.
I updated the bedding with an awesome set that I found at HomeGoods. It was one of those 'Bed in a Bags' that had such a great modern farmhouse look to it. I love it when I find exactly what I'm looking for, especially when it's a great deal. I just added those brown leather pillows for a little pop and I was good to go.
When I started to work on this space, one of my first priorities was to create a little reading corner for him. I wanted a place where he could keep all his books and curl up! I found this church pew bench at HomeGoods and HAD to have it. The funny thing is, I always pictured a chair here but when I saw this bench I knew I had to make it work. I love it, it's such a great find.
Naturally, he prefers to read his books hiding behind the bench in that little cubby space, but that is a 3 year old boy for ya!
Here you can get a better look at the carpet, it's a loop carpet which I really love. It has a very sleek and clean look to it.
Like every room in my home, I feel like i"m always making adjustments to it. And I think I have a few more tweaks that need to be made before I consider it "final, final, final" ( but really, are rooms every final?!). I'm excited with the amount of progress I've made so far and the big transformation the carpet made!
This is a sponsored post written by me on behalf of Carpet One Floor & Home®