I had a really fun opportunity to appear on my local TV show last week and talk all about DIY Outdoor Lighting for those fun summer nights. It was such an honor to sit with Margret Larson on King 5 NewDay Northwest and share some ideas that all of YOU can do too! I wanted to take a second to share the video clip with you here so you can watch the segment!
DIY Outdoor Lighting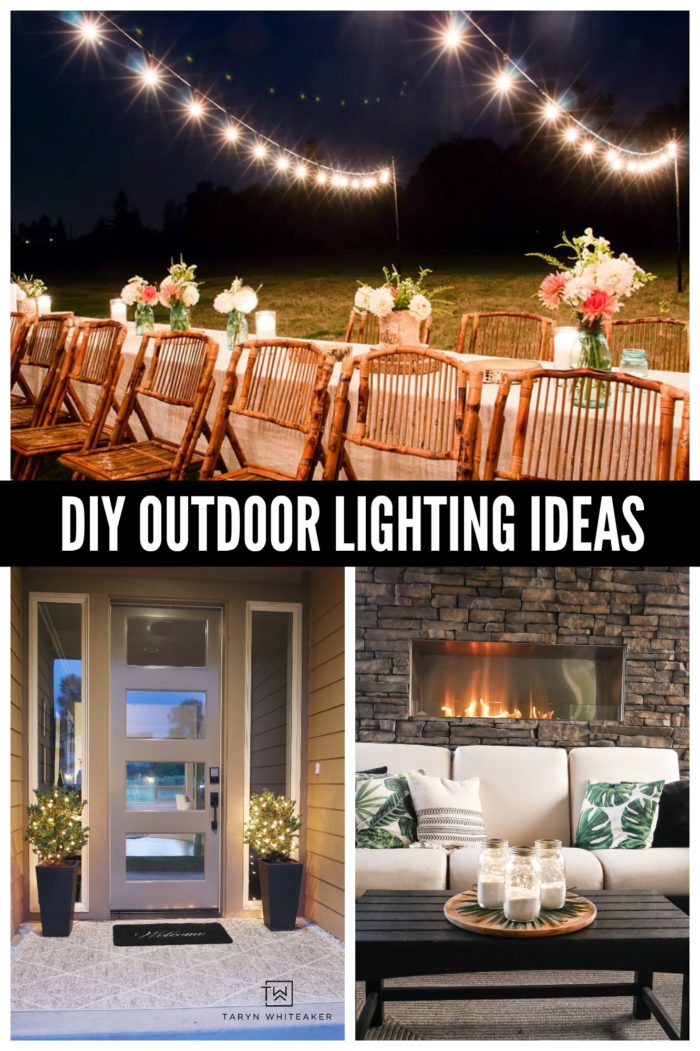 There are so many different ways you can spruce up your backyard for summer, adding a few lights is one of the easiest ways to make your space feel a little more magical! Here is the Pacific Northwest, we only get a small glimpse of those warm summer nights so we better make them count.
Here are a few different ways I've added some DIY outdoor lighting to our home when we entertain guests.
DIY Hanging Outdoor Lights
A few years ago we hosted my grandparent's 70th wedding anniversary in our backyard and turned it into a magical setting for the night. We installed these DIY Hanging Outdoor Lights so help brighten up the space. Click the link to get the full tutorial. Note, I wouldn't use the same aluminum poles if I did this again. I would go straight for the fence posts!
Using Christmas Lights in Summer
Don't be afraid to bring out those Christmas lights! A simple strand of white lights can make such a difference. Light up your front porch as guests arrive for a party, or if you have trees around your fire pit wrap the trunks for a little glow.
DIY Light-up Mason Jars
These are the little DIY Light-Up mason Jars you see on the ottoman in the pic below. I think these are one of my favorite simple DIY projects I've done in a long time. If you only have a few minutes to spare or maybe a small space, whip up this little centerpiece to create an extra glow! To complete the look I placed them on a wooden tray with a big palm branch. Click here for the full tutorial!
Watch the full segment