This post is sponsored by Modsy, all opinions are 100% my own! 
When it comes to decorating a new space, how many of you find yourself saying, "I don't even know where to start!" If that's you, you will love this post because I have a solution!
I revealed part of our bonus room back in the fall, but the other half is completely empty. Like literally. It has a TV on the wall and toys scattered across the floor. I've been craving organization and a completed space but I still struggle with what to do with it. Do I make it more of a living space, all cozy for movie nights? Or do I go even more kid friendly? Or both? I've been stuck. Sometimes it helps to get an outsider's perspective and hear new design ideas from someone else! For this space I turned to Modsy, a personalized home design solution that helps you see your space in 3D and see all your new furniture in it! It's so cool.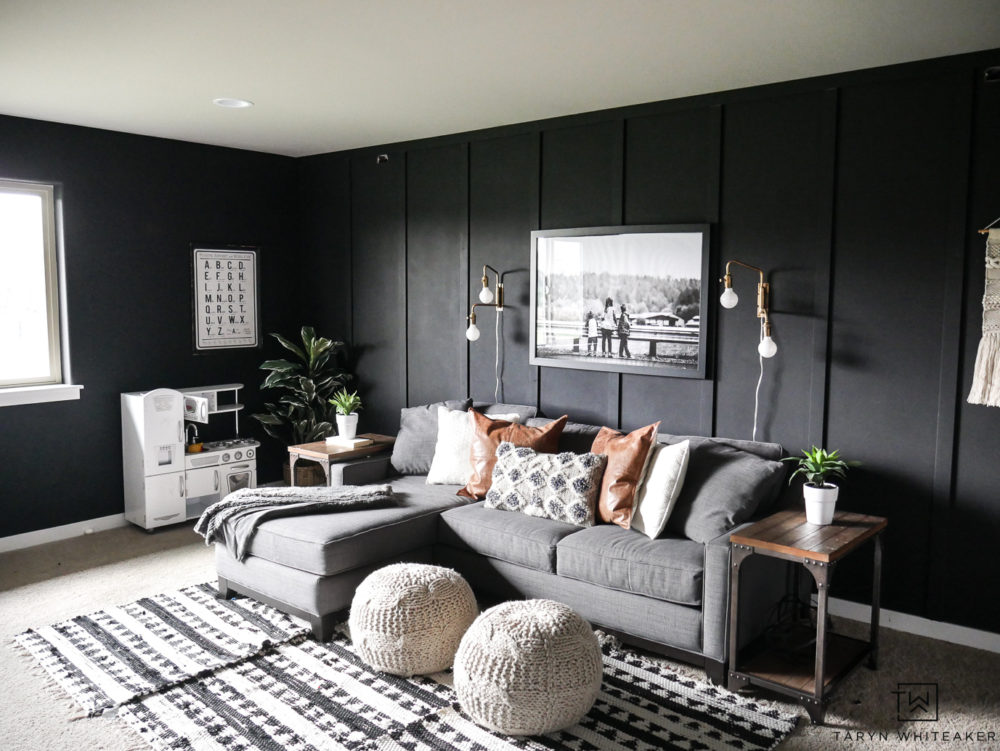 Here is the way my space has looked for the past 6 months. It hasn't changed at all since I revealed it back in the fall, and I honestly don't plan on changing a lot on this side of the room… for now.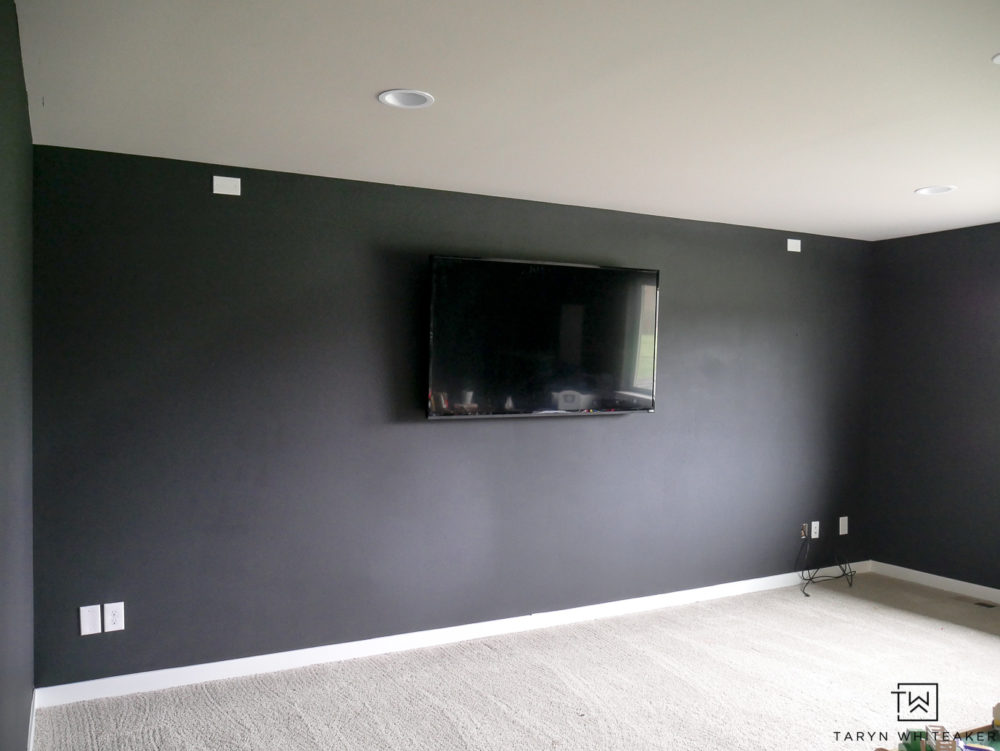 And this is the opposite side of the room! It's typically filled with toys, but I didn't think you wanted to see all of that! This is where I want to add a media center, storage and make it just over all more cozy.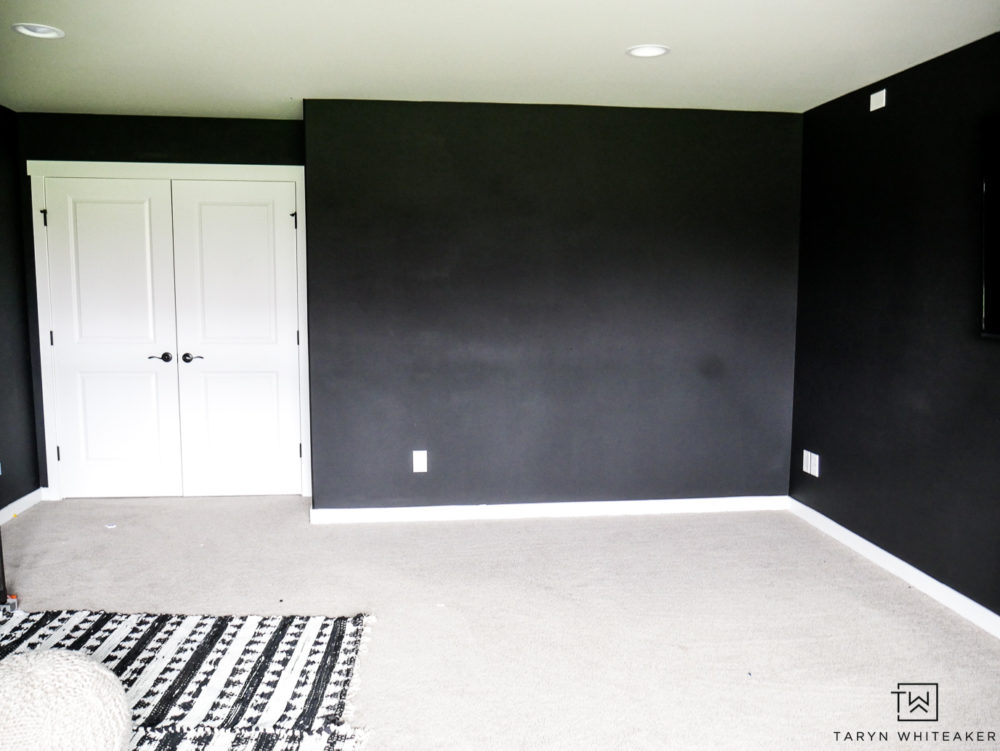 This last shot gives you a full 360 of the room. Here is another blank wall and the door to the bonus room. Now, what to do with it all…
DESIGN OPTION 1
This is where Modsy comes in! Once you sign up for the site, you create a unique profile that allows you to upload photos of your space, take a short design quiz to help narrow down your style and give any requests you have for the space in terms of what you need and are looking for. Then, a team works on your space by turning it into a full 3D render complete with all new design ideas and actual products you can purchase! You guys, I'm so amazed at what they were able to do.
I'm going to walk you through the first space they designed for me! Here is the top view. Now let's dive in.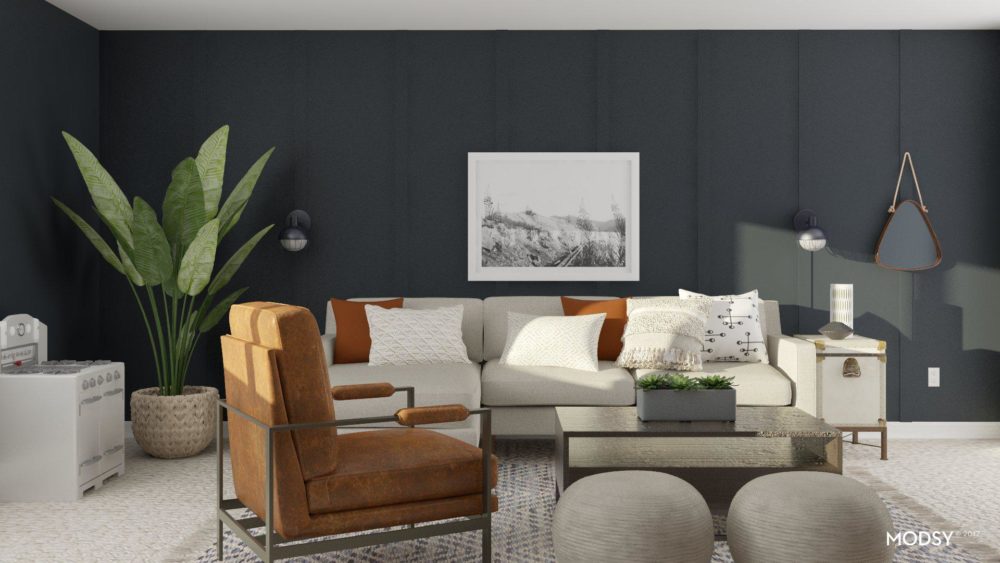 They kept this side of the room pretty much the same as I had before, but one thing I love that they did was add additional seating to really frame out the seating area. I actually really like this and I hadn't thought about it before. I like how they put a coffee table here (You may remember, we used to have one here but it was too large for the sectional so I chose the two poufs instead). I like how they kept the poufs but turned them into even more seating for a conversational area.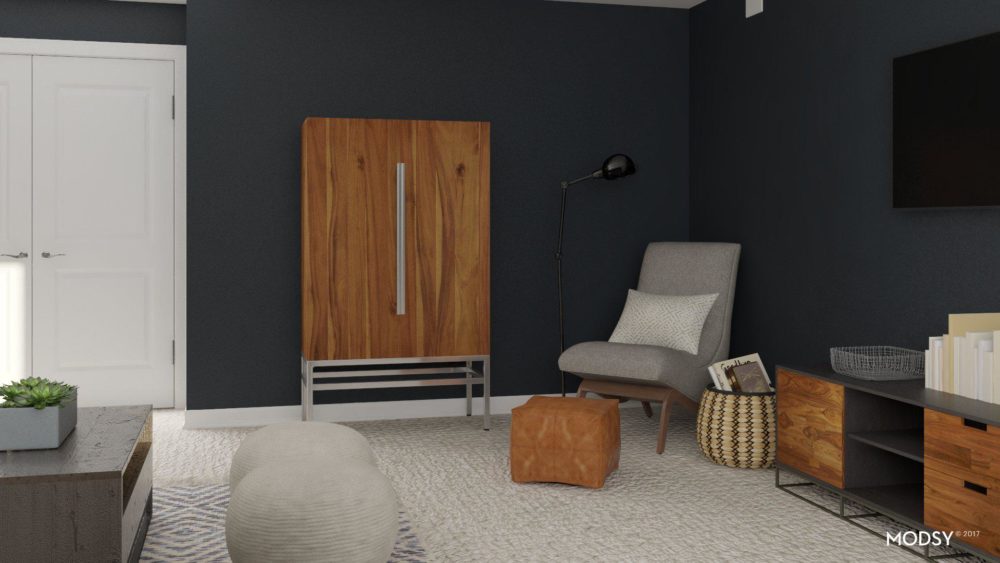 Here is the side of the room that I really need help with! I needed storage and they definitely delivered. That cabinet is great for storing toys and games and extra blankets and that chair is perfect for a cozy reading corner.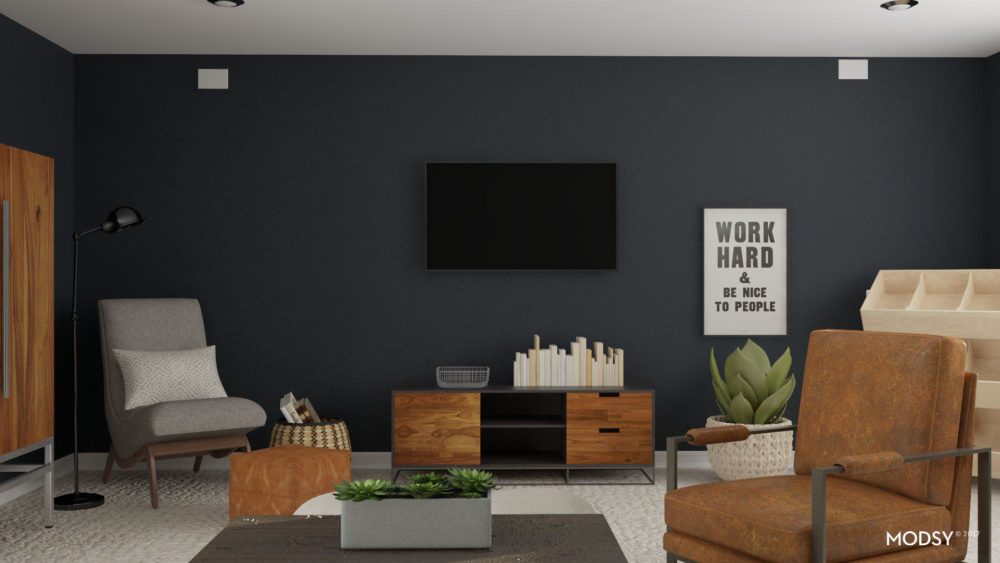 I like how they kept my love for neutral decor with pops of greenery and also aded extra toy storage in the corner. So many great ideas to consider and work with.  This look is a little more eclectic and I love how they worked all the pieces together.

The other thing I love about their program is that you can shop for every product they put in your space directly through their platform! So if you want every single piece of furniture they chose, you just click, click, click and can instantly order everything they planned out for you. They basically hand you a silver platter with how to design your space!
IF YOU ARE READY TO TRY MODSY OUT, CLICK HERE AND YOU CAN GET 20% OFF BY USING THE CODE: TARYN20
DESIGN OPTION 2
Onto design option 2! I love how they mad subtle tweaks to see a few different options.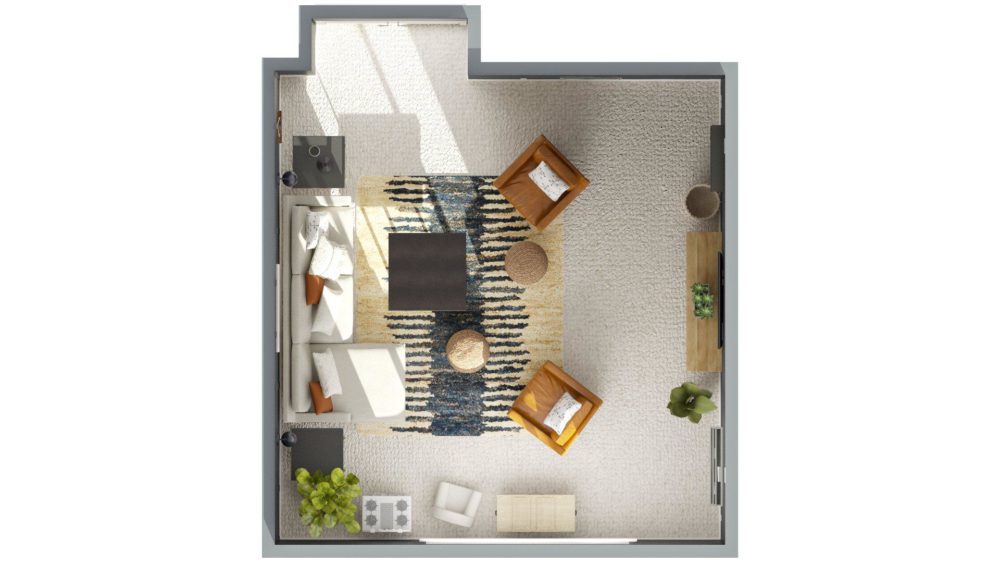 They kept this design a lot more symmetrical and a little more contemporary in my opinion.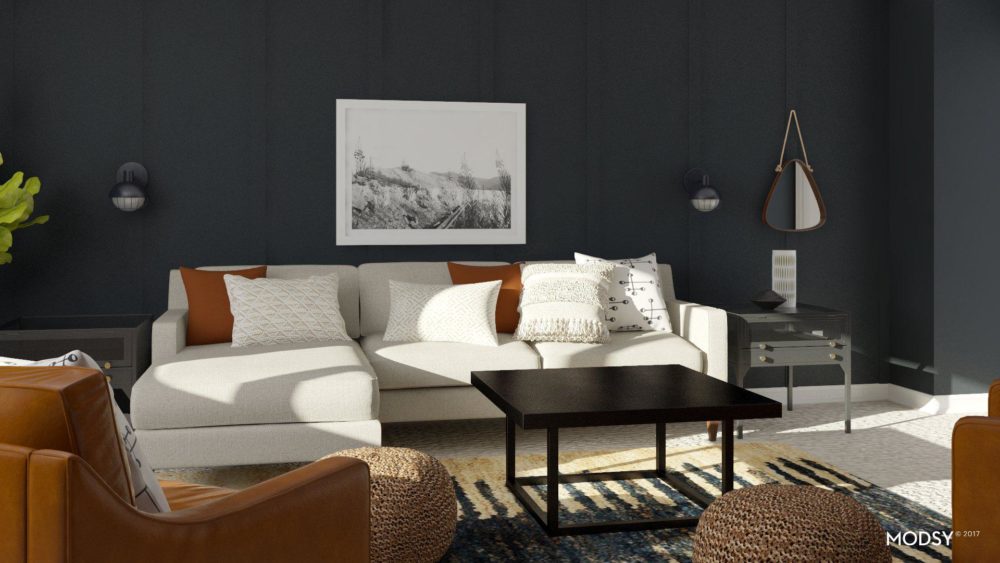 Here is the same seating area with a slightly different take on it. Matching chairs and a bolder rug with sleek coffee table.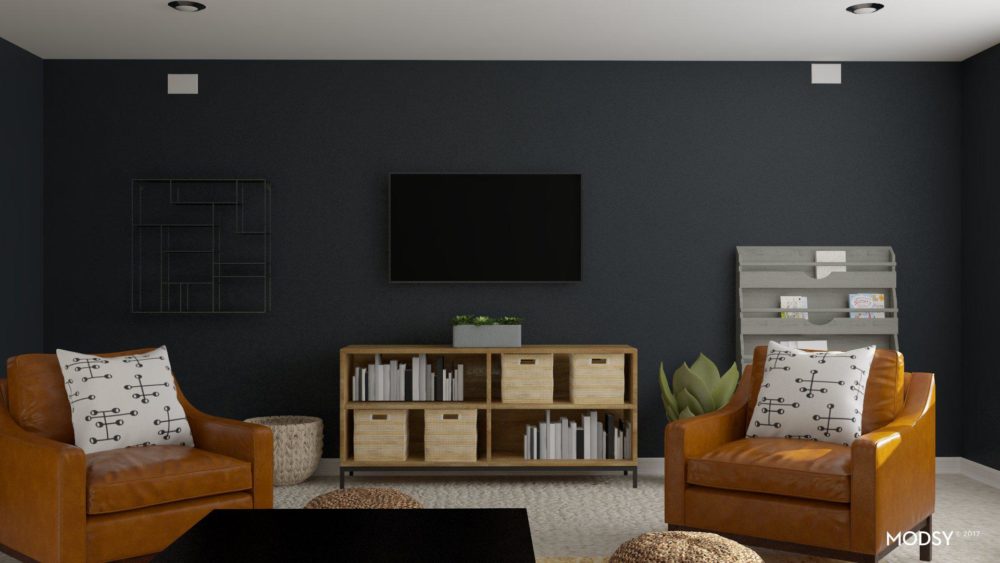 Now for this view!  I think those pillows are just so cute. I love the geometric modern take on them and of course they are black and white!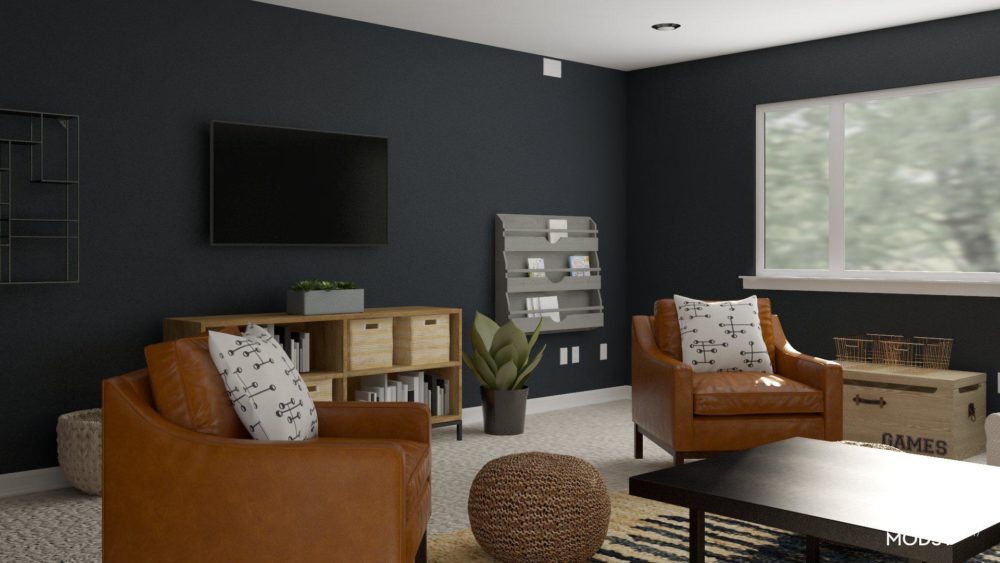 And here is the last angle, you can see the full window on this side which is something I have also struggled with. Do I put curtains on here? Or leave it clean and simple? I like how they didn't add anything else here. The book case is super cute and something we desperately need and that game chest is adorable!
So which design do you like best? And which design do you think I like best?
IF YOU ARE READY TO TRY MODSY OUT, CLICK HERE AND YOU CAN GET 20% OFF BY USING THE CODE: TARYN20
I can't wait to start incorporating some of these ideas into this space and have a place to store some toys!