Disclosure: This room is sponsored by Mohawk Home. All opinions and product selections are my own!
I am hoping for snow this Christmas but that isn't looking too likely, so I decided to give my daughter's room a Winter Wonderland Bedroom refresh with the help of Mohawk Home! I love her light and bright baby blue room we did a few years ago, but it was time for a little refresh. I have to say, this is my favorite version of this room so far and I am quite positive the new rug is what brought the whole room together.
Winter Wonderland Bedroom Refresh
Welcome to our own winter wonderland! When I saw this gorgeous blue and cream rug from Mohawk Home, I knew it was the perfect addition to this room. The colors of this rug and the ornate yet modern pattern really brought this room together.
The rug is actually a lot lighter in color than it appears online. The picture online makes it feel a little more khaki, but it has a lot more lighter cream tones. Which I love!
Before Bedroom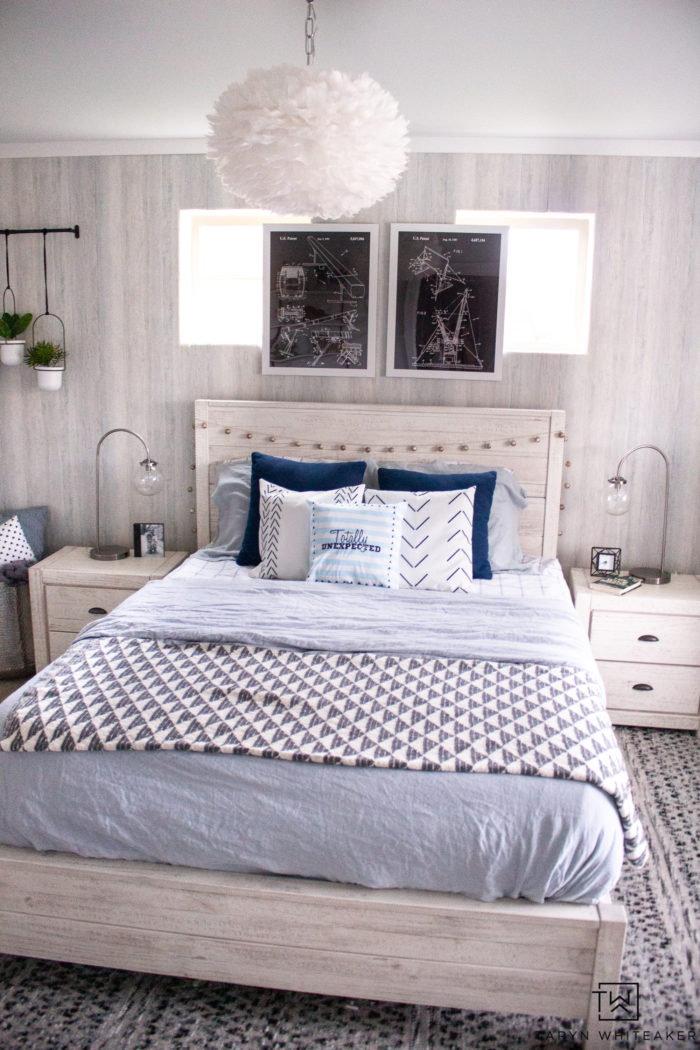 In case you are new around here, this is what my daughter's room looked like almost a year ago! It had a lot more black and white accents in here but over all almost the same room. It's crazy to me how just changing out the rug, and the throw pillows and adding a few twinkle lights made this room feel so much softer.
Blue and White Girls Room
When I originally did this room almost two years ago, my daughter specifically requested a blue room! I love that she went with blue and cream. But I always felt like the room just didn't quite get to where I was envisioning it, except for now! I am so happy with the soft tones in here and the baby blue and darker blue accents.
She has a little bay window area in her room. We kept this sofa from our previous home and were going to sell it until we realized it was the perfect fit for her room! It's been in here for 6 years and I still love it. It now goes even better with the new rug tones.
Here is a little better view of the rug pattern. I think it can go with so many styles from traditional to contemporary or a little modern.
Now let's talk about the winter decor we put in here to make it feel extra magical! I have always wanted to add twinkle lights to a bedroom, and this was so perfect! It goes so well with the overall look of her room, she's even asked to keep them up year round! I say, why not!?
I love how magical this room feels, it's perfect for our only girl! A true escape from the rowdy boys. You can shop the new blue and cream rug here!
See below for a few more amazing holiday room tours, they are gorgeous!
More Holiday Home Tours