This post is in partnership with Arhaus Furniture. 
The day is finally here! I'm so excited to be revealing the largest space I have ever worked on, our Rustic Modern Family Room. Whew, it feels so good to finally have this space in our new house 100% complete.
This is our 'great room', the primary room downstairs and the place we spend most of our time as a family. Our entire downstairs is pretty much one big open space which is so great but it also comes with challenges. Today, I'm going to share a little bit of the story behind the space and how I got here, but you will mainly just get to look at pretty pictures. I know you are all ok with that :)

Welcome to our family room. We really enjoy entertaining and I wanted to make full use of the space by maximizing the seating arrangements and keeping a large floor plan, but we also wanted to make it feel warm and cozy at the same time.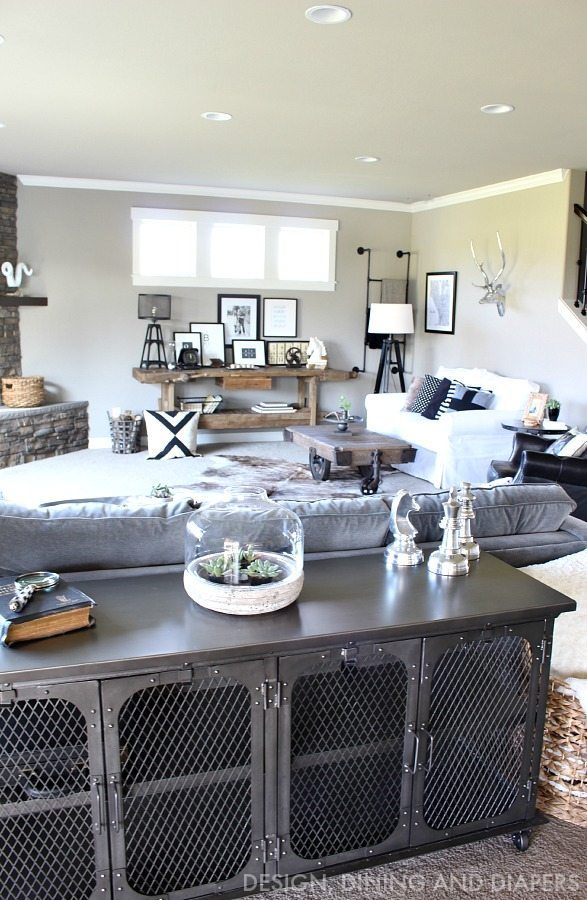 Over the years I've slowly developed my own personal style, I would consider it a mix of both rustic and industrial with clean and modern lines. I wanted this house to reflect my personal style but also blend with the style of the home. And of course every piece I chose would be neutral and full of texture!
I love each of the pieces that we placed in this space, they are all very unique and full of character. These are pieces that are also timeless and can work into several different styles. The classic black and white paired with rustic pieces is a trend that I can definitely get behind!
This Carpenter's Bench Console Table is probably my favorite piece in the entire space. I absolutely love it. It's a perfect and I can't believe it's mine! (You can view all the details about the styling and accessories on my previous post about this piece. )
Even though we have a lot of recessed lighting throughout the downstairs, my husband specific requested several lamps to help warm the space (yup, this is why I love him). All of our recessed lighting can be really bright in the evenings, so having the ability to just use the lamps has been nice. I love both of the lamps I picked up for this space (console lamp here, tripod lamp here).
I have always wanted a white slipcovered sofa! I love the look of them and they are so versatile. Many people have asked how our white couch has held up with two little kids and to be honest, it's been great! We don't let our kids eat or drink on the furniture, they can sit picnic style on the ground or sit in the kitchen and we have had zero problems. I highlight recommend it!
If you remember from my previous post on this section, my husband has been wanting his 'man chair' since  we were married and let me tell you, he is one happy husband with this gorgeous recliner. He LOVES it and it is definitely 'Daddy's Chair' around our home :)
Moving to the opposite side of the room… We have the space so I wanted to put a sectional in to fully maximize the seating capacity. I wanted to find a sectional that was practical but also had nice lines and worked with the style of the space. I'm really happy with the Flanders Silver Sectional from Arhaus. It's firm but also really comfortable and I just love the nailhead trim.
I will warn you though, the gray can be a little tricky, as it change hues throughout the day. At night it is more charcoal like the swatch shows, but during the day it can be very 'silvery' and is more light gray.
To make the sectional a little more cozy, we paired it with the Libby Smoke Ottoman and a Trellis Shag Rug.
 I love the stone fireplace that came with our house. It is such a stand alone piece that I didn't want to over decorate it. I kept it simple with just a few accessories.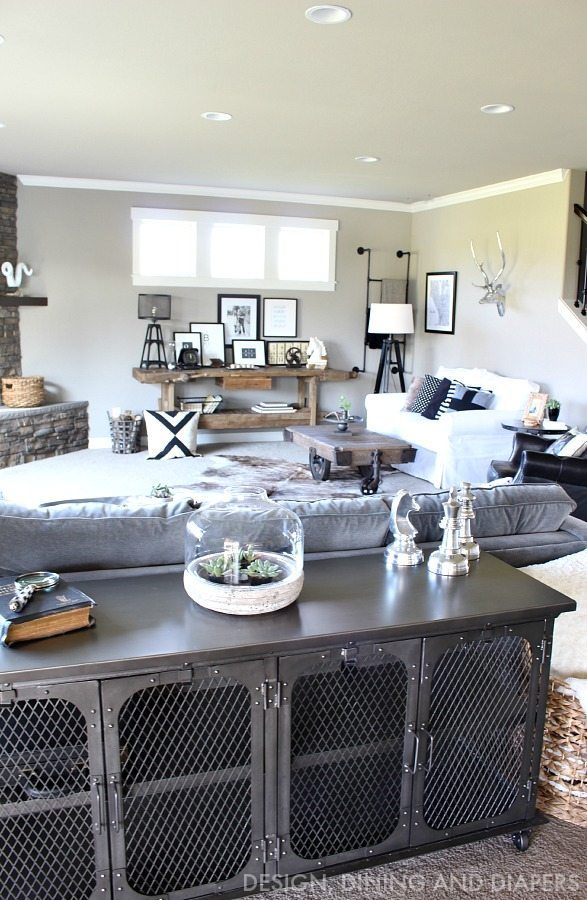 There you have it. Now you know where I spend most of my day :)
Here is quick shopping guide for this space:
FURNITURE
– White Slipcovered Sofa (ordered in Daryl White)
DECOR
– Cloche
– Faux Fur Pillow from World Market (Not available online)
LIGHTING
if you have any other questions let me know!