If you follow a lot of blogs or interior sites, you probably see a lot of seasonal home tours and if you are anything like me, you probably get overwhelmed by them sometimes. I know that sounds funny coming from a home decor blogger, but it's the truth I used to think that when you decorate for the holidays you had to make huge changes and go BIG, bring in tons of seasonal decor and completely transform your home.
But I was wrong. It's not about buying all new accessories or decorating every single space of your home with pumpkins (although I do like A LOT of pumpkins) and cotton stems and candy corn. It's about creating a home that fits your style and then make subtle tweaks for each holiday. It doesn't have to be big, just something subtle to help your home transitions for the different seasons.
I wanted to take a second to show you how easy it is to decorate your home for different seasons by changing just a few small items. Today we are taking a look at our entry way which hasn't really changed much since we did it 1.5 years ago, but you can see how I make subtle changes throughout the year. So here is One Space Styled Five Ways.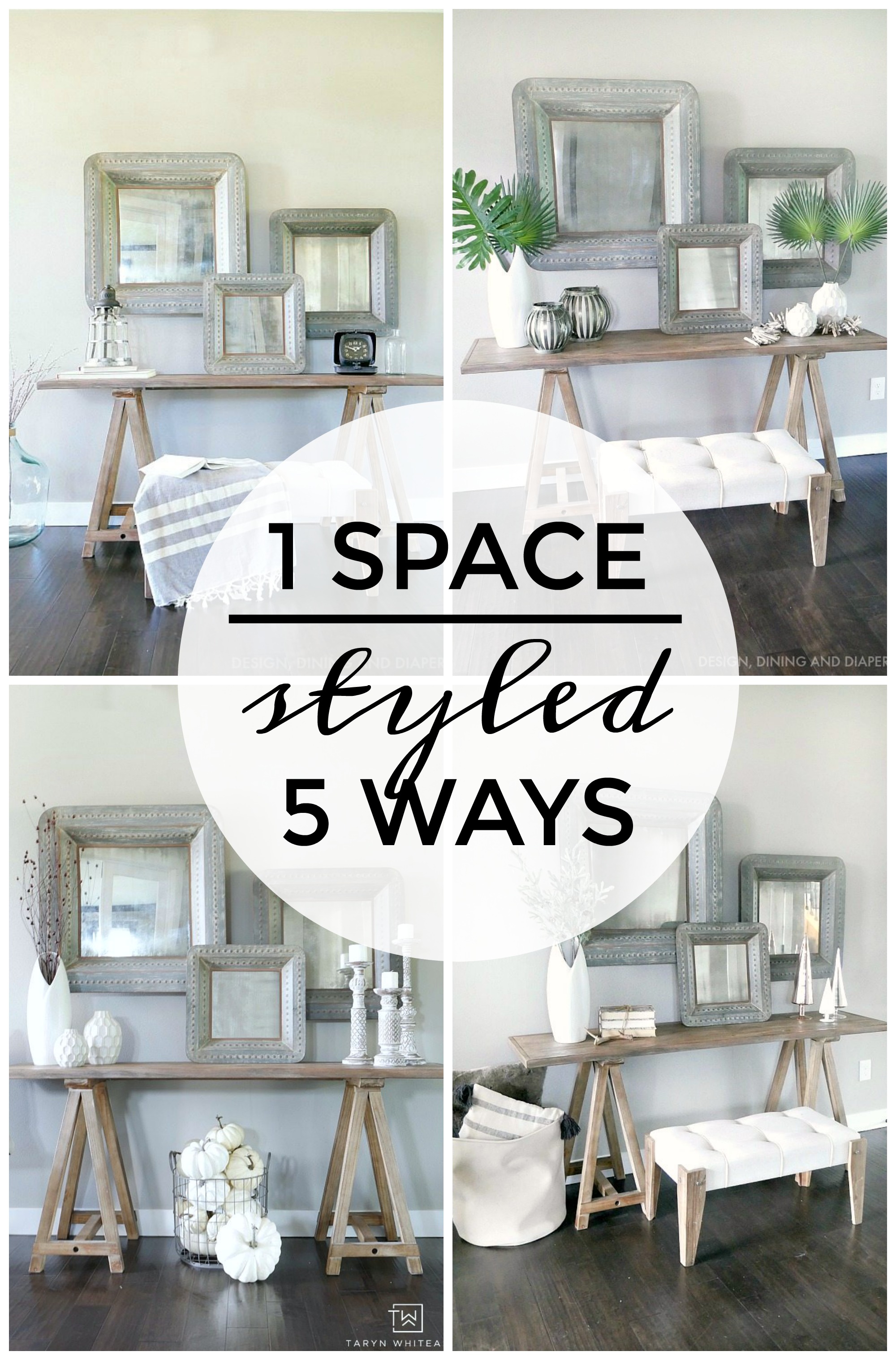 Here is the way our entry looked when we first revealed it. I kept it simple and modern and focused on the lines of the pieces. This is a pretty typical 'every day' look for me. 

Then we move into the spring/summer time when it's all about foliage. This is the perfect time of year to add some greenery into your home. I added modern white vases and then picked up some tropical green stems at Michaels to give it a bright and summery look. (see my full summer entry way here)
You'll notice in the next few looks that I have kept the large white vase and simple changed the fillers for each season. This is SUCH a simple and inexpensive way to change up seasonal decor. Each stem probably only costs $5 at Michaels.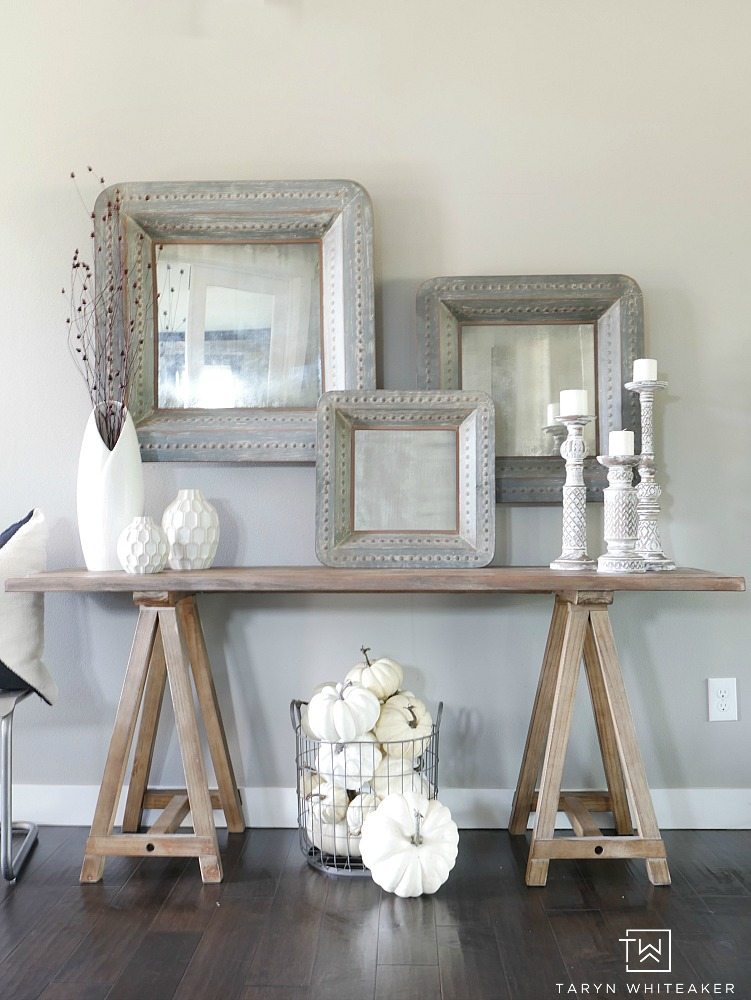 As the summer months come to an end, it's now all about adding texture, natural elements and pumpkins for fall! I switched out the greenery for rustic branches, replaced the drift wood with candles and then added a big bucket of pumpkins. But all the main pieces still remain the same! (See my full fall entry way here)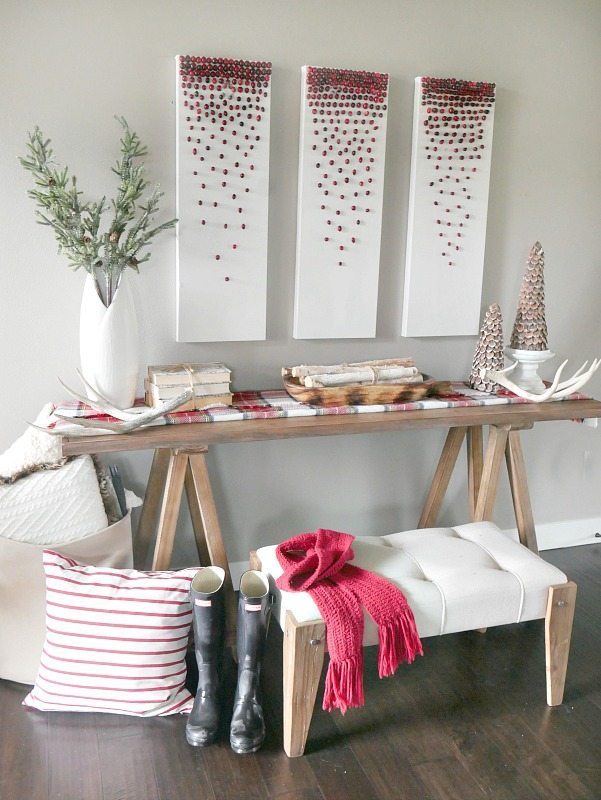 For Christmas last year I ended up changing a bit more than normal. I created this DIY Cranberry Art for our entry way and then added all the cozy Christmas details like plaid blankets, logs, a scarf and of course some wintery branches for that white vase.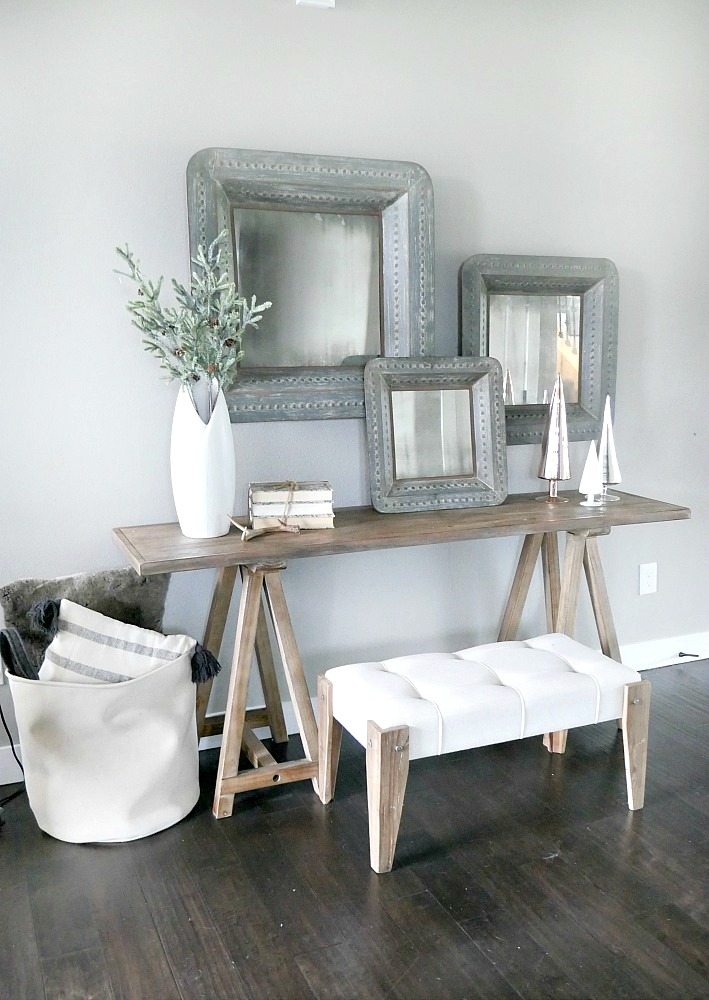 Last year was a lot the very first time that I decorated for winter. I wasn't quite ready to get rid of all our Christmas decor, so I removed all the red and kept really clean and wintery look through January.
I hope this goes to show, that you don't need to change up all your decor to still make it feel festive and seasonal. Simple goes a long ways! 
I feel like everyone has a few areas of their that they focus on for the holidays. This is one of mine. What is yours?!