Disclosure: This post is in partnership with Arhaus Furniture.
It's time for a big peek into our family room! I ordered our furniture back in September and it finally arrived over Christmas. I am SO excited. It's been a lot of fun to work with. I'm going for a modern ranch look to the room. My goal is to blend the modern/glam look of the house with my personal rustic/industrial style. It's been a little bit of a challenge to get it just right, but I feel like I'm making progress.
Industrial Farmhouse Family Room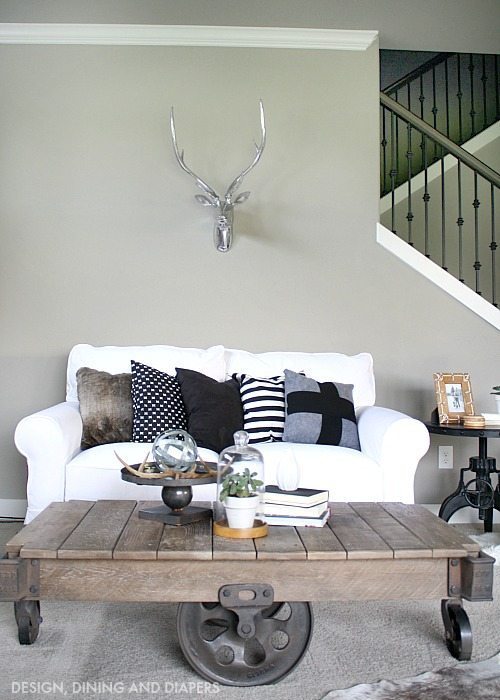 Let's take a look…
I have ALWAYS wanted a white slipcovered sofa but I've been afraid with two small kiddos. But after a great discussion on Instagram (if you are having the same debate, this is a good thread to read), I decided to take the plunge and follow my vision.
And guess what? I'm so glad I did because it looks amazing. I went with the Baldwin Slipcovered Sofa from Arhaus. I custom ordered it in Daryl White. I haven't had to wash the cover yet, but it looks really easy.
I've seen a lot of white deer heads, but I haven't seen very many aluminum ones. I just feel in love with this little guy and had to have him in this space. I thought it picked up some of the shiny surfaces from our kitchen and helped blend the rooms together.
What is it with men and recliners? I admit, they are pretty comfy but I find it a little humorous that every guy wants one, including my husband. He's asked me for a recliner for years. First of all, it wouldn't have fit in our old house and second, I've never really found one that I liked and didn't look like it came from the 80's. Until I laid yes on this beautiful worn leather recliner. The leather is so soft and has a beautiful naturally worn look to it. And you all know I'm obsessed with nailhead furniture so that was a given.  This was a win/win for both of us.
And yes, my husband sits in his 'man chair' every night when we get a little TV time :)
To really bring in my love of rustic industrial decor I went with a Factory Cart Coffee Table.  This is one of my favorite pieces that we put in our family room. This is one well made piece of furniture. It is extremely sturdy and HEAVY! I actually can't move it myself ;)
I'm a firm believer that you can completely change the look and feel of a room simply with the accessories. I wanted to add more industrial pieces to the room and I found this really unique cake stand at a local antique store. I though it was so different and interesting.
This side table has a really fun feature, it's actually completely functional. You can spin the wheel and adjust the height. At the max height, it can also work as a small bistro table. (Frame from Nate Berkus at Target, coasters from HomeGoods)
I've had a specific vision for this space and was having a hard time finding pillows that I liked. I eventually broke down and went on a pillow making spree (which is that I should have done in the first place). This criss cross pillow is my favorite!
I'm really happy with how this space is coming together. I'm still working on finding the perfect blend of styles but it's getting there. I have so much more to share in upcoming weeks.
SHOP THIS ROOM:
DECOR
– Cloche
– Faux Fur Pillow from World Market (Not available online)
*Some items from this post were provided to me for review. This post also includes affiliate links.