Disclosure: This post is sponsored by Overstock. All opinions and creative ideas are my own.
It's time to bundle up and take a trip outside! Every year I like to give our outdoor living space a little festive cheer and it's time for the big reveal this year. No matter how much it's raining or snowing (I can dream) outside in the winter, this space always remains such a great place for entertaining. During these months we have to bundle up a little more out here, but it's still fun to sit by the fire. I partnered with Overstock to create this Cozy Christmas Outdoor Living Space!
Come take a peek!
Cozy Christmas Outdoor Living Space
Black , White and Red Christmas Pillows
Our stone fire place already gives this an outdoorsy vibe so I went off of that and created a chic cabin look out here. The first thing I did was add a little plaid, and these black and red plaid pillows hit the spot. I love that they are double sided with a cozy cream sherpa material.
Next, I add these more modern/contemporary black and white Christmas pillows to balance it out. The Merry Christmas pillow and hand drawn trees make a great pair :)

You may recognize the adorable black bear pillows as I 'borrowed' them from my son's big boy room earlier this fall. I always like  moving things around for the holidays to maximize what I have as well!
Oversized Outdoor Pots
The second I saw these hammered metal planters I knew I had to have them! I love hammered metal, it can go with so many different looks. They definitely gives this cozy cabin space a more modern and contemporary vibe. I filled them with winter greens and birch wood and I love how they will transition into every season by simple changing out the fillers. There is also one other larger planter that comes with the set, but it's so large I could actually fit in it! So I'll save that for another display.
Pops of Red For Christmas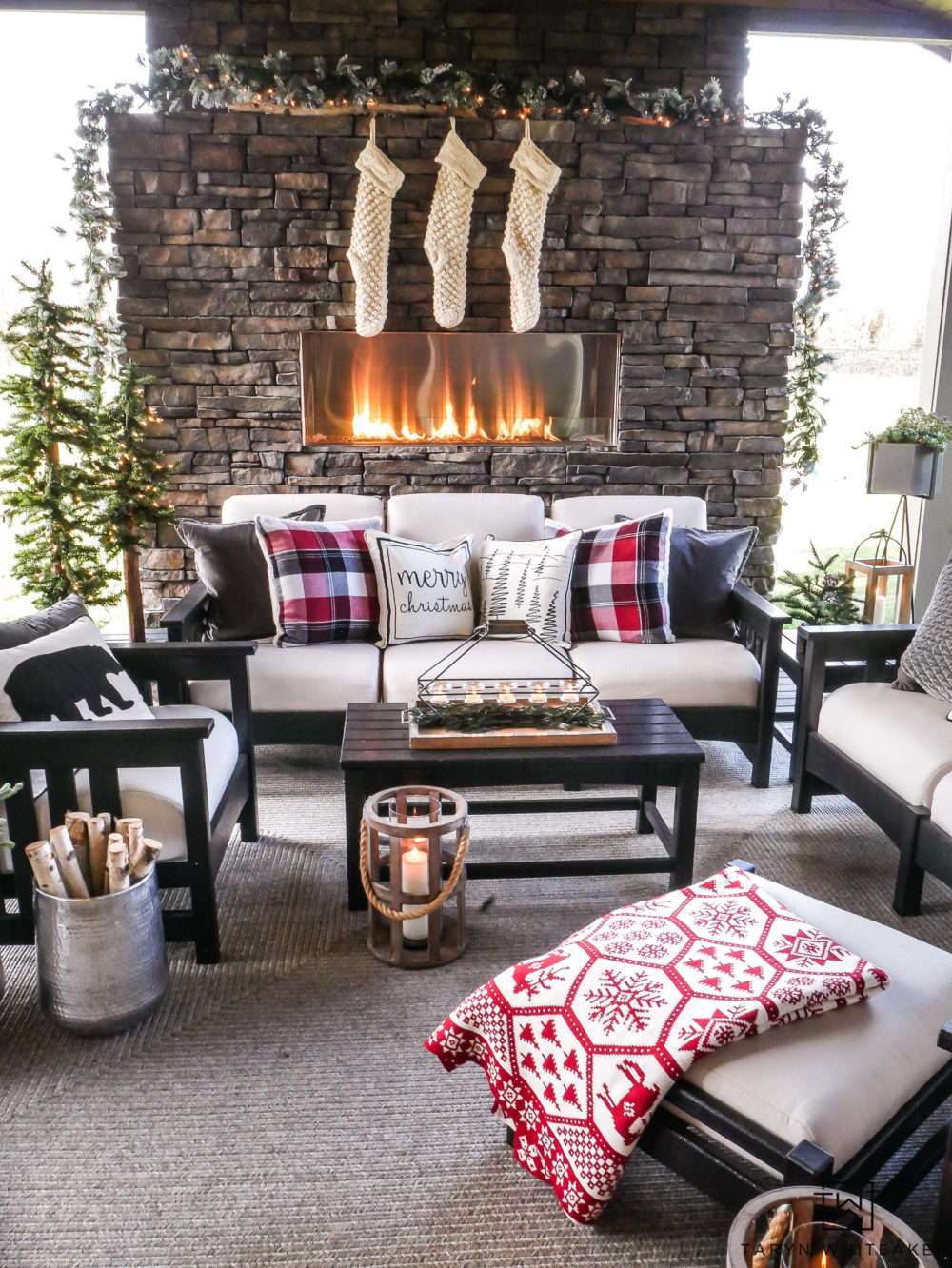 My theme for Christmas this year as been black and white with pops of red and green. I like to stick to my decorating style even during the holidays but also add in a few pops of festive cheer. In this space, I brought in my few pops of red with the plaid pillows and the nordic Christmas blanket. I love this blanket so much!

Rustic Industrial Candle Holder
I'm all about adding candles wherever I can during the holidays. The lights and glistening candles make every space during the holidays feel so warm and welcoming and just plain magical. I brought in this industrial metal candle holder with tea lights. I love how you can add various greenery and fillers to the bottom and switch them out for different holidays and seasons!
SO pretty!
Christmas Garland and Trees
And you of course need a little bit of greenery when decorating for the holidays! I added TWO strands of this 9ft pre-lit flocked holiday garland over the fireplace along with this little set of three pre-lit Apline trees for a very mountain vibe.
Now, shhhhhhh…. no one tell my kids I'm out here relaxing and enjoying some quiet ;)
Here are all the links you need to add some of these fun holiday decor elements into your own home this year!
SHOP THIS SPACE!