Valentine's Day is next week! We don't do a lot of decorating or anything huge for Valentine's Day but it's always fun to put together a cute classy Valentine's Day Table Decor for dinner or even lunch with some girlfriends. You can't go wrong with red roses and candle light. Today is all about pretty pictures and showing you how easy it is to add some sweet and simple Valentine's Day decor.
Classy Valentine's Day Table Decor
Why is it that twinkling lights always make everything feel so magical? Valentine's Day doesn't always have to be about romance, it can be about having a fun special evening with the kids and making them feel special. Our kids love having these lights around the table!
Red roses are such a classic look this time of year. There was actually a time when I didn't like roses, can you believe that?! But I love how classic and timeless they are. I got these roses from The Bouqs Co. You can get 20% off your order using the code TARYNWHITEAKERDESIGNS20
These flowers alone make a stunning centerpiece. I added a linen table runner, battery operated baby lights, pink circle garland and some DIY heart cut outs. Oh and can't forget some candles! Sweet simple touches that anyone can do and most people can find them around the house.
Valentine's Day Place Settings
I added my normal rustic touch with my favorite wood rounds, simple light gray textured plates and a blush napkin.
The gold flatware add a bit of a whimsical look with the little place setting cards. These little pocket cards are a great place to hide a little note saying what you love about the person sitting there or use them as place cards.
That table glow though!
To give the table some balance, I added a few mini vases with a few rose stems.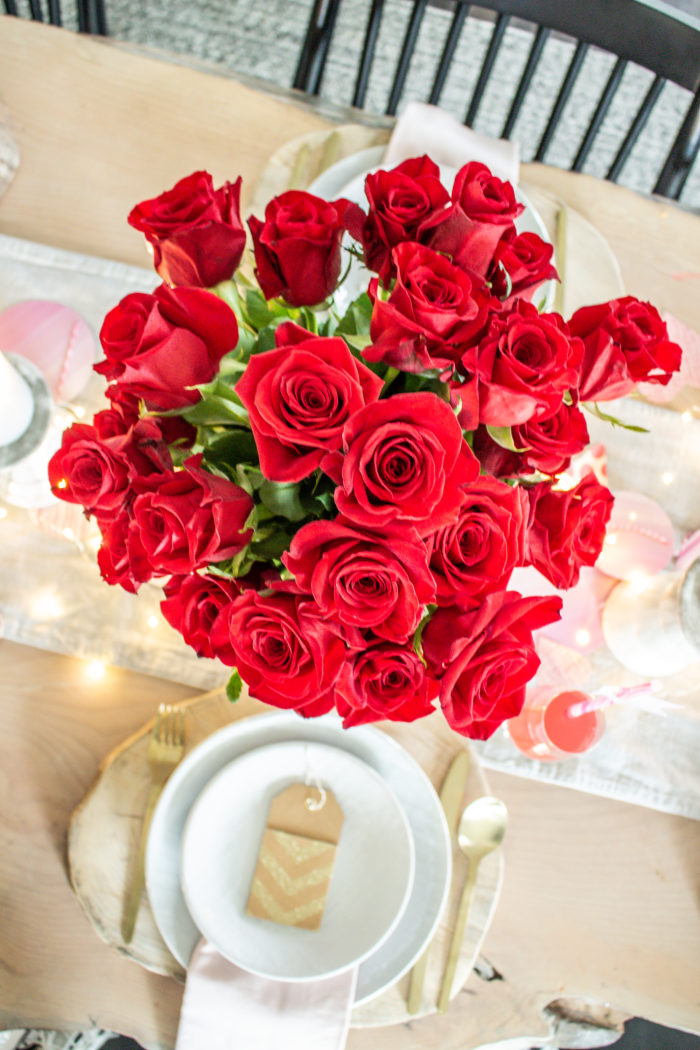 Hope you all have a wonderful Valentine's Day next week! This will probably be my only post on the holiday this year. It was nice to take a quick break from renovation work for something simple like this :)
MORE VALENTINE'S DAY DECOR