Disclosure: This post is in partnership with Prospect + Vine. All opinions are 100% my own. 
I'm so excited about today's post! When we found out baby #3 was on the way, one of my goals was to turn the kids' ginormous playroom into more of a bonus room that the whole family can enjoy. I wanted a space where we could watch family movies and my husband and I would have actually have a place to sit while the kids play. Now that baby is 2 weeks old, I am SO glad I took this project on because we have basically been living in this room!
If you follow me on Instagram, you may remember a sneak peek of this space right when we got the couch. I love seeing how a space can completely transform just by adding a few statement pieces like these amazing side tables and coffee table and a few accessories.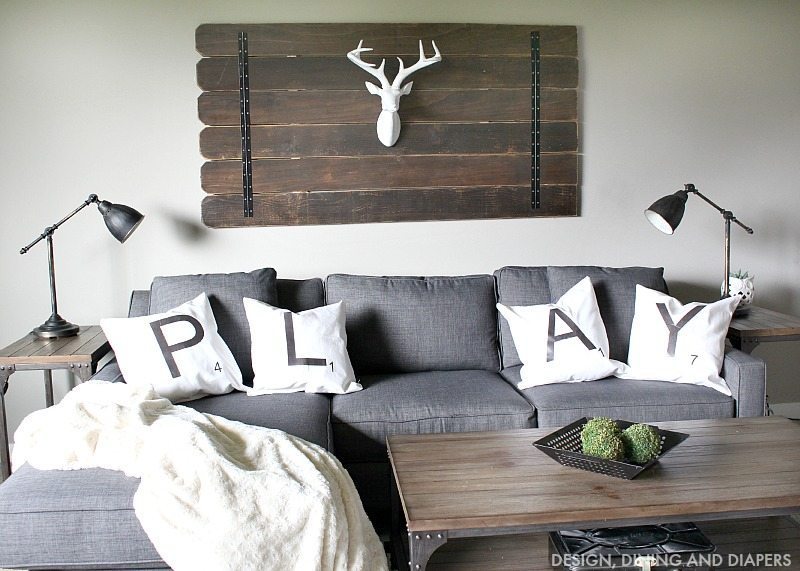 While I want every room in our home to reflect our style, this is still technically is the kids' playroom and I wanted to make sure I added a few playful elements like these PLAY scrabble tile pillows. I had a vision and I'm so happy with how it turned out.
I made the pillows using white duck cloth and I heat transferred the images on them. They were super easy to make and I love the bold statement they give the space. (and ps. don't worry the kid's have taken over the rest of the room with toys, I'll be sharing more on that later).
Are you in love with this coffee table as much as me?! I was so excited when I found this piece on Prospect + Vine, it's the Sedona Coffee Table and it's exactly what I had in mind for this space! I could not be happier with this piece (along with the side tables).
My husband took a week off after we had the baby and after a day of running around to dr. appointments I came home to find all the furniture put together for this room. Major husband points, he knows I love surprises especially thins kind! All this to say… My husband is extremely picky when it comes to furniture and he was really impressed with these pieces from P +V. They were easy to assemble and are very high quality. They are sturdy, well made and pieces that we know we will have for a long time!
These Sedona Side Tables are the perfect size. They work great for a sectional or even night stands!
I'm so excited with how this space is coming together! The next step is to come up with a visually appealing way to store all the kids' toys and put up window treatments! More on this room to come…