It's time to kick off one of the first big projects of this year! I shared my project goals for 2021 last week and it feels good to finally get started. First up is gathering some modern neutral bathroom ideas and then I'll start to put together my design boards.
The bathroom I'm tackling this year is the full bath connected to my son's room and accessible from the hallway. I gave it a mini makeover a few years back to add a little character to it, but now it's time to fully gut it and make it my own!
Modern Neutral Bathroom Ideas
This bathroom is currently my son's but we are getting ready to move my daughter into his room so she can have her own bathroom! With that said, I'm having her help me with the design and I'm letting her give input on this. Which I really enjoy, but it's not just my opinion on this one :)
Black and Neutral Bathroom Designs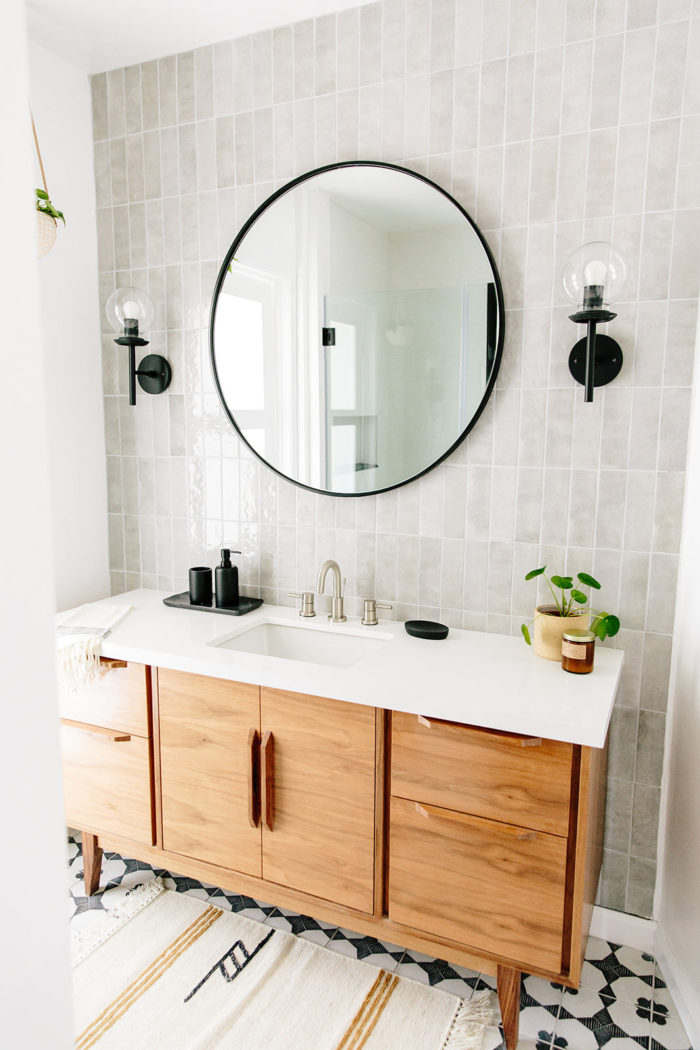 I really love this elegant mid-century modern bathroom from A Naber Design! I'm really drawn to the warmer tile tones and the gorgeous wood vanity. I know for sure I want to incorporate a free standing vanity in the bathroom, this one is so pretty.
I had my daughter look through all the inspiration pics and she actually picked this one as her fav! So that means it's high up on the list right now!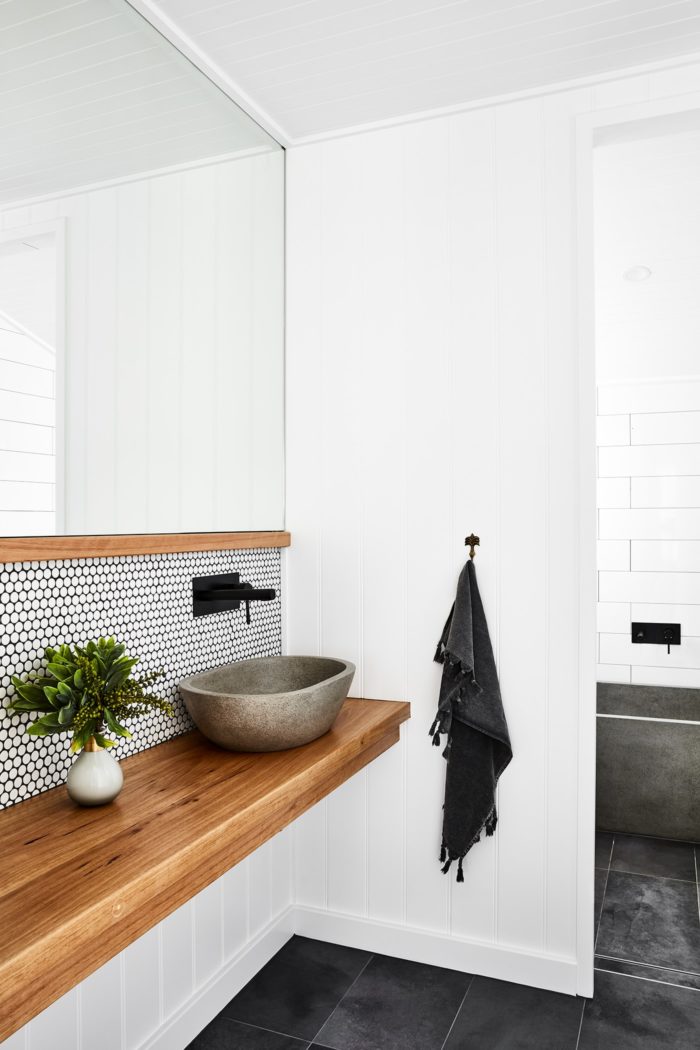 This really modern and minimalistic bathroom from Adore Mag is so cool. I love the concrete vessel sink and the tub. The wood accents are perfect, just enough to add some warmth.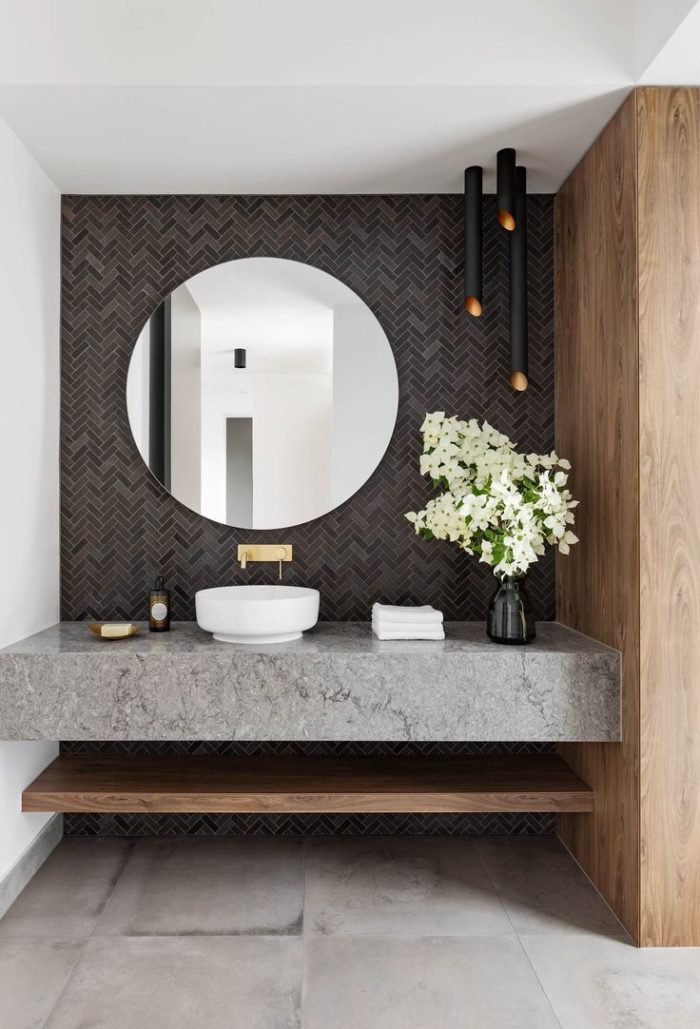 I was instantly drawn to this bathroom but I don't think it's the best look for our bathroom space/layout. I am really enjoying the warmer tones with the darker backsplash. It's so earthy and elegant. Source Unknown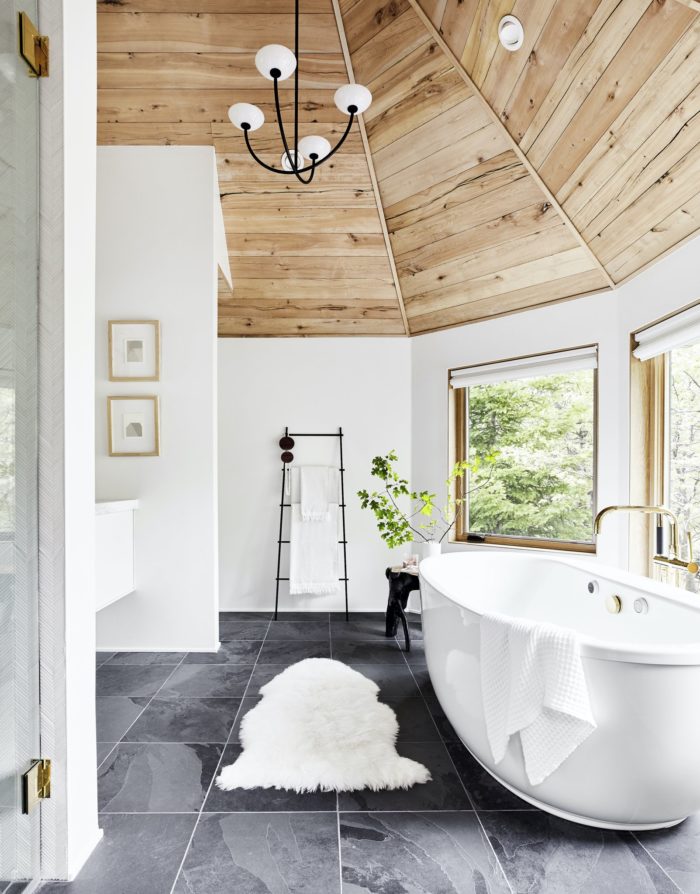 Ok let's talk about this incredible bathroom from Cle Tile . You can head to their site to take a full tour and it's amazing. I like the darker charcoal flooring with the bright white walls and fixtures and then that ceiling! Oh that ceiling, this makes me want to do a wood accent ceiling in this bathroom!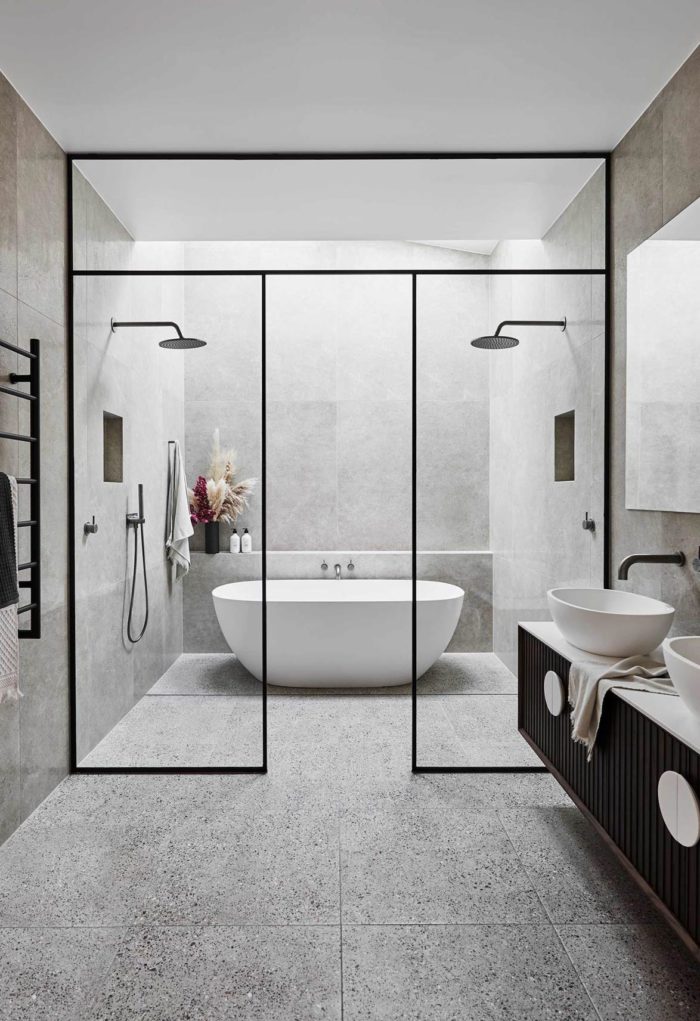 This bathroom from Homes To Love has me drooling! I know for sure I will do a black frame shower door so you are going to see a lot of that in the next few pics. Our bathroom is pretty small otherwise I would be itching to do the full shower doors and tub like this! It's amazing.
I found some concrete tile that I love that is really similar to this and it's definitely in the contender list for the flooring. I really love the full monochromatic look in here with the solid tile, but I don't think it's the right vibe for in here!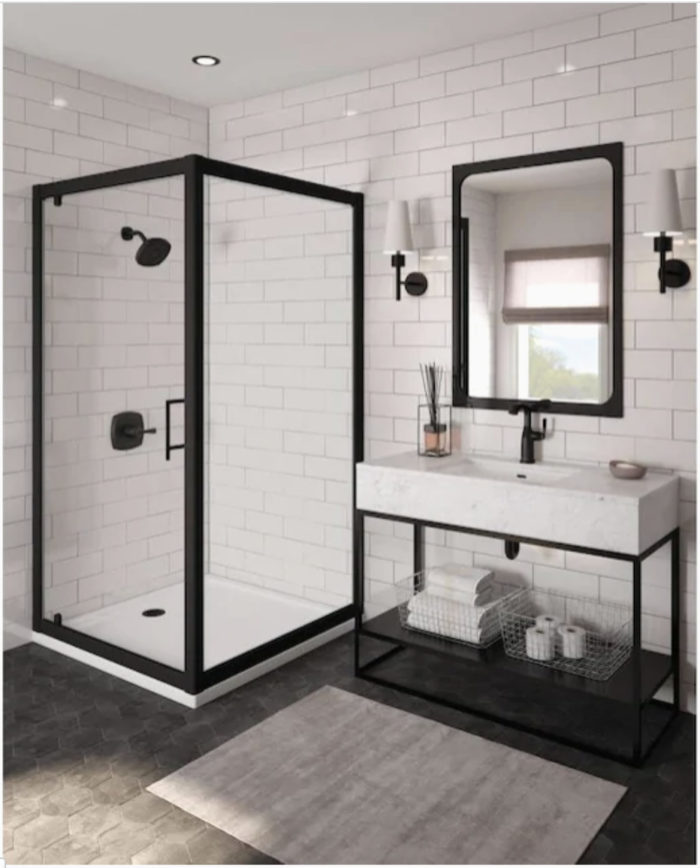 Hello gorgeous black and white bathroom from Delta at Lowes! This was my daughter's second favorite bathroom and I'm totally good with that! The darker flooring is really beautiful. I really like the open vanity style, but I need storage in this bathroom and I am envisioning all the hair and makeup products that are in my future with a teenage daughter so a full cabinet vanity is a must.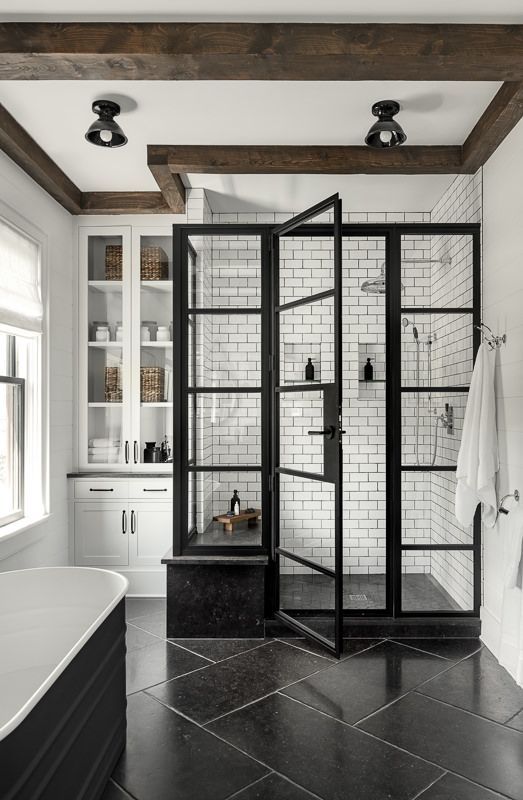 Another gorgeous black and white bathroom from Domino Mag. The one thing that stood out to me in this bathroom is the built-in seat in the shower. I always like this feature for shaving legs, so I think I'll add this feature into the bathroom design.
Ok how fun yet modern is this bathroom from Megan Rae Interiors? The plaid flooring, the accent stripes in the tile and that natural wood tone vanity. So much to love about this space.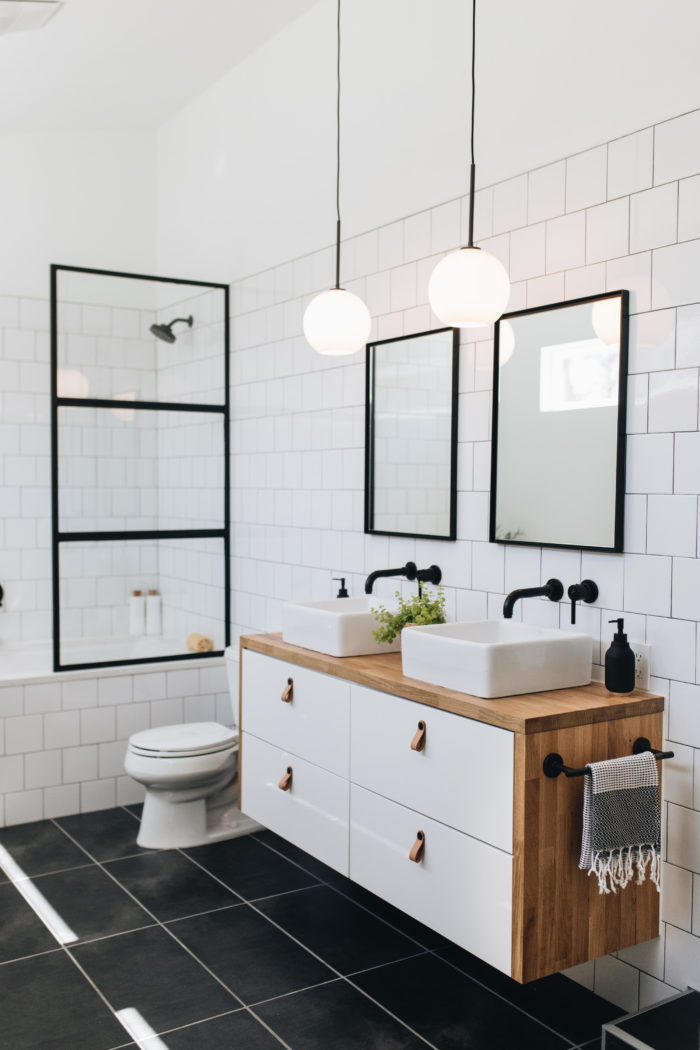 I keep leaning towards this style bathroom from Mountain Side Home . Can you tell? The gray flooring, white tile walls and wood vanity.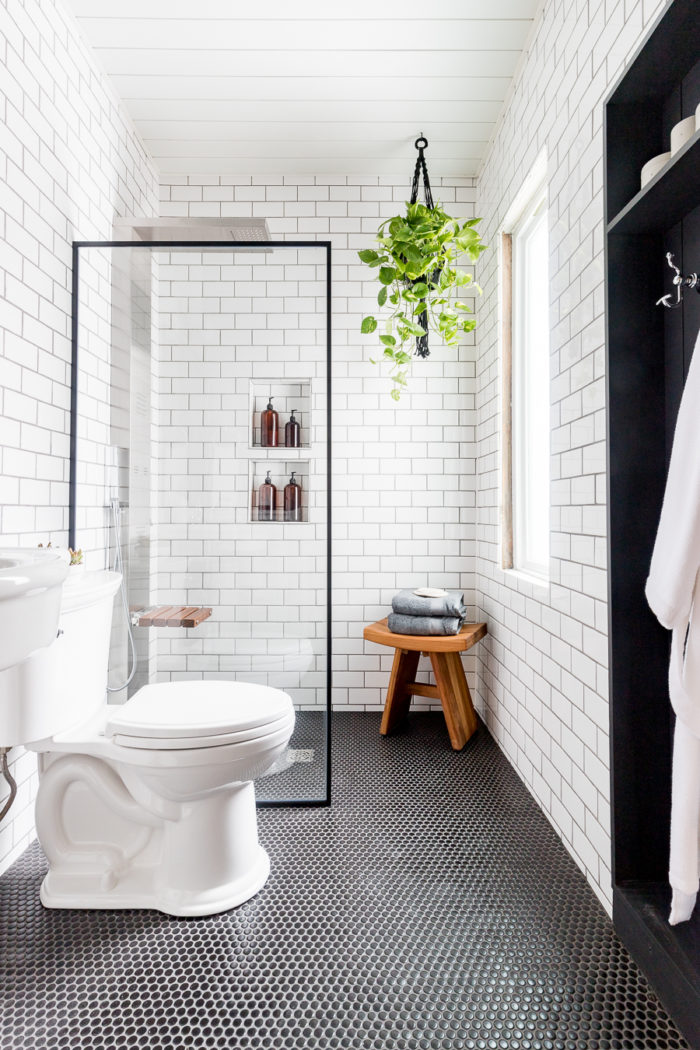 I will always love this bathroom from Cherished Bliss . She did an incredible makeover on this space and I love how the floor goes right into the shower. Such a great vibe in here.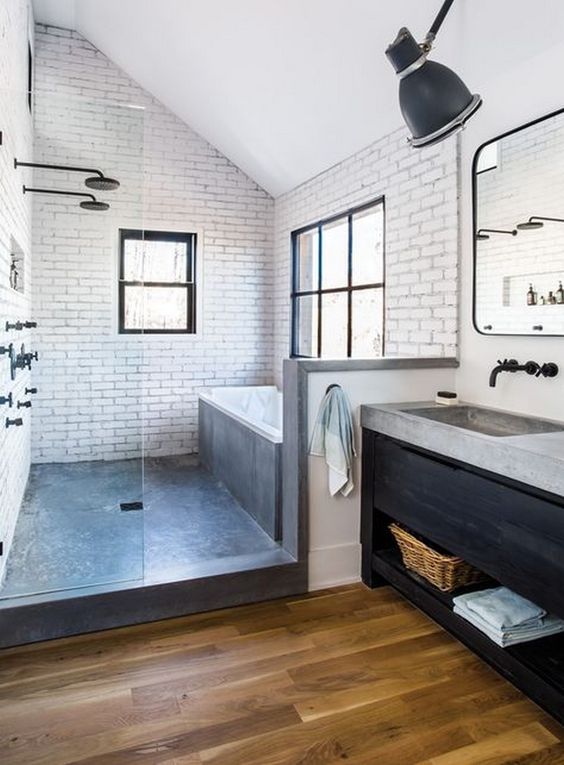 One last space! Black white with wood accents and a shower that could basically be a locker room! Pinterest
I'll be back to share a few different mood boards I'm putting together and see what we land on! Which look is your fav?