We've lived in our home for over two years now and sadly our master bedroom is still a little underwhelming. For one reason or another, I've spent my time finishing every room in the house BUT ours. I'm at the point where I'm ready to turn it into a retreat for us and I'm starting with a Cozy Master Bedroom Reading Nook! I worked with Better Homes and Gardens at Walmart on this post and I'm really happy with how it turned out.
I feel like every time I start to work on our room (again), I tweak it and go in a slightly different direction. But now I feel like I'm ready to really tackle some big ideas in here and really get the ball rolling! This little corner adds such a warmth to our room. It went from sterile and boring corner, to a great space to cuddle up in.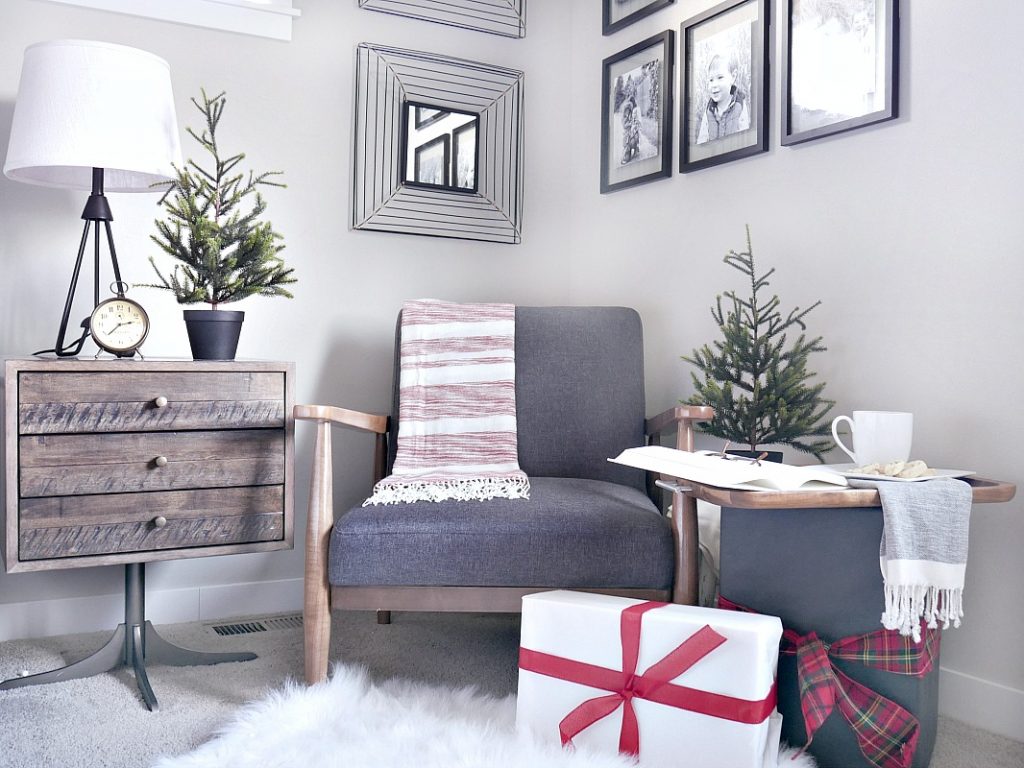 I get a little smile on my face every time I walk into this room. I love seeing all the pieces slowly start to fall into place and see this room transition into a retreat for us. I spotted this Mid-Mod Chair at Walmart of all places and I loved the clean mid-mod lines and the mix of gray and the wood. I thought it would be a great starting point in this corner.
I found these Black Wire Mirrors that are only $20 each (what?!?!). I loved the unique industrial look that they have. They felt very Fixer Upper to me (or maybe I'm just hoping ha!).
Here is a peek at the room before. Just a blank space that needed to be filled.
And now it's nice and cozy!
One thing I've been trying to do is incorporate more family photos into our home. I feel like recently I've been feeling like time is just going by way too fast. Every time I look at my kids I feel like they look so much older. It really is going by so fast. So I decided to have a few of my favorite pictures printed and put up in our room. I framed them in these sleek Float Picture Frames . Love falling asleep looking at these faces.
I have some really big plans for this room and after the new year I am diving into making this a true dream bedroom for us.

Black Wire Mirrors : Mid-Mod Chair : Wood Tray : Red and Cream Throw : Float Picture Frames

Follow Better Homes and Gardens Live Better Network on Facebook : Instagram : Twitter: Pinterest