Holy cow you guys! I can't believe this is actually happening! Just 6 weeks ago, I had no idea this kitchen was going to transform as much as it has. I started this kitchen makeover with the idea that I would update the furniture, light fixtures and cabinet pulls. Simple updates that will make a big difference, and before I knew it we were taking down cabinets, knocking out the backsplash and installing all new open shelves. I feel like we have a brand new kitchen! Let's dive right into this black and white modern kitchen reveal! I still can't believe this happened. But that's what happens during the One Room Challenge!
Do you ever do a room makeover and when it's done you look back at the before photos and think, "Why didn't I do this a long time ago?" Yeah, that's how I'm feeling on this one. It feels so much more 'me' and I honestly feel way more at home, even though we have lived here for 5 years already. Are you ready?!?!?
Black and White Modern Kitchen Reveal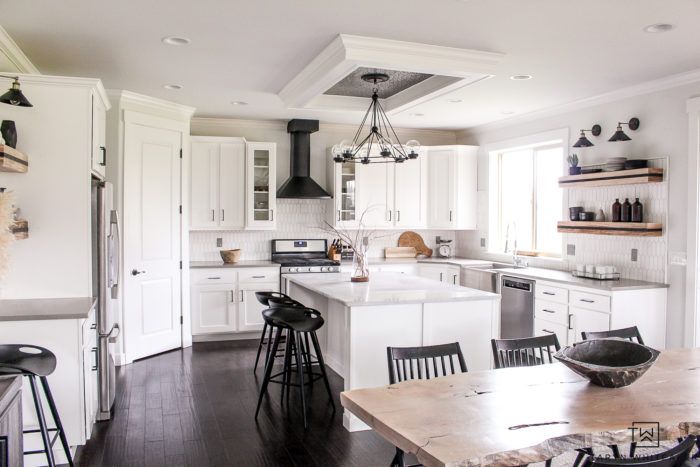 Like any renovation, it's been a process. Full of ups and down, unexpected hurdles and just a little bit of stress. But you guys, it was all worth it because I am in love with our 'new' kitchen!

Kitchen Before
Here is the very first photo of our kitchen that I posted on the blog. This was not too long after we moved in and in all honesty, I didn't change a thing in five years! I loved our kitchen, the size, layout and the white cabinets but I would have done so many things different if I designed it myself. A few years ago I wrote a post on What NOT To Do When Designing Your Kitchen, and I am excited to have finally changed a few of those thing.
During this kitchen refresh, my goal was to make a few, yet big, changes to this kitchen to really make it feel like us, to make it more modern, more our style and a space that I absolutely love. And that is what we did. There are still two more things I would like to do to make it even better, but those will have to wait.
The All White Kitchen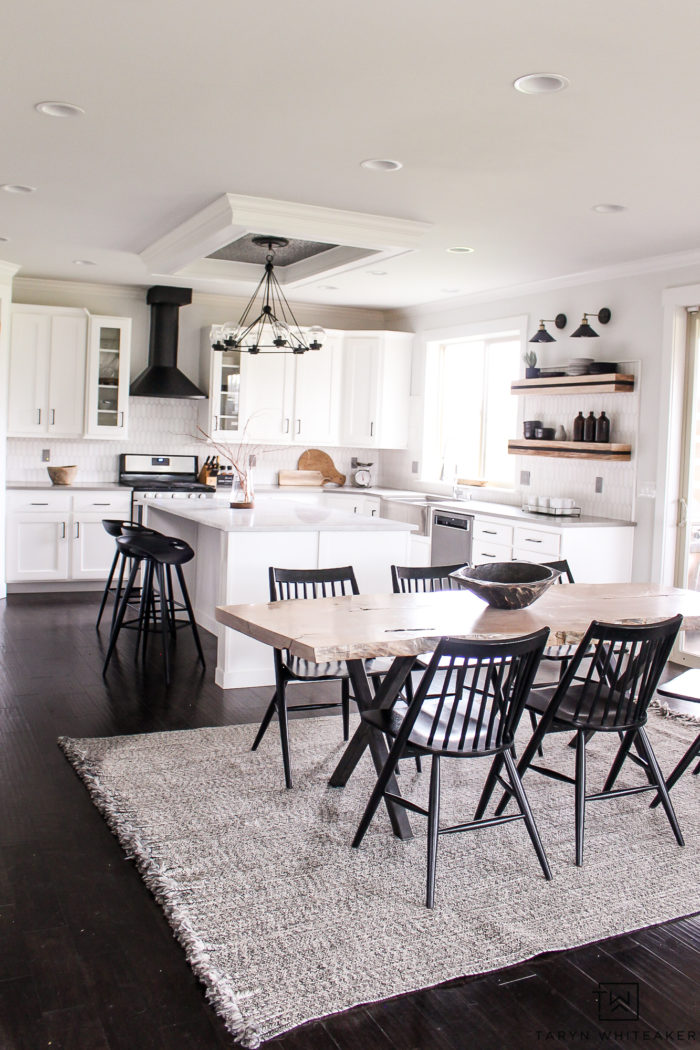 The good news, I didn't have to change the cabinets or the counter tops which are the most expensive part of the kitchen. I love the all white and the gray quartz countertops and the marble island. So that was a bonus. If I was designing this myself, I would have done European style cabinet doors, but I am not about to change these!
The one big change I did make to the cabinets was painting the island and the trim work above it! I have never been a huge fan of the manufactured dark walnut color, just not my personal style. I went back and forth on what color to paint everything and I decided on all white. I chose this because I wanted the contrast between the dark hardwoods and I use a lot of black accents that I wanted to pop.
If we had medium or light toned hardwoods, I for sure would have done a dark charcoal or even black island. But it just wasn't what I felt would look the best in this space.
We hired an awesome local company to professionally paint the island, trim piece above it and also touch up the cabinets on either side of the range and they were AMAZING. I was so in shock when I walked in the room, not even kidding I was completely speechless. It is amazing how much different this space feels with those two pieces painted white. If I didn't change anything else in this kitchen, but that it would still look completely different.

Open Shelving in The Kitchen
One of the things I love most in kitchen are open shelves. I think they create such a great open look and you can use them for decorative purposes or functional, or both! We are fortunate to have SO much cabinet space that we didn't need all of it. So I decided to remove the large cabinet to the left of our kitchen window and put in open shelves.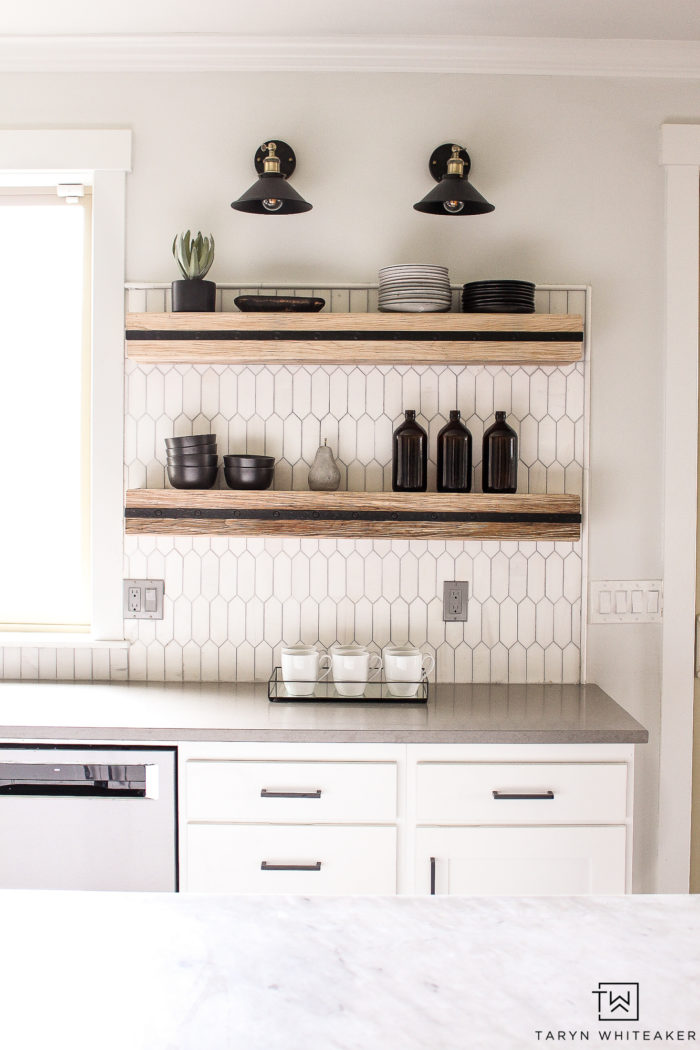 Since our downstairs is one big open space, I felt like that large cabinet blocked off that part of the kitchen and it made it feel very boxed in. I wanted to open up the space a bit and make the transition a little smoother.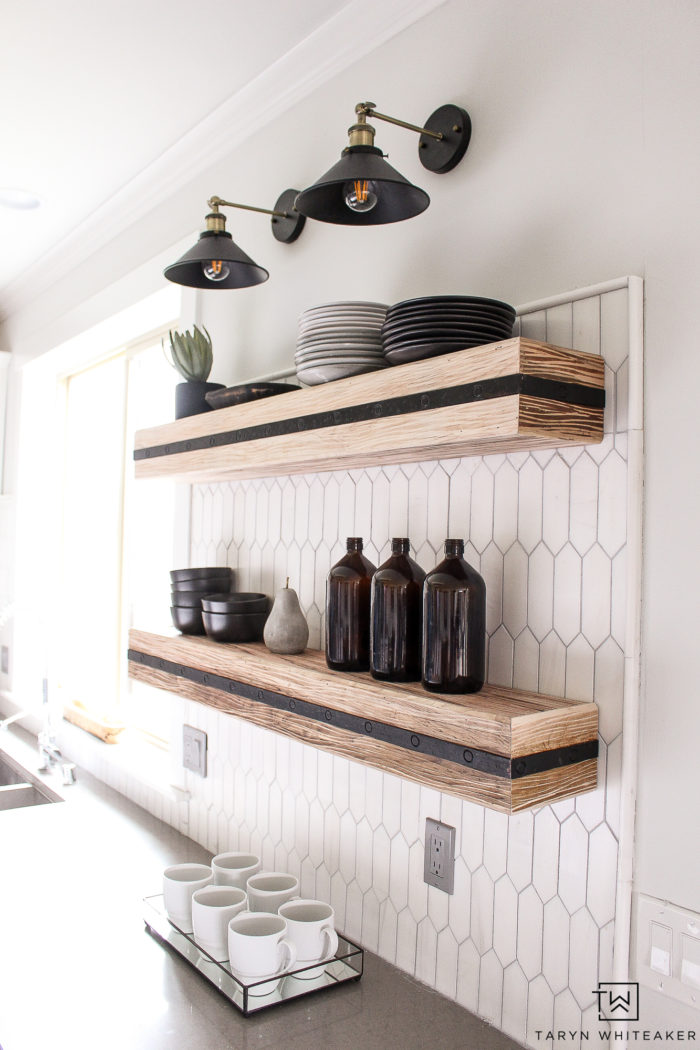 This was my big statement piece for the kitchen. I decided to bring the tile up 3/4 on the wall for a big impact. I love the look of a kitchen filled with gorgeous tile and open shelving. And these shelves, oh my goodness I am OBSESSED. I will be doing a full post on them soon, but they are from Ornamental Moulding and so gorgeous.

We already had open shelves on either side of our fridge, but I wanted them to match the style of the ones next to the window, so we knocked them out, tiled up the wall and added the new ones that I love so much. The wood really brings the perfect touch to this kitchen.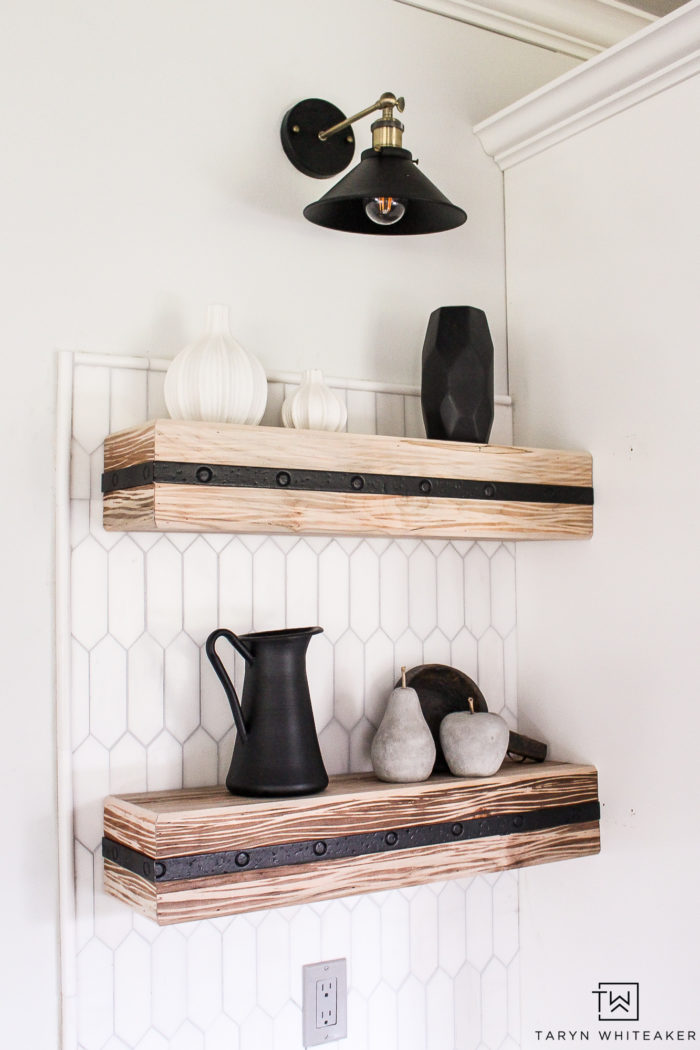 I love the look of sconces in the kitchen and had an electrician wire in spots for all new sconces above all the floating shelves. I love the impact they give the space. I found these black industrial scones for such a killer deal, you can click here for them!
Black Modern Range Hood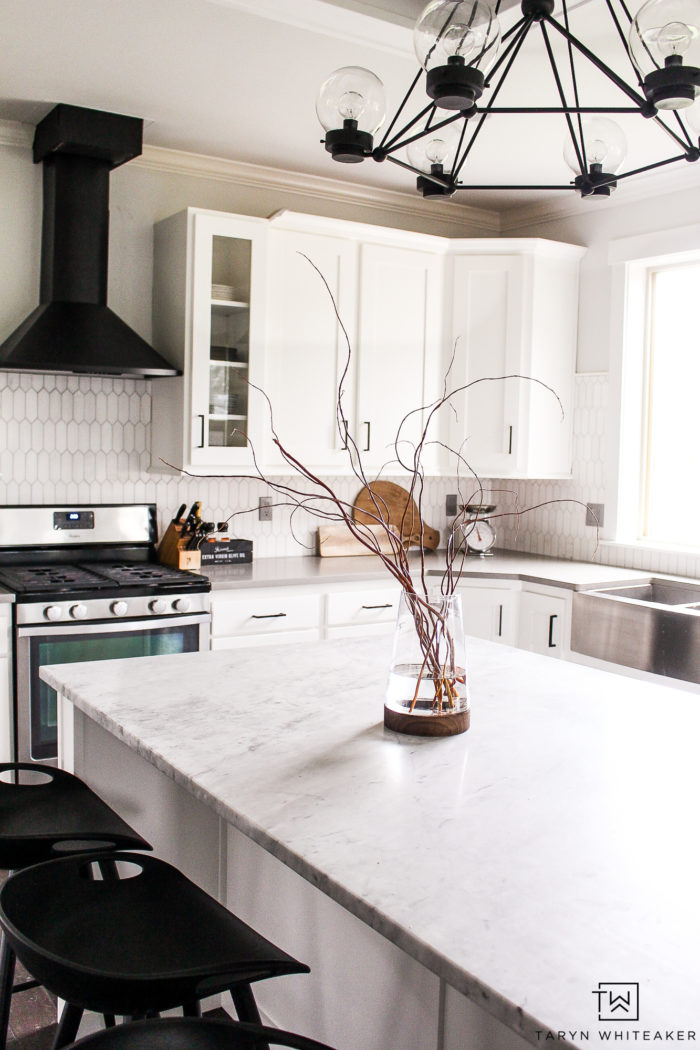 The other big piece to this kitchen remodel was removing the microwave above the range! This area turned into a total grease pit, it stained our cabinets yellow, it was so hard to keep clean and it was horrible. I hated it. Hate is a big word and I really don't like to use it, but that is how I feel about the microwave above the range.
I went with this black hood, it has a modern design and is pretty reasonably priced. The piece itself was actually really easy to install but alas, we ran into problems structurally. You might not notice unless I told you, but we had to build a custom box for the top to cover the vent system. We couldn't push the pipe all the way to the wall so we had to compromise. We still have some work to do on this part, but there will always be finishing touches to do!
Rustic Modern Kitchen Reveal
I will be sharing so much more about this space over the next couples of weeks, from the tile to decor and lighting but I couldn't wait to show you the whole space. I am so in love with how everything turned out. I wish you all could sit here and have a cup of coffee with me in here and experience it first hand!
This renovation turned into so much more than we ever planning on doing at this time, and not to mention super fast! But now that we have gotten this far, I have even more plans to reallllly finishing it off! I ran out of budget and time, but next up on the list are getting new black stainless steel appliances and extending the cabinets up to the ceiling to really complete the look.
Huge thanks to Overstock, Floor & Decor and Ornamental Moulding for helping make this space what it is! and I can't wait to dive into all the individual posts to spot light everything from the decor, tile and DIY Shelves!
If you want to see more of the progress, check out these posts: