Are you building a house soon or ready to take on that kitchen remodel? You will want to read these tips! I've been thinking about this post for a long time. It's one of those posts that isn't glamorous or full of pretty pictures. But it's something I thought you would appreciate and find useful if  you are renovating a kitchen or building a house. When we found our home almost 3 years ago, the builder had JUST finished it. Everything including the kitchen was 100% complete so we didn't have any say in the finishes or in the building plans. After living in this house for several years, there are a lot of things I would do differently if we were designing a kitchen ourselves. So here is my list of "What NOT To Do When Designing Your Kitchen ".
What NOT To Do When Designing Your Kitchen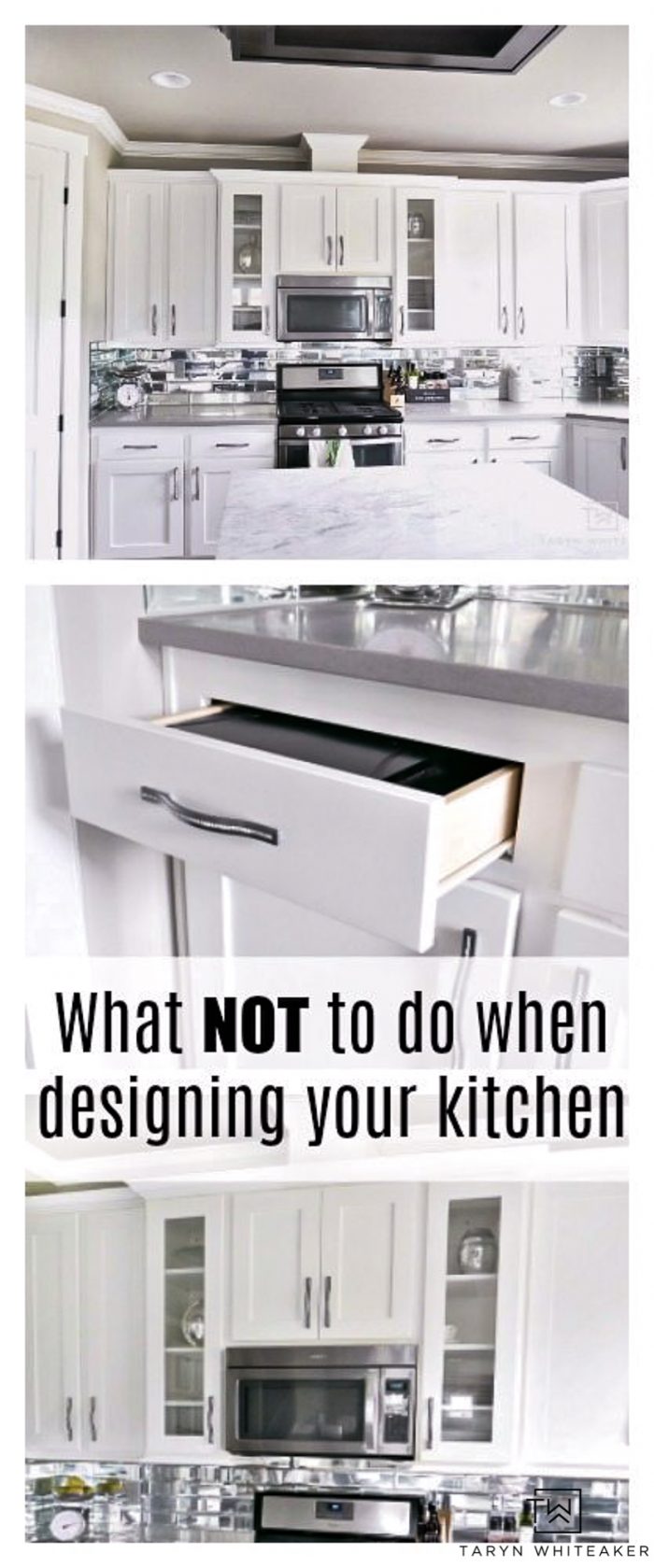 WHAT NOT TO DO WHEN DESIGNING YOUR KITCHEN
Bring your cabinets up to the ceiling
Now this is more of a design issue rather than a functional issue, but in our next home I would definitely take them up to the top, especially if you have taller ceilings to begin with. I think it makes the kitchen feel bigger, it gives you more storage space rather than having an awkward space above the cabinets and lastly, you don't have a space that collects dusts and kitchen oils.
Don't place your microwave over your range
This is one of my big ones for multiple reasons.  I would definitely build out a decorative hood over your range for both practical and design reasons. For starters, every time we use the range, because the microwave is stainless steel, the heat rises and the handle gets SO hot. So if you are cooking something and want to use the microwave, you almost can't touch the handle without getting burnt. Now from a design perspective, I think a beautiful hood over the range is the perfect design element to the kitchen. I really creates a big focal point. I've seen these done in stainless steel, reclaimed wood, and so many more styles.
Don't place cabinets too close to your range!
This issue will probably affect white cabinets more than any other color, but because our cabinets are directly above our range, they are actually starting to yellow from the oils, yuuuuuuck. Every. Single. Day. I have to wipe off  the cabinets above the microwave and the ledges of the lower cabinets and at this point they are actually starting to turn yellow. We will eventually have to have them repainted…. or better yet ripped out and we can put a big hood in :)
Don't cut corners, put soft closet drawers in
I really wish we had soft closing drawers. It seems to be the standard now, but we don't have them. With how much the kids seem to slam the cupboards and drawers, it would really help me from cringing every time I heard the sound!
Don't buy a standard fridge, buy the industrial fridge
We are fortunate to have a large kitchen and we totally have space for a larger, industrial size fridge. But they only left us room for a small standard size one. There is SO much extra space on the wall next to the fridge and I wish they would have bumped the kitchen out a little further to allow for more food space. I know not everyone is a family of five, and not everyone needs the extra space. But in my opinion, if you have the space go bigger. I don't think you would regret it, especially if you entertain a lot!
Double It – If you have the space, I highly recommend going for not 1 but 2 ovens, At least do a warming drawer. My mom has a set up like this as it is so convenient for holidays and large gatherings and it is amazing. It's so nice for cooking large meals and baking at the same time.
I hope you found some of these tips useful! What are some of the things you wish you would have done differently with your kitchen?SaveSaveSaveSave
Our Kitchen Updates
We have since done a small renovation to our kitchen to help solve some of these issues, it's at least a start! But I can't wait to design our dream kitchen in a future home…. one day.
SaveSave