I never thought I'd EVER be the person to have artificial trees in my home. I always thought they seemed to cheap, old fashion and well, just nothing I'd ever want to decorate with. Well, here we are and I now love them for many reasons, and I think they have come along way. Do I wish I had the ability to keep real plants alive? Yes. But in the mean time, I'm sharing the best artificial plants and trees that I use around my home, both inside and outside! These are all great quality and I'd recommend them for sure.
The Best Artificial Plants and Trees
I have purchased a lot of artificial plants over the years, some are a hit and some are definitely a miss. You really have to be careful that they don't look and feel like plastic.
Below are how I've styled these artificial plants and trees in my own home!
Artificial Trees In My Home
This little 4′ Pilea Plant is suitable for indoor OR outdoor. It just warns that it might fade in the direct sunlight over time. I have mine inside and use a little basket for the base. I think it's a great side for next to a bench, low sofa or small corner.
This tall 72″ Olive Tree is one of my absolute favs. I first had it in our living room in our Washington home and then bought more for this house. It's a great size for taller ceilings, I will even prop it up even taller with a box inside the basket. I love how whimsy it is, perfect to fill a corner without being over powering.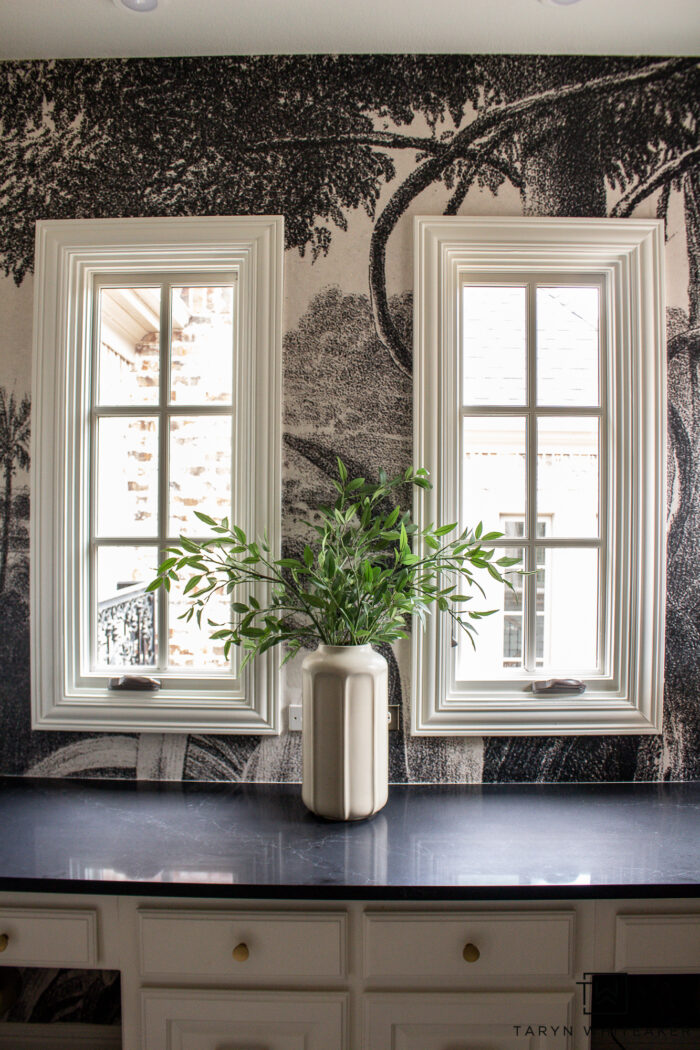 A bouquet of stems is always a good idea to finish off a space. It adds a natural element to the space and a pop of greenery in a neutral space like our homework nook. These Bamboo Stems look great and also flare really nicely.
Outdoor Artificial Trees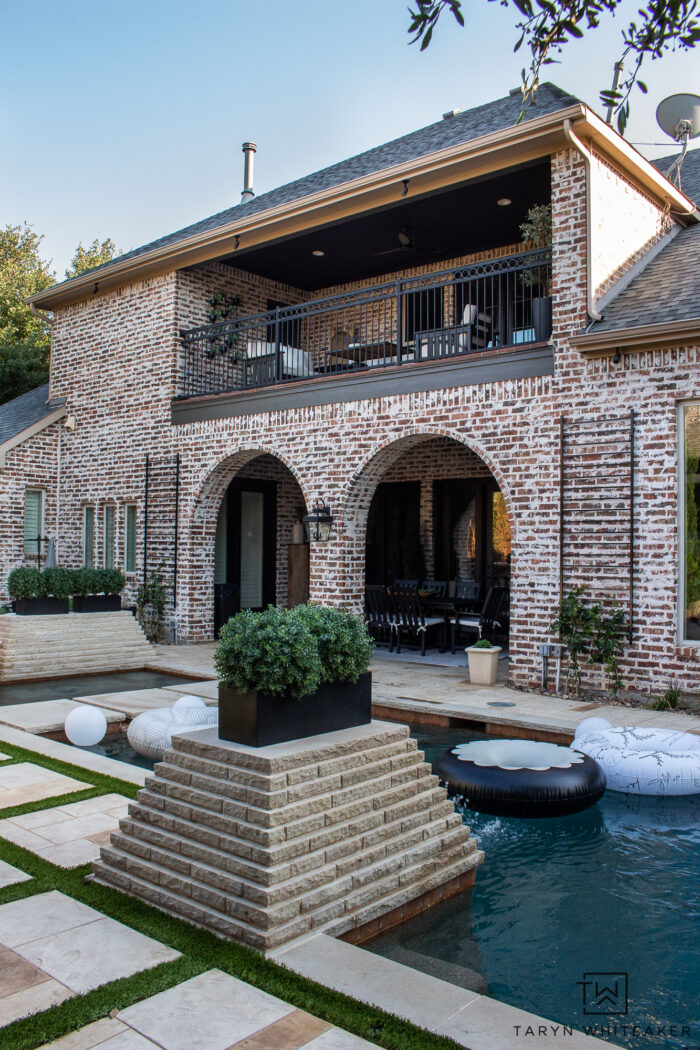 I don't have much of a green thumb, something I am very much still developing. ESPECIALLY moving to a totally different part of the country where it's HOT. I wanted to put plants on top of these pyramid fountains around our pool in our backyard but I didn't want a bunch of leaves falling into the pool and our sprinklers don't reach this area so I would have to remember to water them every few days. Which I don't gave a strong track record of doing.
SO I found these faux Boxwood Bushes and they are perfect! They look really good, the color is great and after about a year they still look perfect.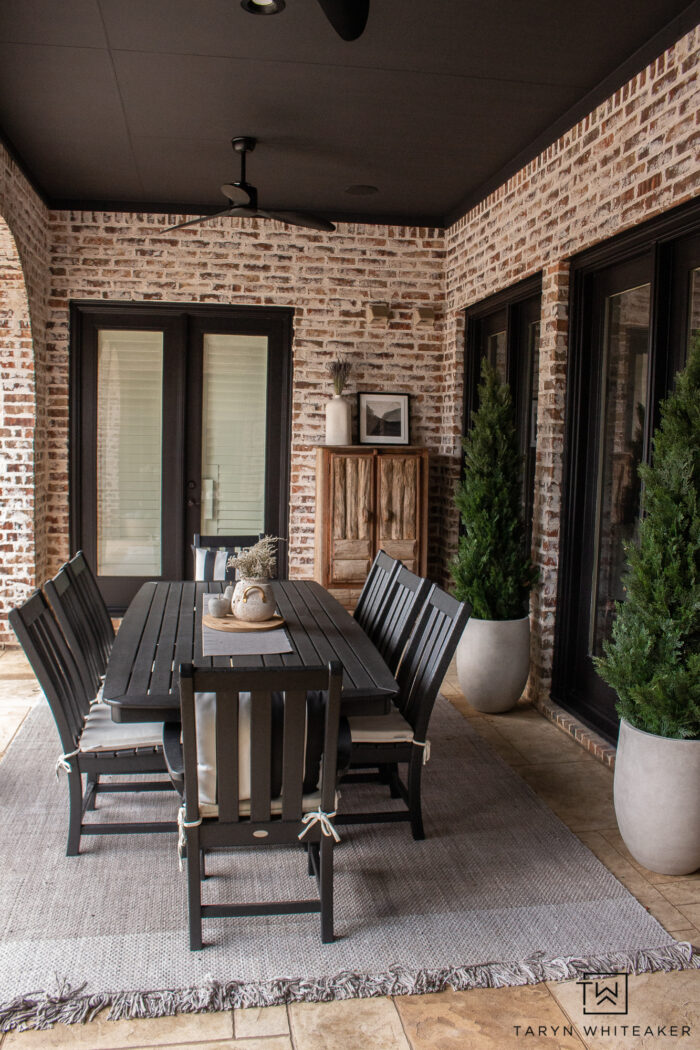 My absolute favorite artificial tree I've ever purchased are these faux Cedar Trees. They come in two different sizes, they look SO REAL. I loved them so much I bought them for two different outdoor living spaces. I have them back here in our outdoor dining area…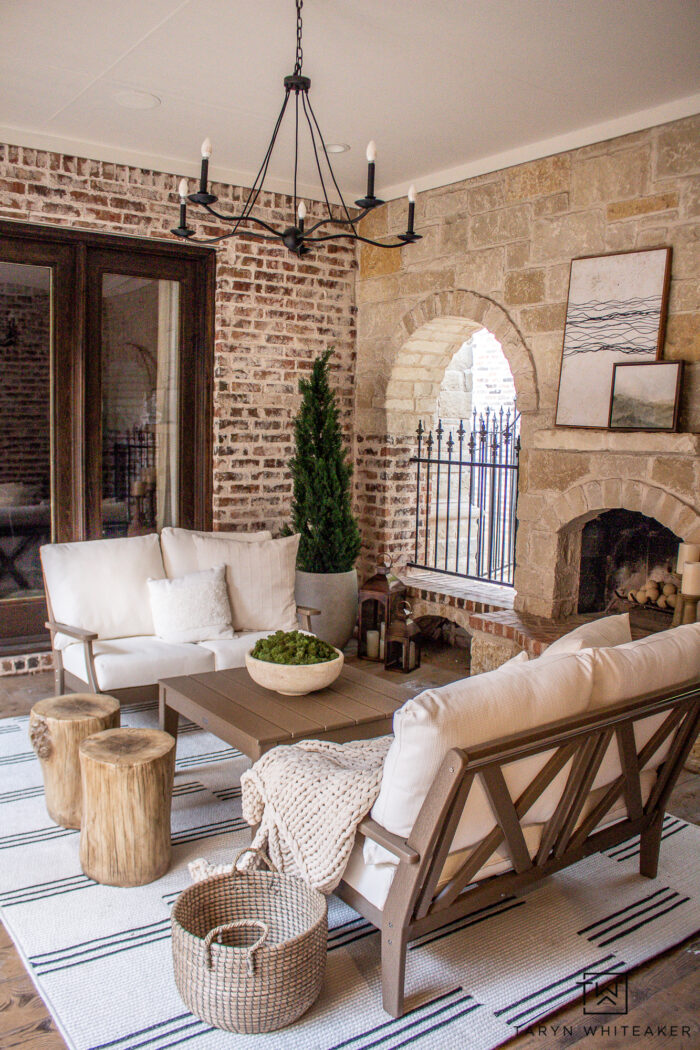 And in our cozy sitting area by the outdoor fireplace.
On our balcony I have the Olive Topiaries. I think the quality of these is great, I just don't know if it's my favorite style. But they come in the pots with the rocks on top. It's a full packaged deal.
Favorite Stores For Artificial Plants: