Disclaimer: This post is sponsored by Sconza Chocolates. All opinions and styling is my own.
Our weather this summer is leaving must to be desired but that doesn't mean we can't bring summer indoors! Maybe if the house is filled with summer vibes the weather will follow?! Today, I want to share some of my tips for decorating a summer table. I'm going to show you how I build my table designs, starting with my base decor and then adding pops of color and treats from Sconza Chocolates.
I put together two different Rustic Modern Summer Table Decor Ideas, one using bright tropical accents and the other more deep earth tones that can transition to fall. I'm curious to know your favorite look!
Rustic Modern Summer Table Decor
Find Your Design Base
First, you want to find your design base. My style is very neutral, a lot of black and white mixed with natural accents and earth tones. Then at the end I like to throw in a few pops of color and accessories to make the table feel welcoming and full of character.
For my table, I started with all my favorite neutral items. A soft linen table runner, black woven placemats, layered with these amazing wood slice chargers I recently found at a vintage market! Then I added my dishes and serving pieces. This sleek, modern table is ready for some pops of fun.
Add Color Accents
My next step is to decide what colors I want to use for my pops! This step will often change the design of the table, or I should say it can take it down a lot of different paths. I headed to my local farmers market and picked up a couple of bouquets of fresh farm flowers to play with. And since every table needs something sweet, I added a few bags of these decadent and luxurious Sconza Chocolates to add to each place setting.
If you love a good story, you should read how Sconza Chocolates got started. They are a family run business and have a beautiful story. In fact, they are celebrating their 80th anniversary! They are made in California and you can purchase them at select Costco Stores throughout the Pacific Northwest. So if you are in Washington, Oregon, Idaho or Alaska keep your eye out next time you are at Costco!
Black and White Rustic Summer Table With Pops of Purple
For this first table look, it embodies everything that I love. So much texture, rustic elements and pops of beautiful earth tones. It's sleek, simple and inviting.
I pulled all of the deep pink and purple flowers from the bouquets and layered them around the wood centerpiece for a very organic look. I completed the table with a deep red wine and rich chocolates!
At each place setting I added a small bowl of the chocolate covered nuts from Sconza Chocolates. They have a variety of choices from dark chocolate hazelnuts to chocolate coconut cashews. Guests can eat them as an appetizer, pallet cleanser or just a delicious dessert :)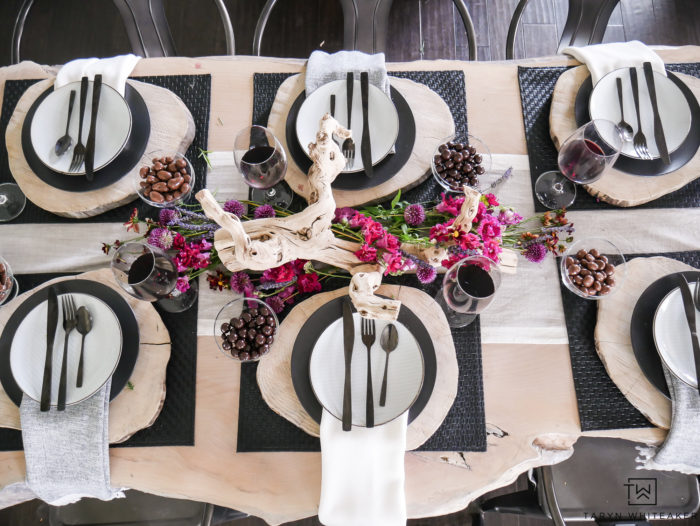 This table was relatively simple to put together. You just have to keep two things in mind 1) keep the color/style theme consistent and 2) layer, layer, layer.
These two things are what I focus on with all my table designs!
Fresh flowers are the easiest way to add a little color to a table while still painting a natural and organic feel to the display. Plus they make everything smell good!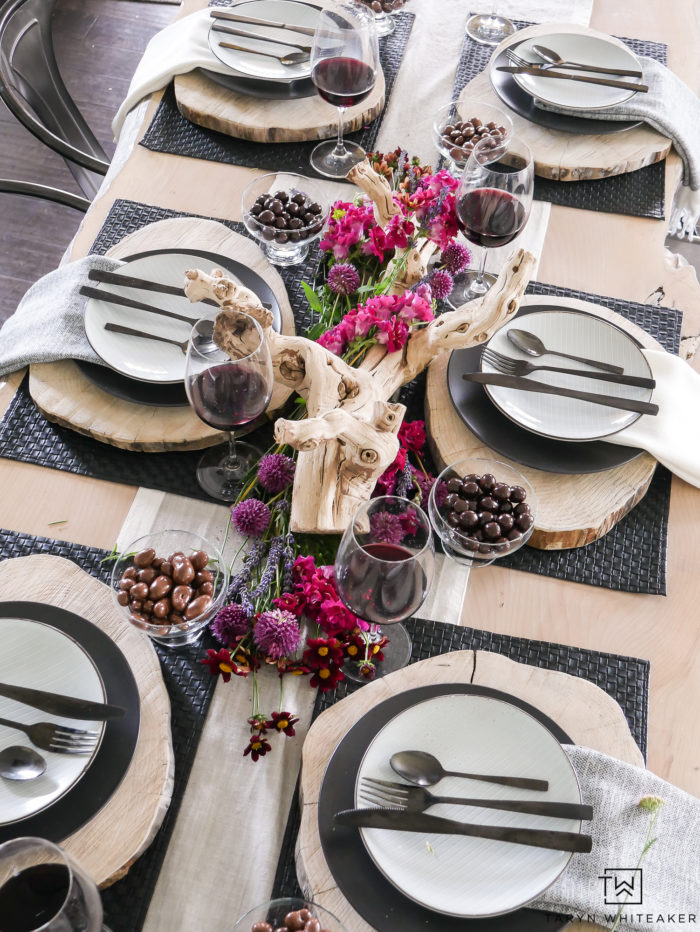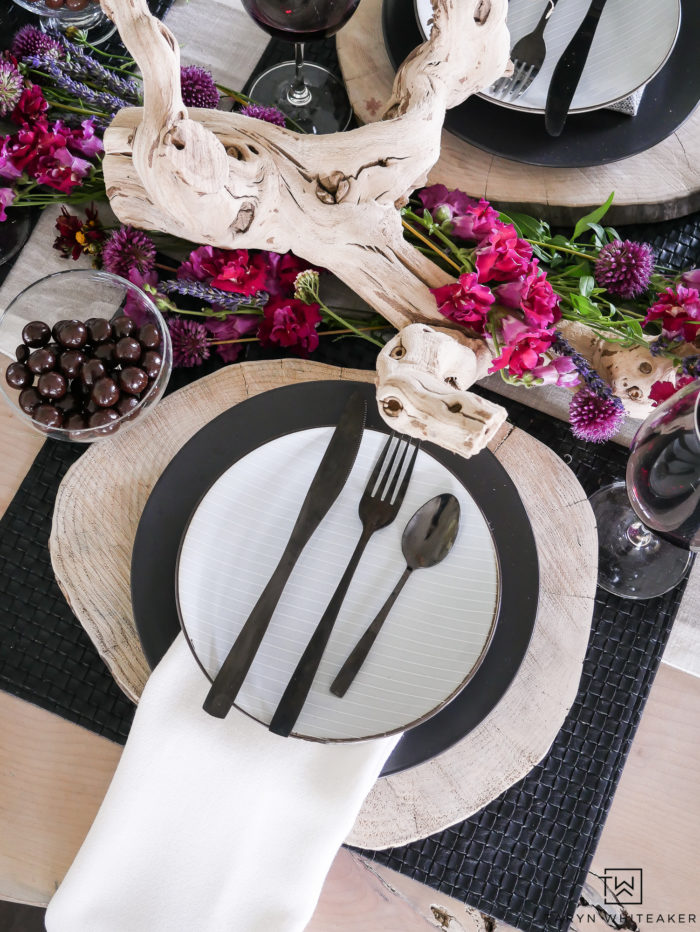 Modern Tropical Summer Table
Let's move onto the second summer table design! For this design I used the same neutral base and then added a more tropical look to it with different kinds of flowers and chocolates.
I went through the flower bouquets and pulled out all the tropical ferns and pink flowers. Then I worked them into the wood centerpiece.
Then, I added a soft rose´ and Lemoncello Almonds to each place setting. I love how the pop of yellow makes it feel even more tropical and summery.
This look would be great for a summer lunch or a modern Hawaiian themed party.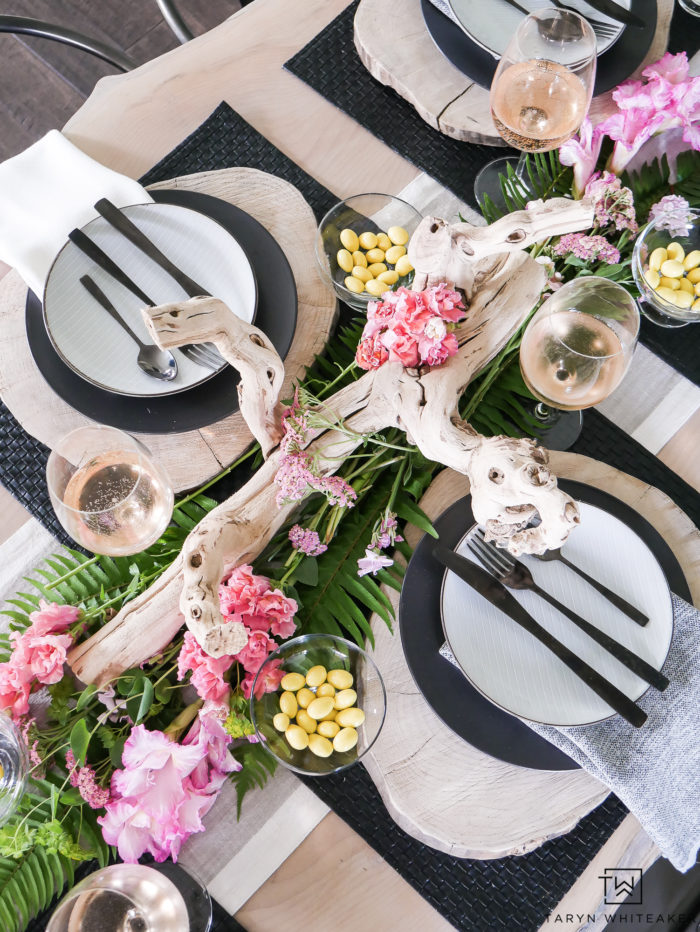 So which look is your favorite? The black and white with deep purple earth tones or the bright tropical look?
Can you guess which one is my favorite?
Hope you enjoyed some of these tips for decorating a summer table!
SCONZA CHOCOLATE GIVEAWAY
Now it's your turn to try these amazing chocolates! Enter to win your own Mix & Match Gift Box and try a few different flavors! You'll be ready for your next dinner party for sure.