It's home tour time! Not a day goes by where I don't move something around, tweak a display or completely update a space in our home. Especially when it's a new season! I've shared bits and pieces of our fall home with you this year, but now is the time to give you a full tour of how our home is currently decorated. So are you ready for my Rustic Modern Fall Home Tour?
I'm also partnering with 5 other bloggers today who are also sharing their home tours as well, At the end of my tour you will be able to click over and browse their homes.
Fall Home Tour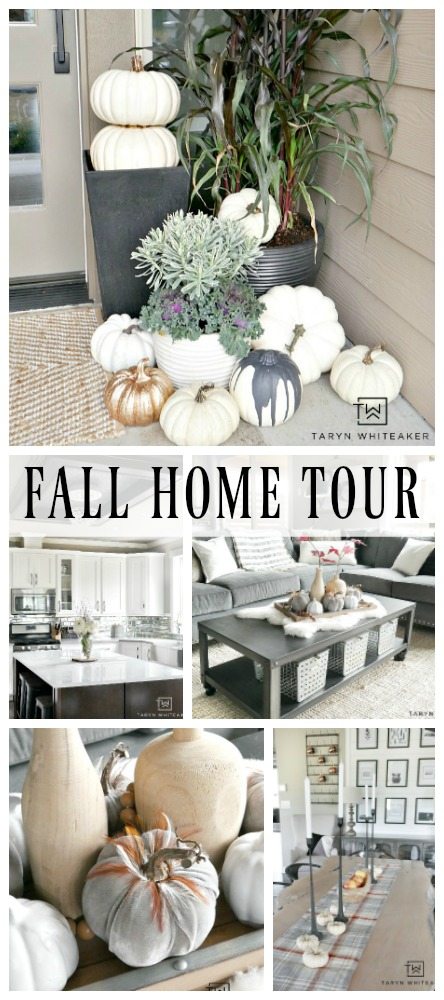 Fall Porch Decor
Decorating our porch is one of my favorite things to do each season. and I think fall is my favorite. A few weeks ago I shared our Elegant Fall Porch. I kept it simple and festive using millet grass and tons white pumpkins!

Fall Entry Way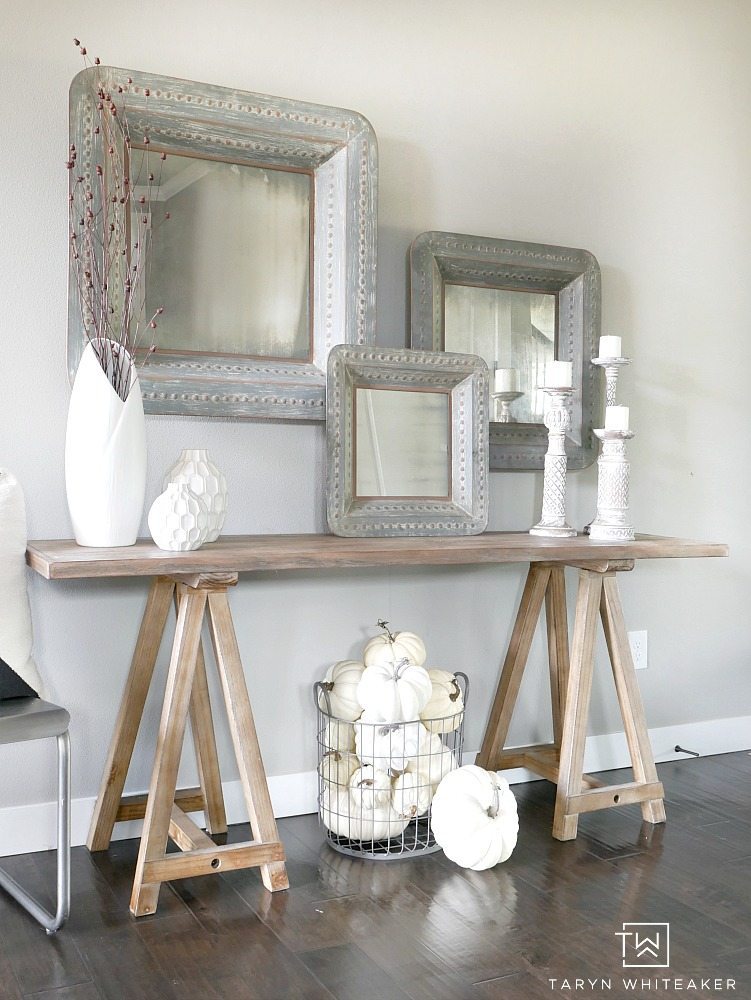 Let's step inside! Our entry way hasn't changed that much over the years. But the way it's set up makes it super easy to change the seasonal decor. Just switch the oversized palms for some earth tones branches and now it's ready for fall!
Fall Decor In The Family Room
Take a step down the hallway and into our main living space.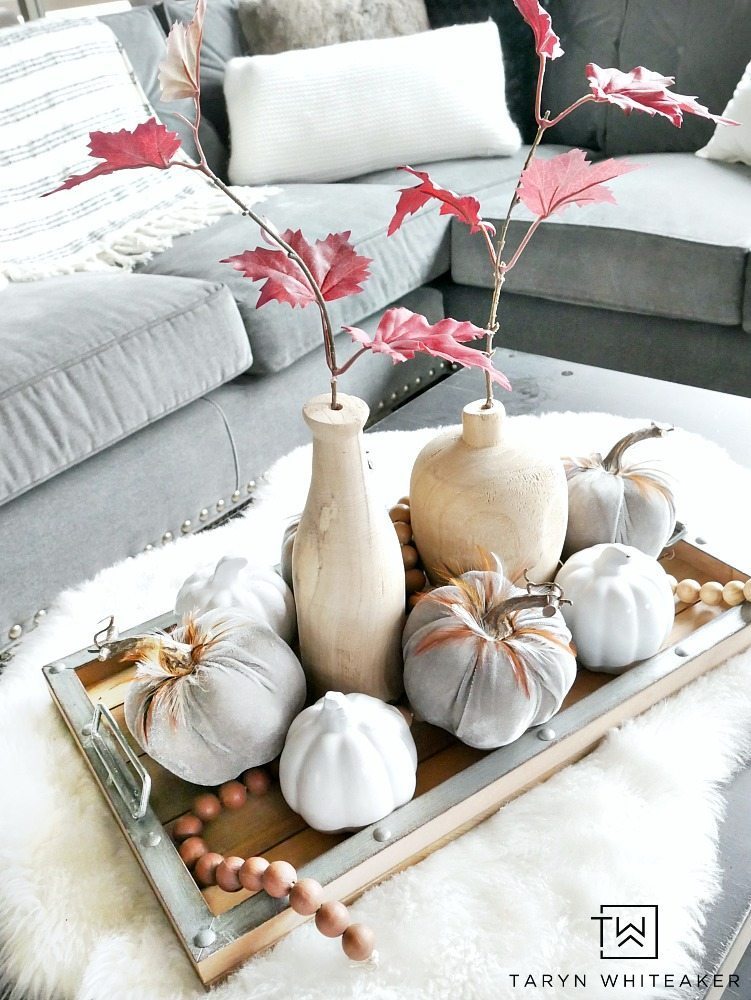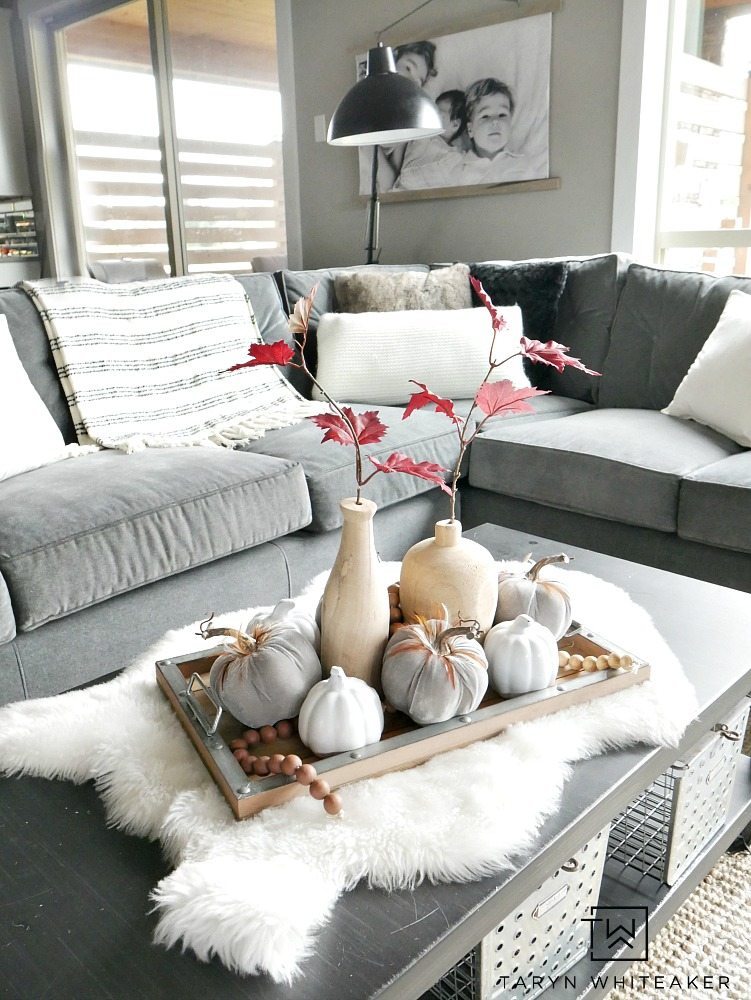 You may recognize some of this fall decor in this room, I gave you a peek at this fall centerpiece a few weeks ago, but I made a few tweaks to make it feel a little more like me.  I tried to add some succulents around my decor this year and some more boho touches, but I think I over did it at first. I think I was trying too hard to be trendy and lost my own personal design sense a little. I think it's fun to play around with different styles and trends, but it's also good to stay true to yourself and your own style.  I tried to add some pops of color in this room with a few new throw pillows, but I just couldn't do it!!! I tried. But at the end of the day, black and white will always win with me :)
Fall Mantel Decor
I found these cute little velvet pumpkins are Michaels this year and I loved the color and texture they add to the space! I have them tucked around various places. I ended up refining our original fall mantel as well. I had to take down our fall decor for a separate project and when I saw it all clean and more minimalistic, I knew I wanted to simplify our fall mantel. I took down the million little pumpkins and succulents and just made it cleaner. Sometimes less really is more and that is really true for most of my decorating.
But what you will find this season are tiny pops of deep red and earth tones! I generally don't do a lot of color, but these maple leaves add a little color and some texture and really warm up my typical black and white decor.
Modern Farmhouse Fall Decor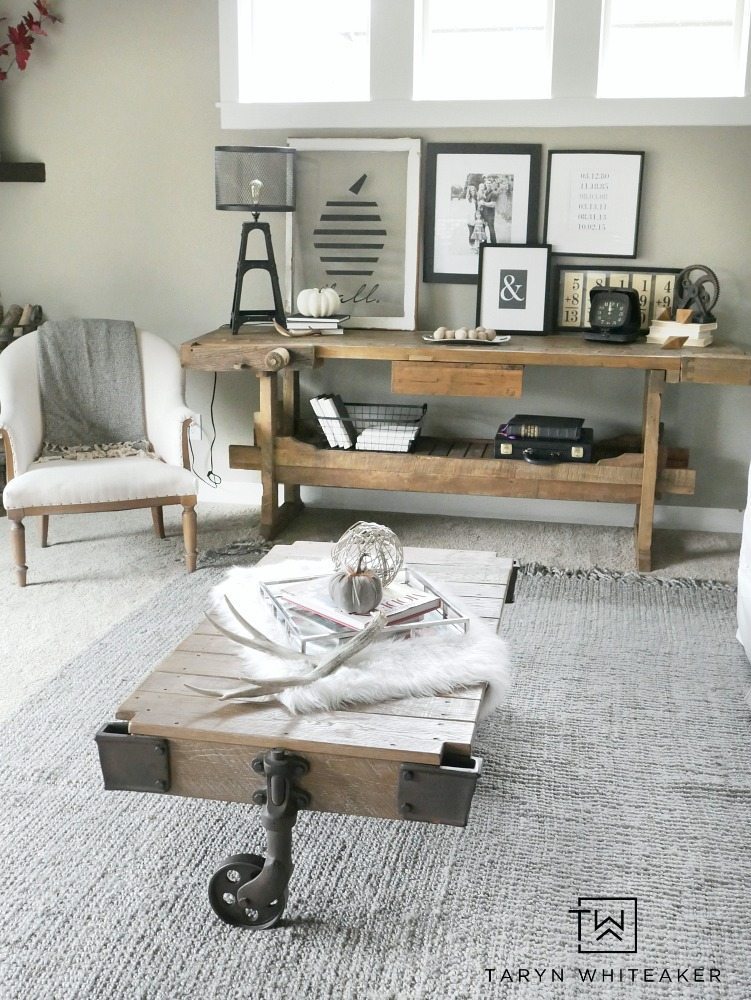 I did however put my little free printable back up! You can download
Off to the distance is one of my favorite fall projects, the recycled vintage door into a fall sign.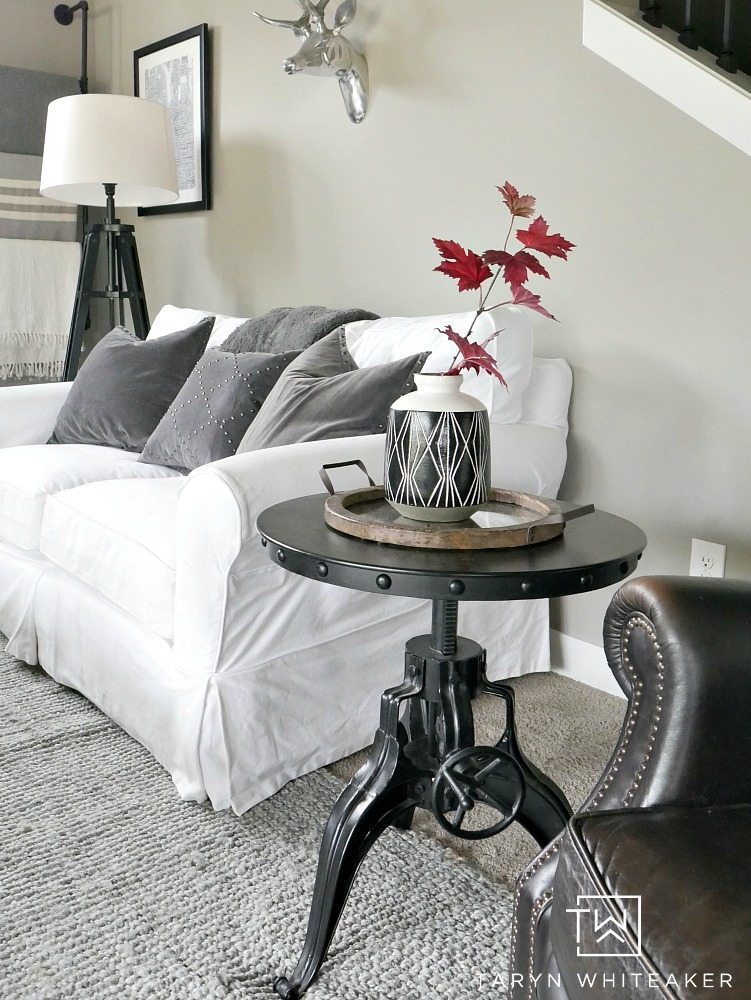 Moving into our kitchen! If you follow me on Instagram, I did a little InstaStories on these candle sticks. I discovered them at Hobby Lobby and knew I wanted to use them this year. I was afraid of them being too high but I also loved the modern and sleek look they give. Thank you for joining me on my fall home tour! I have one more small space to show you tomorrow! So stay tuned.
No it's time to browse through all of the other home tours, these are seriously gorgeous!
Taryn Whiteaker Designs | Design Dazzle | Honey Bear Lane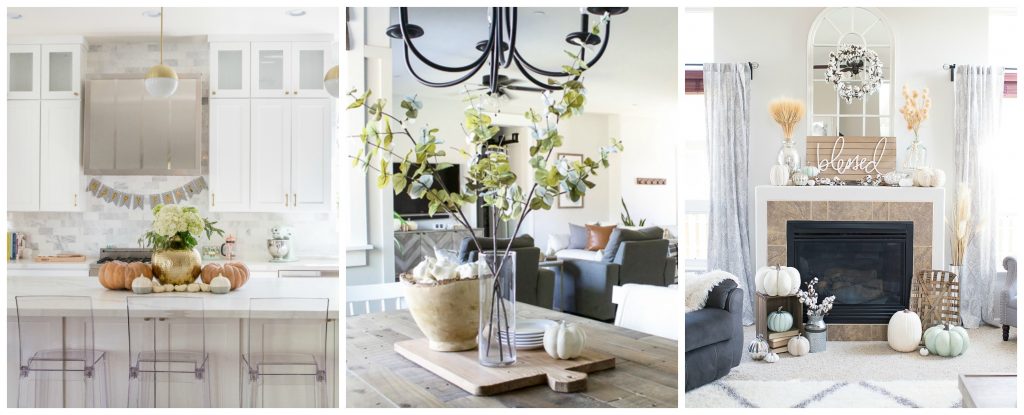 The Posh Home | Hello Allison Blog | Blooming Homestead